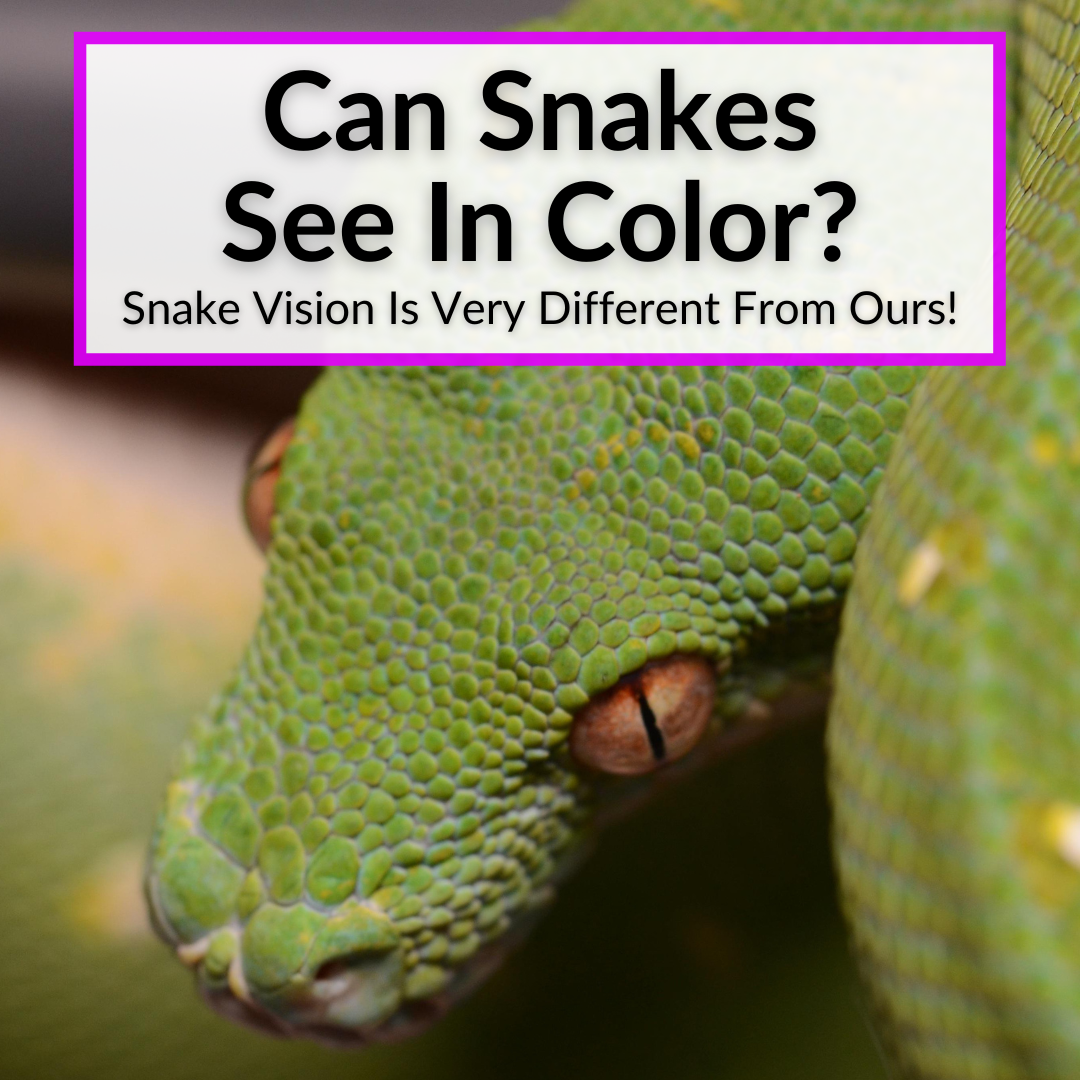 You've probably heard this before.
Snakes only see in black and white.
Or dogs, or cats, or various other animals.
In most cases, it is not true.
Can snakes see in color then?
They can, but not in the same way we can.
The topic of snake vision can actually get quite complicated. We'll try to keep it as simple as possible.
But there there is also a lot we still don't know.
Keep reading to learn exactly how snakes see in color and how it differs from our vision. We'll also cover a number of commonly asked related questions to give you a more complete understanding of snake vision.
Can Snakes See In Color?
Yes, snakes can see in color. Snakes are dichromats. This mean they can see two primary colors. In their case, those colors are blue and green.
However, this does not mean they can only see those two color. They see everything in shades of those two colors, which includes a lot of different actual colors.
This is a bit complex, so let's begin by taking a close look at what it means to have dichromatic vision.
Dichromatic Vision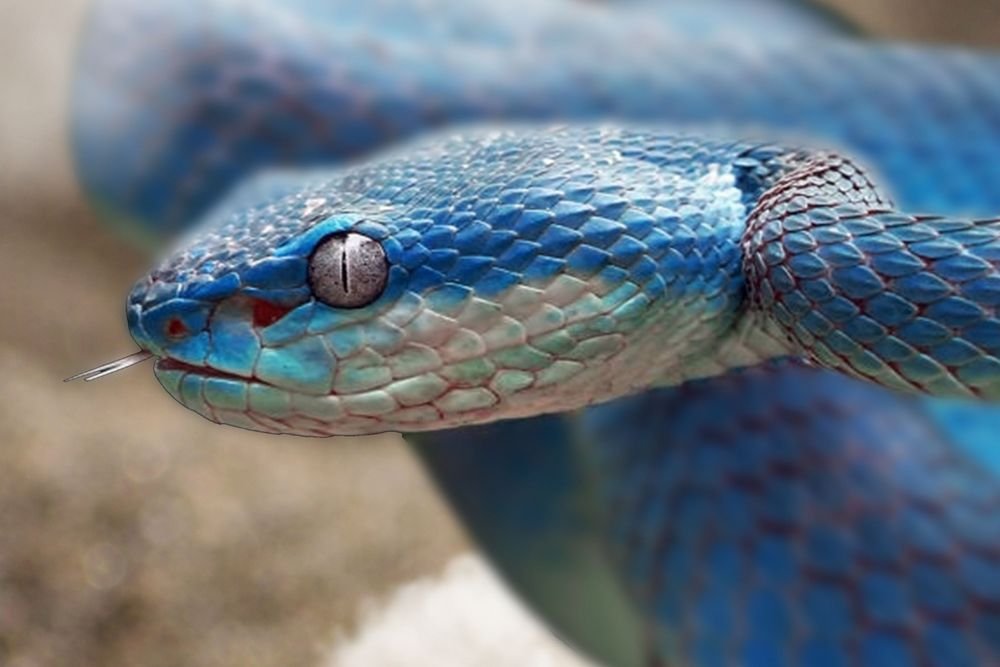 As mentioned, snakes have dichromatic vision, which means they can only see two primary colors. For comparison, we humans have trichromatic vision. We see three primary colors, namely red, green, and blue.
Objects that appear reddish to us appear in cooler tones to snakes. This includes anything that contains any red. For example, the color orange would simply appear without any of the red content.
In short: while snakes can not see all the colors we can, they can still see in color.
UV Vision
Snakes are able to see in color because they have special cells in their retinas called cones. These cones also let in different amounts of UV levels, depending on how nocturnal an individual species of snake is.
Snakes' eyes have adapted to their environment. Depending on whether they hunt during the day or at night, their eyes have adapted to the amount of UV light they encounter.
Nocturnal snakes have developed eyes that let more UV light in, which enables them to see clearly in the dark. Snakes that hunt during the day have eyes that block out much of the ultraviolet light, allowing them to see clearly in daylight.
Snakes have this ability thanks to opsins. Opsins are receptor proteins in their eyes that react to the light.
If a nocturnal snake is awake during the day, its vision will be blurry. The same goes for a daytime snake when it tries to see at night. Their eyes will struggle to adjust to the different UV levels.
A snake that has pupils with a slit can see better in the dark. The slits allow in more light, because they have more cone proteins.
Some snakes,like pythons, boas, and vipers even have an infrared vision. This means they're able to sense heat. They have heat sensing organs that allow them to decipher between what is hot and what is cold just by looking at an object.
This nifty trick helps them to locate living creatures and determine their size. For example, a snake may see the heat radiating off a human, particularly from our heads, hands and feet, and decide we are too large to become their meal, but are instead a threat. It will then try to avoid us and only attack if we give it no other option.
Snakes Seeing In Color: Related Questions
Let's go over some common questions related to snake vision. Some of the information below will be a repeat of what we already covered, but we know some readers will skip straight to a specific question, so we want to make sure to answer each one completely.
If you have additional questions, please do not hesitate to ask them in the comments below. We will do our best to answer any question we get, unless, of course, the answer is already in this article.
Can Snakes See In Black And White?
Because a large proportion of snakes are nocturnal, it is widely believed that snakes can only see in black and white. However, this is not the case. They can not see all of the colors we humans can, but they can see in color to a certain extent.
As covered above, a snake's eyes can see two of the three primary colors. The three primary colors are red, green, and blue. As humans, we can see all three of them, but a snake can only see green and blue.
This means that when snakes see us, we probably look incredibly smurf-like to them!
Can Snakes See Humans?
Yes, snakes can see humans. They are able to recognize us as humans, but they can't differentiate our characteristics. If a snake looked at me and then at you, it would not be able to tell the two of us apart.
They are, however, able to recognise the scent of their owner and are able to pick up on any familiar smells. This is how pet snakes learn that their owners are not a threat to them.
Many snakes also have heat sensing organs. This sixth sense allows them to sense heat without having to touch the object or creature. This means they can sense your body heat, as you approach them.
Can Snakes See More Color Than Humans?
Snakes actually see fewer colors than humans. A snake cannot see the primary color red, which also eliminates any orange or pinkish colors from their sight. And any other colors that contain red.
While both we humans and snakes may see the same blue color when we look at the sky, we do not see the same red rose. It appeasers red to us, but the snake sees it devoid of any rose. They are never purely red, so snakes see the small amounts of blue and green also contained within the shade of red.
How Do Snakes See Humans?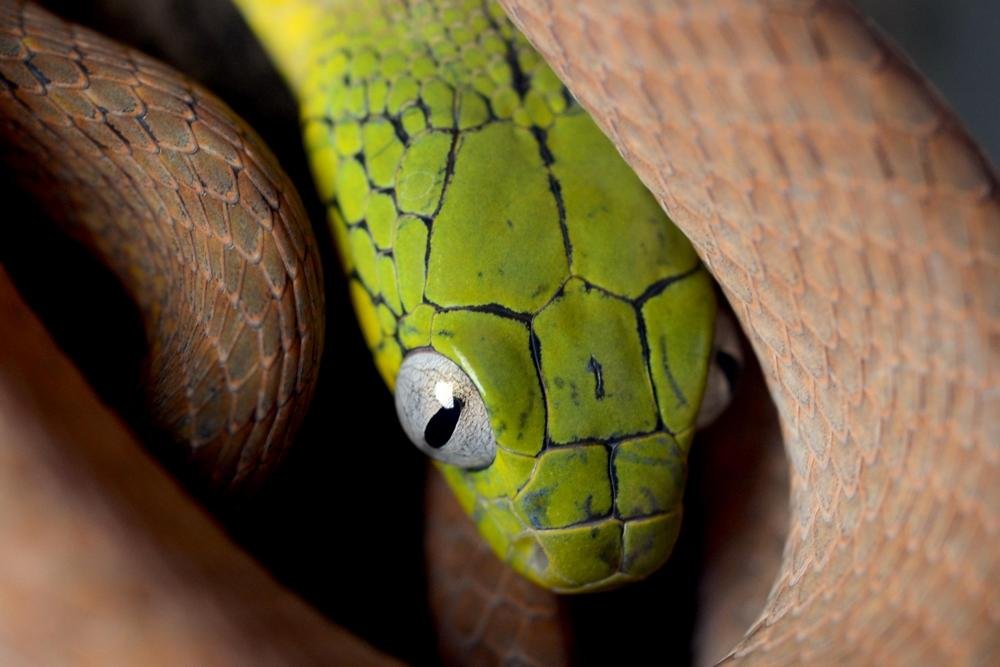 Many snakes, like vipers and pythons, can detect infrared radiation. This means they can see us through the heat that our bodies project. At night, they can see us in the same way that an infrared camera would pick us up.
They can do this through holes in their faces called pit organs. These pit organs contain membranes that are activated by heat and allow them to sense living creatures (or anything that emits heat) from one meter away.
Do Snakes Have Good Vision?
Compared to other reptiles, a snake has poor eyesight. This is why they commonly use their tongues as another method to find their way around.
A nocturnal snake's eyes may become sensitive to daylight, which will cause them to have blurry vision during the day. Their eyes pick up too much UV light to see during the day, but it is ideal for seeing at night.
The same also goes for a snake that is active during the day. Its eyesight becomes poor at night, because its eyes have adapted to block most UV light.
In a way, this is just like humans. Even though our eyes can adapt to the darkness, we still can't see particularly well and have much better sight during the day, when we're out and about.
Snakes Can See In Color: Final Thoughts
There is a common misconception that snakes, and many other animals, only see in black and white. But snakes do see in color. They just don't see all of the colors we do.
Because snakes' eyes can not see the primary color red, anything that contains red appears devoid of red. They can still see, they just can't see as well. However, they make up for that in other ways.
They can see ultraviolet light and many snakes also have infrared vision. Their tongues are also incredibly sensitive and help them "feel" their way around.