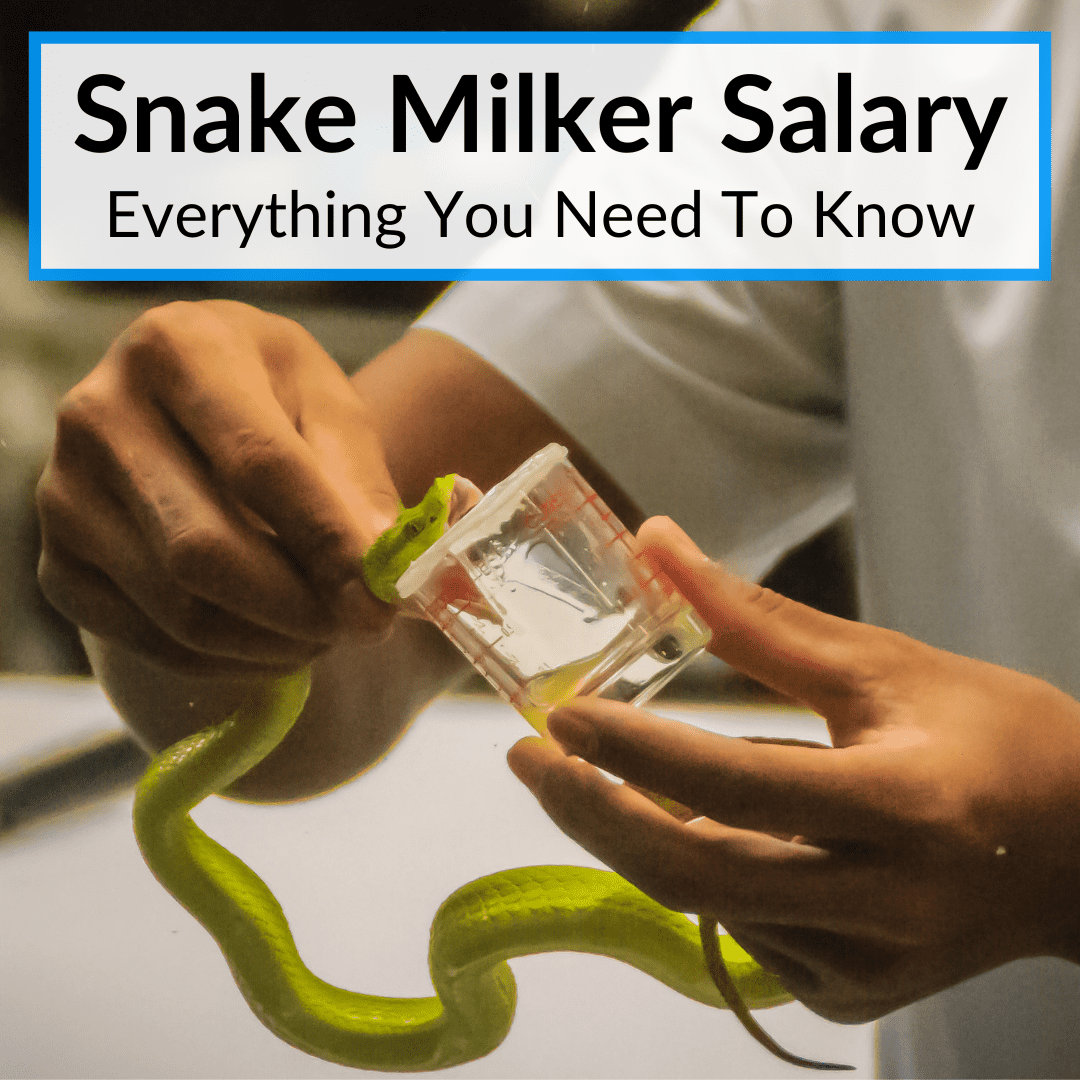 I'm sure you already know this, but I'll make it clear anyway.
Snakes do not produce milk.
And snake milkers do not squeeze milk out of a snake like you would a cow.
Snake milkers extract venom from snakes. But they also perform numerous other duties.
Are they well-compensated for this? Is the snake milker salary enough to live off comfortably?
You may be shocked to learn how much snake milkers earn. Or should I say how little?
Keep reading to learn exactly how much the average snake milker earns. We will also talk about the various tasks they perform and get a bit more into the actual snake milking process as well.
How Much Does A Snake Milker Make?
Snake milkers earn about $2500 a month, or $35,000 a year, on average. The hourly rate for most snake milker jobs is around $18 per hour.
These figures are subject to change, since certain snake venoms sell for higher sums, almost as high as $2000 to $4000 per gram. The snake milker salary can also vary, depending on whether the snake milker is a freelancer or associated with a lab or organization.
And those are only two of the factors affecting the average earnings of a snake milker. Let's take a closer look at those, and other, factors that affect a snake milker's compensation.
Factors That Affect A Snake Milker's Salary
As mentioned above, snake milkers make an average of $2500 to $3000 a month, or around $35,000 per year. But it can vary considerably. Here are the factors that can impact snake milker salaries.
Where The Snake Milker Works
A snake milker's salary can vary from state to state. In general, snake milkers in states like California and Arizona, where they are in great demand, tend to earn an average salary of $35,000 a year.
Some other states in the USA that are known to pay salaries up to $35,000 to snake handlers are Delaware, Arizona, Vermont, Maine, Rhode Island, and Massachusetts. States like Vermont can pay up to $18 to $20 per hour to snake milkers and snake handlers.
The Breed Of Snakes Being Milked
Snake milkers may charge based on the species of the snake being milked. In the United States, coral snake venom is one of the most expensive, costing as high as $4000 a gram.
If a snake catcher or milker is a freelancer and not attached to any laboratory or serpentarium, then they can sell the venom of the coral snake or brown snake on the black market. This can fetch a significant amount of money.
The Lab Or Serpentarium They Work With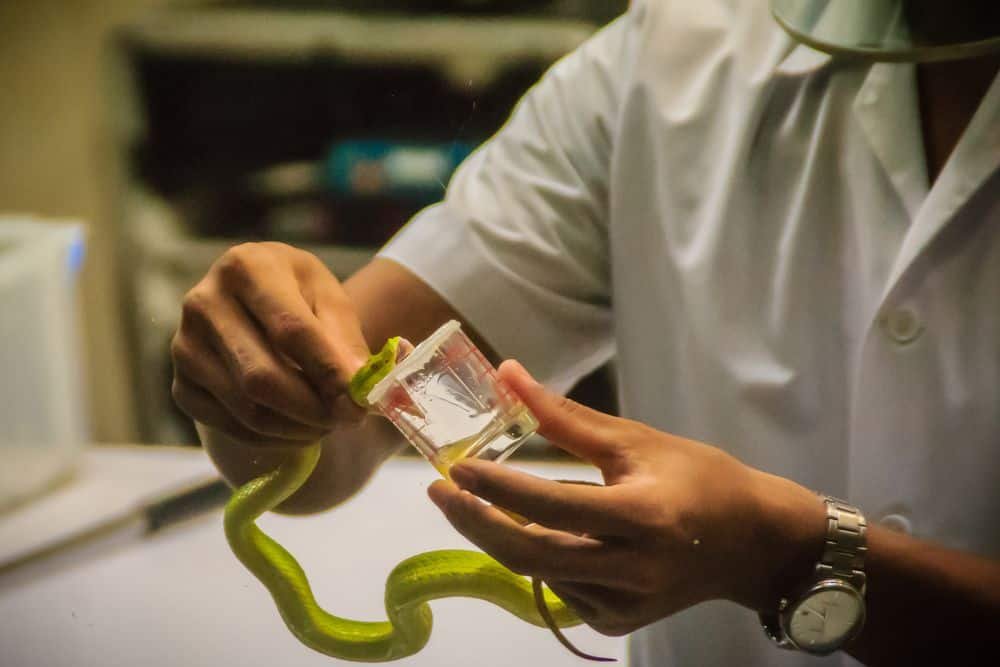 Most snake milkers work for certain laboratories or serpentariums. They may be assigned different tasks, like conservation, research, rehabilitation, and veterinarian services for the snakes they handle, in addition to snake milking.
Some snake milkers take on entrepreneurial roles or have a business where they carry snakes to schools, fairs, educational institutions, etc., often charging on an hourly basis.
The Qualification Of The Snake Milker
Most snake milkers are herpetologists, zoologists, or chemists. Some are experts in toxicology. Most have doctorates in these fields. Naturally, the snake milker's salary can vary based on her or his qualifications and the degrees they have acquired.
How Do You Harvest Snake Venom?
Snake venom is used extensively in making snake antidotes, as well as medicines. Here are the steps snake milkers take to harvest snake venom.
The Initial Preparations
This includes cleaning the workplace and gathering supplies. Supplies may include protective attire, such as overalls, gloves, and other snake protection gear. You also need some sterile glass beakers or bottles with cling wrap covers to store the venom.
It is essential to note that the deadly snakes being milked tend to lash out and jerk. Their actions could damage the expensive lab equipment around them. You need to keep the equipment away from the milking area or carry out the milking in an open area without any fragile items around.
You must also keep anti-venom handy in case you get bitten.
Holding The Snake
Now it is time to bring the snake out. Hold the snake with one hand under its jaw and the other at the base of its head.
Your hand behind the snake's head should be at least 1 to 2 inches behind the snake's mouth so it cannot bite you. Squeeze the snake's jaw so it is forced to open its mouth.
Get The Snake Near The Venom-Collecting Vessel
Once the snake's mouth is open, force it to bite the venom-collecting vessel. By this time, the snake will be angry and will not need much provocation to bite.
Note that expert snake milkers do their best to ensure minimum stress to the snake, because stressed snakes do not yield much venom.
You also need to be careful not to cause the snake to break a fang. For this reason, you ideally want the snake to strike when it is still about 2 to 3 inches from the venom-collecting vessel.
Collect The Venom
The venom should continue to drip from the snake's fangs for about 10 to 20 seconds. Collect the venom as long as it is dripping. You can also gently massage the snake's head to get it to release more venom.
How Long Does It Take To Milk A Snake?
How long it takes to milk a snake depends on the milker's expertise. Some expert herpetologists like Jim Harrison can milk around 150 snakes in two hours. This means they require just 2 minutes per snake!
Jim Harrison averages 600 to -1000 snakes a week. His personal best was milking 1000 pit vipers in 4 hours! Fact: Snake milkers need to milk at least 60 to 70 snakes to get a single gram of snake venom.
What Is Snake Venom Used For?
Snake venom finds use in a wide range of applications, including the following.
Medicine
Antiplatelet drugs: E.g. Tirofiban and Eptifibatide. These drugs are known to reduce cardiac events.
Pain-relief or analgesic medicines: Studies show that snake venom has the same effect as morphine in rats, without the unwanted side effects of opioids. Venom from the Elapidae and Viperidae family of snakes has proven anti-inflammatory effects that can be used for fighting rheumatoid arthritis.
Anti-tumor drugs: Some studies have shown that snake venom could have an anticancer effect on cells of breast cancer, cervical cancer, and certain other cancer cell lines. Some in-vitro studies have also shown snake venom toxins killing blood cancer cells.
Prevention of Parkinson's and Alzheimer's Disease: Some research is also showing that snake venom can be used as an adjunctive therapy for Parkinson's and Alzheimer's disease.
Snake handlers sell the collected venom to researchers studying it for cancer, lupus, and neurological cure.
Perfumes And Cosmetics
In addition to drugs, snake venom is also used in making perfumes, cosmetics, cosmeceuticals, and anti-wrinkle and skin-care products.
Antivenom
This is the most common use of snake venom. The venom is sent to labs to create anti-venom for people and animals bitten by snakes. Zoos, wildlife parks, and hospitals keep the anti-venom in storage.
Is Snake Milking A Good Job?
If you are fond of snakes or find them fascinating, then snake milking can be an interesting career.
However, before setting out in this field, it is a good idea to contact some herpetologists and snake milkers (if you know any) to understand the exact requirements of the job.
Note that the work a snake milker can vary greatly on a day-to-day basis.
For example, you may not milk snakes all the time, but would also be required to conduct research, prepare lab equipment, process samples, purify or process the collected venom, record data, and carry out cleaning and maintenance of the lab gear.
Sometimes, you may have to travel to capture or milk wild snakes. You might be asked to visit zoos, botanical gardens, national parks, etc., or meet with snake breeders or collectors.
Depending on your qualifications, you may even have to perform veterinary duties to treat injured or ill snakes.
If you work for a lab, you may have to meet investors (organizations or individuals) to fund research on snake venom and its uses.
Snake milkers need to have an interest in chemistry, biology, toxicology, etc. However, once you are sure this field is for you, then snake milking can be a rewarding and satisfying career. Just not a well-paid one.
Snake Milker Salary: Final Thoughts
The average snake milker salary is quite low, especially when you consider that most snake milkers have a doctorate. That said, it is an average. Some snake milkers earn far more than $35,000 per year.
In general however, the salary seems inadequate for the qualifications most snake milkers have and the long list of duties they perform, in addition to extracting venom from snakes. It is the type of job where you have to love what you do. You certainly don't get into this field for the money.