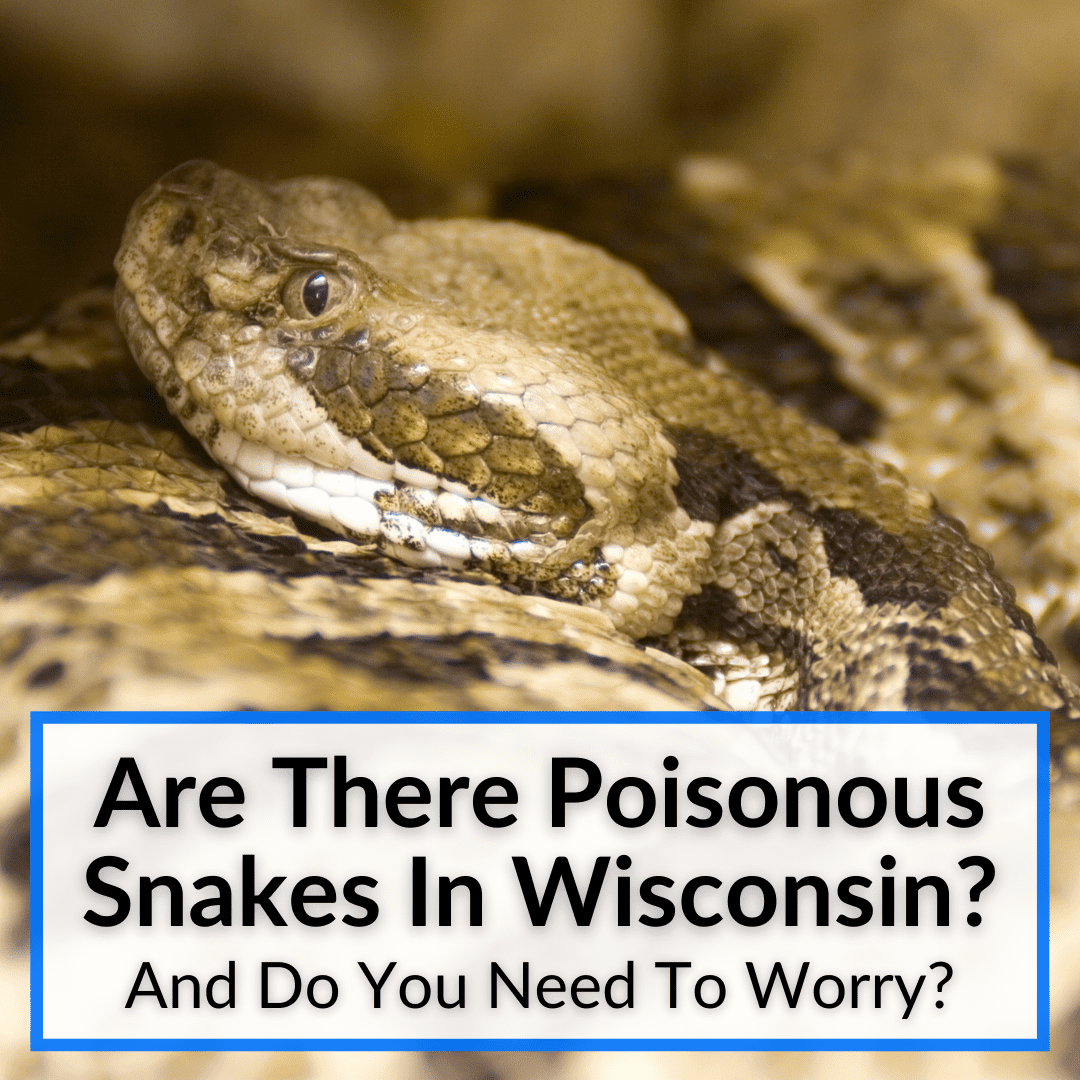 Did you know there are only three states that have no venomous snakes?
It's true. Alaska, Hawaii and Maine do not have any native venomous snakes.
Since Wisconsin is not one of those two states, that answers your question about the existence of poisonous snakes in Wisconsin.
But it's the follow-up question that is actually more important.
How many species of poisonous snakes call Wisconsin home?
You'll also want to know how to identify them and how dangerous they are.
Keep reading to learn everything you need to know about poisonous snakes in Wisconsin.
Are There Poisonous Snakes In Wisconsin?
There are venomous snakes in Wisconsin, but not many. While there are 21 different species of snakes in the state, there are only two venomous species: The Eastern Massasauga and the Timber Rattlesnake.
Both of these snakes are rattlesnakes. They are most commonly found in southwestern Wisconsin. Let's take a closer look at each of these venomous snake species.
Eastern Massasauga
The Eastern Massasauga has the scientific name Sistrurus catenatus. It is mostly found in floodplains close to large rivers. You can also find them near canopy wetlands, wet meadows, old fields, ad similar terrain.
This species is declared as a state endangered and a federally endangered species, because they have been killed in large numbers in the past.
Like other rattlesnake species, the Eastern Massasauga has a rattle on its tail and heat-sensing pits between its eyes and nostrils. These pits help it sense and hunt its prey easily.
Typically, this rattlesnake has a gray or grayish-brown body color, complemented by dark brown or black dorsal spots and three to four sets of dark-colored spots on each side of its body.
In most snakes, the blotches look similar to stripes. You can also find Eastern Massasaugas that are fully black.
Juvenile Eastern Massasaugas are quite similar to the adults of the species, but they have a bright yellow tail without a fully formed rattle. The adults reach up to a length of 3 feet when fully grown.
Generally, the Eastern Massasauga isn't aggressive and doesn't strike first. Even when threatened, it remains motionless and tries to blend into its surroundings, using its coloration.
It will make a sound with its rattle to scare away any threat, be it human or predator. Its sound differs from that made by other types of rattlesnakes.
If you surprise one of these snakes, they might choose to strike without rattling. It might be rare that this snake bites humans, but it is still possible. You don't want to do anything to be on the receiving end.
Its venom is highly toxic, but its small fangs don't dig deep enough to cause fatalities, unless you are a small child or you are already suffering from an illness.
If you even come face-to-face with an Eastern Massasauga, or even just a snake you suspect might be one, it is better to change your route and let it be. If you get bitten by this snake, you need to get to a hospital quickly.
Timber Rattlesnake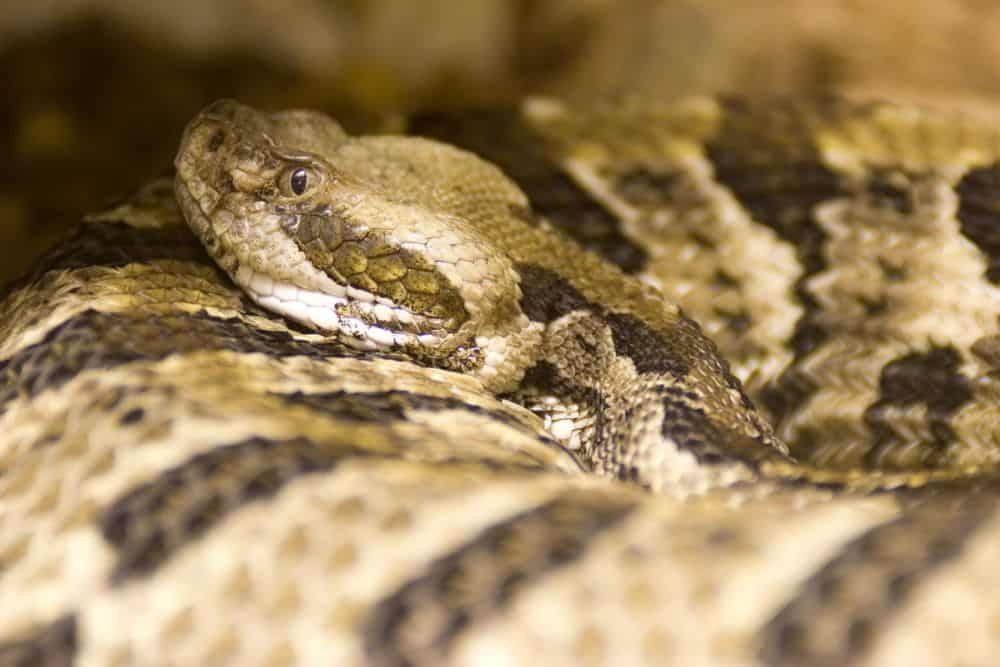 The Timber Rattlesnake, also known by its scientific name Crotalus horridus, is declared a Protected Wild Animal and a Special Concern species. It is mostly found in deciduous forests and woodland edges, because it prefers living in areas with higher temperatures.
This species has a variable body coloration, including yellowish brown, gray, and fully black. You can identify it by the black or dark brown crossbands on its back and sides. It also has a recognizable rattle on its tail.
The Timber Rattlesnake is generally on the heavier side. It has a dangerous appearance, thanks to its long fangs, but it is not nearly as dangerous as it looks.
It has a calm and non-aggressive temperament, and it doesn't usually attack. It lurks in the trees while searching for prey and ambushes them from behind when they are least expecting it.
It holds onto the prey until its venom has done its work, and then releases and devours it almost immediately. Luckily, this is nothing we need to worry about. They don't normally attack humans. If you cross their path, they will continue to stay in the shadows and create a rattling sound to warn you.
Unlike the Eastern Massasauga, the Timber Rattlesnake's venom can be lethal, primarily because it has large fangs that deliver the venom deep into your bloodstream.
If you aren't treated for a bite right away, you may die from the neurotoxins present in the venom. However, the chances of you running into this species are quite slim, since they hibernate for seven months of the year.
How To Distinguish These Venomous Snakes From Other Wisconsin Species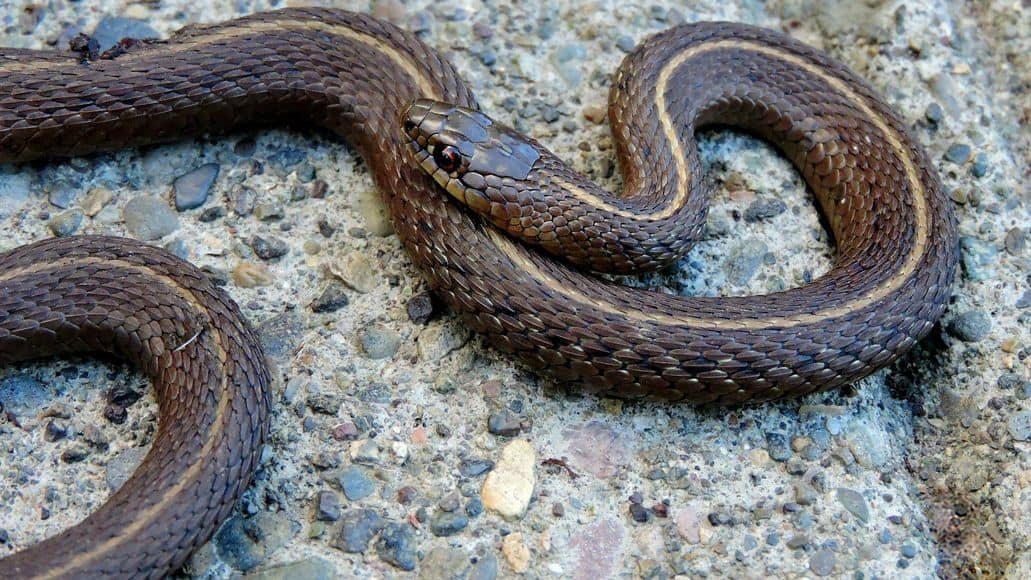 When you are face to face with a snake, there is hardly any time for you to determine its species, or even just whether it is venomous or not. That is why for most people, their blood runs cold, their hands start to tremble, and they can't think of anything but to run in the opposite direction as fast as possible.
However, if you keep a hold of your nerves, you can follow certain tips to distinguish venomous snakes from non-venomous ones.
As mentioned in the introduction, there are 21 different types of snakes in Wisconsin, and you are bound to run into some of them, if you are an adventurer or thrill seeker.
To determine whether the snake in front of you is venomous, look at the shape of its head. Venomous snakes, especially rattlesnakes, usually have triangular-shaped heads. Also, their pupils are slit-shaped, similar to those of a cat.
Moreover, they tend to have thicker bodies than non-venomous snakes. Rattlesnakes like the Eastern Massasauga and Timber Rattlesnake also have pits beside their noses, which help them detect prey nearby.
While you might think that coloration is a good way to tell snakes apart, this is not always the case. Some snakes use their coloration as camouflage, while others have distinct patterns that make them recognizable. But this varies from species to species, so you can't rely on it.
Some Non-Venomous Snakes Mimic Rattlesnakes
While the Eastern Massasauga and Timber Rattlesnake are the only venomous species in Wisconsin, several non-venomous snakes emulate their behavior. They might rattle their tails and rustle them against dry leaves or grass.
If you see what appears to be a rattlesnake, you might actually be looking at a non-venomous snake acting like one of the two poisonous ones.
So what do you do, if you can't tell the difference? Treat it like a rattler of course! Just err on the safe side and keep your distance.
Poisonous Snakes In Wisconsin: Final Thoughts
Like 46 other states, Wisconsin is home to venomous snakes. But it is only two species and neither is a huge danger. Both are not aggressive and will only bite if threatened or startled.
One has short fangs, making it unlikely a bite is fatal. The other can inject the venom much deeper, so you'll definitely need prompt medical attention. But again, a bite from either of these snake species is rare.