There are only three US states that do not have any venomous snakes.
Hawaii and Alaska don't have any native snake population whatsoever. But non-venomous snakes have been introduced from elsewhere and now inhabit both of these states.
The third state with no venomous snakes is Maine.
Unlike Alaska and Hawaii, Maine does have snakes that are native to its territory. But none of those snakes are poisonous.
But that doesn't mean they aren't dangerous. There are some species in Maine that can harm us, despite having no venom.
Let's take a closer look at Maine's snakes and the danger they may or may not pose.
Are There Poisonous Snakes In Maine?
In total, there are nine different snake species in Maine. As mentioned, none of them are venomous. That is unusual for the US, since almost every other state has at least one venomous species. Even northern states like Wisconsin have poisonous snakes.
Some of them can display aggressive behavior and can pose a danger to us, but they do not carry any venom. And most of the nine species are completely harmless.
What Kind Of Snakes Can You Find in Maine?
There are nine different species of snakes in Maine. You're most likely to encounter the common garter snake, which is one of the most common snakes anywhere in the US.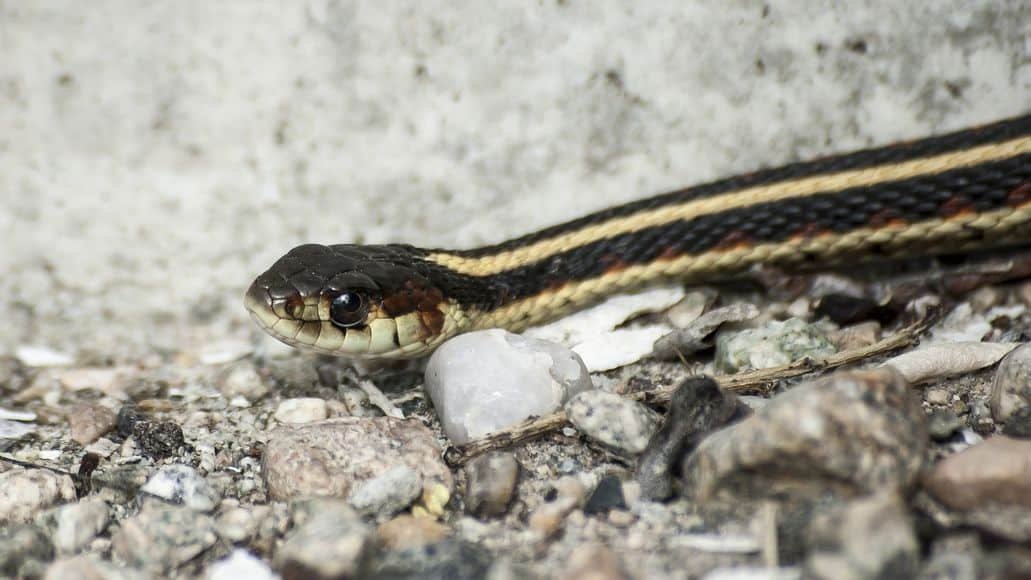 But it can be difficult to identify, because of the huge variation in colors that exist.
It's a snake you can find anywhere. Larger ones live in the wild, but some small garter snakes can live in suburban areas and hide in your garden.
Most commonly, these snakes have a black, brown, or olive color with three light stripes that run along their body. These stripes can be white, yellow, green, or blue. Some snakes have spots that turn these stripes into a checkered pattern.
The common garter snake eats small prey like worms, insects, rodents, birds, or fish. They typically hide from humans, but they can attack if you corner them.
They can strike and bite if you scare them, and they will also spread musk as a defense mechanism.
Garter snakes are keeled snakes, which means their scales have a ridge running down the middle. This ridge makes the scales feel rough to the touch and makes them look more defined.
The garter snake is not the only keeled snakes you can encounter in Maine. Some others are:
Ribbon snake: The ribbon snake looks similar to the common garter snake. It lives near lakes and rivers and eats amphibians.
Brown snake: The brown snake has brown scales with black spots. It's easy to identify because of the black spots behind its eyes. This snake lives in forested and rural areas and typically eats worms and slugs.
Northern water snake: The northern water snake is dark brown or gray and has spots that look black or reddish-brown. It's an aquatic snake that prefers standing bodies of water like bogs and swamps. You can encounter this snake in the south of the state.
Red-bellied snake: This snake has a red or orange belly and lives in the woodlands. It's a harmless snake that eats insects and can grow to 12″ in length. It is not to be confused with the red-bellied water snake, which does not live in Maine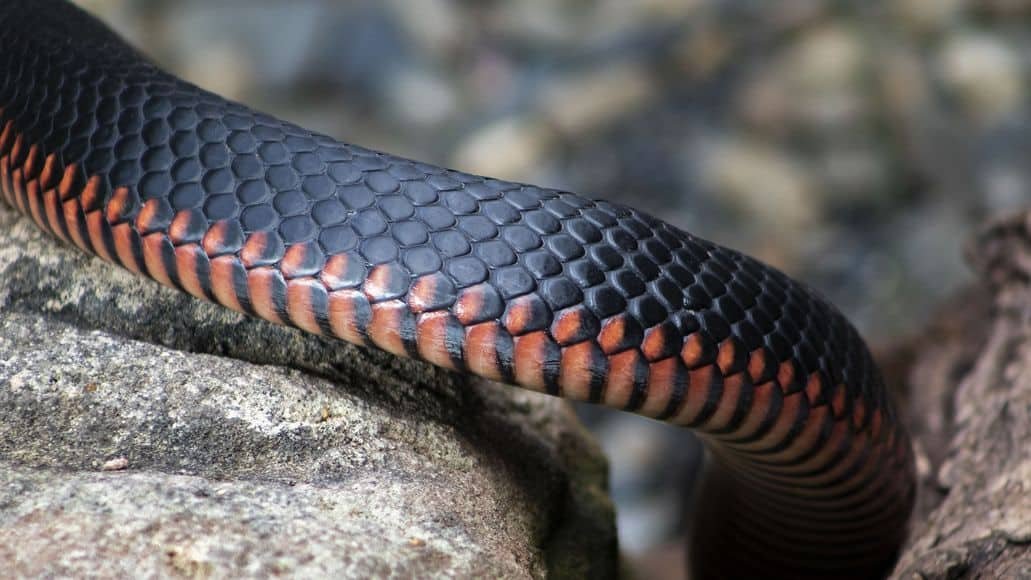 The other four species of snakes you can find in Maine have smooth scales. These smooth snakes have a glossy appearance. They are:
Milk snake: This harmless snake has brightly colored white, red, or black bands along its body. People keep milk snakes as pets. Milk snakes rarely grow longer than 50″ in the US.
Smooth green snake: This glossy green snake likes to hide in meadows and gardens. You can find it in the southern and central parts of Maine. It typically eats ants and other insects.
Ring-necked snake: This colorful snake has yellow and orange rings along its body, as well as a yellow belly and darker back. It lives in woodlands.
Northern black racer: This snake is common in grasslands and can grow big enough to eat small mammals. It is known for moving fast.
What Is The Most Dangerous Snake In Maine?
There might not be any poisonous snakes in Maine, but that doesn't mean that all Maine snakes are harmless.
The northern water snake is the most aggressive species you can find in Maine. It will strike and bite if you get too close.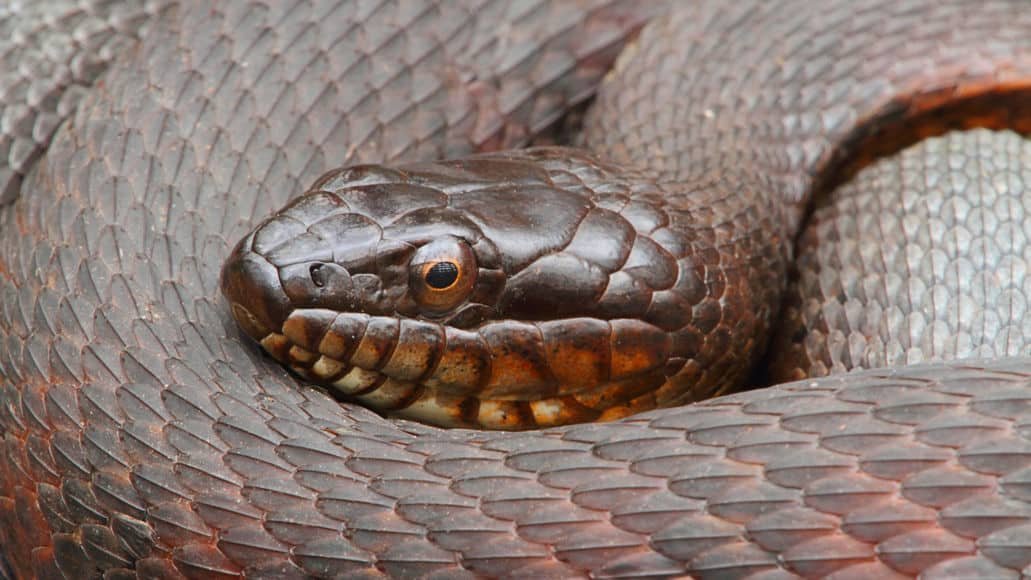 It's easy to mistake these snakes for copperheads or cottonmouths, but their bite isn't venomous. They can reach 3.5 feet in length and have a strong and imposing body that looks impressive when they strike.
These snakes live near standing bodies of water. They like to bask in standing water, but you can also find them hanging from branches.
What To Do If A Snake Bites You
It is good news that there are no venomous snakes in Maine. But the truth is: venomous snake bites account for only 8,000 of the 45,000 snake bites recorded each year in the US.
And just because a snake has no venom, that does not mean its bite is harmless. Snakes are wild animals and they can carry bacteria.
It's possible to develop an infection as a result of a snake bite, and some people even have allergic reactions.
Here's what to do if a non-venomous snake bites you.
Wash the area with soap and water immediately.
Watch for swelling and other signs of an allergic reaction.
Schedule an appointment with a doctor as soon as possible so you can start taking antibiotics.
Is it Safe To Handle Wild Snakes In Maine?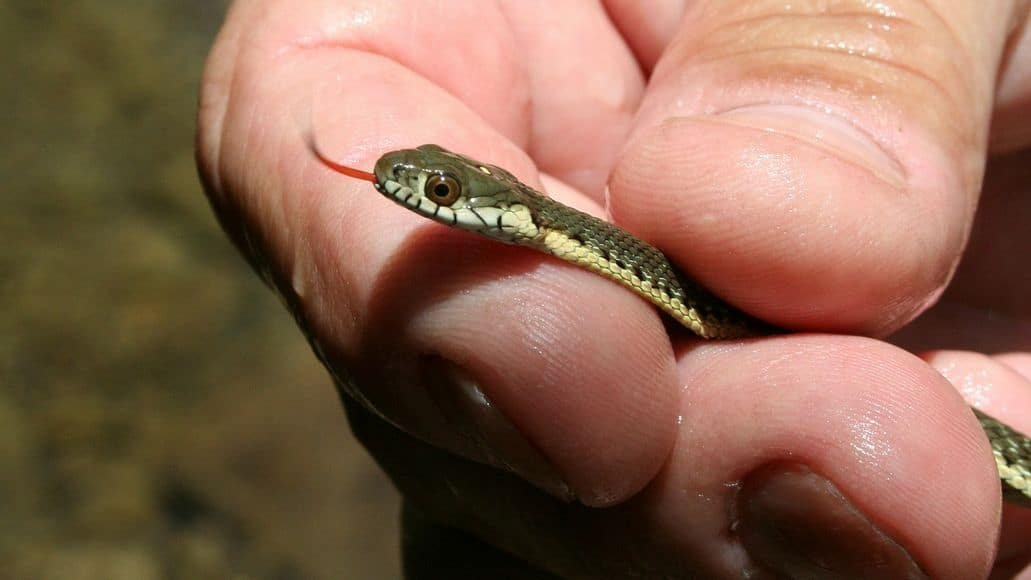 You now know that none of the nine snake species you can encounter in Maine are venomous. But you also know that the lack of venom does not mean they can't hurt you. A bite can be painful and result in an infection.
Handling wild animals is never safe and Maine's wild snake population is no exception. Picking up a snake you encounter in the wild is stressful for the reptile and that can make them dangerous.
Some snakes will become aggressive and strike if you get too close or try picking them up. In addition, snakes often have external parasites like ticks and mites.
These parasites carry a number of diseases that you can catch. They are another good reason to stay away from wildlife.
Besides, there is no reason to handle wild snakes anyway. There is no need to catch or kill the snakes you encounter in the wild. They don't harm us if we leave them alone and they contribute to controlling the insect and rodent population.
What To Do If You Encounter A Snake In The Wild
You can avoid encountering snakes by staying away from areas with high vegetation, water, and food sources.
Be aware of your surroundings and stay on trails instead of walking in tall grass. Wearing protective footwear can prevent snake bites.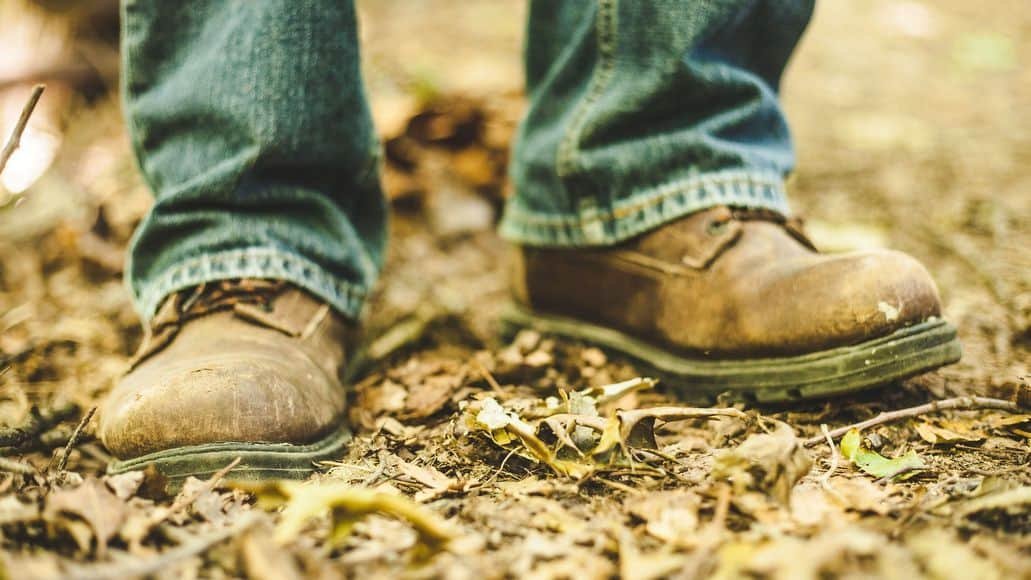 If you see a snake, the best thing to do is to observe the reptile from a respectful distance. Ensure you leave the snake an escape route since its first instinct will be to get away from you. A snake that feels cornered might become aggressive.
Snakes usually display other aggressive behaviors before striking. They might raise their body to appear bigger and will position their tail to get better leverage. Watch for these signs and back away slowly from the snake if it displays aggression.
The best thing to do when you encounter a snake in the wild is to either stop and wait for the snake to leave or simply give the reptile a wide berth to avoid disturbing it.
Venomous Snakes In Maine: Final Thoughts
There are nine different species of snakes in Maine, but none of them are poisonous. But some of them, most notable the northern water snake, still pose a danger to us.
The northern water snake is particularly aggressive. And despite the lack of venom, a bite from this snake is still very painful.