Few things are more important for your reptile than a good temperature controller.
Unfortunately, there are a lot of models on the market that aren't very good.
You always have to worry it will fail and the enclosure will get too hot or too cold.
Then your pet suffers and could even die.
The best reptile thermostats are accurate and reliable.
You can be sure they will keep the temperature where it should be, so you don't have to worry about any harm coming to your reptile.
How do you know which thermostats are best? Simple. Keep reading.
Best Reptile Thermostats Compared
$34.84

$24.79 ($24.79 / set)
03/22/2023 03:27 am GMT
How do thermostats benefit your reptile?
Thermostats monitor and regulate the temperature in the reptile enclosure to ensure that it never gets too hot or too cold. This helps prevent your snake or other reptile from possibly falling ill or even dying.
Without a good reptile thermostat, you would need to constantly keep an eye on the temperature in the snake enclosure. A temperature controller just makes your life so much easier.
Best Snake Thermostats Reviewed
The following are the best snake thermostats on the market.
Inkbird ITC308 Thermostat Temperature Controller
This is our favorite reptile thermostat for controlling heat in your snake's enclosure. Here's why it gets our highest rating.
Featured Specs
User-friendly
Alarm included
Pros
This thermostat is really easy to use, which makes it great for beginners. Just plug it in, set your temperature range, and put the plug of the heater/cooler into the outlet.
For further user-friendliness, this thermostat can be set to Fahrenheit or Celsius.
One of the best things about this thermostat is that you can connect it to both heating and cooling equipment at the same time.
Once the thermostat is in the place you want it, you can easily see the temperature reading on it without having to try to look at the small numbers showing on the submersed thermometer. This is great if you want to submerge it in water.
It comes with an alarm that can notify you when the temperature gets too high or low, thus protecting your reptiles from discomfort or harm.
The probe of the device is waterproof.
This thermostat comes with easy-to-read instructions and setting it up is simple.
Cons
There are some reports of the display malfunctioning after a while.
Buying Advice
This thermostat is a great value for your money. It does everything you need and sells for a great price.
Zoo Med ReptiTemp RT-600 Digital Thermostat
This ZooMed digital thermostat is another great option for controlling the temperature in your snake's enclosure.
Featured Specs
Built-in memory
Overheating protection
Pros
This thermostat controls temperature easily. Simply put it in "heat" mode or "cool" mode.
It can control up to 600 watts of heating devices and 150 watts of cooling devices.
If there's a power failure in your area, you don't have to worry about losing the temperature you set for your reptile enclosure, because this Zoo Med thermostat has a built-in memory.
Just like the previous product we featured, this thermostat has an alarm that sounds when the temperature gets too low or high.
Cons
The display of this thermostat can't be dimmed, and it gives off quite a bit of light. This is especially problematic if you've got more than one.
The cord that you plug in so you can control your heating element goes right in the front of the unit, so it looks a bit bulky.
Buying Advice
Zoo Med is a reputable brand in the reptile industry and this is another great product from them. We slightly prefer the previous model from Inkbird, because you can plug in both a heater and cooler at the same time.
Willhi WH1436A Temperature Controller
This is an improved product, which is why it found its way onto this list. The manufacturer has made some important changes to its function and design, like simplifying the operation and providing a wider control range.
Featured Specs
High temperature range
Four-digit display
Pros
This thermostat enables you to easily switch from heating mode to refrigeration mode depending on the device you've plugged into its controller.
It's extremely versatile. You can set the temperature to between -40 and 176 Fahrenheit, so it can be used for a variety of heating and cooling purposes.
The on/off temperatures can be adjusted very precisely.
For greater ease of use, this thermostat comes with a four-digit display (some controllers only have a three-digit display), which makes it easier to read the digits when the temperature is over one hundred.
Cons
The menu system is a bit difficult to navigate.
Although it works well, the unit can become quite hot.
Buying Advice
This reptile tank thermostat is accurate, practical, and sure to keep your reptile enclosure at the exact temperature you want it.
Inkbird ITC-306T Pre-Wired Thermostat
This next thermostat is another product by Inkbird. Here's why it made it onto our recommended list for when you set up a reptile enclosure in your home.
Featured specs
Plug and play
Dual-time cycle setting
Pros
This thermostat is a plug-and-play device that's very easy to use.
You can see the measured temperature and set the temperature simultaneously.
It features alarms for a variety of issues that could come up, such as if the temperature is too high or there's a fault in your sensor. This makes maintaining your reptile enclosure a breeze.
One of the best features about this thermostat is that it has a dual-time cycle setting. This enables you to set different temperatures for day and night based on your reptile's needs.
Since you can set different temperatures for day and night, this makes the thermostat useful for more than reptile rearing, such as if you have a greenhouse.
Cons
The manufacturer includes outdated instructions, so some people have a little trouble getting it set up.
The menu system is a bit clunky
This controller only controls heating, not cooling.
Buying Advice
This thermostat is another good option, but it can only control heating. That is why we prefer the other three models above.
Hagen Exo Terra Day/Night Thermostat
This thermostat has a dimming and pulse proportional function that provides accurate temperature control for terrariums, so you avoid those nasty temperature fluctuations. Let's check it out in greater detail.
Featured specs
User-friendly LED light
Push-button system
Pros
It provides a temperature range of 50° F all the way up to 140° F (10° to 60° Celsius).
You can set a daytime and night-time temperature separately.
It's equipped with a red LED light so you can see when the device is on. It then changes to blue once the desired temperature has been reached.
This thermostat has a blue LCD screen that's easy to read. It automatically becomes brighter during the day and then goes into a dimmer mode at night. This makes it more comfortable for your reptiles.
It comes with a push button or dial system so you don't have to worry about setting a temperature by accident.
The sensor is waterproof so you can use it in humid and aquatic environments without worrying about it getting damaged.
Cons
The LCD screen has a small viewing angle.
There are some reports of issues with the sensor. It can't be adjusted for day/night mode so it can experience issues, such as being brighter in ambient light when you want it to remain dim.
Buying Advice
This thermostat has some great features for your reptile terrarium. But it is also far more expensive than the other options featured here. That is why we gave it a lower rating. We don't feel it is worth the much higher price.
Best Thermostats For Reptiles FAQ
After reading our reptile thermostat reviews, you might have some additional questions about thermostats. Let's take a look at some commonly asked ones.
How Do Reptile Thermostats Work?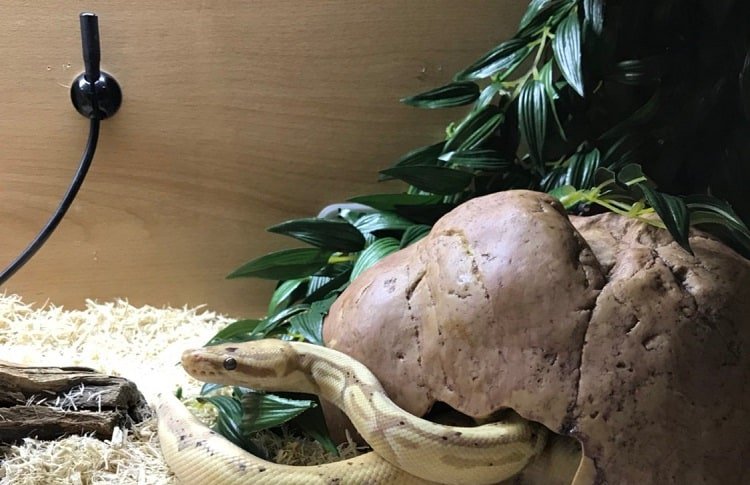 There are different types of reptile thermostats, so let's take a look at them and how they work.
On/Off Thermostats
These monitor the enclosure's temperature and then adjust it, either by turning the heat source on or off.
The way they work is that when the probe detects the correct temperature, it turns off the power to the heat source. When the temperature decreases below the ideal temperature, it switches the heat source on.
Pulse Thermostats
These constantly monitor the temperature at the thermostat probe and then react by changing how often electric pulses are sent to the heat source in the enclosure. When the temp at the probe is too high, the electric pulses will reduce in number. When the probe temp is too low, they will increase.
Dimming Thermostats
These provide different amounts of electricity to the source of heat, which in turn causes a light-emitting heat source to dim or brighten in order to properly maintain the temperature.
If the thermostat probe temperature is hot, the flow of electricity is reduced and the bulb will become dim. On the other hand, if the thermostat probe has a cold temp reading, more electricity is supplied and the bulb becomes brighter so that more heat is provided to your reptile.
What Temperature Do Reptiles Need?
The temperature that reptiles need varies depending on the species and where they live. Different kinds of reptiles will have different optimal temperature ranges. These are referred to as Preferred Optimal Temperature Zone (POTZ).
A specific reptile's POTZ depends on various factors, such as the geographical region where it comes from and what type of terrain it's accustomed to, such as desert or rain forest environments.
This is why it's vital to research the type of reptile you have and what their ideal temperature requirements are.
Snakes generally require temperatures that are between 68° and 104° Fahrenheit, but the exact temperature you need obviously depends on the type of snake you have.
How Do You Adjust A Reptile Thermostat?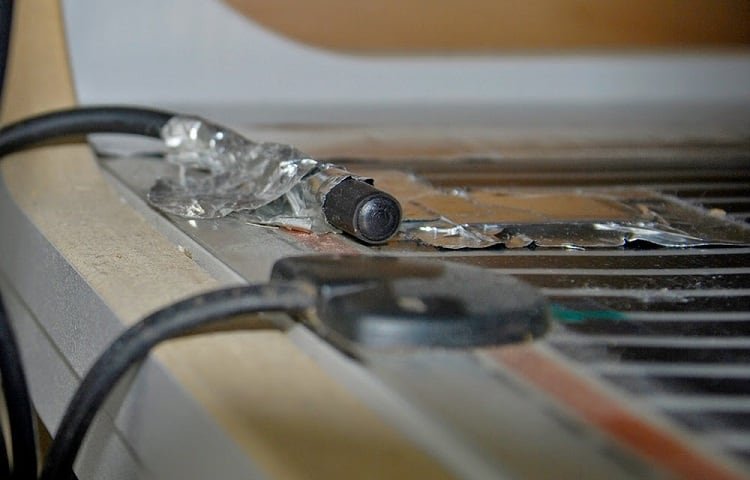 While different thermostats have different instructions, the basics of adjusting a reptile thermostat are the same.
You press and hold a "mode" button, which enables you to choose between hot or cold temperatures. You then press the "set" button to set the temperature ranges.
If you want to set a schedule for the thermostat, like a time for UV lights to come on in the enclosure, you press the "set" button, usually for a few seconds, to bring up the real time.
Once you see the time, use the arrow keys to manually input the time you want to schedule.
When you first set up your reptile enclosure heating equipment, it's a good idea to leave it at the temperature you want for about a day or two before your reptile is put in their enclosure.
This ensures that you know the equipment is working correctly and can be adjusted easily without a problem.
What Happens If A Reptile Gets Too Cold?
If you've noticed your pet snake is lethargic, a reason for this could be because it's not getting the right temperature it needs in its enclosure. Reptiles are cold-blooded animals and that means that their inner temperature regulation relies on external sources of heat, such as sunlight or heaters.
If they don't get the heat they need, they will become hypothermic. This means that their body temperature decreases, causing them to become lethargic. They also experience a decrease in immune system function as well as digestion, and they become prone to getting infections.
Best Reptile Temperature Controller: Conclusion
If you have a snake or other reptile, you really should get a thermostat to help you regulate the temperature in your pet's enclosure. Without one, the risk is too high that something goes wrong and it gets too hot or too cold. The results could be disastrous.
The good news is that the best reptile thermostats don't cost much. Considering the peace of mind they bring and how much easier they make your life, they are an absolute bargain.