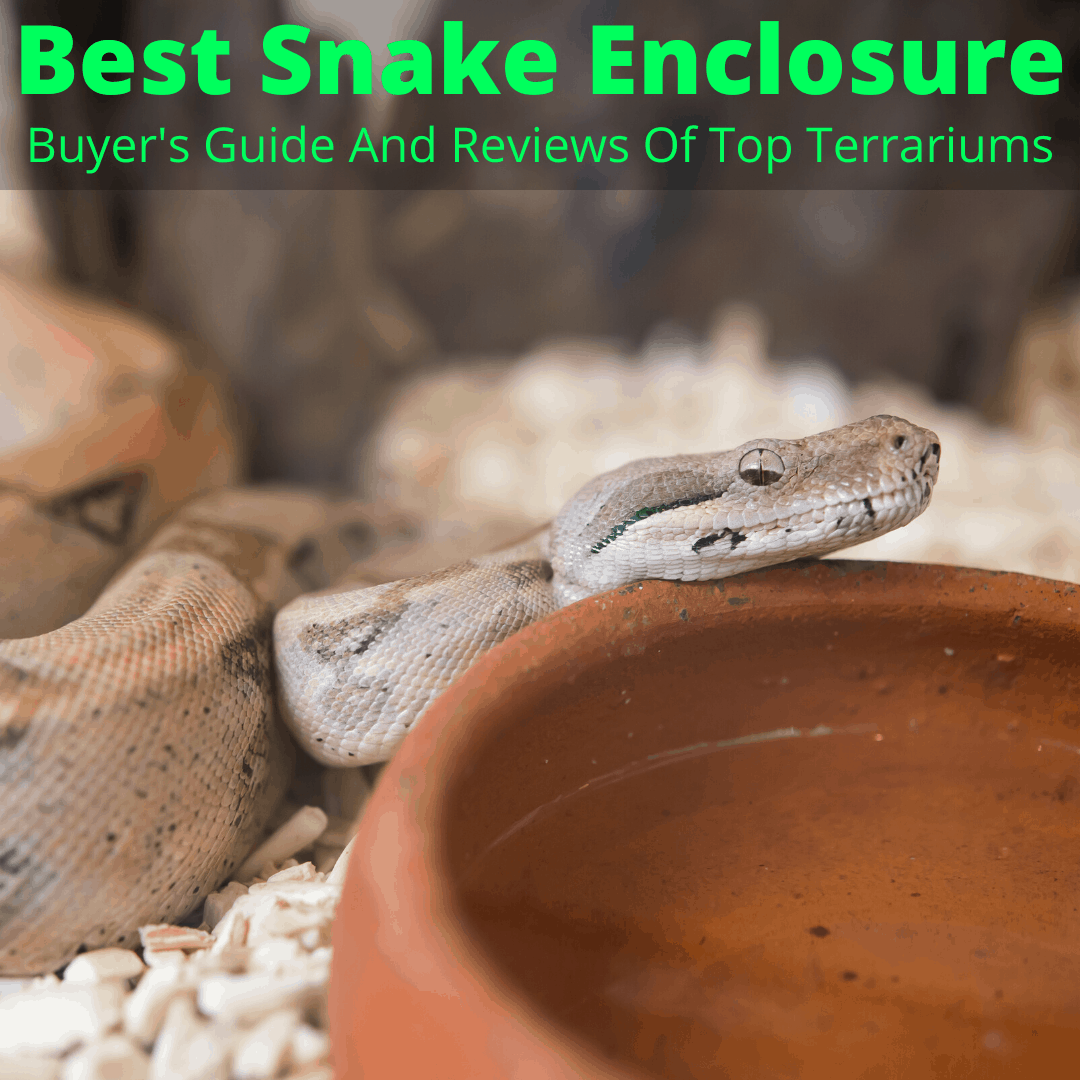 You know you want a pet snake. But where do you keep it?
You can't just punch some holes in a shoe box, after all. (Seriously, if you were considering this: don't!)
Do you need a super expensive specialty terrarium, then?
No. Even the best snake enclosures won't break the bank.
The most important thing to consider is the size. You need to give your snake enough space to be comfortable.
We'll cover everything else you need to consider in our buyer's guide below.
First, let's take a look at the best terrariums for pet snakes available today, to help make your decision easier.
You won't have to choose among hundreds of options, most of which are no good. Instead, your choice comes down to a handful of great options.
Best Snake Terrariums Compared
03/22/2023 01:20 pm GMT

Snake Enclosure Types Left Off This List
Before we get to the reviews of the best snake enclosures, we want to mention a few common types of snake cages that we omitted from this list, because they are, frankly, not ideal for snakes.
Plastic Tub Enclosures
While cost-effective and durable, plastic tubs have many downsides as well. One downside is that it is difficult to see the snake within the tub, making them a bad choice if you want to display your new best friend.
If you're using heat lamps the plastic may also become too hot and warp. In addition, you'll have to secure the lid with something like a bungee cord or your snake will easily escape.
Wood Enclosures
Wood cages are usually custom-made of 60 to 70% glass and 30 to 40% wood. The problem is that the wood used may be a fertile breeding ground for different kinds of bacteria. Plus it can warp, become infected with pests, and can have rough edges. The last thing you want to do is to get a second-rate cage and then have to take your new snake to the vet because of splinters!
Wire Snake Cages
Besides it being quite easy for snakes to get out of wire cages, it is also nearly impossible to give your snake the temperature and humidity that they need when they are kept in wire cages. Wire cages are, therefore, really not a good home for your slithering friend.
Best Snake Enclosures Reviewed
Each of the options below has multiple sizes, so you will be able to find the right size for your snake. Carolina Custom Cages actually make our favorite terrariums, but because their models are all on the larger side (with most being humongous), we did not pick them as our first choice.
Most new snake owners won't want something quite so large. That said, they do have a few medium-sized options that are worth checking out, even if you have a smaller snake.
Best Small And Medium Cages: Exo Terra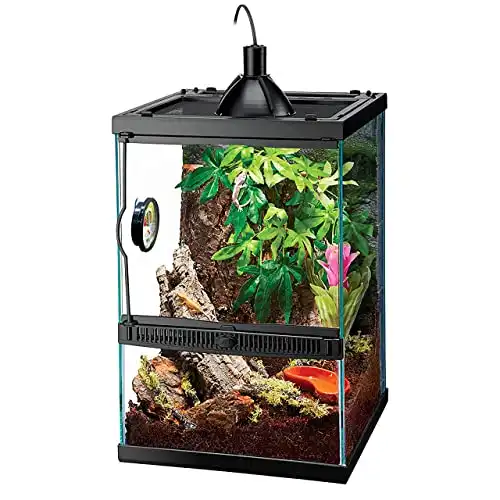 Exo Terra glass terrariums are designed by European herpetologists and are suited perfectly to the needs of reptiles and amphibians.
They can be made into everything from a simulated desert habitat to a tropical paradise. That is one reason these snake enclosures are not just for snakes. They are great for any reptile or amphibian.
Exo Terra terrariums are available in a number of sizes. They range from 8(L) by 8(D) by 8(H) inches to 36(L) by 18(D) by 36(H) inches. The largest has a volume of a 100 gallons and is good for small to medium snakes, while the smallest is 2 gallons and only good for the absolute smallest snakes.
Features
Dual doors with a lock for escape-free access
A waterproof bottom, which means you won't need to worry about spills and leakage
Raised bottom frame to accommodate a substrate heater
Easy-twist screen cover lock to make it even more difficult, if not impossible, for your pet snake to escape from its enclosure
Inlets for wires and/or tubing in the back of the terrarium that can be closed and hidden – an especially nice touch, in our opinion
Stainless steel mesh cover that ensures thorough ventilation as well as allowing UVB and infrared penetration
Exo Terra cages have two front doors that open for easy access for maintenance and feeding, while also preventing your snake's escape through a specially designed lock.
The tops of the enclosure is covered by a mesh screen that allows for top ventilation, as well as UVB and infrared penetration. It is simple to remove (by humans, not by the snake) when it's time to clean, handle your snake, or do some redecorating.
Wire or tube inlets in the back of the terrarium make it easy to install heated rocks, sensors, and even waterfalls. The inlets are easy to hide with Exo Terras cool backgrounds or various accessories you could put in the cage to keep your snake occupied.
The raised bottom plate allows you to mount a substrate heater, so that you can ensure the perfect heat gradient for your pet. The bottom is waterproof, meaning you don't need to worry about spills and splashes. Our Exo Terra terrarium review has more information.
Runner Up: Repti Zoo Terrariums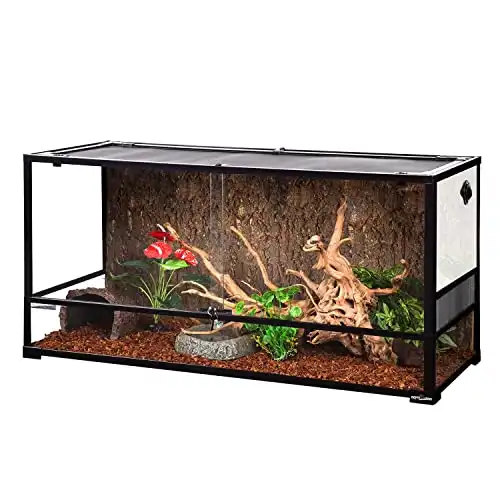 Repti Zoo terrariums are actually very similar to Exo Terra, in terms of quality and price. There are a few reasons we ranked them below Exo Terra, but the biggest is selection. Repti Zoo has terrariums in the following sizes:
8 by 8 by 8 inches
8 by 8 by 12 inches
20 by 12 by 10 inches
36 by 18 by 18 inches
36 by 18 by 24 inches
Exo Terra has a ton of different sizes, while Repti Zoo's options are clearly very limited. The other features where Exo Terra is slightly better are improved locations for the inlets (they are not as visible) and a more secure lock.
We recommend getting a Exo Terra, if they have the size you need. If not, then go with Repti Zoo. And if you need something much larger, see the next option below.
Features
The top is a metal screen to provide enough ventilation and to be safe for overhead heat sources
The snake enclosure is watertight – no leaking
Specially designed feeding ports that are both functional and visually appealing
A "lift and pull" sliding door to ensure that your snake can't escape
Similar to the Exo Terra models, the Repti Zoo glass terrariums also hav a double hinge door in front and screen ventilation on top of the enclosure. The larger ones do anyway. The smaller models open only from the top.
Repti Zoo enclosures are also very easy to assemble and are made from similarly high quality materials.
The screen top of this snake enclosure provides ample ventilation as well as UVB and infrared penetration, while the raised bottom frame allows you to fit a substrate heater the terrarium as necessary. A waterproof bottom can also give you peace of mind that there will be no spills or leakage.
The closable inlets for wires and tubing on top and on the right are great to have, but their location is not as tidy and hidden away as the inlets on the Exo Terra models.
The lock for the front doors may also be inadequate when you have a very inquisitive and smart snake living inside. As mentioned, those are two of the reasons we prefer the Exo Terra cages.
Best Large Snake Enclosures: Carolina Custom Cages Terrarium

Carolina Custom Cages have a large selection of terrariums, that range in size from a medium 24(L) by 18(D) by 18(H) inches to a giant 72(L) by 24(D) by 24(H) inches. Most of their cages are large.
Carolina Custom Cages terrariums are extremely high quality. They are made of strong glass and metal. The smaller models have hanged doors, while the larger ones have sliding doors. The base is waterproof and the top is a mesh screen.
The terrariums ship in parts, so you need to assemble them. Assembly is easy, though. One minor annoyance is that the largest models ship in two separate boxes that are each a separate product listing on amazon. That means you would need to purchase both of them in order to get the complete terrarium.
Best Complete Habitat Kit: ZooMed 20 Gallon Kit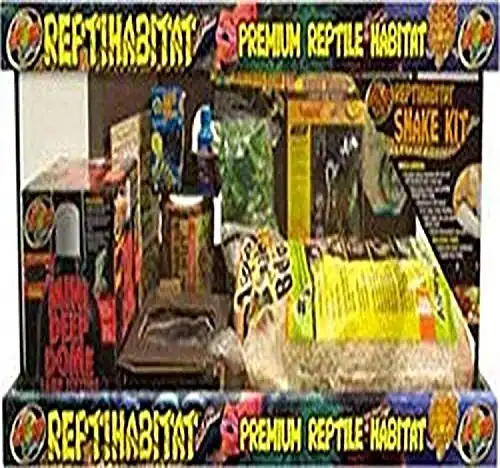 This 20-gallon snake enclosure from Zoo Med has everything that a new snake owner needs to set up a complete habitat for their snake. It is great for a variety of species, though the size means the snakes can not be overly large. Ideal species include: Corn Snakes, Milk Snakes, King Snakes, Ball Pythons, Garter Snakes, and more.
This kit includes all of the following:
20 gallon terrarium (30″ x 12″ x 12″) with a sliding screen top
Under-tank heater
Aspen snake bedding (8 quarts)
Natural half-log shelter
Plastic bush plant
Rock water dish
Analog reptile thermometer
Daylight blue reptile heat bulb (100 w)
Deep dome lamp fixture
Guide to Reptile Care booklet
Water conditioner (2 oz)
There are a lot of reports of the tank arriving broken, which generally indicates poor packaging. Zoo Med seems to have addressed the issue and incidences of shipping damage seem to be much lower now.
Best Terrarium Cabinet: Exo Terra Cabinet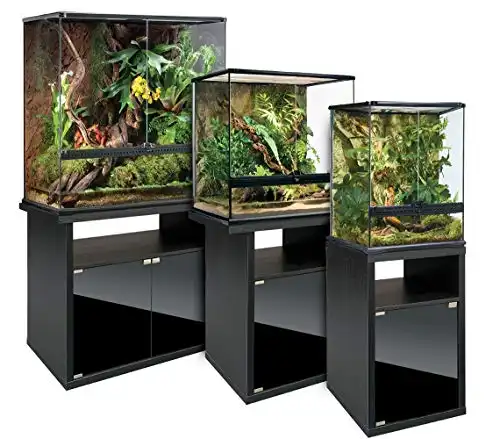 The terrarium cabinets from Exo Terra add storage space beneath the enclosure, making them ideal if you do not already have a table or counter on which to place a cage. Note that these are the cabinets only. You have to buy the terrarium separately.
They come in three sizes that are designed to hold the following tank sizes:
18 (W) by 18 (D) by 18 (H) inches — 20 gallons
24 (W) by 18 (D) by 18 (H) inches — 30 gallons
36 (W) by 18 (D) by 18 (H) inches — 50 gallons
Like the Exo Terra enclosures, these cabinets are sturdy and durable. They have strong tempered glass doors that close with soft touch magnetic latches.
Most people will simply place their terrarium on a table or existing counter space. And that is fine. But if you want a cabinet that is specifically designed for the purpose, these are great.
Best Faunarium: Exo Terra Faunariums

Though only a temporary home for your snake (or a handy container for carrying its live lunch), the Exo Terra faunarium is a must-have for when you need to move your snake or simply keep it safe while you're cleaning its enclosure. It comes in two sizes:
Medium: 14 (L) x 8 (W) x 6(H) inches
Large: 18 (L) x 12 (W) x 6.5(H) inches
We suggest getting the larger size, even if you have a small snake. It gives your pet more space and also allows it to grow, if it has not yet reached it's full length.
This faunarium has great ventilation, so your snake won't feel trapped and stressed. Because it's made from plastic it is also quite easy to clean and disinfect between uses. It can also be used as a quarantined home if required. However, it is too small for it to be your snake's primary home, and you need to get a proper, large snake enclosure for that.
It has a handle for easy carrying and a clear window on top that opens for simple removal or placement of animals inside. If you get several, they are stackable.
Snake Enclosure Buyer's Guide
So you have your eye set on a specific breed of snake and now all you need is a new enclosure for it to live in?
Knowing which terrarium to choose can be very difficult! But we're here to help.
When you break it down into a few key decisions, choosing the right home for your snake becomes a lot easier.
The most important characteristic to look at when buying a snake cage is the size. You want to make sure it is big enough for your snake to feel comfortable.
Size Matters
Let's clear one thing up before we begin. You may have heard that snakes (and other reptiles) get nervous if their terrarium is too spacious. That is a myth that was probably started by people who wanted to justify keeping their pets in minuscule prisons.
I mean, think about it.
Snakes have unlimited space in the wild. And they're very happy with that. It is true that they like to have a small cozy space to curl up in and hide, but that is why you provide them places like that withing the enclosure. It does not mean that they want to spend their whole lives curled up in a tiny space.
So what size space is good?
You want to provide your snake an enclosure that has at least the following measurements.
Ground Snakes
Length: at least the same length as the adult snake
Width: at least a quarter of the snake's adult length
Height: at least a quarter of the snake's adult length
Arboreal Snakes
Length: at least a quarter of the snake's adult length
Width: at least a quarter of the snake's adult length
Height: at least the same length as the adult snake with a maximum of 8 feet (if the snake is longer, increase the length, not the height)
As for maximum size: nothing is too big for your snake. Go as big as you like.
No Escape
Snakes are notorious escape artists. If there is a way to escape from their enclosure, they will find it. That is why you want to make sure any terrarium you get can be sealed tight. It should have a lock on the doors that is easy for you to open, while being impossible for your snake to open.
Waterproof Bottom
The bottom of the terrarium needs to be waterproof. Your snake must always have a supply of fresh water to drink and it will definitely spill and splash some of that water onto the floor of its cage. It will also urinate and poop. You don't want that leaking out.
Climate Control
The ideal snake cage is one that allows you to control the climate within. That is why wire cages are no good. Glass is ideal, because you can see through it, its easy to clean and it seals in the temperature and humidity you provide. Combined with a top that provides ventilation, the glass terrarium is perfect for mimicking whatever natural habitat your snake would be enjoying if it were living in the wild.
Top Snake Terrarium Brands
The following brands all make excellent snake terrariums. You really can't go wrong with any of them. They are listed here in no particular order.
Exo Terra
The Exo Terra range of glass snake enclosures and terrariums are designed by European herpetologists. They are a favorite among snake and reptile lovers. They are the number one name in natural terrariums and have a huge selection, so it is no wonder that they are our top choice.
Exo Terra now also produce elegant terrarium cabinets, as you saw above. These are the perfect complement to your new Exo Terra snake enclosure while holding all your snake keeping paraphernalia. You can even fit a few books or other bit and pieces on the shelf.
Zoo Med Laboratories Inc.
Zoo Med are not to be forgotten, though! Another top brand, they describe themselves as a company of pet lovers for pet lovers. They cater to exotic pets, including fish, insects, amphibians, and reptiles. Their terrariums are also of high quality, though Exo Terra are a bit better, in our opinion.
Carolina Custom Cages
Carolina Custom Cages started out specializing in cages and other products for bearded dragons, but once they realized how well their products worked for other animals, they expanded operations. Today, they make the best snake terrariums on the market.
The only reason their enclosures are not our top recommendation is because they only make large models (with one or two medium-sized ones). Most amateur snake owners choose a common beginner snake breed and have no need (and usually no space) for a larger cage.
Repti Zoo
Repti Zoo is another company that specializes in designing, manufacturing and selling reptile equipment, including terrariums of various sizes. Part of Dongguan ETAN Pet Supplies Co. Ltd., Reptizoo has expanded over the past decade thanks to the good quality of their products and their excellent service.
Zilla
Zilla is also an American company and focuses on reptiles and amphibians. Their terrariums, bedding, lighting, and décor comes in a wide variety and all aid in maintaining a healthy reptile habitat.
Snake Cages FAQ
What should I put in my snake cage?
You don't want to live in an empty house and neither does your pet snake. There are a few items that every good snake cage needs. These are:
Snake Hides
Snake hides are essential elements that you should always strive to have in your tank. Snakes love to crawl and hide it tight, dark areas like beneath rocks and logs, to keep themselves hidden and safe from the environment.
They need these same elements in their terrarium to feel at home. Even if they don't need to hide for protection, they love to stay hidden for the comfort it provides.
You can replicate that by purchasing a few cheaply available hides. Our buying guide for snake hideouts will help you find the best one.
If you do not wish to spend money, you can make your own out of boxes, flowerpots, plastic containers (if they are opaque and dark). If you use something that is not dark and opaque, you can cover it with a coat of clay to make it dark and cool.
Water Bowls
Your pet requires a bowl to drink water. Having a bowl nearby, within your snake's eyesight reminds it to drink water constantly. You do not want your snake to become dehydrated.
Snakes also like to get into the bowl and have a soak. For that reason, you should get one that is large enough for the snake to get inside.
There are many options for a bowl. You can use containers lying around the house or invest in a good quality water bowl.
Lighting Products
Many reptile owners swear by the importance of having lightning products inside the cage. This is one hundred percent true for a few reptiles like chameleons and bearded dragons. They need UV lights to thrive.
But with snakes, you don't need to worry about this so much. An adult snake can stay healthy without any additional light, provided your room has an ample amount of daylight.
If the cage's room is dark, we recommend using fluorescent UVB lights to keep them healthy. Several options let you set a timer, so they turn on and off when you want. Set the timer to mimic a normal day.
Accent Pieces
Now that the most essential things are taken care of, you can add more decorations according to your preference. But there are some things your snake would really like, so we strongly encourage you to add them.
You should include plants, substrate, branches, rocks, and climbing structures. If you do not want to buy expensive substrates, some effective yet affordable options include newspaper, cypress mulch, or butcher paper.
Do snakes need air holes?
Yes, snakes need air holes to allow for cross ventilation. Most tanks that you buy online have a layer of mesh that works great at allowing air to flow.
If you are keeping your snake in a plastic tub, you need to provide ventilation holes. We recommend three holes of ¼ inch each on both sides of the container.
Can two snakes live in the same cage?
The answer is no. It is rarely a good idea to keep two snakes together. The most dominant one will eat the other's food. They might even start fighting to assert dominance, which can result in injuries.
Putting a male and female together can also lead to breeding. If you want to breed snakes, then go ahead. But if you do not, make sure to keep males and females separately.
Apart from these mentioned problems, different breeds have specific housing needs. Western hognoses are found in drier environments, while a reticulated python lives in more humid and warm conditions.
You cannot house both together and try to find that happy perfect temperature. You are always at a risk of weakening one. Therefore we highly advise keeping two separate tanks for two snakes.
The only exception would be two female corn snakes or a pair of garter snakes. But to keep them alive and healthy, try to put two similar-sized snakes in the cage. It would be best if you always separated them while feeding.
What can I use to clean a snake cage?
You should avoid cleaning agents that are meant for general use. They contain many nasty chemicals that are bad for snakes.
Residue of these chemicals can remain in the tank and might seep into the snake's skin and internal organs and cause harm.
Keep the cleaning supplies for your tank separate from other household supplies. Always sterilize the decor in the cage by submerging it in hot water. Here are some cleaning supplies that are safe to use:
• Sponges
• Towel
• Small brush with stiff bristles
• Chlorhexidine
• Chlorox
Best Snake Cages: Final Thoughts
When you do decide to buy a snake enclosure for your new best friend, remember that the snake's health and well-being come first and foremost.
Go the extra mile and get a proper, top quality snake enclosure from the start, instead of getting a second-rate one, that you're just going to need to replace eventually.
And you also want to make sure your pet snake has enough space to stretch out fully and be truly comfortable in its enclosure. Owning a happy pet is far better than owning a miserable one!