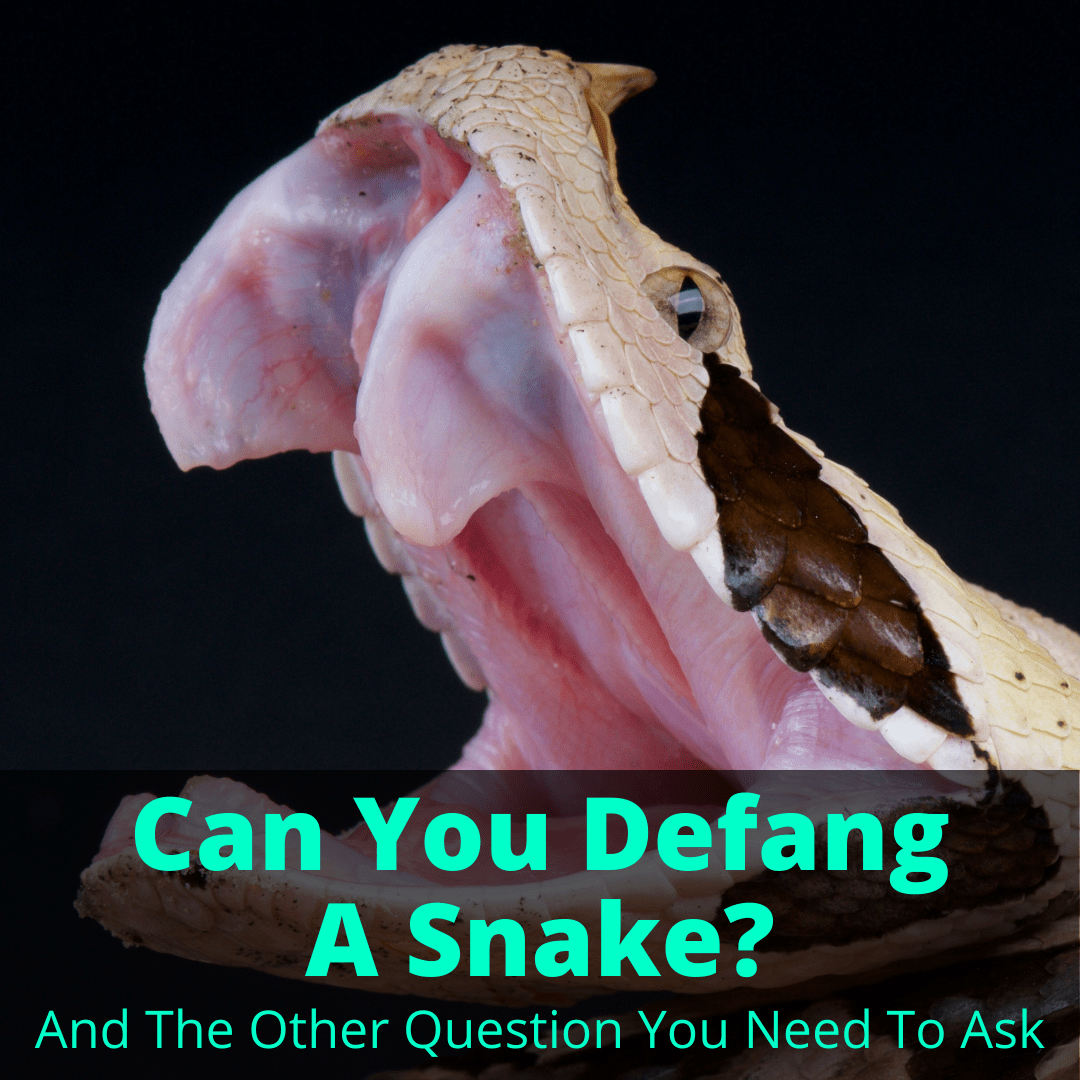 The answer is simple: yes.
But it's not that easy.
First of all, the defanging process is risky, both to the snake and the person removing the fangs.
Second, the fangs often grow back anyway.
But the real question is: if you feel the need to defang your snake, should you really have that snake as a pet in the first place?
That's not meant to be judgmental. It's a legitimate question you need to ask. Along with a few others.
We'll cover everything you need to know about defanging a snake below, along with the additional questions you need to ask yourself before considering the procedure in the first place.
Can You Defang A Snake?
Yes, you can definitely defang snakes. The real question is: should you? There are many reasons you should not defang a snake, ranging from your own safety to the animal's wellbeing.
Let's take a closer look at the process and the reasons for and against defanging, so you can make the right decision for your pet.
Why Do People Defang Snakes?
It is not unusual for owners to defang their snakes. Their reasons for doing so can vary. The most common should be obvious: safety.
If you have a snake that is venomous and aggressive, removing its fangs eliminates much of the danger the animal poses.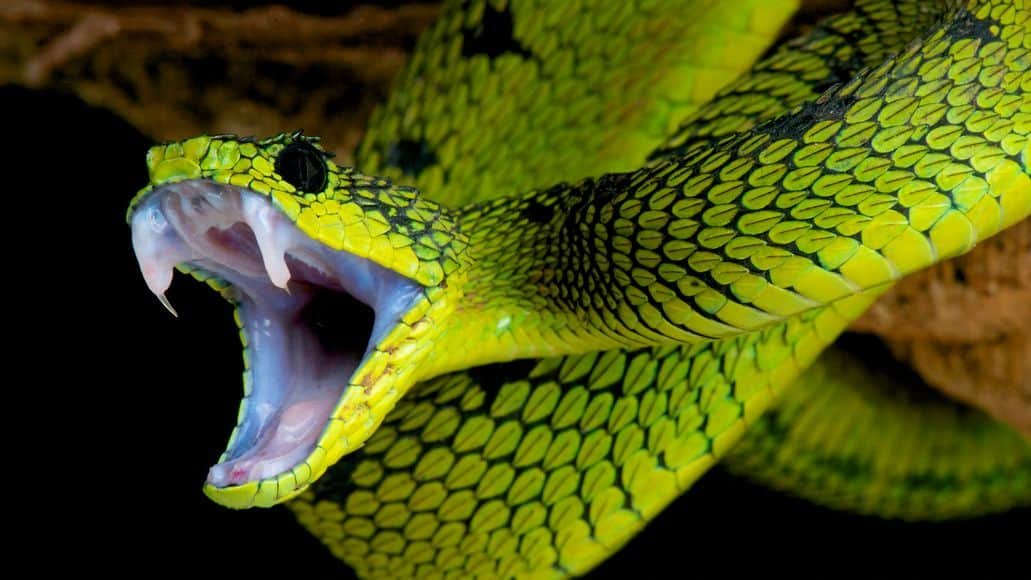 But it does not eliminate the danger entirely.
If you own a venomous snake and are considering defanging it, you should know that a defanged snake is still capable of delivering venom into unsuspecting prey.
You should also know that the fangs can actually grow back. If that happens, the full danger returns. Your snake can once again venomously bite you or others.
How To Defang A Snake
Can you personally defang a snake? Technically, you can, but we don't recommend it. Not only does defanging your snake by yourself have the potential to harm you, but it can also harm the snake.
Researchers found that removing the fangs from a venomous snake can lead to an infection and mouth rot for the poor snake involved.
The only way for a snake to be safely (and temporarily) rendered non-venomous is under complete anesthesia by a trained veterinarian with the proper tools and surgical facility.
After defanging, the snake is now known as a also referred to as a venomoid. That word refers to any venomous snake that has undergone some kind of procedure to inhibit the production of venom, or to remove the means of producing it altogether.
What Happens If I Remove The Venom Gland?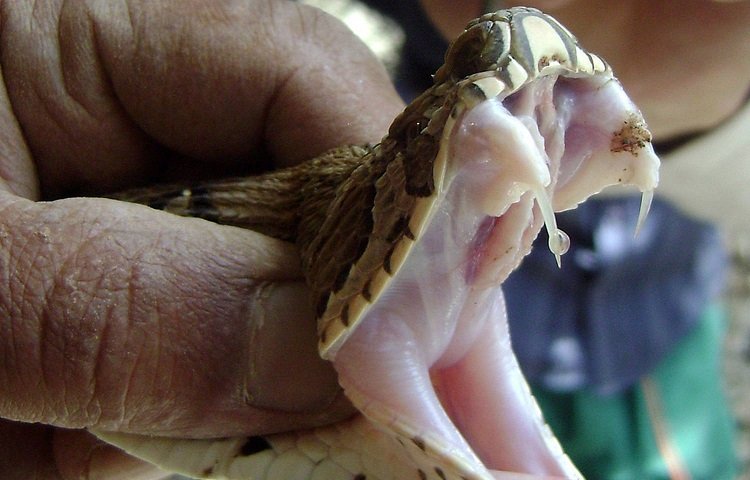 In some countries where venomous snakes are kept in reptile zoos or as pets, it is not uncommon to hear of venomous snakes who have had their venom ducts and venom glands removed.
One particular venom gland removal method for snakes involves severing the venom duct between the venom gland and the fang.
The problem is that the various methods for removing the venom gland are unreliable at best, especially if the procedures are performed at home by people who aren't qualified to perform them.
Questions about the success of venom gland removal aside, no one should ever perform the procedure themselves because the practice is considered unnecessary.
Many veterinarians and herpetologists even consider the procedure to be a form of animal cruelty.
In fact, animal cruelty laws in many countries have made it illegal to remove the venom gland, venom duct, or fangs of a venomous snake without a valid medical reason.
Why Shouldn't I Remove A Snake's Fangs Or Venom Gland?
Besides the fact that venom gland removal often doesn't work, many well-meaning reptile enthusiasts don't realize that mother nature and thousands of years of evolution put those fangs there for a reason.
They are actually a wonder of nature.
When a venomous snake bites its prey, the downward motion of the bite activates muscles in the mouth of the snake that force venom from the venom gland through the venom duct. From there, it travels into the fangs, and then into the bloodstream of the unfortunate victim.
The bottom line is that a snake needs its venom and its natural delivery system to defend itself and immobilize prey.
But beyond that, you also need to realize that venomous snakes secrete venom for the same reason that humans and other animals secrete saliva. It helps soften food so that it can be swallowed and digested.
Removing the fangs or venom gland of a poisonous snake can have genuine health consequences, because it makes it difficult for them to swallow and digest their food properly.
But I Own A Venomous Snake, How Do I Protect Myself?
There are experienced reptile enthusiasts out there who own venomous snakes. Unless you are also highly experienced, you should not even consider getting a poisonous snake.
Casual reptile enthusiasts and other laypeople should avoid keeping venomous snakes as pets under any circumstances because of the obvious dangers involved.
In fact, in many countries and many U.S. states, private ownership of venomous snakes is illegal.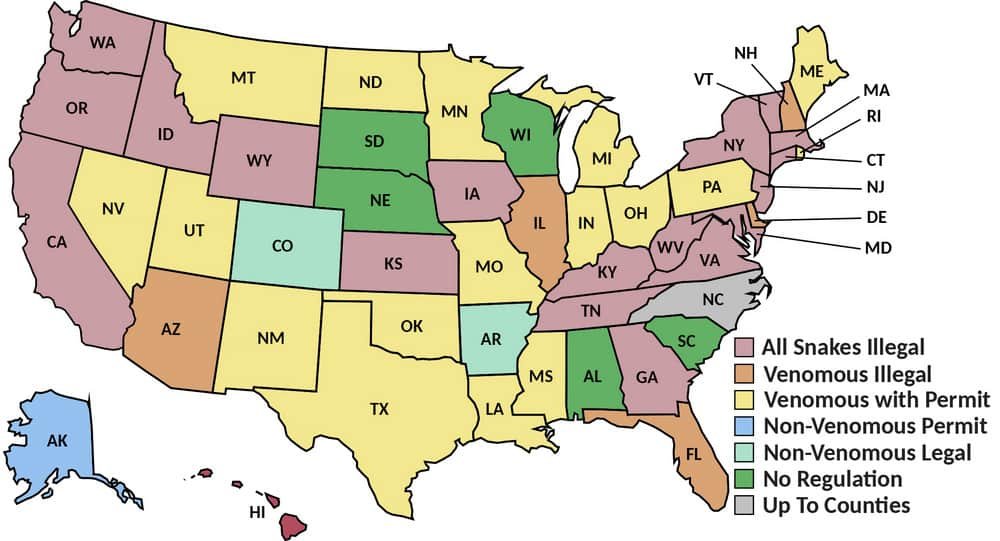 Some jurisdictions might allow herpetologists and other specialized researchers to own venomous snakes for research purposes. You would need to obtain a special license from the responsible government authority.
If you currently own an unregistered venomous snake in a jurisdiction where it is not allowed, we strongly encourage you to surrender it to the proper authorities.
Additional Dangers Of Owning A Venomous Snake
The obvious danger of private ownership of venomous snakes is the risk of being bitten. But there are additional dangers you may not be aware of.
Illegal Wildlife Trade
The first danger is that the venomous snake you buy might come to you via the global illegal wildlife trade. The global illegal wildlife trade is estimated at 7 billion to 23 billion dollars annually.
Illegally traded or exported venomous snakes are often endangered or threatened species. The animals usually endure malnutrition, stress, and neglect as they are transported illegally from their source countries.
The money generated from the illegal wildlife trade funds conflicts worldwide and provides a source of revenue for insurgencies and repressive dictatorships.
Venomous Snakes Are Often Non-Native, Invasive Species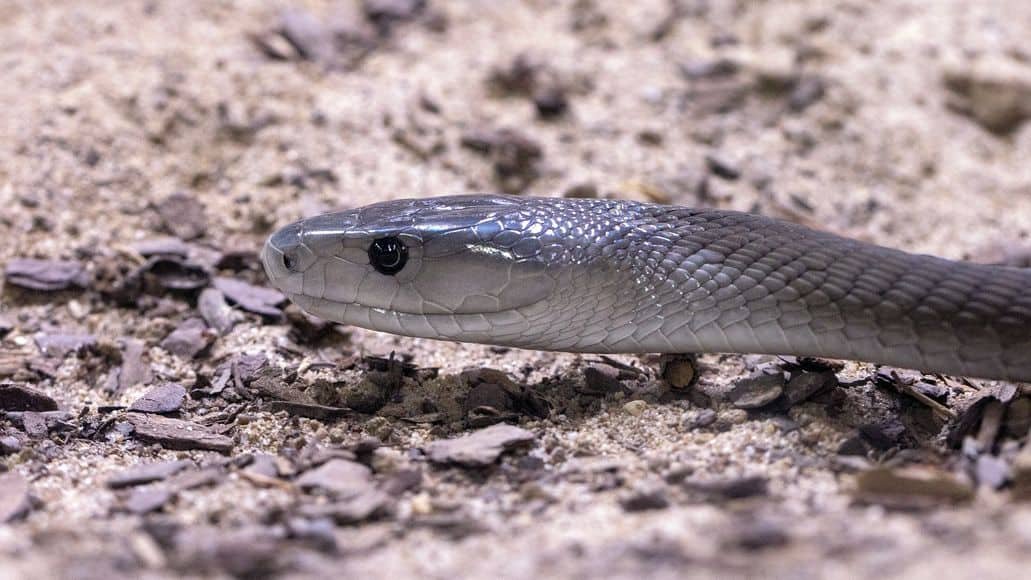 Imagine what might happen if your venomous snake from Asia or South America escapes into the wilds of Portland, Oregon, or Cleveland, Ohio.
With the growth of the illegal wildlife trade globally, large parts of the U.S., but especially Florida, are struggling to contain large populations of non-native and invasive plants and animals.
This relentless onslaught of invasive reptiles, amphibians, fish, and mammals continues to do irreparable damage to America's green spaces and waterways. In some cases, non-native species have driven native wildlife species in the U.S. to extinction.
OK, Are There Any Native Species of Venomous Snakes I Can Keep As Pets?
There are over 20 species of poisonous snakes in North America, including 16 species of rattlesnake, two species of coral snakes, and one water moccasin species.
However, keeping any of them as a pet is illegal in most jurisdictions. But some states might allow the private ownership or sale of a venomous snake with the right permit.
Defanging A Snake: Final Thoughts
Before you ask whether you can defang a snake, you should first ask whether you should have that snake in the first place. Venomous snakes are illegal in most jurisdictions.
Even if you are allowed to keep one, only highly experienced snake owners should ever do so. The danger is just too high, even if the animal has been defanged.
Finally, if you do end up getting a venomous snake, should you really defang it? While it does decrease the danger, it is cruel and goes against nature. Plus, the fangs can grow back.
If you can't handle a snake with its fangs intact, should you really be keeping that animal at all?