What do you imagine when you think of snake teeth?
Probably the classic image of a snake stretching its jaw to reveal long, sharp, scary fangs.
But only some snakes have fangs like that.
All are venomous snakes and they need those fangs to inject venom into their prey.
Not all venomous snakes have those kinds of fangs. And non-venomous snakes still have teeth. Some of them have dangerous teeth.
Keep reading to learn all the most important snake teeth facts. We'll also take a closer look at snake venom.
Snake Teeth
Different snake species will have different amounts of teeth, but all snakes need teeth in order to hunt and catch prey.
Generally, snakes have one row of teeth on each side of their lower jaws and two rows of teeth on each side of their upper jaws. The actual number of teeth differs greatly from one species to the next.
But almost all snakes probably have a lot more teeth than you thought!
Because snakes swallow their prey whole, they don't use their teeth for chewing. Instead, their teeth have other uses, which we will cover below.
Types Of Snake Teeth
There are actually four types of snake teeth. If you had to categorize snakes according to their teeth, then they'd be put into these four categories:
Aglyphous (basal). These snakes have what's known as normal teeth.
Opisthoglyphous teeth. These snakes have grooved rear fangs.
Proteroglyphous teeth. These snakes have grooved front fangs.
Solenoglyphous teeth. These snakes have hollow front fangs.
Snakes that have opisthoglyphous, proteroglyphous, or solenoglyphous teeth are called advanced snakes. These all have venom in their fangs.
Basal snakes don't have fangs and they don't have venom.
Let's look at all these types in greater detail to see how their teeth work.
Basal
These snakes have what's called aglyphous teeth (otherwise known as normal teeth) and they have been given this name because they aren't grooved, and they do not have hollow tubes.
Snakes that have these teeth didn't evolve to have fangs or they only have one maxilla that didn't evolve. Basically, they lack the venom gland you'll find in poisonous snakes.
Some snakes with normal teeth developed opisthoglyphous teeth but lost them, so they have a venom gland that lacks venom.
Finally, there are species of snakes with normal teeth that can use toxins taken from their prey to use as self-defense. They tend to have large teeth at the front of their mouths that don't have grooves or hollow tubes.
Opisthoglyphous
These snakes have fangs, but they are harmless. Their venom is not powerful enough to cause problems and the venom gland can't inject the venom into the snake's prey properly.
Proteroglyphous
These teeth are grooved. They are located in the front of the snake's mouth. These fangs are smaller than the solenoglyphous fangs, because they can't move. Snakes that have these teeth will attack their prey until the prey dies or can't escape.
Solenoglyphous
These teeth are hollow and highly sophisticated. They inject venom into the prey with a lot of pressure. An example of a snake that has these teeth is the viper. It has two sets of fangs and, incredibly, sheds its fangs every two months.
How Powerful Is A Snake Bite?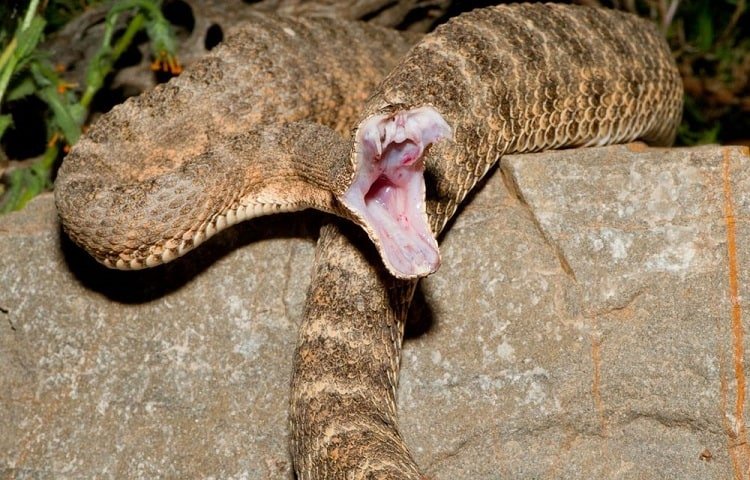 Even when they're not filled with venom, most snake bites hurt and cause discomfort.
This can take the form of swelling and other symptoms that affect the body in various ways, like headaches and numbness.
In some people, snake bites cause severe allergic reactions that can be fatal.
When it comes to venomous snake bites, there are three types of venom: cytotoxins, neurotoxins, and hemotoxins.
Cytotoxins
This type of venom harms the body's cells. It contains digestive enzymes and molecules called spreading factors that can result in both local injury (e.g. swelling and bleeding) and systemic injury, like organ damage.
Neurotoxins
Neurotoxins are the deadliest type of venom and destroy nerves in the body, which can result in paralysis and death.
Hemotoxins
This type of venom destroys red blood cells in the body. Rattlesnakes and Copperheads are common hemotoxic reptiles.
The venom that's involved is called metalloproteinase. This breaks down the membranes of red blood cells. If enough cells break down in response to the venom, the body ends up hemorrhaging.
What Is Venom?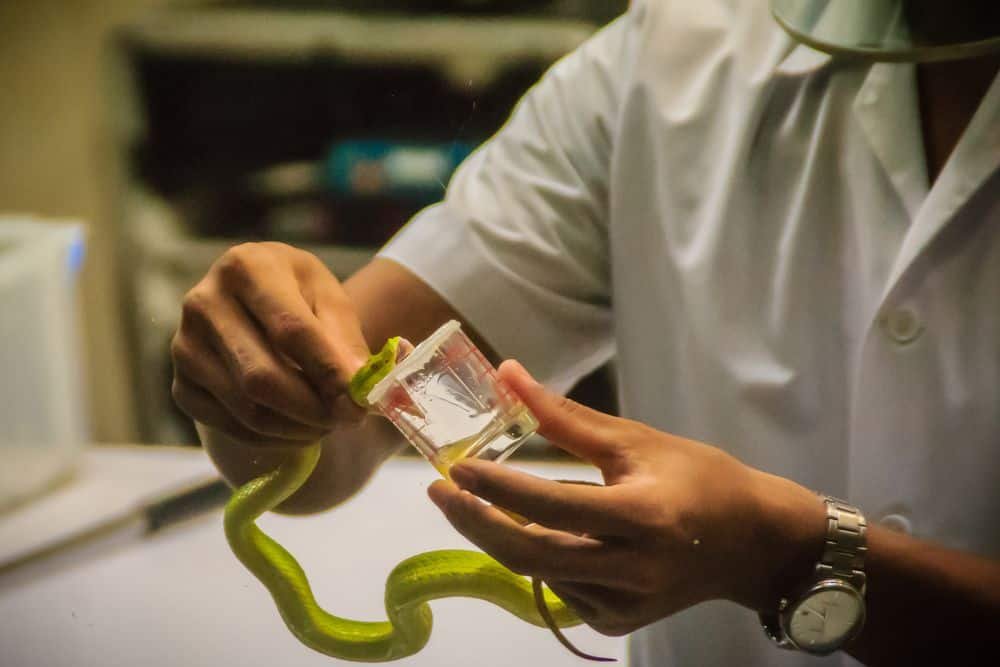 We've discussed the different types of venom, but what is venom, exactly?
Venom is basically a blend of proteins and enzymes. We tend to think of venom as being the same thing as poison, but this is not exactly the case. Let's look at some of the differences between venom and poison.
Poison enters the body by being inhaled, swallowed, or absorbed through the skin. An example of a poison is poison ivy. When you touch it, it causes symptoms, like a rash.
Venom is actually a specialized type of poison that has to be injected into the skin in order to cause a reaction, for example via a snake bite or a bee sting. Since venom contains both small and large molecules, it requires a wound in order to find its way into the body and bloodstream.
How Snake Venom Forms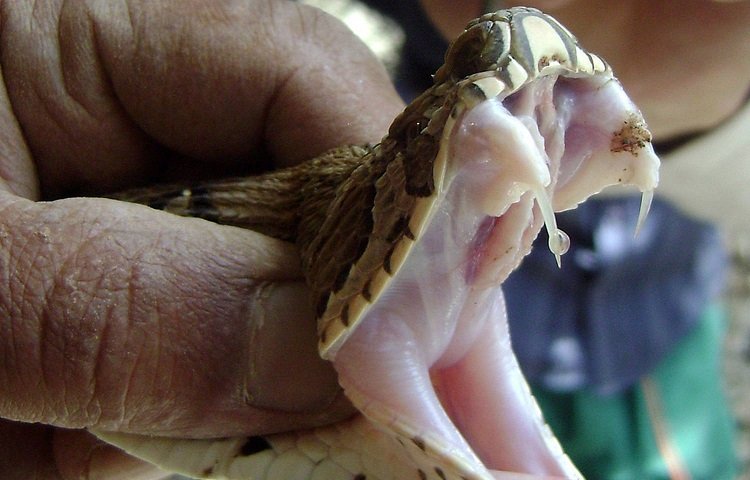 Venom is produced in the salivary glands of snakes, which are located in their heads.
Snake fangs work like hypodermic needles. When a snake bites its prey, or you, muscles inside the snake's head contract to squeeze the venom glands.
This pushes the liquid venom through the fangs and into the flesh.
Some snakes, like large rattlesnakes, have a large amount of venom in their fangs. But they have control over how much venom they inject into their prey and they don't always use the full amount.
Even smaller snakes with less available venom can control how much they release. So, if you've heard that snakes can choose how much venom they release, now you know it's not a myth!
How Snakes Get Their Teeth
It's a fascinating question: "How do snakes develop their teeth and fangs?" A study in Nature set out to explore this question.
Researchers looked at a variety of snakes and discovered that both the front and back fangs in snakes develop from teeth-forming tissue that's located at the back of the upper jaw.
In front-fanged snakes, these front teeth displace forward when the embryos grow, as a result of fast growth of the embryonic upper jaws. By comparison, back or rear fangs remain in place after they are formed.
Interestingly, this process is similar to the way our own teeth form. When we are embryos, our teeth in the upper jaw grow from one tooth-forming tissue. The bottom teeth grow from a separate tooth-forming tissue.
The next part differs from us. The rear part of the snake's tooth-forming tissue develops with the venom gland, which produces the fang-gland system separately from the front part of the tooth-forming tissue.
Examples of front-fanged snakes include the rattlesnake, coral snake, and cobra. Rear-fanged snakes include the hog-nosed snake, and Boomslang.
Snake Fangs: Related Questions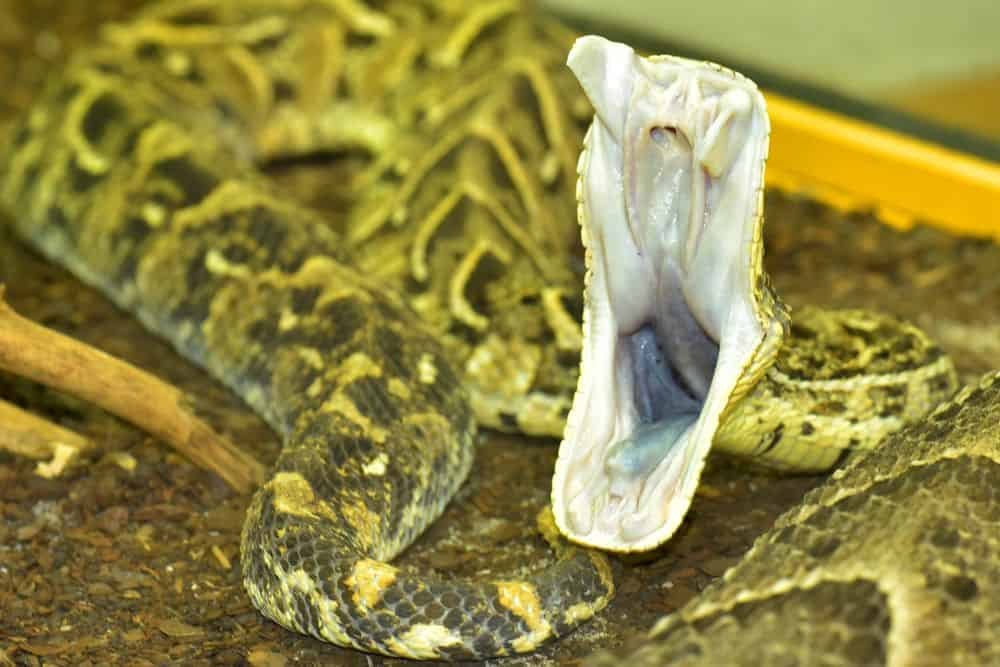 Can snake venom be used in a good way?
Venom has toxins that can be beneficial for human medicine. Scientists have found that some snake venom can affect blood clotting and blood pressure.
Furthermore, proteins in snake venom have been used to treat health conditions like Parkinson's disease, strokes, and cancer. Snake venom is extracted by snake milkers. They have a dangerous job and most hold doctorates, but the average snake milker salary is shockingly low.
Do all snakes have the same amount of venom?
The amount of venom varies. A good example in the Inland Taipan (Oxyuranus microlepidotus). It lives in Australia and has the most dangerous venom of any snake in the world.
This snake has a maximum venom yield of 110 mg in one bite, which is enough to kill more than 100 people. By comparison, the Gaboon Viper can inject up to 2400 mg in one bite, but its venom is much less potent.
Snake Teeth: Conclusion
Snakes have different types and numbers of teeth depending on their species. Some of these teeth are fangs that can release venom into the flesh of their prey.
But even when no venom is present, snake bites can still be harmful and very painful. In addition to the most important facts about snake teeth and bites, we've also gone deeper into the different types of teeth and the venom some of them can deliver.
If you want more such facts about snakes, follow that link. You'll learn some incredibly fascinating things about these incredibly fascinating beings.