Housing two (or more) ball pythons together makes a lot of sense.
You save space and money on enclosures and other accessories.
And the snakes are the same species. Obviously, they will be happy to have a friend, right?
Not so fast.
Snakes are solitary creatures by nature. They do not hang out together in the wild.
What does that mean for us, if we would like to but two ball pythons in the same enclosure?
Keep reading to learn whether you can house two ball pythons together and what to expect if you attempt it. Short summary: bad idea.
Can You House Ball Pythons Together?
Even though it is possible to house two ball pythons together, we don't recommended it. It can cause a variety of issues, like antisocial behavior between the snakes and an increased risk of disease, stress, and feeding problems.
A good way to get an idea of how well two animals of a species can cohabitate is to take a look at how they interact with other members of their species in the wild. Do they live in groups, or keep their distance?
Ball Pythons In the Wild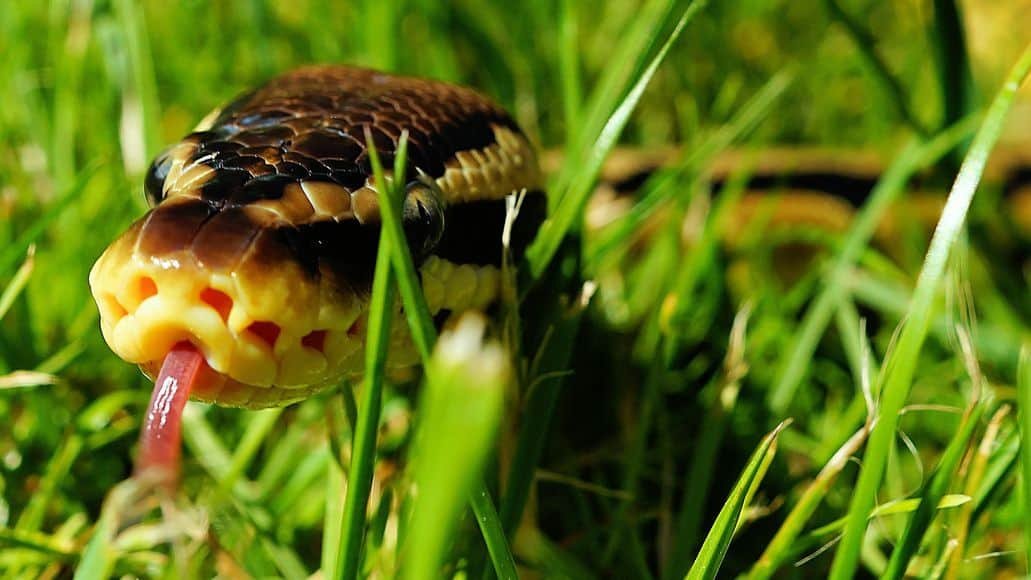 Snakes are not sociable animals and ball pythons are no different. In the wild, they are quite the opposite of social.
They are solitary reptiles and like to live alone. It is very rare to see two snakes of any type together in the wild.
They will only do this if they are left with no other choice, for example, if they have to live in the same burrow, because there is nowhere else to live. And even then, they may end up fighting.
The Dangers Of Housing Ball Pythons Together
There are a number of dangers that come with housing ball pythons together. The first is that one snake will assert its dominance over the other.
Asserting Dominance
This happens because snakes are used to being alone. When it happens, the most dominant snake will make sure the other knows who's boss.
A sign that one of your pythons is showing dominance over the other is that it will be on top of the other snake. It may look like they're showing each other love, but that is most certainly not the case.
The problem with one snake being dominant is that it will most likely start eating all of the food. No matter how many mice you feed your ball pythons, the dominant one will eat them all.
This can cause a variety of health problems for the submissive ball python, since it will not get all of its required nutrients.
Not only can it lead to health problems, your python may actually starve and die, if it is unable to get anything at all to eat.
Stress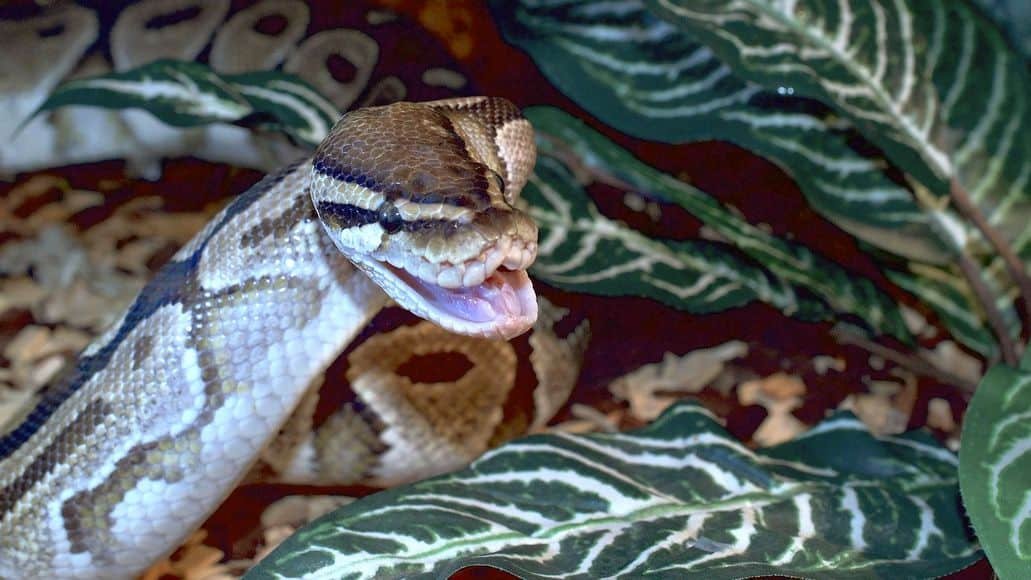 Stress can also be a danger when you have two pythons sharing a cage together. With two creatures sharing a home that would prefer to be on their own, it's obviously not going to be an easy ride for them.
Signs of stress include lack of appetite, being overly active during the day, hissing, and rubbing their noses against the tank. This is a clear sign that they want to escape.
Disease
With two ball pythons sharing a tank, there is also a greater risk of disease spreading. A way to make sure your python is healthy is to check its stool. Of course, that is not as easy as it may sound.
If you notice an unhealthy stool, you probably won't know which python it came from, meaning you won't know which one may be sick.
And of course, diseases can spread quickly in close quarters. If one python becomes ill, chances are your other may catch the disease as well.
Tips For Housing Ball Pythons Together
Sometimes you have no choice but to house your snakes together. If there is no way you can put your ball pythons in two separate cages, there are some things you can do to ensure your snakes stay as comfortable as possible.
The most important is to make sure buy a large enough enclosure to house two ball pythons.
You also want to make sure there are multiple places for your pythons to bask. This makes it harder for one snake to assert its dominance over the other.
The final thing you should do is make sure your snakes always have a clean environment. Put in extra time and money to keep it clean and create a comfortable environment for them.
Housing Ball Pythons Together: Related Questions
Next, we've going to look at some common questions related to housing multiple snakes together. If you have any additional questions, please feel free to ask them in the comments below.
Which Snakes Can Be Housed Together?
It can be quite tricky to house snakes together, because it isn't so black and white. Sometimes you can house females of a breed together and sometimes you can only house two males together.
If you want to keep two snakes in the same enclosure, your best option would be the garter snake. You can keep two males, or two females, together. Just make sure you don't mix genders.
You can also house two female corn snakes together. Other than this, it best to just not house any snakes together.
They're solitary reptiles and putting two together can open a can of worms. Think stress, feeding issues, and health problems.
How Big Should A Ball Python Enclosure Be?
Ball pythons do not require a large enclosure. Usually, a 36 by 18 by 12 inch cage is large enough to make sure your ball python can stay comfortable.
Of course, a bigger cage would be better to give your pet a bit more space. And make sure you keep the enclosure comfortable, with heated lamps, basking spots, and hiding spots. And clean it regularly.
Will A Ball Python Eat Another Snake?
Ball pythons don't like living in groups. It can stress them out, which can cause them to fight. And when they fight, they can cause serious harm to each other.
If a ball python becomes incredibly stressed, then it may kill and eat the other ball python, if it is smaller.
Can I Keep A Male And Female Ball Python Together?
You should not keep a male and female ball python together. As mentioned, it's best not to keep any ball pythons together.
You may want to put a male and female together to breed them, but they should not stay together apart from when they mate. There is a certain way to do this at certain times of the year. Our article on how to breed ball pythons has more.
Males and females should not permanently live together, because snakes are solitary creatures and like their own space. It could even be considered cruel to keep two together, because it can cause distress and health issues.
Can Two Female Ball Pythons Be Housed Together?
Can two ball pythons live together, if they are both female? While two females are less likely to fight with each other, the answer is still no. They can make each other miserable, because they really just want to be on their own.
They may come across as being peaceful to each other, but actually, they may simply be ignoring each other. There won't be any social communication and it can still cause stress for both of them.
Even though there will be less fighting, your snakes may still suffer from a lack of appetite or health concerns from being together. The best thing to do if you want multiple snakes is to keep them each in their own enclosure.
Do Not House Ball Pythons Together: Final Thoughts
If it is at all possible to avoid housing ball pythons together in the same enclosure, please do so. Snakes like to be alone and forcing them to cohabitate borders on cruelty.
Making two snakes share an enclosure can lead to all sorts of issues. However, there are times when it is unavoidable. In that case, please follow the tips and advice we gave you above, to ensure things go as smoothly as possible.