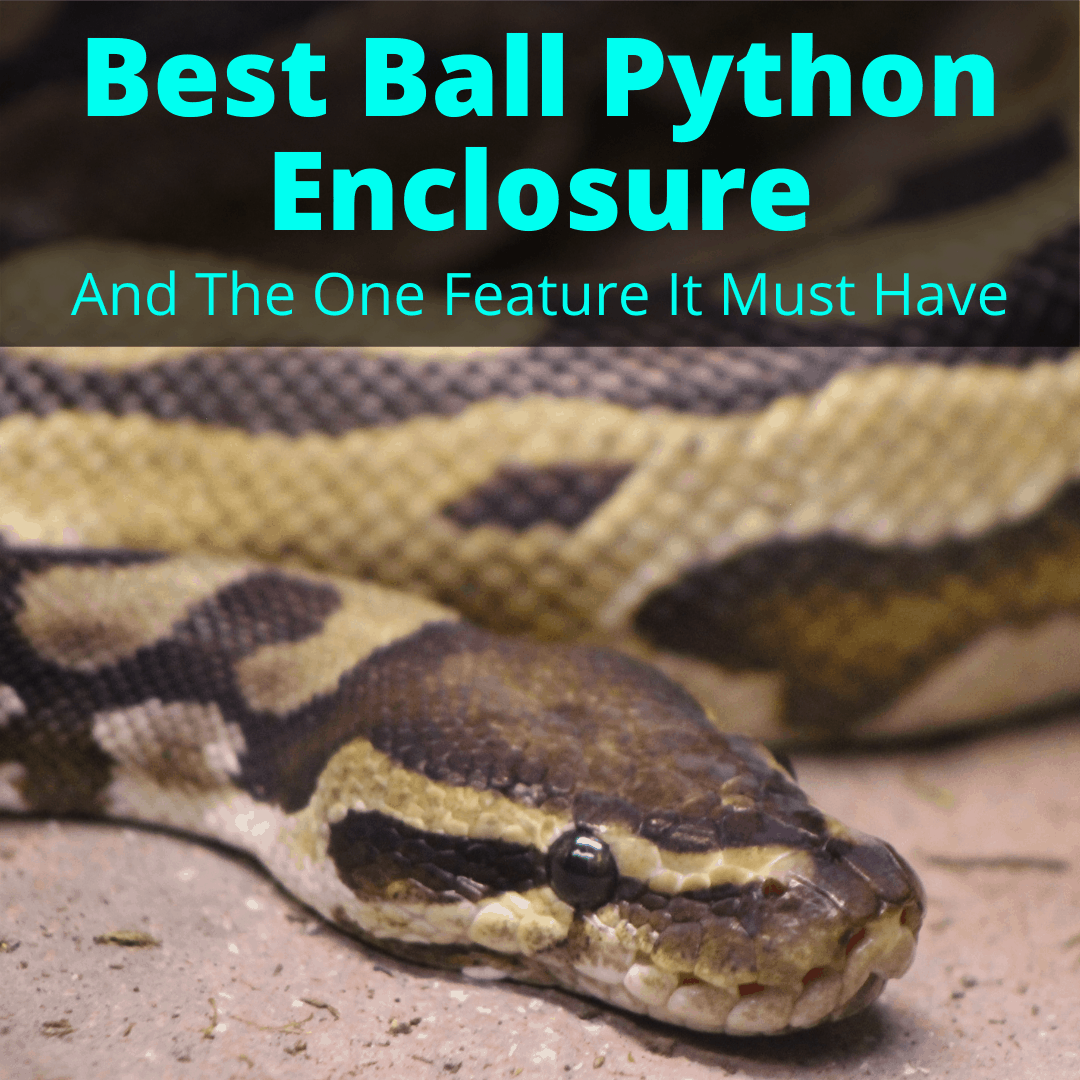 Ball pythons are the most popular pet snake.
And for good reason. They don't get too large, they are docile and they are low-maintenance.
But there is one thing they absolutely need. And that is the right enclosure.
What makes the best enclosure for a ball python?
Size is the most important factor.
You need to give your snake enough room to feel comfortable. Otherwise, it will feel stressed and could fall ill and eventually die.
Let's take a look at our favorite terrariums for ball pythons. The first 3 provide plenty of space for adult ball pythons. The final two are good for young snakes.
Best Ball Python Enclosures Compared
03/22/2023 02:52 am GMT
What should you look for when shopping for a ball python enclosure?
First and foremost, make sure that it is secure and that is it has enough capacity for your snake to be comfortable.
It should have a minimum capacity of 20 gallons for small snakes. As they grow, you need a larger enclosure. Mature ball pythons need at least 40 gallons, but larger is better.
Best Enclosure For Ball Python: Reviews
The following are the best terrariums for ball pythons on the market today. You'll notice that all but one are larger than 40 gallons. That's because we like to give our snakes plenty of space.
The smaller enclosure listed below is for young snakes only. It is too small for a fully grown adult ball python.
Repti Zoo 67 Gallon Glass Terrarium
Giving your ball python a realistic habitat that mimics its natural environment is a great way to make it feel comfortable. It also makes your snake's terrarium so much more beautiful. Let's check out what this Repti Zoo terrarium has to offer.
Featured Specs
Capacity: 67 gallons
Shape: rectangular
Color: Black
Pros
This terrarium has a strong screen top that provides your ball python with enough ventilation as well as allowing in UVB light.
It has a raised bottom frame. This is a great feature because it means you can easily mount a substrate heater.
It's got a waterproof bottom.
You don't want to risk your python escaping when you feed it, so you'll love that this terrarium comes with front doors that open separately.
The terrarium has ventilation in the windows to give your ball python the right amount of fresh air.
There are also closable inlets for tubing and wires, to make it much more practical and user-friendly.
It's equipped with a lock to prevent your pet from escaping. This also makes it safe to keep in the house if you have kids.
Cons
Some people have reported that their ball python was able to escape through the inlets. You need to make sure these are secure.
Buying Advice
Our favorite enclosure for ball python snakes has every feature you need. This makes it easy to set up the perfect habitat for your pet.
Carolina Custom Cages Extra-Tall, Large Enclosure
This Carolina Custom Cage is extra-tall to accommodate a ball python that loves to climb and give it plenty of vertical space to explore. Let's check out what it has to offer.
Featured Specs
Capacity: 100 gallons
Shape: Rectangular
Color: Black
Pros
This terrarium has a height of 36 inches to nicely accommodate a climbing ball python.
It's been built with glass that's not easy to break. This is good because cages for ball pythons need to be made of solid, strong glass.
The terrarium is easy to assemble.
It comes with strong cardboard and extra Styrofoam to protect it during delivery (some companies skimp on the packaging and their glass enclosures sometimes arrive shattered as a result)
The terrarium comes with key-lock security to ensure the safety of your ball python.
It has a waterproof base.
Cons
The doors that open on the front of the terrarium are only held together by a plastic latch at the bottom. It works, but a stronger lock would be preferable.
While the base tray of the terrarium is waterproof, the glass panels are not and you'll therefore have to use a silicone sealant on them.
While most find assembling these terrariums easy, some have found it a bit difficult due to a lack of instructions.
Buying Advice
This glass terrarium gives your ball python a lot more vertical space than other options on this list. If you have a climber (and many ball pythons love to climb), this is a great choice.
As expected, the larger size means it is a bit more expensive. If you are on more of a budget, check out the next products below. they are cheaper, but also smaller.
Carolina Custom Cages Tall, Large Glass Terrarium
This terrarium is also easy to assemble, like all models from Carolina Custom Cages. It is 12 inches shorter (as in less tall, not less long) than the previous model above, but sells for a lower price because of it. Otherwise, they are nearly identical.
Featured Specs
Capacity: 76 gallons
Shape: Rectangular
Color: Black
Pros
This terrarium is secure, thanks to a twisting latch that ensures the panels remain in the closed position.
This snake terrarium comes with a waterproof base tray. You can fill the bottom of the terrarium with water, which is great because ball pythons love soaking in water since they're tropical snakes.
It has a high-quality screen top that's very sturdy.
Cons
This model has exactly the same issues as the previous one. None are serious negatives, but they might be a problem for some.
Buying Advice
This terrarium is identical to the previous model (and the next two), with the only difference being the smaller height, and the correspondingly lower price.
Carolina Custom Cages Tall, Medium Enclosure
This is another Carolina Custom Cages terrarium. It's not always easy to find a snake terrarium that is 24 by 18 by 24 inches, so this product might just be what you're looking for. For us, it's a bit small for an adult ball python, but it would still work in a pinch.
Featured Specs
Capacity: 44 gallons
Shape: Rectangular
Color: Black
Pros
This terrarium comes with hinged doors. This makes it much easier to access.
It's easy to assemble and sturdy once set up.
Although this terrarium is strong and sturdy, it's lightweight so it's easy to assemble and transport.
It's been designed with mesh screens that are made out of steel and have been coated to provide protection against corrosion.
Cons
This model has all the same drawbacks as the other Carolina Custom Cages enclosures
While this cage has a capacity over 40 gallons, it is tall, meaning the footprint is a bit small for a full-sized ball python
Buying Advice
This is another great product by Carolina Custom Cages. It is the same as the others, apart from the difference in size. We rated it lower, because we feel more space is always better. This cage is a bit too small for our taste, with its 24×18 inch footprint.
Carolina Custom Cages Medium Tank
Our final choice is yet another Carolina Custom Cage. This one offers 33 gallons of capacity. It has the same footprint as the previous one, but is not as tall. As such, we also do not recommend this one for an adult ball python. This is for young snakes only.
Featured Specs
Capacity: 33 gallons
Color: Black
Shape: Rectangular
Pros
This terrarium comes with a screen top that has many ventilation holes. It's very secure to keep your ball python safe.
It's got a waterproof space on the bottom, which makes it ideal for ball pythons.
Its doors open outwards so you get easy access to the terrarium without getting in the way of your snake, which contributes to it being the perfect ball python enclosure.
It comes with a key to lock the terrarium as well as a suction cup to keep the key in place and prevent you from misplacing it.
Just like with other terrariums offered by the company, this one comes well packed for safe delivery.
Cons
The drawbacks are the same as the previous models from this brand.
Like the model above, this one is also not large enough for a full-grown snake. Some will say it is, but we like our snakes to have plenty of space.
Buying Advice
This Carolina Cage has the same appearance and quality as other terrariums we've featured by the same company, but it is much smaller. It is best for young snakes.
Best Tanks For Ball Pythons: Related Questions
Now that you have a better idea of the type of enclosure you should purchase for your ball python, let's look at some common questions.
Can A Ball Python Enclosure Be Too big?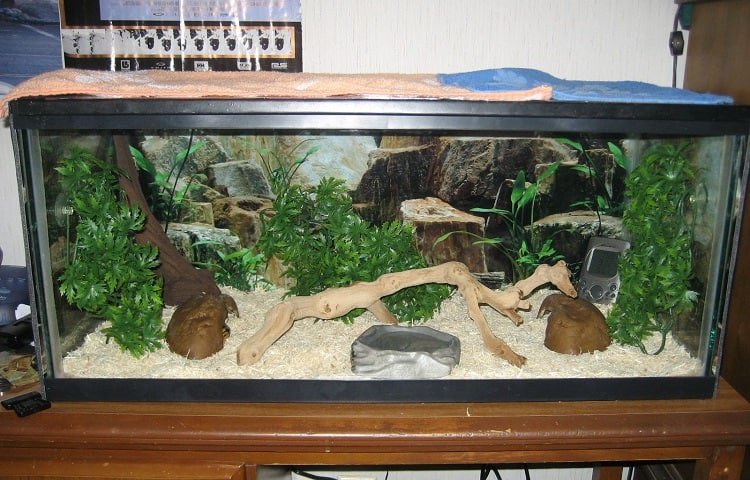 Ball pythons can reach sizes of four to five feet in length, and can weigh around five pounds. We've said that the bigger enclosure you get for your pet the better, but there are plenty of articles online that say this isn't true.
They say having a large enclosure can cause your ball python to feel stressed. Plus, it makes it more difficult to feed your python.
It is true that a lot of open space makes a snake feel exposed and vulnerable, which causes it stress. But that doesn't mean you need to limit the size of the terrarium.
You just need to fill it with some hiding spots and vegetation. As long as your pet can hide away in a snug location whenever it wants to, it will love its larger enclosure.
Is A 55 Gallon Tank Too Big For A Ball Python?
Definitely not. See the answer to the previous question as to why it is not too large. 55-gallons is a good size for this snake, though we obviously prefer something even larger, if you have the space and budget.
Can You Keep 2 Ball Pythons In The Same Tank?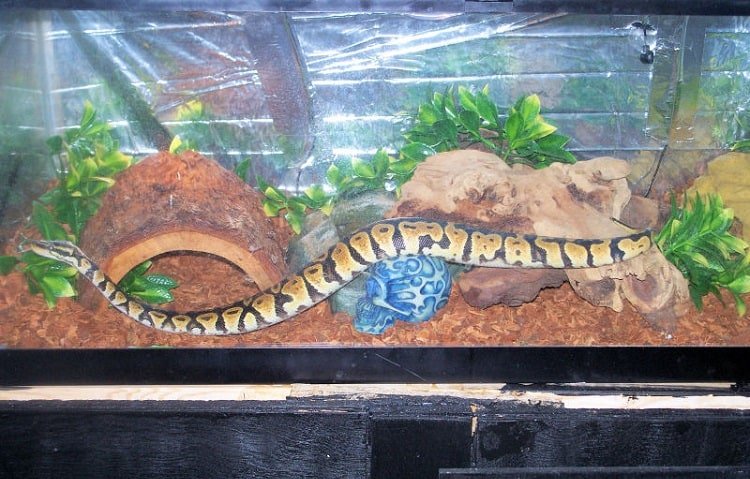 If you have a large tank, you might think it makes sense to put two ball pythons in it. But this isn't a good idea. And not just for ball pythons, but all snakes in general.
Snakes can be quite competitive and they might fight each other for food, warmth, and hiding areas in the cage. Wild ball pythons are solitary animals. You don't want to stress them out by forcing them to be around other snakes in captivity, especially right in their home!
Are Heat Lamps Bad For Ball Pythons?
While there are mixed thoughts on this, heat lamps can be very useful for your ball python as long as you use them correctly.
You have to ensure that your ball python has a basking area in its enclosure that reaches around 90 degrees as well as an ambient temperature that's in the low 80s. Installing a thermometer on both sides of the enclosure is a good idea to help you ensure you achieve the ideal temperatures.
You might find that household light bulbs are enough to give your snake tank the heat it needs, but for larger tanks heat lights will be required. You'll probably need both a daylight and a nocturnal light (i.e. one that gives off heat, but no light).
You can keep the daylight heat light on during daytime hours and then put the nocturnal light on at night, to simulate a day/night cycle for your ball python.
Best Ball Python Terrarium: Conclusion
If you're the proud owner of a ball python, it's important to create the best possible habitat for it. Snakes can become stressed out, so you don't want the tank to be too small, or not have the right features that your ball python needs.
In this article, we've featured five of the best snake cages for ball pythons. We've also answered some important related questions. The most important factor when choosing a ball python enclosure is to make sure it has enough space for your pet to feel comfortable.