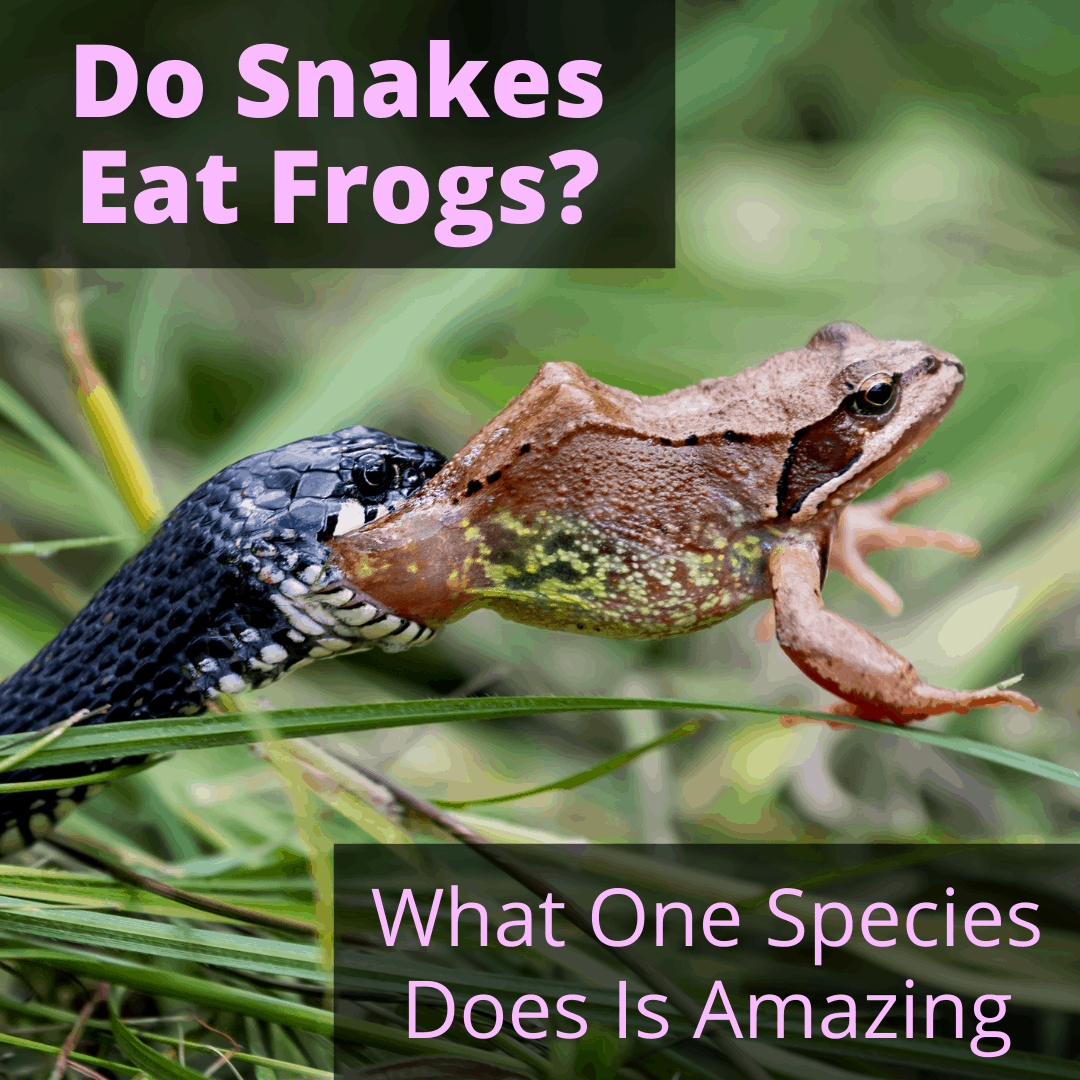 Snakes can be surprisingly picky eaters.
Many species just eat whatever meat is available in their environment.
But other species have distinct preferences.
They have developed a taste for a certain animal and don't really want anything else, unless they are starving and can't find the prey they prefer.
So what about frogs? Are there snakes that prefer frogs?
Or do snakes simply eat frogs when they can't find anything else to eat?
Keep reading to find out. We'll also cover an amazing species that has learned to use a frog's venom for its own purpose.
Do Snakes Eat Frogs?
Many snakes will eat frogs if that is what they happen to catch. But some species seem to really enjoy frogs and have made them the main part of their diet.
Snakes That Commonly Eat Frogs
Let's look at some of the most common snakes that eat frogs. There are, surprisingly, many types of snakes that choose frogs as their main source of food.
Garter Snake
Garter snakes are a good example of snakes that eat frogs. These snakes strike their prey with their mouths and eat them directly without constricting their prey beforehand.
They eat frogs as well as a variety of other prey, such as salamanders, insects, birds, and mice. They love frogs, and are usually spotted hunting for them near ponds. They especially enjoy hunting young frogs, because they are more vulnerable.
Asian Pit Viper
Another snake that eats frogs is the Asian pit viper, which also targets young frogs. Since pit vipers have extremely sensitive heat-sensing pits that can sense temperature differences of a few hundredths of a degree, they can strike their prey in complete darkness without a problem.
Night Adder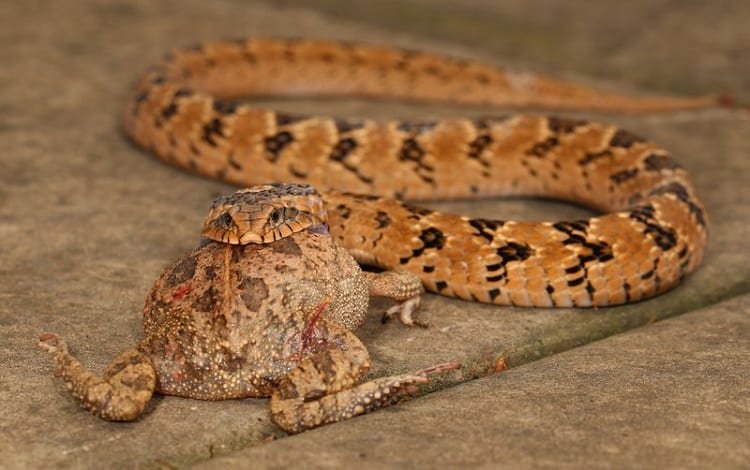 Found in South Africa, this is a snake whose diet is filled with toads and frogs, which is why you usually find these snakes near water sources. The common night adder relies on smell to track down its prey and lingers around homes where frogs are abundant.
Ringneck Snake
The ringneck snake is a small snake, so it eats prey that's smaller than mice. This includes frogs. If the ringneck's prey is a little too big, it will partially constrict it. Like all snakes in their native habitats, ringneck snakes provide a beneficial service to the ecosystem and environment.
Elephant Trunk Snake
The elephant trunk snake lives mostly underwater, so it likes to eat a variety of fish. It also enjoys frogs. Interestingly, because this snake has loose skin, it doesn't bulge after eating a meal.
This type of snake is an efficient hunter in the water and a very good hunter of frogs. It usually searches for its prey during the night.
Madagascan Hognose Snake
The Madagascan hognose snake mainly eats frogs and toads. If you have one of these snakes as a pet you will need to feed it frogs, at least at first.
If you want to feed it other foods, like mice, you'll probably need to feed it frogs for a while, before you transition.
These snakes catch their prey using of their teeth. They have teeth that point backwards to hook onto the frog or toad so that it can't break free.
Amazon Tree Boa
This is another snake that eats frogs. The Amazon tree boa has long teeth to penetrate the feathers of birds so that it can hook them, but it also feeds on frogs, lizards, insects, and bats.
Interestingly, in some areas of the world (like Central America), where frog populations have declined, there have been decreased sightings of snakes that eat them. It seems some snakes simply won't eat any other prey, or they can't find a new food source.
Should You Feed Live Frogs To Your Snake?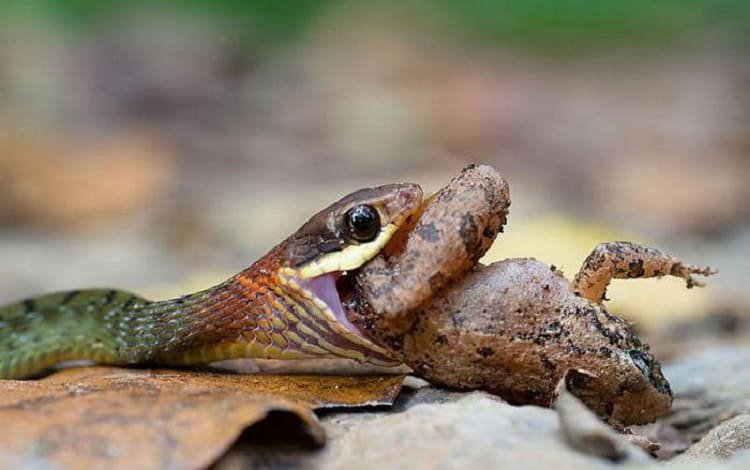 If you want to feed your snake frogs, you might wonder if you should give it live frogs. This isn't recommended. For starters, it's not always easy to find frogs in the area in which you live.
If you live in an urban area, for example, ensuring that you have a constant supply of frogs for your snake can be quite difficult, if not impossible.
Many also consider feeding live frogs to your snake inhumane. The animals go through an unbelievable amount of psychological stress when they are fed to snakes. However, this is what happens naturally in the wild. It is up to you to decide how you feel about this.
Another issue is that frogs could possibly bite your snake. While your snake will be able to defend itself, sometimes snakes in captivity can suffer scratches or bites from their prey, and those could become infected.
This is especially a danger if you decide to leave the prey in your snake's cage for a while. In the end, it's much better to feed your snake pre-killed frogs.
We've touched on how it can be difficult to source frogs to feed your snake. It's also not always easy to find pre-killed, frozen frogs. Finding rodents is a lot easier. This kind of prey is readily available, even on sites like Amazon.
There are some ways around this, though. An example includes purchasing frog-feed blends, like products that are a mix of frog legs and quail. You can purchase these from suppliers like Reptilinks.
There's also another option. If you don't want to feed your snake live frogs, but you know your type of snake usually feeds on frogs in the wild, you could purchase what's known as frog juice.
This is a frog-scented liquid. You use it to cover other prey (like mice) with the scent of frogs, so your snake will want to eat it, even if it otherwise refuses that type of prey.
This juice is great to help your snake transition from one diet to another one. You can purchase frog juice from suppliers like Reptile Supply Co.
Some Snakes Eat Toads And Frogs For Their Poison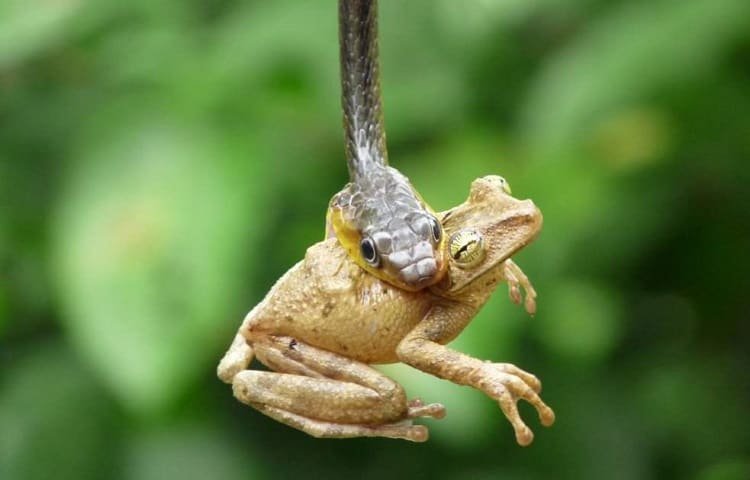 We mentioned previously that many snakes will avoid eating toads because of their poison. But some snakes go the exact opposite route.
The Rhabdophis tigrinus snake in Asia actually becomes venomous by drawing toxins from venomous toads. This snake manages to eat the toad without getting sick – and it uses the toad's venom against its prey.
A study also found that when these snakes have offspring, they are able to pass the toxin on to their babies, so that they have protection against predators from birth.
Some snakes are able to eat dangerous frogs, because they have clever ways of dealing with their toxins or defense mechanisms.
There's a snake in Australia known as the floodplain death adder that eats two types of frogs which produce chemicals to defend themselves against predators.
The Dahl's frog has toxins that can kill any snake that attempts to feed on it. The marbled frog releases a sticky substance that gets stuck on leaves and twigs and makes it extremely unappetizing and difficult for the snake to eat.
But the floodplain death adder has a really clever way of getting around these toxins. It will strike the frogs and inject them with venom. But instead of eating them right away, it will simply wait for the toxins to dissipate and the frogs become safe enough to eat.
Both the Dahl's frog's toxin and the marbled frog's sticky substance wear off after some time. Interestingly, this happens at different speeds, but the snake seems to know how long it needs to wait.
The floodplain death adder will wait for different amounts of time, depending on which frog it wants to eat. Now that's smart!
Related Questions
What is a frog snake?
This is basically an African toad that mimics venomous snakes. It hisses and has the same pattern on its body as the Gaboon viper.
How can you train your snake to eat dead prey?
You can do various things to get your snake used to eating dead prey. You can use feeding forceps to hold the prey in front of your snake and wiggle around to make it seem alive. As mentioned above, you can also dip the prey in a scented juice, like frog juice or chicken broth.
Snakes Eating Frogs: Conclusion
Snakes generally eat any meat that's available in their environment, but some definitely have a preference for frogs. We took a look at some of those snakes above.
We also covered a few unique snakes that know how to avoid the toxins in poisonous frogs, or that use those toxins to make themselves venomous.
If you have a snake that wants to eat frogs, but you are having difficulty sourcing them, we also provided some tips for getting your snake used to other food. It is much easier if you can simply feed it rodents, which are much more readily available.