I can tell you what snakes don't eat.
Vegetables.
It seems obvious, but you won't believe how often we get asked "Are there vegetarian snakes?"
Well, there aren't. They all eat meat.
What kind of meat depends on the species.
Keep reading to find out what prey snakes commonly hunt and what you can feed your pet, even if it likes to eat something in the wild that you can't get where you live.
What Do Snakes Eat In The Wild?
In the wild, snakes eat whatever prey is available. This usually means they eat rodents, birds, eggs, mice, frogs, gophers, lizards, fish, earthworms, insects and more.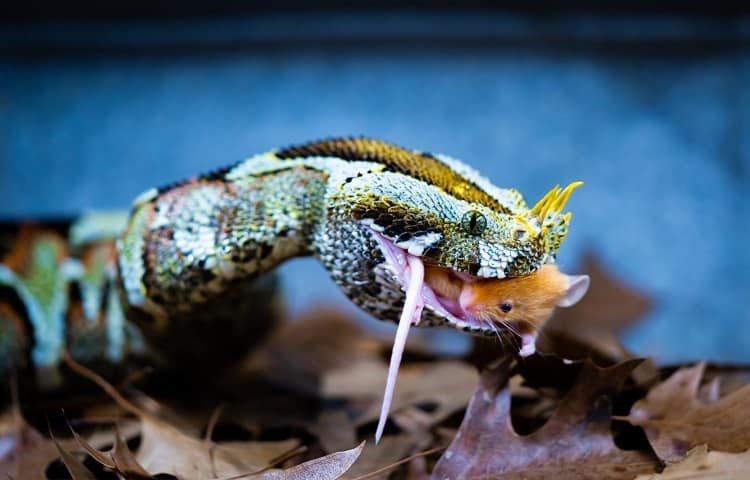 The type of prey a specific snake goes for depends on its size. It makes sense that larger snakes are capable of eating larger prey. The biggest snakes, like anacondas and pythons, will eat large mammals.
While snakes typically eat what they can catch, some species do develop a preference for certain types of prey. That can be detrimental, in the long run.
A good example of this happened in Central America. Certain snakes there love to eat frogs. But when many frogs died within a short amount of time, the snake population decreased as well. They were not able to switch to another food source.
Most snake species don't fixate on only one type of prey, but eat whatever animals live in the same area and are the right size and easy to catch.
For example, garter snakes like to eat amphibians, bugs, and slugs. Rattlesnakes eat other snakes and rodents. Ball pythons eat birds, rodents, and shrews.
What To Feed Your Pet Snake
Do your research before you buy a snake. I can't tell you how often we hear from someone who bought a snake and then researched what to feed it.
As you might guess, they learned their snake likes to eat likes to eat prey that isn't readily available.
What do you do in that case? The standard advice is to try to mimic the snake's environment as much as possible in order to ensure it is happy and healthy. That includes feeding it what it likes to eat.
No need to worry, though. We have some good news for you!
You don't have to try to source pigs or frogs for your snake, or something else that's difficult to find. You also don't need to breed your own rats to use as snake food.
You can train your snake to eat thawed mice or rats. And those are readily available in pet stores or even on Amazon.

At first, you snake might not want this food, especially since it is already dead. But you should never live-feed your pet snake.
Live prey can scratch or even bite the snake. Those wounds can become infected, which could lead to serious health issues, and even death.
Many also consider live-feeding inhumane for the prey, which does experience an immense amount of psychological stress while being eaten alive.
If you are finding it difficult to transition your snake to eating pre-killed rodents, it might need a little bit of coaxing, until it gets used to this new food.
Here are some things you can try to successfully get your snake to accept pre-killed rodents.
Let the frozen rodent thaw completely and warm up to room temperature.
You can use feeding forceps to hold the thawed rodent in front of the snake and wiggle it around as though the prey is moving. This can encourage the snake to snatch it from the forceps.
Scent is something else to consider. Some snakes like certain scents, like frogs or chicken, and you can use this to your advantage. You can dip the thawed rodent in chicken broth (as long as there's no sodium in it) or frog juice (that you can purchase from pet stores), to make it smell more delicious to your snake.
How Often Do Snakes Need To Eat?
Although snakes can go for long periods of time without eating and they can lower their metabolic rates by up to 70 percent in order to survive, you should never skimp on their meals. It will inhibit their growth.
Generally, adult snakes should eat once every 10 or 14 days, but some species can go for much longer without any food.
Snakes that are smaller and younger need to eat more often, up to twice a week. Larger and older snakes only need to eat every week or two.
If you have a female snake that's getting closer to breeding season, she will have to be fed more regularly.
You should always research the type of snake you have so that you can find out how often you need to feed it to keep it healthy.
Should You Give Your Snake Vitamins?
If you only feed your snake a certain type of prey, you might wonder if it's enough. Are you giving your snake a complete diet that's healthy for it?
Although this is a valid concern, the truth is that you don't have to worry about giving your snake vitamins or supplements, unless it seems unhealthy.
In that case, consult an exotic pet veterinarian to see if you need to supplement your snake's diet with nutrients.
It's important to ensure that the prey you give your snake is healthy, as this will ensure that your snake gets all the nutrients it needs. You should always purchase frozen and pre-killed mice or rats from a reputable seller.
How Do Snakes Digest Food?
Snakes don't chew their food into smaller pieces in order to aid digestion the way we do. So how do they digest their food?
When a snake is ready to eat its prey, it will open its mouth wide and move its lower jaw over the prey's body. Its teeth will hold the animal in place as it is slowly pulled into the snake's mouth.
The snake will also cover the prey with a lot of saliva to aid the process. Once the prey is in the snake's esophagus, the snake will use muscles to crush the food up and help it to move along into the digestive tract. Once there, it is broken down so that its nutrients can be released and used by the snake.
Can a snake choke? It is extremely rare. Generally, if a snake has eaten something too big and is unable to swallow its prey, it will regurgitate it. Choking really only happens if a snake is suffering from a respiratory issue of some sort.
Contrary to popular belief, snakes can't dislocate their jaws in order to eat their prey. Their unique configuration of ligaments, muscles, and skull bones enables them to open their mouths incredibly wide.
Venomous snakes make the digestion process a little easier, because they inject their venom into their prey. This will generally kill the prey so that it's easier to swallow and many types of venom also break down the tissue.
When snakes have gained all the nutrients they need from their food, they have to eliminate the rest of it. Generally, snakes defecate every few days, but this can happen more often if the snake eats regularly.
Rat snakes will eliminate their waste every two days, but other snakes, like ball pythons, will defecate approximately seven days after a meal.
In general, the entire digestion process takes 4 to 5 days. Since they don't eat fiber, snakes don't generally fart while they are digesting their food.
Some people expect there to be bones in the poop, but there isn't. Snakes digest the bones of their prey completely.
What To Know About The Way Snakes Hunt
Now that we've looked at what snakes like to eat, it's good to explore how they hunt their prey in the wild. Snakes generally don't have good eyesight so they rely on their sense of smell to detect and track their prey.
They use their tongues for this process. By flicking their tongues, they can detect smells in their environment.
Some snakes also have heat-sensing pits. Vipers are a good example. This enables them to track their prey by sensing its body heat.
Once a snake has located its prey, it needs to hunt it down. To do this, snakes employ different hunting strategies, such as ambushing, stalking, or striking.
Snakes that use constriction to subdue their prey, like boas and pythons, are famous for striking their prey to take it by surprise.
Puff adders are an example of a snake that ambushes its prey. But they will stalk it for a long time, waiting for the perfect moment for the ambush. They rely on camouflage to hide themselves from their prey.
Water snakes wait with their mouths open for prey, usually fish, to pass. Then they bite underwater and quickly snap their jaws around it.
Garter snakes use a variety of hunting methods to get their prey. These include ambushing and stalking. While they're non-venomous, the garter snake uses sharp teeth to immobilize prey. For some prey, the snake's saliva is also a bit toxic and can immobilize them.
Although snakes are solitary creatures, some actually join forces with other snakes in order to hunt prey. An example is seen with Cuban boas who hunt bats. The bats remain in their caves during the day and then go hunting for fruit at night.
Knowing this, the boas wait on the cave ceiling in the evening, forming a line so that the bats have to fly past them to get out of the cave. When they fly past, the hungry snakes are waiting to catch them.
Can Snakes Get Allergies?
If your snake is wheezing or showing similar signs, you might assume it has an allergy.
In fact, snakes are prone to certain health conditions, like respiratory illnesses and dermatitis. These can appear similar to allergic reactions, but they are not allergies.
Dermatitis is pretty common in snakes. It's a skin infection that shows up as inflamed, red, or blistered skin. It is generally a result of the snake's environment being too moist or somehow unhygienic.
These wounds can become infected, and could lead to severe health problems, like skin damage and even septicaemia, which is life threatening. It's important to treat dermatitis before it develops into something more serious.
Treatment usually involves the administering of antibiotics or topical therapy. You should also lower the enclosure humidity, if it is too high, and ensure that the habitat is clean.
Snakes can also get respiratory infections. These are usually the result of bacteria, fungi, parasites, and viruses. A snake with a respiratory infection will likely have excess mucus in its mouth, be lethargic, have a loss of appetite, be wheezing, have a nasal discharge, or it could be making gurling sounds.
To treat a respiratory infection, a vet will need to prescribe antibiotics and perhaps nose or eye drops. If your snake is really sick, it will need to have fluid therapy in the pet hospital's intensive care unit.
Sometimes snakes can get allergy symptoms from environmental irritants, which can cause symptoms such as nasal discharge. Their substrate could be an irritant.
For example, some people have said that aspen chips cause their snakes to have allergy-like symptoms, such as sneezing or wheezing. It's therefore important to keep an eye on your snake and if it's experiencing signs of illness, try changing its substrate to see if that solves the problem.
Can humans be allergic to snakes?
Snakes and other reptiles are usually recommended as pets for people with allergies because they don't have animal dander or fur that can cause allergies.
What's the biggest animal that a snake can eat?
The biggest animals that snakes have been known to eat are deer or cows. Larger snakes have eaten humans as well. This article on what boa constrictors eat has a video of a boa swallowing a whole pig. And this article on what Burmese pythons eat has a video of pythons and alligators eating each other.
What Snakes Eat: Conclusion
Snakes are carnivorous animals that feast on a wide variety of animals. If your pet snake likes to eat a particular animal in the wild that is hard to find where you live, you can train it to accept pre-killed rodents. Those are always easy to find and every snake (assuming it is large enough), will be happy to eat them once they get used to them.