Snakes don't eat much.
At least not compared to mammals.
They eat far less food than other common pets and than us humans as well.
They also eat far less often.
They have an incredibly slow metabolism and simply do not need to eat a lot.
How often should ball pythons eat, to ensure they are healthy?
Keep reading to find out.
We are going to cover exactly how often you need to feed a pet ball python, as well as how much to feed it every meal.
How Often Do Ball Pythons Eat?
Ball pythons should eat every 5 days to every 50 days. It varies a lot depending on the snake's age, wth younger pythons eating far more often than older ones.
Let's take a closer look at how often a ball python eats at various ages. We will also go over how much ball pythons should eat, because the amount of food they need also changes with age.
Ball Python Age And Feeding
If your ball python is still a baby, it's going to need feeding every five days. Baby snakes eat much smaller portions than adults, so they need to eat more often.
They also need a lot of food to keep growing. That's why you should feed your baby ball python a hopper mouse every five days.
When your snake reaches the age of three months, you can decrease the feeding frequency to just once a week. And you can start feeding it small mice.
At six months, you can slow down even more and feed it every seven to ten days. Your snake can now start to eat adult-sized mice.
When your snake reaches a year you should increase the prey size to either two or three adult mice, or one small rat. Feed this amount every 10 to 14 days.
At a year and a half of age, you can increase the number of mice to five or feed a single adult-sized rat.
At three years of age you can feed your ball python the same amount as at a year and a half, but you no longer need to feed it quite as often. You can now reduce the feeding frequency to one meal every two to three weeks.
When your ball python is older than five years, you only need to feed it every 21 to 50 days. The older your ball python gets, the less food it needs, which makes your snake a very low-maintenance pet!
Feeding Your Ball Python Its Prey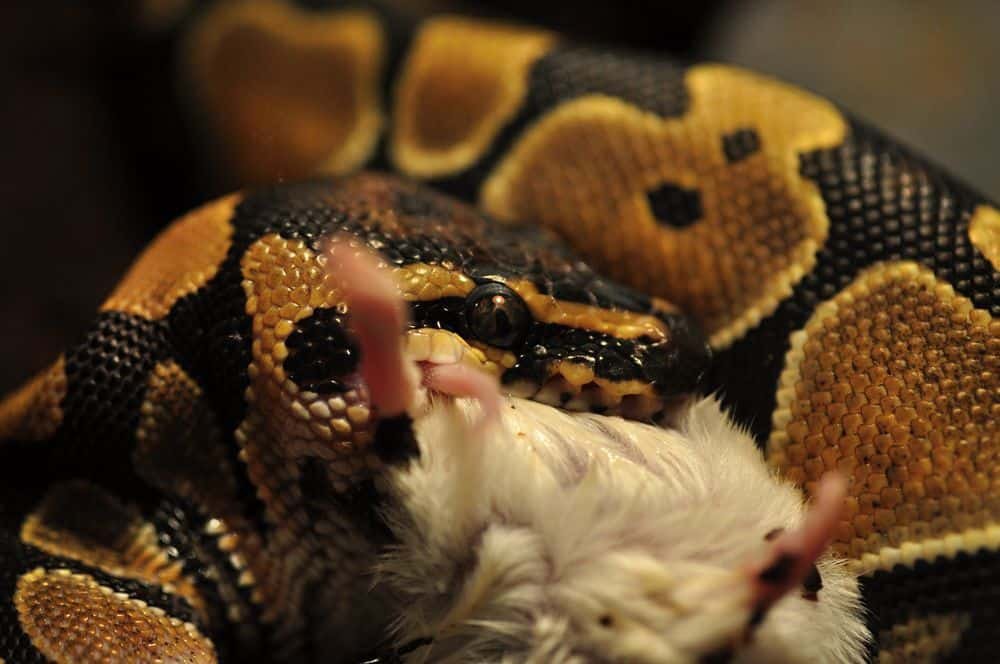 You can choose to feed your ball python either live prey or frozen prey. For most owners, it is best to feed your python frozen prey. It is more convenient, cheaper, and also more humane.
If you do prefer to feed your ball python live prey, we have an article on how to find live mice to feed your snake.
To feed your ball python frozen prey, you'll first want to defrost it. It is best to start this at least five hours before feeding time, so that you can make sure it's fully defrosted.
Defrost the prey in your refrigerator and once it's fully defrosted, place it in a plastic bag and put it into warm water to reheat the prey. You don't want to feed your python cold prey, since warm play is more realistic. It is used to catching live prey, which is obviously warm.
Dry the prey and then place it into the tank using a pair of tongs. Don't use your hands, since your python may be so eager to get its jaws on some food, it may accidentally bite your hand as well!
If you would rather feed your ball python live prey, you should make sure you get it from a reputable source (not the wild), so you can be certain first ensure it is free from any parasites or diseases. Then use a set of tongs to grab it by the tail and dangle it in the enclosure until your snake is ready to strike.
How Do I Know If My Ball Python Is Hungry?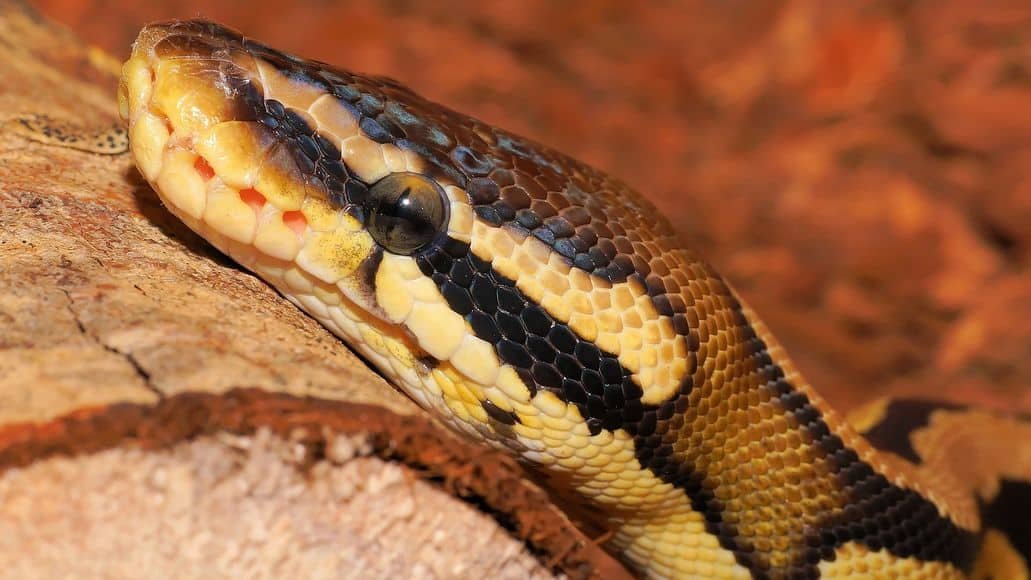 There are a few signs to look out for to tell you if your ball python is hungry. If you notice your snake is prowling the sides of its tank then it's probably looking around and waiting for you to drop some prey into its enclosure.
Your ball python may also flick its tongue out more. This is known as air tasting and your snake will be trying to smell if any food is nearby.
If your ball python loves a soak and you notice your snake doing it less often, it may be that it is hungry. Snakes soak to aid digestion and if there's nothing in their stomach, they aren't going to want to do it as much.
How Often Does A Ball Python Eat?
How often ball pythons eat varies greatly with age. As babies, they eat ever 5 days. At the other end of the range, elderly snakes only eat once every 20 to 50 days or so.
The amount you feed your ball python each meal varies a lot to. A baby can't handle more than a single hopper mouse, while an adult can eat five grown mice or a single adult rat.