Not everyone needs to know the sex of their snake.
It's really only important if you are housing multiple snakes in the same enclosure, or if you plan on breeding snakes.
But it's still nice to know, even if you only have a single snake.
Unfortunately, telling the sex of a snake is not as simple as it is with a dog or cat.
A snake's sex organs are internal, so there usually no obvious difference between the sexes.
But that doesn't mean it is impossible to tell.
Keep reading to learn how to tell the sex of a snake, using a number of different methods. Choose the one that is best for your situation.
How To Tell The Sex Of A Snake
There are a number of different methods for determining the gender of a snake. Some are very simple, but perhaps not as accurate, or only useful for certain species.
Other methods are more intrusive or more expensive, but they give more accurate results. Determine for yourself which is the best method for you.
Ultrasound Method
The ultrasound method uses high-frequency sound to render an image on a computer screen. It is a popular method for sexing snakes because it is the most reliable.
A snake's sex organs are inside the body, so ultrasound technology allows you to see inside to determine the gender of the snake.
This method is usually done in a veterinarian office or by a traveling vet who has the equipment with them. It can be expensive to get an ultrasound, but it is the most reliable way to find out if your snake is male or female.
When To Use It
Use the ultrasound method when finding out the sex of your snake accurately is important. Because this method costs a significant amount of money, it should not be used simply because you are curious to know the sex of a snake.
If you have tried the other methods and you still do not know the answer, the ultrasound method will provide an accurate result. If you are breeding snakes or have a medical reason to know the sex of your snake, this is a safe and effective method.
How It Works
For ultrasound to happen, there needs to be an ultrasound machine, and the transducer (the part that touches the animal). The transducer will generate inaudible high-frequency sound waves which bounce around inside the snake.
The same transducer that generates the sound waves also records the echoes of the sound waves and produces an image on a computer screen. The images are not always crystal clear, but they are good enough to determine what any masses may be, like sex organs.
Basic Visual Inspection Method
This method is the most basic, and it will not work for every species of snake. Not all species have obvious physical differences between the sexes.
Sometimes you can tell the sex of a snake just by looking at the size. Pythons are a good example. Male pythons are four times smaller than females.
The color of the snake can also be a tell-tale giveaway to the sex of the snake. In certain species, there is an obvious and noticeable difference between the sexes. In most of nature, males tend to be the more colorful sex.
This method uses what we know about snakes and our power of observation to come to a conclusion. Some deductive reasoning is also used when applying this method.
It is simply a matter of looking at the snake and determining, based on its general appearance and what we know scientifically about the species, if it is male or female. As mentioned, this only works for certain species.
When To Use It
This is generally the first method to try. It is the simplest and least intrusive to the snake. If you are not ready to get hands-on with the snake and interact with it, this method is a safe one for you and the snake.
It is not the most accurate method for every species, but if you happen to have one where the sexes have obvious physical differences, this is by far the best and most hassle-free way to determine your snake's sex.
How It Works
Using this method, you will need to know the species of your snake. The more details you know, the better.
For example, it is not good enough to just know you have a rattlesnake. You need to know which exact species you have.
There is a vast amount of knowledge we have learned about snakes, and you can access this easily using a computer or smartphone and searching for data on your snake species.
You simply observe your snake's appearance, color, size, and markings and use that information to search for data on the internet. Based on what you find you may be able to determine if your snake is a male or female.
Pelvic Spur Method
Snakes have structures called pelvic spurs on the underside of their tails. These spurs are used when mating to hold onto the mating partner, or while fighting to hang onto the opponent.
They are not always easy to see. They are evolutionary leftovers of what used to be hind legs and have evolved into useful little structures.
They are located on either side of the cloaca. If you know your snake species, you can find out if it is supposed to have large or small spurs, depending on the sex of the snake.
It is not 100% accurate for all species. But certain species have obvious differences in these structures and for those species, this is an accurate method.
When To Use It
This method is a good way to determine the sex of your snake, if you are comfortable touching and holding your snake. If the basic appearance method did not give you an answer, this is another safe and non-intrusive way to find out.
It is also a good method to use if you have a certain species of snake. In pythons, for example, the males typically have larger spurs than the females. In this case, the spur method would be preferable to many other methods because it has an obvious answer.
How It Works
You need to hold your snake gently and inspect the underside of its tail near the cloaca. Most primitive snakes, like constrictors and pythons, have obvious spurs there.
If you see and feel the spurs, you will know that your snake has pelvic spurs. But that is not enough, since both sexes of many species have these spurs.
The important part in making this method work is to find out based on your species how big the spurs are of each sex, and what they should look like.
Tail Inspection Method
The tail inspection method is a way of determining sex by looking at the shape of a snake's tail. Male snakes have sex organs inside the tail called hemipenes.
They actually have two of them. Why do snakes have two penises? There are a few reasons, but they all have to do with male snakes gaining an advantage in passing on their genes.
Hemipenes are cylindrical-shaped organs that reside below the opening. Inspecting the tail for penises is an easy way to determine snake sex based on observation alone, with perhaps some gentle touching, if needed.
Because male snakes have sex organs in the tail, you can sometimes learn the sex by simply observing the size and thickness of the tail.
When To Use It
If an ultrasound is not an option, and you have not found any pelvic spurs, and the general appearance method has not given you an answer, the tail inspection method is a good idea to try. Because all-male snakes have these organs it is sometimes an accurate way to determine sex.
It is not always easy to see if the tail is bigger unless you have a picture of a female snake of your species to compare your snake to. Ideally, you would have a live female to compare your unknown sexed snake with.
If you don't have two snakes of different sexes and the same species, you will have to rely on pictures you find in books or on the internet.
How It Works
Because the male hemipenes are located inside the tail near the opening, there should be a visible bump or little hill shape near the opening of the snake.
If you are not able to see any change on the underside of the tail, it can be helpful to gently feel there and determine if there is anything under the skin.
Popping Method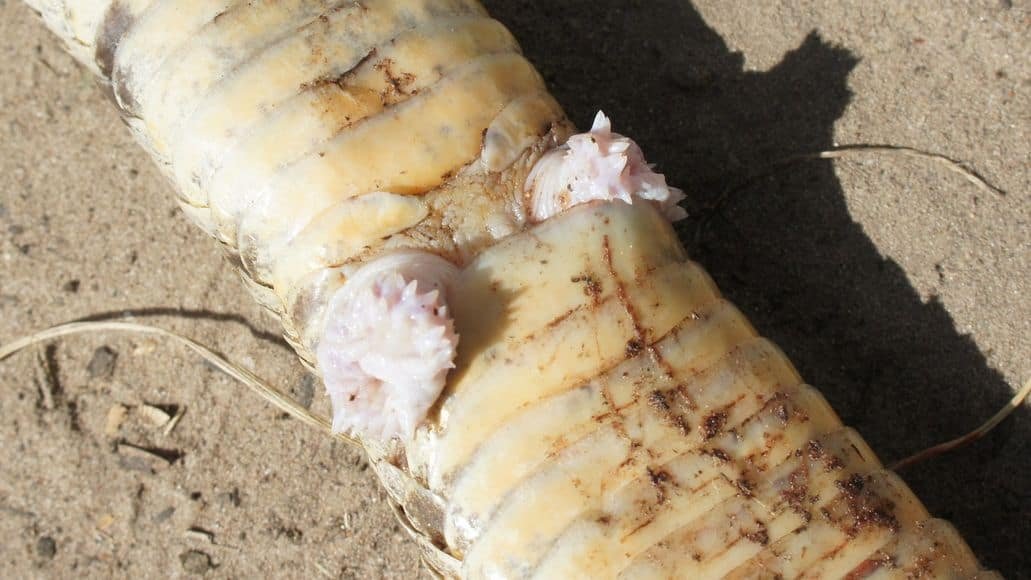 Before you read on, if you don't know what this is, please do not attempt it on your snake. You can seriously injure your snake using this method if you don't know what you are doing.
This method is where you run your finger and apply pressure on the underside of the snake where the sex organs are, trying to push them to come out the opening. If done correctly this will give you an accurate answer on the sex of your snake.
When To Use It
This method is not going to be useful with large or mature snakes. This is because they have plenty of muscle to keep their organs inside their bodies and the popping method will not be able to push them out.
This method is best used when inspecting smaller and younger snakes. Even with small and young snakes, this method can cause harm and be painful. It is highly recommended that you do not use this method unless you are experienced with it.
How It Works
Since the sex organs are located near the snake's opening, the idea is to gently move them from where they are resting to come out of the opening enough to determine the sex of the snake.
By applying just enough pressure on the underside of the tail and moving your finger toward the snake's anal opening you are physically moving the organs to come out of the hole so you can see them
It is the method you can use as a last resort, if you can not afford an ultrasound. Ideally, you should have this done by a qualified snake vet.
How To Tell Snake Gender: Final Thoughts
Now you know all of the common methods for determining snake gender. Obviously, the ultrasound method is the most accurate for all species, but it is also the most expensive.
Unless you are a breeder, it probably does not make sense to use this method. If you are lucky, you have a species where one of the other methods works well. If not, determine how important it is for you to know the sex of your snake and whether it is worth paying for a vet visit.
And if you have a corn snake, we actually have an entire article specifically for that species. Check out our post on sexing a corn snake.