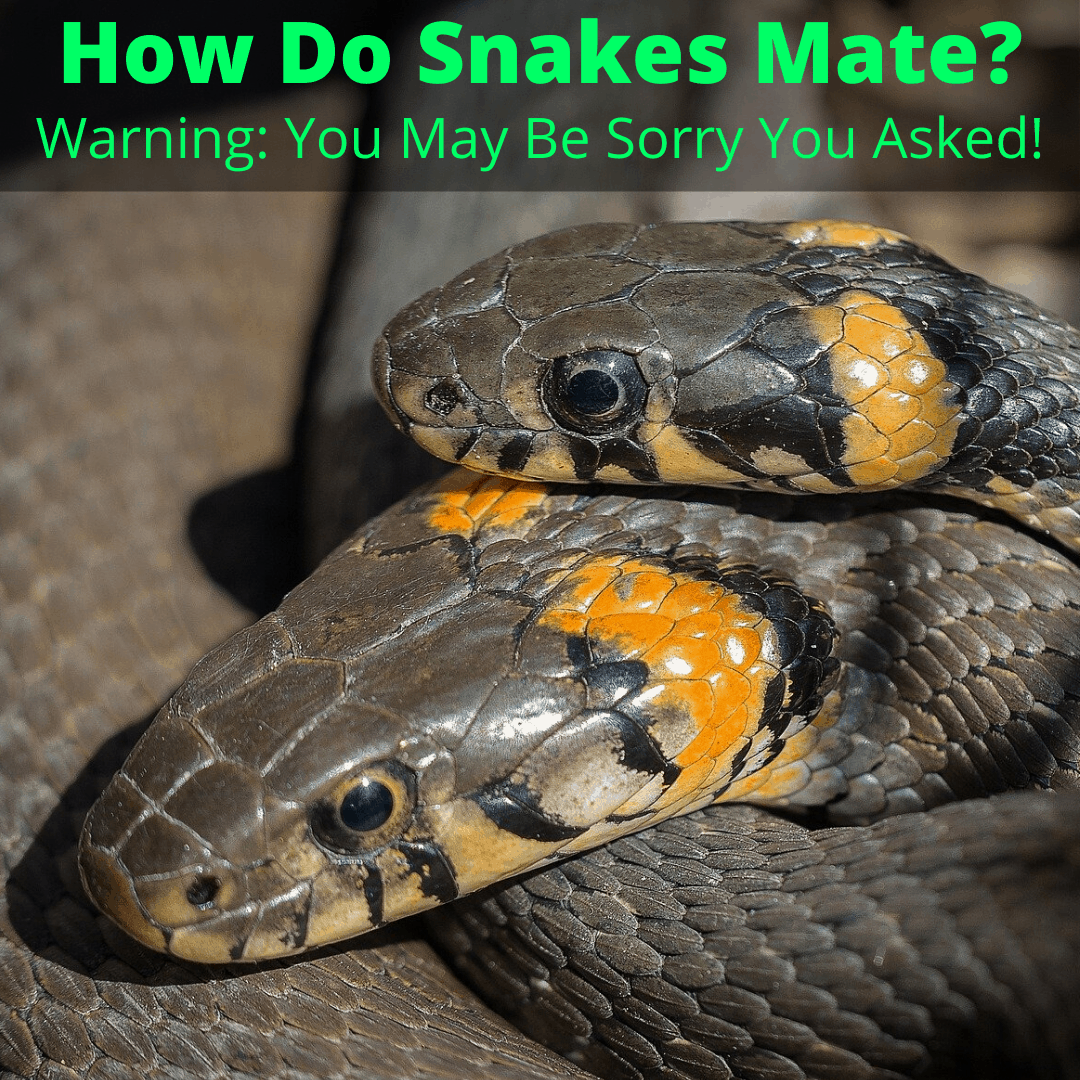 The sex life of snakes is fascinating.
And complicated.
It turns out that different species differ greatly in how their sex organs are shaped, in how they give birth and in how they care for their young (which is generally not at all).
Perhaps the most fascinating aspect of all are the male hemipenes.
We'll get into much more detail later, but here are some highlights: males have two penises, which are sometimes forked and always bizarrely shaped. In some cases they are covered in spines.
But we're getting ahead of ourselves. Lets start at the beginning.
How Do Snakes Mate?
The organ snakes use to mate is the cloaca, which is also used to excrete urine and feces. The male wraps his tail around the female and lines up his cloaca with hers.
If there is more than one male competing for the right to mate with a female, all the males will try to climb on top of the female and line up their cloacas. The one who manages first gets to mate.
There is no fighting, just a race to the cloaca. The winner then penetrates the female and releases his sperm into her cloaca.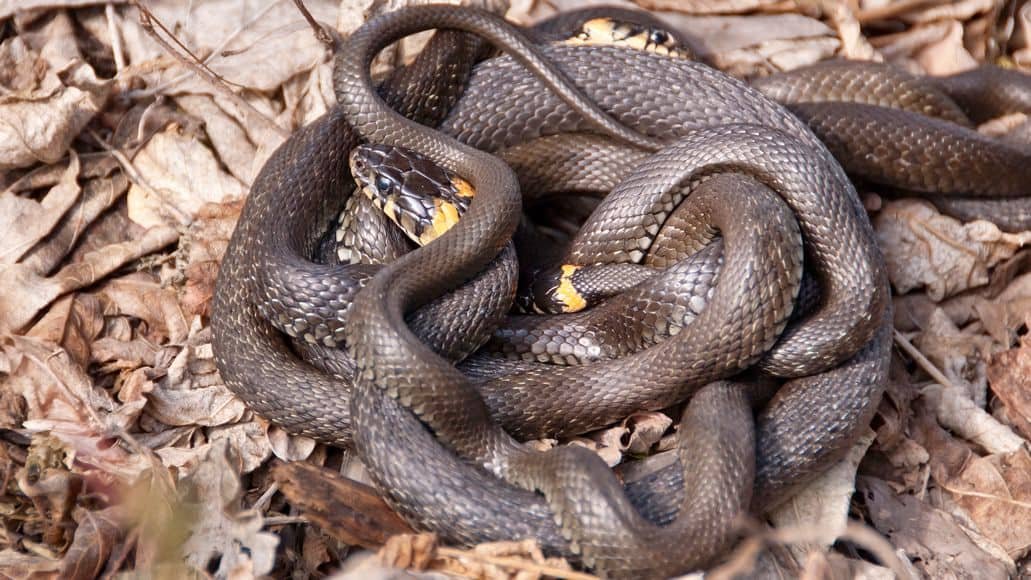 What is a cloaca?
A cloaca is an opening by the rear of the snake, where the digestive, reproductive and urinary tracts open up and expel fluids and feces. It is also where the male hides his hemipenis (more on this "snake penis" below). They remain inverted and lie inside the cloaca, until the snake is aroused.
Obviously, this means there is no visible difference between the sexes. If you want to know the sex of your snake, you need to perform a procedure called 'cloaca probing.' This is usually done by a vet, who passes a blunt probe into the snake's cloaca.
The primary difference between the sexes, apart from the hemipenes, is the depth of the cloaca. The female cloaca is shallow, while the male cloaca extends further into the tail to make room for the hemipenis. It is controlled by a muscle that retracts it into the cloaca and folds it on itself.
Two Reproductive Organs
Male snakes have two reproductive organs and two testes that each feed one of the reproductive organs.
The reason for this is that female snakes can store sperm inside their bodies for up to five years, so males will use one penis with one female, then use the other with a second, to increase their chances of birthing young.
In addition to being able to store sperm, the females can also control whether they become pregnant after mating. She has two pockets: in one she can store sperm for later use, if she prefers to not get pregnant at the moment. The other pocket is used if she wants to become pregnant immediately.
This allows the female to mate with multiple males and choose whose sperm she wants to use. She can also also have a litter of babies that all come from different fathers.
This also means that she can become pregnant without having intercourse. It is not unheard of for a snake owner to suddenly have a pregnant snake, even though she was never around any males. Obviously, she had sex years earlier, before she ever came to her new home.
Snakes usually need around an hour to have sex, but it can last an entire day. They can reproduce once or twice a year. Some snake species give birth to live snakes, while others lay eggs.
Snake Mating Ball
There are more than 3,000 species of snakes on earth. They live on all continents except for Antarctica and they also inhabit many islands.
Obviously, snakes get a lot of attention in the media and they are subject to much research. Despite that, there is much we don't know about these animals, especially when it comes to reproduction.
One fascinating thing you have probably seen in movies or in a documentary is the mating ball. This is a mass of male snakes all trying to be the one to mate with a female.
Not all species do this. One that does is the garter snake, one of the few species whose mating behaviors have been extensively studied.
Garter snakes brumate during the winter. This is similar to hibernation for cold-blooded animals.
When spring comes, the females come out of brumation a few days after the males and soon emit pheromones to signal the start of mating season. Males pick up on this and swarm her, forming the mating ball.
Each Male Tries His Best
Competition in the mating ball is intense. Every male wants to be the one to get the female to open her cloaca for his hemipenis, so that he can mate with her. They will even cheat, in a way.
They try to suffocate the female, in order to induce a stress response, which causes her to open her cloaca in order to release feces and musk.
This is a common reaction to stress and one that many snake owners have experienced themselves. It does not smell great. But it does mean an open cloaca, which is exactly what the sneaky male snake wants.
While these mating balls garner a lot of attention, only some species exhibit this behavior, like the garter snake or the green anaconda. Some scientists believe this behavior may be common in snakes that live in temperate areas where warm weather does not last long, and this is obviously a minority of snakes.
Most mate one on one. The males detects the pheromones of a female and hunts her down. If he comes across another male also tracking the female, they fight. But it is a non-violent combat.
For example, rat snakes and vipers both stand their bodies up tall and face each other eye to eye. Then they try to use their chin to push their opponents head down and subdue them.
The winner gets to court the female and the loser has to go find another mate. What comes next depends on the species, but the male could, for example, rub his chin all over the female's body to excite her. Or he could line up his body parallel to hers and vibrate against her.
Two Penises
As mentioned, male snakes have two penises, which emerge from their cloaca during mating. But they don't use both of them. They only use one at a time, but they seem to have a favorite.
Just like some of us are left-handed and some of us are right-handed, some snakes are "left-penised" and some are "right-penised". They simply prefer one to the other, for whatever reason.
Each penis is connected to a single testicle and is fed sperm only from that one. As mentioned above, this makes it possible for them to mate twice in quick succession, with two different females, using a different penis for each.
Some snake species do not need males at all. Female brahminy blind snakes, for example, reproduce asexually by simply creating clones of themselves. The eggs begin cell division on their own, without being fertilized.
Do Snakes Lay Eggs Or Give Live Birth?
They do both. Some snakes lay eggs and some give birth to live young. And some do something in between. Do snakes give birth through their mouth? No, they do not.
The three different methods of reproduction are called oviparous, viviparous and ovoviviparous. One thing they have in common is that they can all have a large number of snake babies.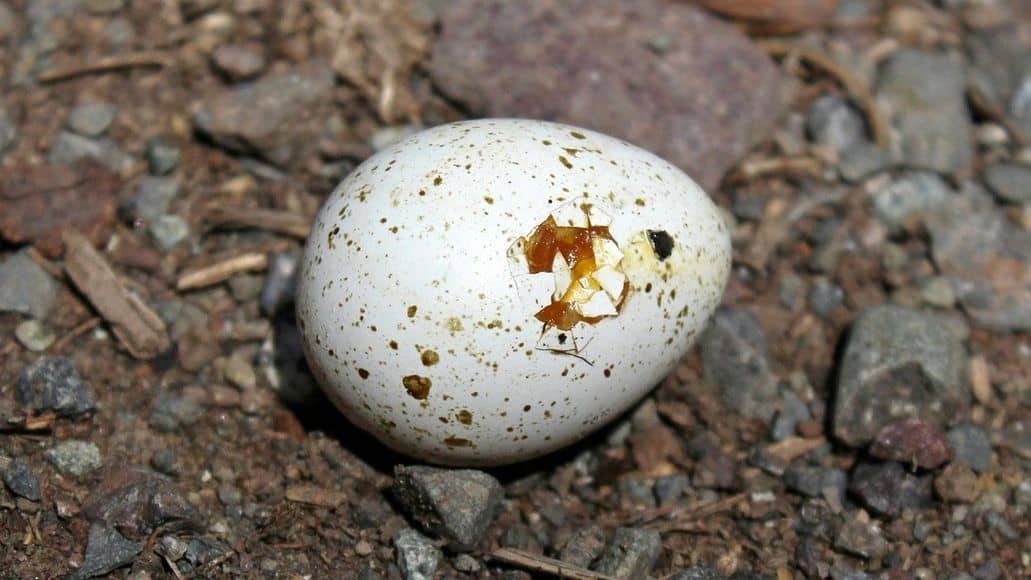 Oviparous Snakes
Oviparous snakes lay eggs that must be incubated until they hatch. Most species find a warm and protected place to lay the eggs, then leave them there, never to return. A few stick around to incubate the eggs themselves.
About 70% of all snakes are oviparous. This includes grass snakes, rat snakes, kingsnakes, cobras, mambas adders and more.
Viviparous Snakes
Viviparous snakes give birth to live young. They carry them in their bodies and feed them through a placenta and a yolk sack. Examples of this type of snake are boas and anacondas.
Ovoviviparous Snakes
Ovoviviparous snakes are a combination of the other two. They have eggs, but keep them in their bodies. When they give birth, the eggs hatch inside the female snake and the babies emerge live. Rattlesnakes are ovoviviparous.
Snake Eggs
Among snake species that lay eggs, the number of eggs they lay differs greatly. I'm sure you're not surprised by this.
Basically, snakes lay anywhere from 4 to 80 eggs. In general, snakes who live in more dangerous areas (i.e. they have more natural predators) lay more eggs, which increases the chance of more of the offspring surviving.
Most species look for a warm and protected or hidden place to lay their eggs. Then they leave the eggs, never to look at them again. They bank on the fact that they have done a good job camouflaging the eggs. A few species actually stick around to incubate and protect the eggs, but they are definitely in the minority.
Snake eggs differ from what we generally think of as eggs. They are not hard, but more leathery. That makes them easier to get out of.
Baby snakes have an "egg tooth" that they use to tear open the egg and get out. They lose this tooth shortly thereafter.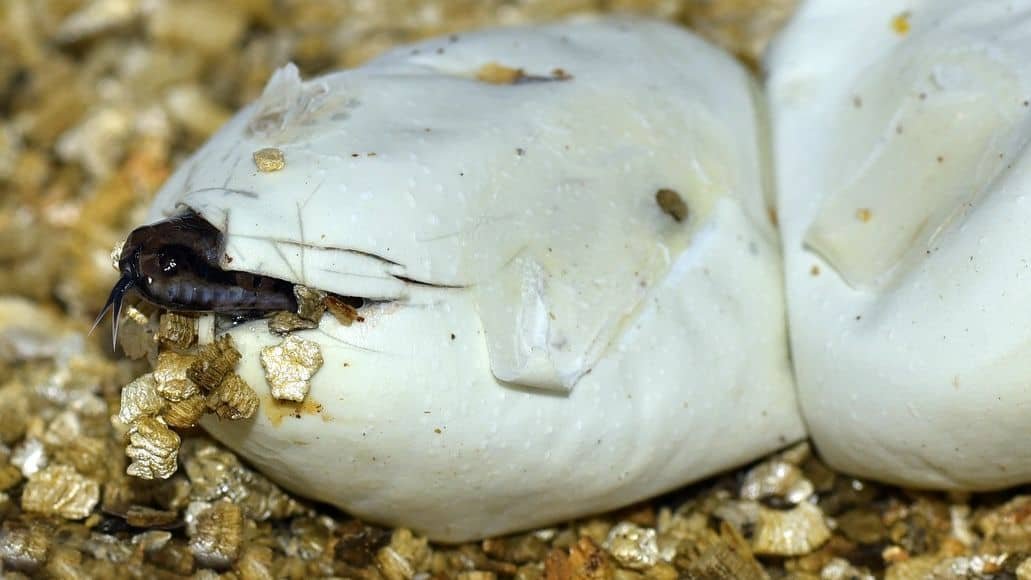 Live Babies
Some snake species, like the garter snake, can have up to 85 baby snakes. But the average across all species is probably somewhere around 10. Even the garter snake averages far fewer than 85. It is more in the 15 to 40 range.
Bad Parenting
Most snakes are not good parents. Almost all species that give birth to live babies leave them immediately after birth to fend for themselves.
Most of the egg laying species don't even stick around to watch over the eggs. Those that do stick around to protect and incubate their eggs are also the most likely to stick around after they hatch and help them get a start in life.
Species that do this are definitely in the minority, though. For more on this, read "Do Baby Snakes Stay With Their Mother?"
But it's not as bad as it sounds. Snakes are born with most of the abilities adults have. They can fend for themselves immediately. And they have to.
Do Snakes Need Mates To Lay Eggs?
As mentioned, female snakes don't necessarily need a mate to produce eggs. Some of those eggs may be infertile, though, meaning that they don't contain viable embryos. Surprisingly, a single snake who has never been bred with a male can give birth to viable young which she can fertilize all by herself.
Some snakes, like the flower pot snake, produce young by a process called parthenogenesis, also known as asexual reproduction. Flower pot snakes asexually produce healthy, identical female offspring.
In addition, a study published in the September 2012 edition of "Biology Letters" found that cottonmouth and copperhead snakes, pit vipers who normally mate to produce young, were also able to reproduce asexually.
In this case, their young all turned out to be male and weren't clones of their mothers, but rather had only half of her DNA. They were usually stillborn or deformed. Note that pit vipers are ovoviviparous and carry their eggs within their bodies.
Did My Snake Reproduce Asexually?
It's possible, but probably not. If your snake suddenly lays a clutch of eggs, several years after she joined your family, despite having no contact with any males, there is a good explanation.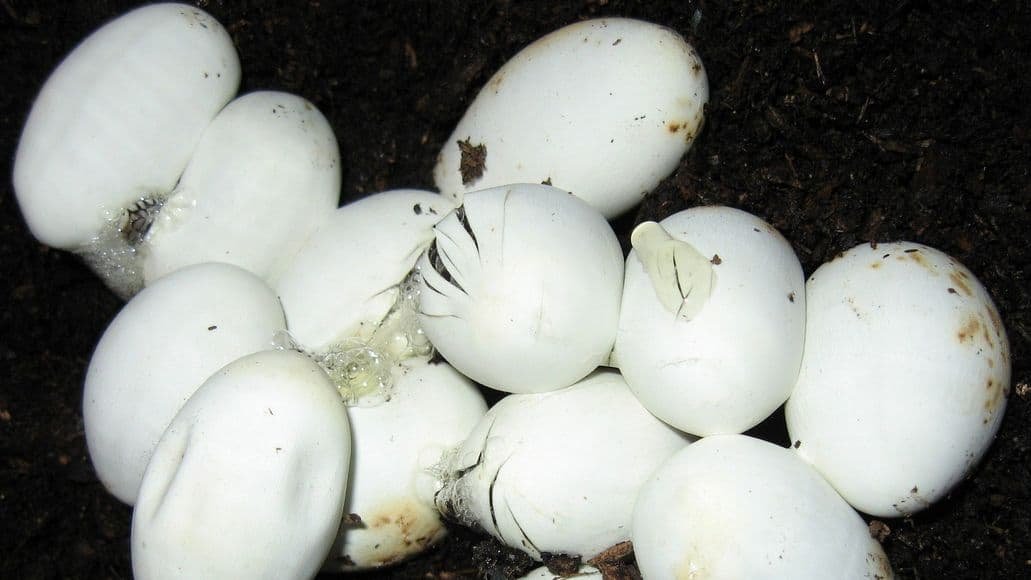 While it would seem that your snake produced eggs asexually, the truth is that she was probably bred before she came to live with you. Once a snake breeds, she is able to store her suitor's sperm in her cloaca for up to six years.
This sperm remains viable and can fertilize her eggs even years after mating. So while your snake may not have had any mates in years, she certainly can lay eggs that her body fertilizes with sperm from an encounter she had with a previous suitor, long before she came to your home.
Eggs Called "Slugs"
In rare cases, a snake may lay a clutch of eggs without mating. These eggs are infertile, unless she is somehow able to fertilize them herself. They are called slugs and won't hatch.
Even after mating with a male and successfully reproducing, a female snake's clutch of eggs may contain a few of these "bad" eggs among the viable ones.
Snake Hemipenes
The copulatory organs of male snakes are pretty amazing. As mentioned, they are called hemipenes and snakes and lizards both have two of them.
Snakes' two penises are found in the base of the tail. They are normally hidden, until the males are sexually aroused. When they get aroused, the hemipenes become 'everted' and emerge from the cloaca. While they have two, snakes only use one during copulation.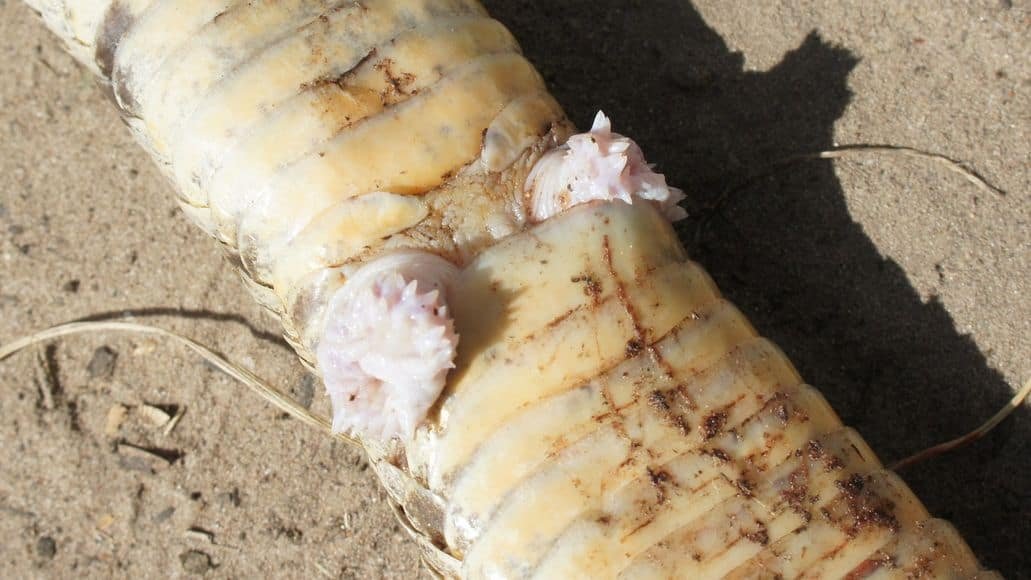 Most hemipenes are not smooth. Many of them have sharp spines and projections that are arranged in rosettes. No one knows for sure what the purpose of these is, but most likely, they exist to keep the hemipenis from slipping out of the female's cloaca. But some species have smooth hemipenes and they suffer no issues with slipping out during intercourse.
Perfect Fit For The Female Cloaca
What is interesting is that the way the hemipenes is shaped for a particular species corresponds exactly with the way the cloaca is shaped in the females of that same species. In other words: they are perfectly matched to fit together, like a key into a lock.
From Chris Mattison's Encyclopedia of Snakes: "These [spines and projections] are thought to help the male snake to locate the cloacal opening of the female and to fix the hemipenis in place once copulation has begun. The hemipenes of some species are branched and in these species, the female's cloaca is also branched."
Noth only are the shapes the same, but the female cloaca is adapted to take the male hemipenis in other ways. If hemipenes has spines, the female's cloaca has a thicker wall, to be able to accommodate those spines without suffering injusry.
For every snake species, the shape and construction of the female cloaca is perfectly matched to accept the male hemipenis of the same species.
The result is that unrelated species of snakes can't mate with each other.
External Sperm Groove
The hemipenes does not have a sperm duct like the human penis does. Instead, it has an external groove, called the sulcus spermatic. This groove forms a channel that carries sperm into the female.
Sperm comes to the sulcus spermaticus via the sperm duct from the testes. These are located slightly behind the stomach and liver and close to the small intestines.
As mentioned, the females of many species can store the male sperm for many years. In species that produce more than a single clutch during a breeding season, sperm storage may be used in fertilizing the second clutch.
How Snakes Mate: Final Thoughts
The mating and reproduction of snakes is complicated, because there is so much variation between species. But it is also fascinating. I hope this overview has answered your questions and perhaps awakened some curiosity to learn more about the mating habits of snakes.