Snake mites will annoy your snake.
They cause it discomfort and stress. But the problems don't end there.
If left untreated, mites can lead to serious health problems and eventually kill your pet.
What can you do?
First and foremost, ensure your snake has a clean living space. Then make sure to monitor your snake for any signs of mites.
If you spot any, eliminate them as soon as possible.
How do you get rid of snake mites?
Keep reading to find out. We'll also cover everything else you need to know about these pests, from how to spot them, to measures you can take to prevent an infestation in the first place,
What Do Snake Mites Look Like?
The good news about snake mites is that they're visible. If your snake has mites, they will appear as tiny red, grey, or black bugs.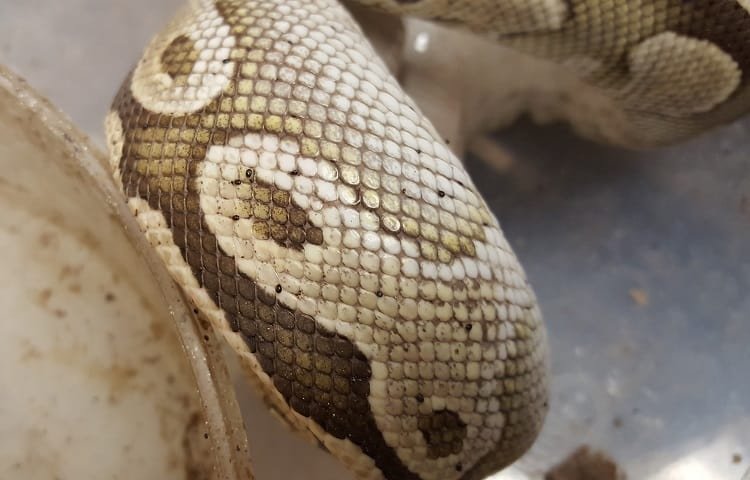 You're most likely to see them in the thin-skinned areas of your snake's body. The eyes are a good example and mites commonly show up there. They will look like specks of dirt in your snake's eyes.
Other common areas of the body where snake mites can appear are the nostrils and gular fold.
The nostril has soft skin that's easy for mites to bite, while the gular fold is a small, granular fold that you can see on your snake's chin.
Other ways to spot mites on your snake:
You might see mites in your snake's enclosure, perhaps in their water dish.
You might see the mites on your hands after you've cleaned your reptile's enclosure.
You should also keep an eye open for mite droppings. These look like grey dust, and they could appear in various areas of your snake's body.
Besides spotting mites in your snake's enclosure or on its body, you should also pay attention to behavioral changes in your snake.
When mites suck its blood, this can be frustrating and stressful for the snake and cause it to exhibit various behaviors.
These include rubbing the affected area of skin against decorative features in their enclosures or soaking in their small pool for extended periods of time.
Your snake might also experience a loss of appetite and lethargy. These are common behavioral changes that occur when mites feed on your snake to such an extent that it becomes anemic from the blood loss.
Where Do Snake Mites Come From?
Snake mites always come from other reptiles. Mites that live on wood (i.e. ones that can be found in substrate) or those that live on mammals (i.e. ones that might be on rats or mice you feed your snake) do not feed on reptiles.
However, your snake does not have to actually come in contact with another reptile. Snake mite eggs can lay dormant for quite some time.
That means there could be snake mite eggs on something you buy at the pet store and bring home. They can also hitch a ride on you and then hatch and get on your snake that way.
Other Things To Know About Snake Mites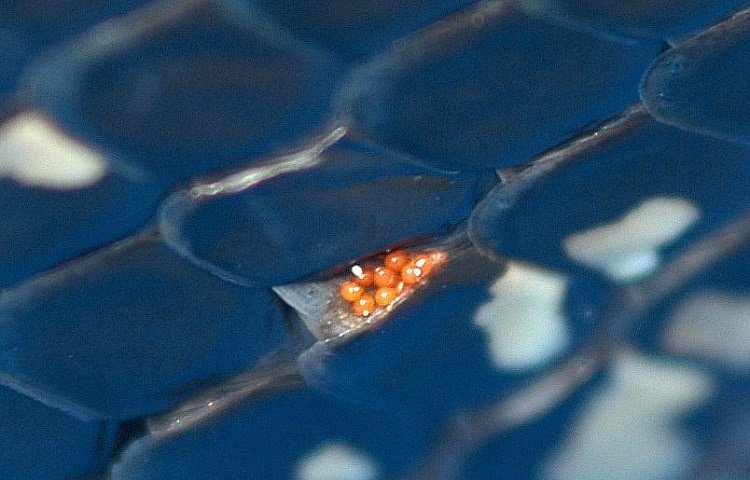 Snake mites are parasites that attack reptiles and suck their blood. Both early nymph and adult mites are parasitic and live on snakes or other reptiles. They usually lodge themselves underneath the reptile's scales so that they can effectively suck the animals' blood.
The lifespan of adult mites is really short – they only live for up to 40 days. However, after the female mite has sucked enough blood, she can lay approximately 20 eggs, which begins the cycle again.
Mites require the right conditions in order to survive. This includes temperatures that are around 20 degrees Celsius and their eggs need a minimum of 85 percent humidity. That said, mites are not delicate or fragile. They are strong and hardy parasites that can survive in their environment for up to 90 days, and they can even live for up to 40 days without any feeding.
What Causes Snake Mites?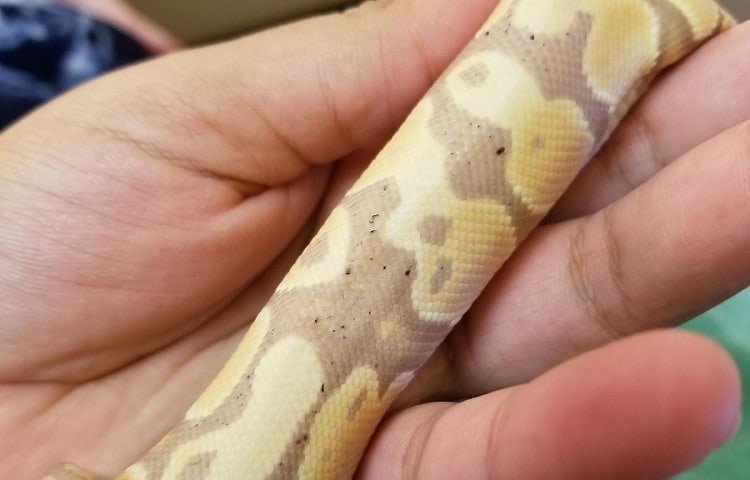 There are a number of possible causes of a snake mite infestation.
Lack Of Hygiene
If your snake's enclosure and bedding isn't kept clean and hygienic, this could cause snake mites to appear. Hygiene issues are exacerbated by keeping more than one snake in the same enclosure. One that's infected with mites could pass them on to the other snakes.
Contact With Other Snakes
If the snake you have was caught wild, it could have brought mites home to you. Similarly, snakes that have been imported or have been kept at pet stores usually come into contact with many snakes, which makes it easy for mites to infest all the animals.
You might scratch your head and wonder where the snake mites came from, if your snake has not had any contact with other snakes. But mite eggs can survive a long time.
This means you could have picked them up at a pet store and brought them home with you. If there is a mite infestation at a pet store, anything you buy there could have eggs attached to it.
Substrate With Mites In It
The substrate you put in your snake's enclosure could be the reason why you're finding mites on it. If you've recently purchased new substrate for your snake, there could have been mite eggs in it.
Note that mites that live on substrate will not affect your snake. Only reptile mites will, but substrate can contain snake mite eggs.
Can Mites Kill Your Pet Snake?
Snakes typically experience behavioral changes and stress from mites. But they could die, too. The mites suck blood. If there are enough of them, this could weaken your snake's body over time.
A weakened snake is more susceptible to infections, which can lead to death. Even if infections do not take hold, eventually the snake could become so weak it simply dies.
Mites can also interfere with a snake's shedding process, making it difficult for the snake to shed properly.
How To Get Rid Of Snake Mites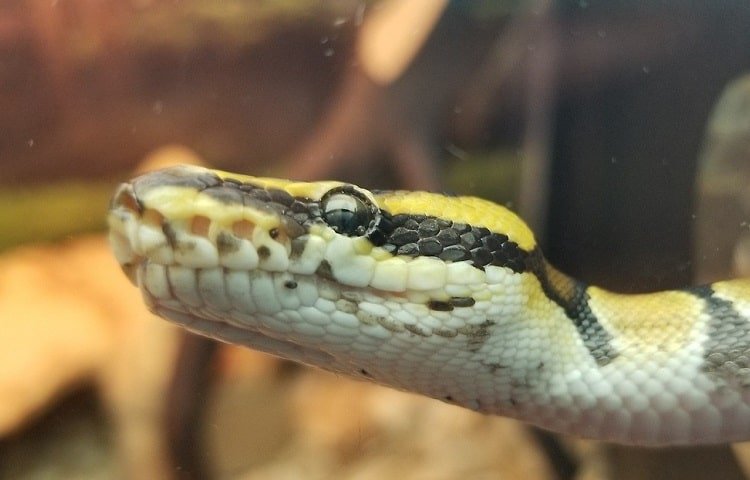 In order to successfully eliminate snake mites, you should consult with your veterinarian.
He or she will know how to treat snake mites and be able to prescribe medication that will help remove them.
This medication will be tailored to your snake, depending on its body weight. Your vet might prescribe the following treatments for your snake.
Carbaryl Powder
This is a powder that you put at the bottom of a container, before you place your snake on top of it. You should leave your snake in this container for a few hours before rinsing your snake with diluted ivermectin or pyrethroid spray.
Pyrethroid
This is an insecticide, and it usually comes in a spray. It's an effective way to eliminate mites from your snake, but it is toxic. You should only ever use this treatment it your vet prescribes it.
Clean Your Snake's Enclosure To Eliminate Mites
Just using those two medications is not enough. You should also ask your vet about a mite spray that's safe to use on your snake. Then use that to kill any mites that are still in the enclosure.
You don't want to eliminate the mites from your snake's body only to find that there are still mites in the enclosure. That will start the frustrating cycle all over again!
Follow these steps to ensure you properly clean the enclosure and rid it of any remaining mites and their eggs.
Transfer your snake to another cage, then proceed with cleaning their enclosure.
Use warm, soapy water over everything in the cage – don't forget about water bowls, decorative items such as branches, and any cracks in the cage where the mites could be laying their eggs. Also pay attention to any corners and seams.
If you can't properly clean and disinfect an item in the cage, such as foam decorations or boxes, throw them out. It's better to do this than risk another mite infestation.
Remove the substrate in the enclosure and throw it into a garbage bag. Make sure it's properly sealed and outside of the home so the mites won't be able to get back inside. You will replace it with a new, hygienic substrate later.
Use a handheld vacuum cleaner to clean the walls and floor of your snake's enclosure. This will remove mites as well as their eggs.
Mix one part bleach with 30 parts water in a container and then wipe down everything in the enclosure with clean rags or cloths.
Leave the bleach solution for 10 minutes, then properly rinse it off with fresh water and a clean rag.
You can also use a product such as pyrethroid spray on the entire enclosure to clean it.
You will want to clean the cage many times over the next month to ensure you don't end up with a mite re-infestation.
Snake Mite Products To Avoid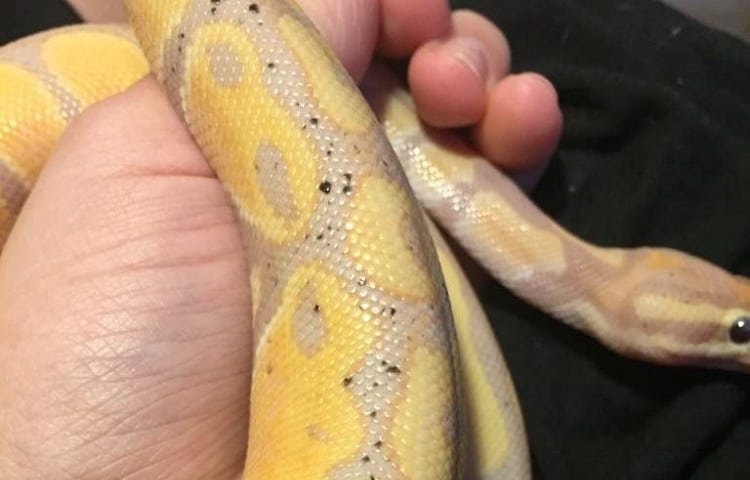 You should always consult with your vet, if your snake has mites. He or she will know the right way to treat your snake.
But we know people will ignore this advice, so we wanted to mention a few products you might be tempted to try, but shouldn't.
Do not use flea and tick sprays that are recommended for use on cats and dogs. They usually contain active ingredients that can be harmful to reptiles.
You should also avoid over-the-counter mite treatments that are specifically designed for use on reptiles. Many of them are not effective and using will just waste time when you could have used an effective treatment. During that time, your snake's condition will get worse.
If you want to use a specific spray or product that you think could work, perhaps because a friend found success with it, always ask your vet about it. You want to be certain you are not giving your snake an ineffective or dangerous product.
Are There Natural Remedies To Eliminate Snake Mites?
While there's no escaping having to clean your snake's enclosure with soap and disinfectant, there are natural remedies that can help eliminate snake mites. They're worth a try if you prefer using non-chemical methods.
Give your snake a daily water soak so that you can drown the mites in water, but bear in mind that this won't completely eradicate them. Still, it can offer your snake some relief. Make sure you only use warm water and never leave your snake unattended.
Another natural remedy you could try is to put a layer of olive oil over your snake. This is nontoxic and can work to suffocate the mites that are on your snake's body. You should leave the oil on the snake for about an hour before rinsing it off.
Can Snake Mites Live On Humans?
Mites are tiny and can easily get into your clothing and bedding, after you've come into contact with them when cleaning your snake's enclosure.
But can they can attack you? Research has found that these mites can attack humans on some occasions and when they do they cause vesiculobullous eruptions on the skin.
A case study mentioned in the Iranian Journal Of Parasitology described a man who was working in a zoo and had itchy skin as well as small mites stuck to his skin. It was found that the same mites were in the enclosure of a python at the zoo, which is how he got infected.
Related Questions
Are there different types of snake mites?
Yes, there's the ophionyssus natricis, which has a black or red appearance, ophionyssus acertinus, which looks like red or orange specks, and Trombiculidae mites, which are red.
Will you have to bring your snake to the vet for a checkup?
Even after you've freed your snake of its pesky mites, it's likely that your vet will want to see your snake within the next week or two, just to be sure that your snake is successfully free of mites.
Snake Mites: Conclusion
Snake mites can cause your snake a lot of stress and health problems, so it's important to be aware of their possible presence and deal with them effectively.
After reading this article, you now have a better idea about what snake mites are and how to eliminate them so they can stop troubling your snake.
Photo Credit