Snakes love to climb.
If you want your snake to feel comfortable and happy in its new home, you need to provide it with climbing opportunities.
The best way to do that is to give it some snake branches.
These come in many different shapes, sizes, styles and materials.
But the one thing they all have in common is that they give your snake a chance to do what it loves and get some exercise at the same time.
But with so many options, which one do you get?
The main thing to avoid are branches that can do your snake harm. Our snake branch buyer's guide toward the bottom of this article covers everything to look out for.
If you just want a list of good options to choose from, the snake branches in the table below are all great. Choose the one that would look best in your particular terrarium.
Reptile Climbing Trees Compared
03/22/2023 07:27 am GMT

Best Snake Branches Reviewed
The walls of the enclosure and the raised items in the cage do not offer the best climbing opportunities. A snake branch gives your pet the chance to climb and feel like it is in its natural environment.
But snakes do not like chemicals like pesticides. You should make sure you get your snake pet some branches that have not been sprayed or treated with chemicals. The following are the best snake branches available.
Exo Terra Forest Branch

This kind of branch serves as the key playing ground for your arboreal amphibians and reptile pets. Its three-dimensional natural structure is just what your snake needs for fun. It also lends your terrarium a more natural.
A naturally looking habitat contributes a lot to your pet's well-being. Introducing this branch into the enclosure will help the new habitat to mimic a natural ecosystem. The dark and light brown colors of the branch resemble those of desert or tropical hardwoods. This makes it possible to integrate this branch into several types of terrariums.
This branch comes in small, medium or large sizes. They vary in shape and size, enhancing the natural look. This is a perfect for recreating a natural ecosystem. But it also means that these branches are not identical and yours will not look exactly like the one in the photo.
Flexible Bend-A-Branch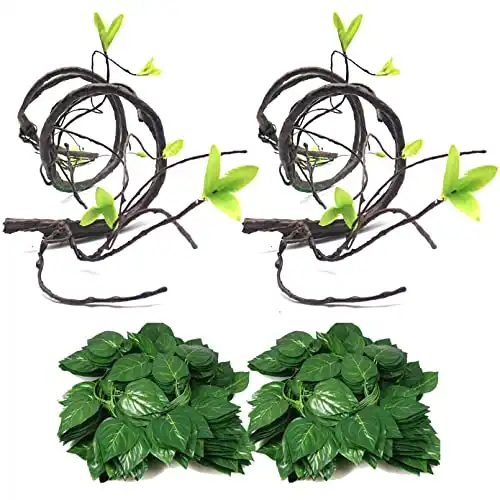 Most pets like snakes, frog, lizards and other reptiles like spending time climbing trees and twigs. In a natural ecosystem, they have plenty of trees and branches to play with.
In an artificial one, however, you have to recreate the natural environment, in order to make your pet comfortable and happy. This flexible reptile bendable branch is what your terrarium needs to keep your snake busy.
Once introduced in the cage, your snake will enjoy more exercise and fun. This is a great branch for the cages where natural plants would struggle to survive. Plastic and silk branches also keep the environment more sterile.
The wires and silk and plastics making up the branches allow bending. Therefore, the branches can fit in just about any cage. The look makes them best for a tropical rainforest habitat.
Sequoia Flexible Jungle Vine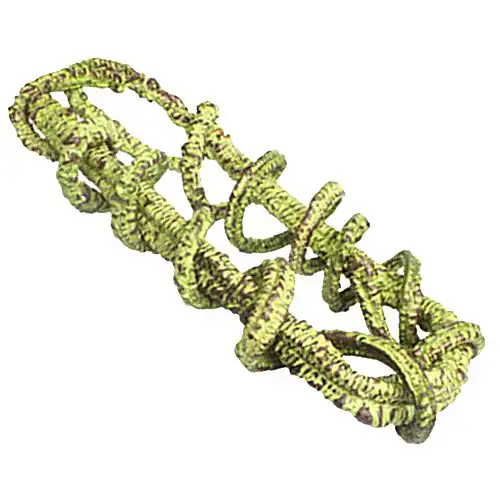 This kind of a branch can be used in almost any types of aquarium or terrarium. It is good for snakes, tortoises, geckos, tree frogs, chameleons, and lizards. Its structure provides a good platform for pet snakes.
Its design mimics a jungle vine, making it ideal for a tropical rain forest terrarium. It is made from safe and flexible materials, so you can bend it to take on any shape you like. Give your reptile the opportunity to enjoy various climbing exercises just like it gets in its natural environment.
These artificial branches provide more support for your animal than natural vines. They are also waterproof, so they will not rot or otherwise get destroyed by water and humidity in the cage. Take care when bending the branches to achieve the design that you want. The surface material can tear, but this has no negative effects on the functionality.
Eonmir 8-Foot Reptile Vines

These are some of the best reptile vines and branches available. They are 8 feet long and 1 cm thick and highly twistable and bendy to help you achieve the design of your choice. You can twist it around items to create a 3D design that mimics that of the natural habitat.
You actually cannot distinguish it from natural vines due to the flexible and specially designed material. It is easy to clean and the natural look makes it perfect for snakes. Moreover, the sellers provide a 100% product return guarantee, if you are not completely satisfied.
Pranovo Terrarium Vine

The Pranovo terrarium vine is flexible and looks natural, making it ideal for any size snake enclosure. The design recreates the look of a natural jungle vine perfectly, making it perfect for a rainforest terrarium.
The branch is made of metal with a PU coating. It is easy to bend into any shape you need. The leaves are separate components that you can attach to the vine in any way you like.
The included suction cups make it easy to affix the vine to the walls of your snake tank. Give you snake the climbing opportunity it so desperately wants, plus the chance to hide itself from view among some "jungle foliage".
Pivby Natural Driftwood

These branches are natural plants. Their color and design varies as a result and makes each branch special in its own way. But all of them offer a climbing surface for your snake. Naturally the size also varies, but is generally between 4.5 and 9.5 inches
It is a lightweight piece of driftwood, which makes it easy to install in any snake terrarium. It works great in an aquarium, too. That means you can submerge it under water, if you have a snake that need a pool in its habitat.
Reptile Branches And Logs: Buyer's Guide
For the most part, buying a snake branch comes down to personal preference. Get the one you think would look best in your enclosure.
But there are a few key things to look out for. Use these things to narrow the options down to the most appropriate, then choose among them based on your personal preference.
Size
It should go without saying that whatever climbing tree you buy should fit into your terrarium. At the same time, it needs to be large enough and sturdy enough to accommodate your snake species. Most of the options above are very sturdy and are also bendable. That means they will fit into almost any size terrarium.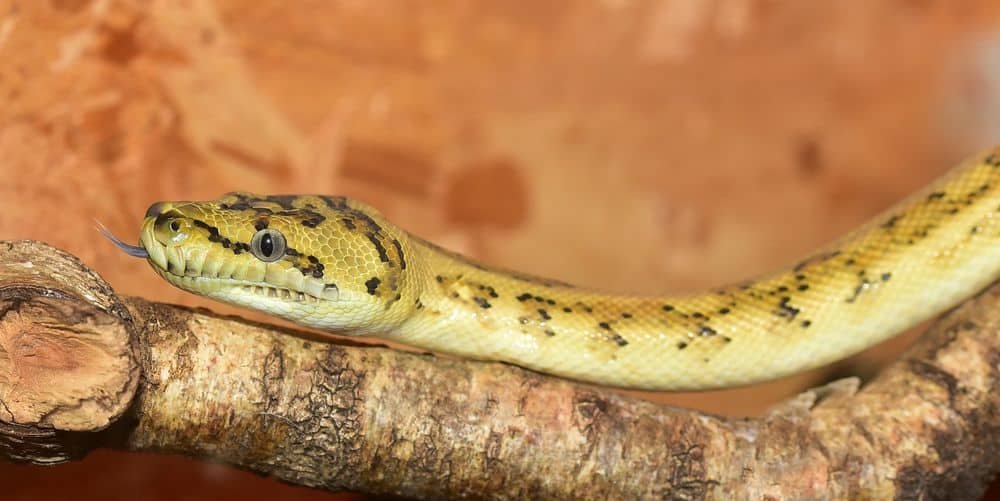 Material
The bendable snake branches are made from metal with a PU coating. These materials are safe for your snake. Natural wood is also good. You want to avoid anything that has been treated with chemicals that can poison your pet. All of the options listed above are safe, of course.
Habitat Type
You snake will feel most comfortable with a reptile climbing branch that closely mimics its natural environment. All of the options above work would look natural in either a desert or a rain forest environment, since those are common natural habitats of most snake species. Obviously many species inhabit regular forests,too, but any rain forest style branch will look natural in a regular forest terrarium as well.
Snake Branches: Final Thoughts
Some snake owners figure they can just use branches they find lying around in a local forest, but this is not advisable. For one, you would have to replace them constantly, once they start to rot.
The other problem with natural branches is the possibility of parasites. You might unknowingly introduce a parasite to your snake's home that could sicken, or even kill, your pet.
That is why artificial branches are generally preferred. Choose any of the above options and your snake is sure to be happy with his new climbing obstacle!