Have you seen those videos of a mongoose battling a snake?
There are tons of them out there and they are all impressive.
The mongoose has a lot of traits that make it an excellent snake hunter.
Is a natural immunity to snake venom one of them?
And what animals are immune to snake venom, apart from the mongoose (if it is immune)?
It turns out, there are a number of animals that have developed an immunity to certain types of snake venom.
Keep reading to learn about 9 fascinating animals that are immune to some, or all, types of snake venom. Some of these animals will definitely surprise you.
What Animals Are Immune To Snake Venom?
Animals immune to snake venom include honey badgers, hedgehogs, skunks, California ground squirrels, pigs, opossums, mongooses, and certain snakes like the Kingsnake and the Eastern Indigo Snake.
Some of these animals even possess certain mutations that block snake neurotoxins. Let's take a closer look a 9 fascinating animals that are immune to the venom of snakes.
9 Animals Immune To Snake Venom
All of the following animals have developed some level of natural immunity against snake venom. I some cassm, they are immune to most snakes, while others are only immune to certain species.
Honey Badgers
The two factors that enable honey badgers to successfully defend themselves against venomous snakes are their thick, loose skin, which shields them from being bitten, and a molecular defense system that protects them from even the deadly venom of cobras.
Hedgehogs
Hedgehogs are fascinating creatures that may be immune to both scorpion and snake venom. Nature has also given them an extra defense mechanism in the form of their sharp spines, or quills. These spikes make it unpleasant for snakes to sink their fangs into them.
Furthermore, hedgehogs also use a defense tactic called "self-anointing". They chew up the leaves of poisonous plants and other yucky, smelly items and spit saliva or vomit all over their spikes. This makes them even more repulsive to snakes and other predators.
It is clear that hedgehogs can easily win a fight against snakes and might even eat their opponents afterward!
Skunks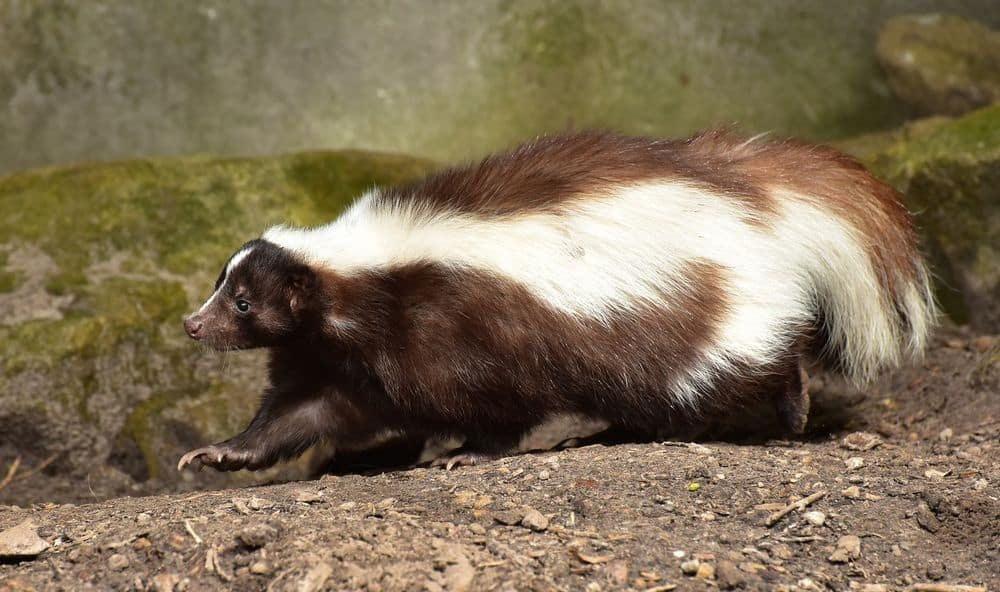 Skunks use a smelly, oily liquid to spray over their predators. They also stomp their feet and hiss to warn predators away. Their bodies also have a molecular defense against snake venom neurotoxicity. Due to this immunity, skunks are even able to eat snakes.
California Ground Squirrels
Researchers at UC Davis have been studying ground squirrels to understand what makes them immune to rattlesnake venom. They want to use these findings to create better antivenom.
The study found that ground squirrels have developed a natural protection against rattlesnake venom over thousands of years of evolution. The researchers even saw squirrels provoking the snakes by kicking dirt and pebbles at them and biting them.
It is important to note that not all varieties of squirrels are immune to snake venom. They also have varying levels of immunity to different kinds of snake venom. For example, the gray squirrel only has weak protection against the Pacific rattlesnake.
Pigs
Pigs may have a genetic mutation in their cell receptors that makes them immune to snakes' neurotoxic venom. This mutation only occurs in pigs after they reach adulthood. Younger pigs do not have this natural protection.
Mongooses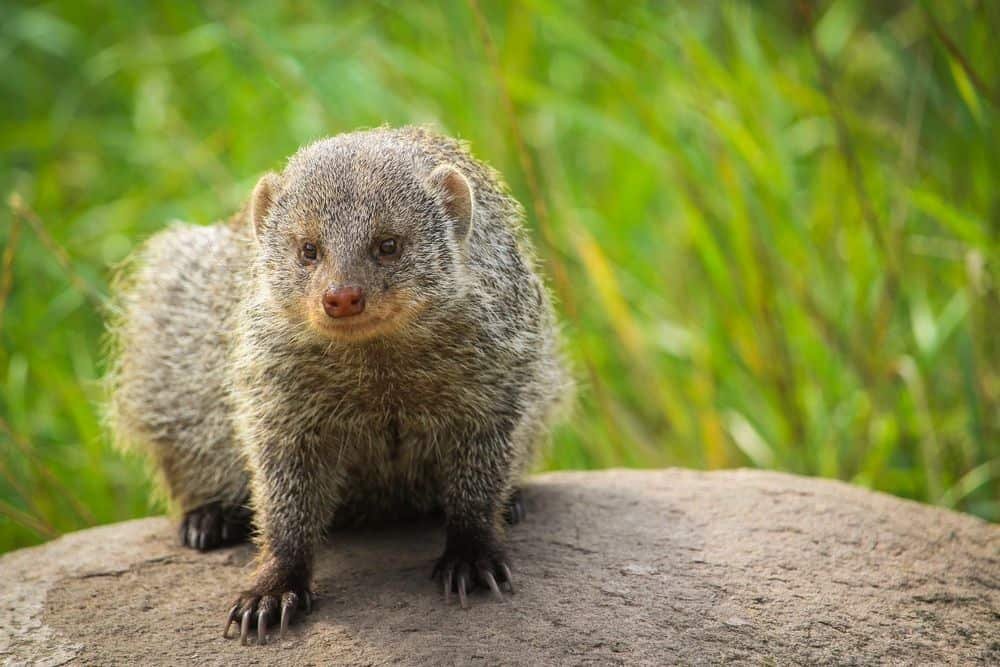 Mongooses have specialized acetylcholine receptors that render them immune even to deadly cobra venom. These receptors give them the ability to create a glycoprotein that binds to the protein in the venom and throws it out. It is believed that cobras fear mongooses for this reason.
Mongooses are also renowned for their ability to kill other deadly snake species. For example, some studies have shown that a mongoose may be able to withstand the deadly black mamba bite. No wonder mongooses easily harass black mambas and even take them as prey.
Woodrats
Woodrats may be small in size, but not only are they immune to snake venom, but they can also scratch and bite rattlesnakes to death!
Opossums
The North American opossum can survive the bite of the Western Diamond Backed Rattlesnake, Crotalus atrox. Lab studies have also shown North American opossums surviving the bites of copperheads, cottonmouths, moccasins, and Korean mamushi snakes.
However, they were not able to survive the bites of cobras, coral snakes, puff adders, and sea snakes. Australian opossums are even known to eat most species of snakes, except coral snakes. Opossums may have certain proteins that neutralize the toxic components of most types of snake venom.
Snakes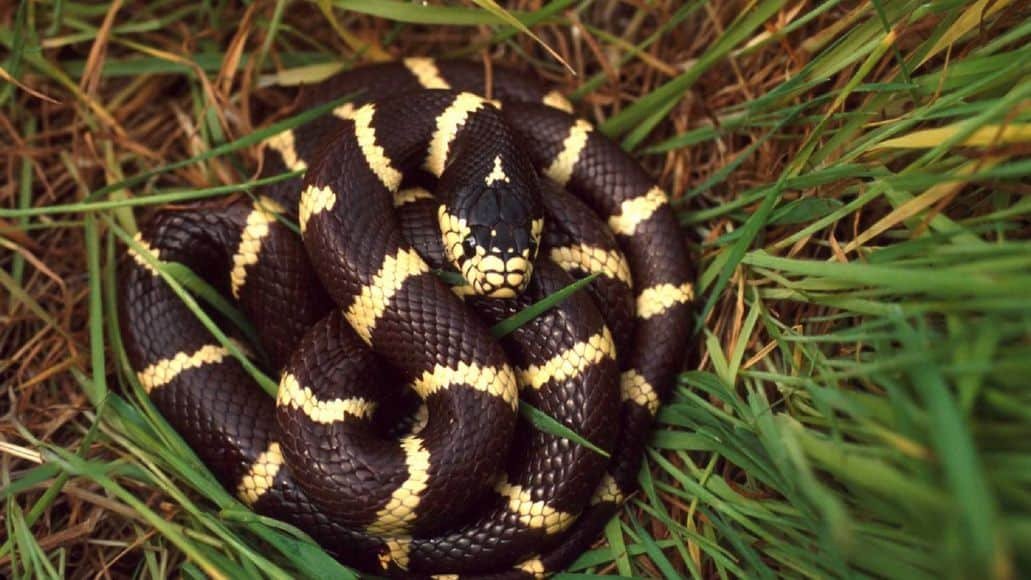 Snakes are typically immune to their own venom. The king cobra, though, is not resistant to the venom of its own kind and could be envenomed and killed by other cobras.
Certain snake species, like kingsnakes and Eastern Indigo snakes, are immune to rattlesnake venom. They can wrap themselves around rattlesnakes larger than them and suffocate them. These snake species even eat rattlesnakes.
What Animal Is Immune To Black Mamba Venom?
The mongoose may be immune to black mamba venom thanks to a nicotinic acetylcholine receptor, which prevents the snake's venom from binding. Mongooses are even known to hunt out black mambas from their hiding areas and eat them.
In addition to its natural defense against the mamba's toxin, a mongoose also has speed, agility, and a small size. It uses these traits to its advantage to dodge out of the mamba's reach and strikes once the mamba is exhausted.
Are Cats Immune To Snake Venom?
Cats may be more resistant to snake venom in terms of a milligram of venom per kilogram of body weight than dogs. However, that does not mean that cats are completely immune to snake venom. If your cat has been bitten by a snake, please seek medical attention right away.
Most cats can survive snake bites, but only if they receive antivenom promptly. You must also continue to monitor your cat over the next few days and report any worsening symptoms to the vet right away.
Snakes actually fear cats, but it is not due to their slight immunity to snake venom. Cats are quick and unpredictable and they have sharp claws and teeth. Snakes find all of those things very disconcerting.
Are Camels Immune To Snake Venom?
Camels, having coexisted with snakes for years in harsh environments, may have significantly more antibodies to the venom of most species of snakes.
This explains why camels do not suffer from any negative effects after consuming venomous snakes. Most of the toxin from the snake's venom is neutralized in the camel's digestive system. Scientists are even studying camel antibodies to create better antivenom.
Are Komodo Dragons Immune To Snake Venom?
Komodo dragons are venomous lizards that could have some immunity to cobra venom. They may even be immune to the venom of Russell's viper. Also, their large size, speed, and venomous saliva could easily neutralize a large venomous snake.
However, it is not known for a fact whether a Komodo dragon is immune to all kinds of snake venom, including rattlesnake venom.
Can You Build Immunity To Snake Venom?
Yes, you could develop immunity to snake venom.
Some people, like rock singer Steve Ludwin, have been injecting themselves with a cocktail of snake venoms to develop immunity against snake bites. Ludwin has even survived the venom from black mambas, puff adders, and vipers.
In order to develop immunity to snake venom, a scientist named Tim Friede took more than 200 bites from various snakes.
Animals Immune To Snake Venom: Final Thoughts
There are a number of animals that have at least some immunity to snake venom and some that are almost completely immune. So it's not just the famous snake-killer known as e mongoose.
Animals with an immunity to deadly snakes fascinate us, but they also offer us the promise of better immunity ourselves in the future. Scientists are studying animals immune to snake venom in the hopes of using their immunity to create better antivenom for ourselves.