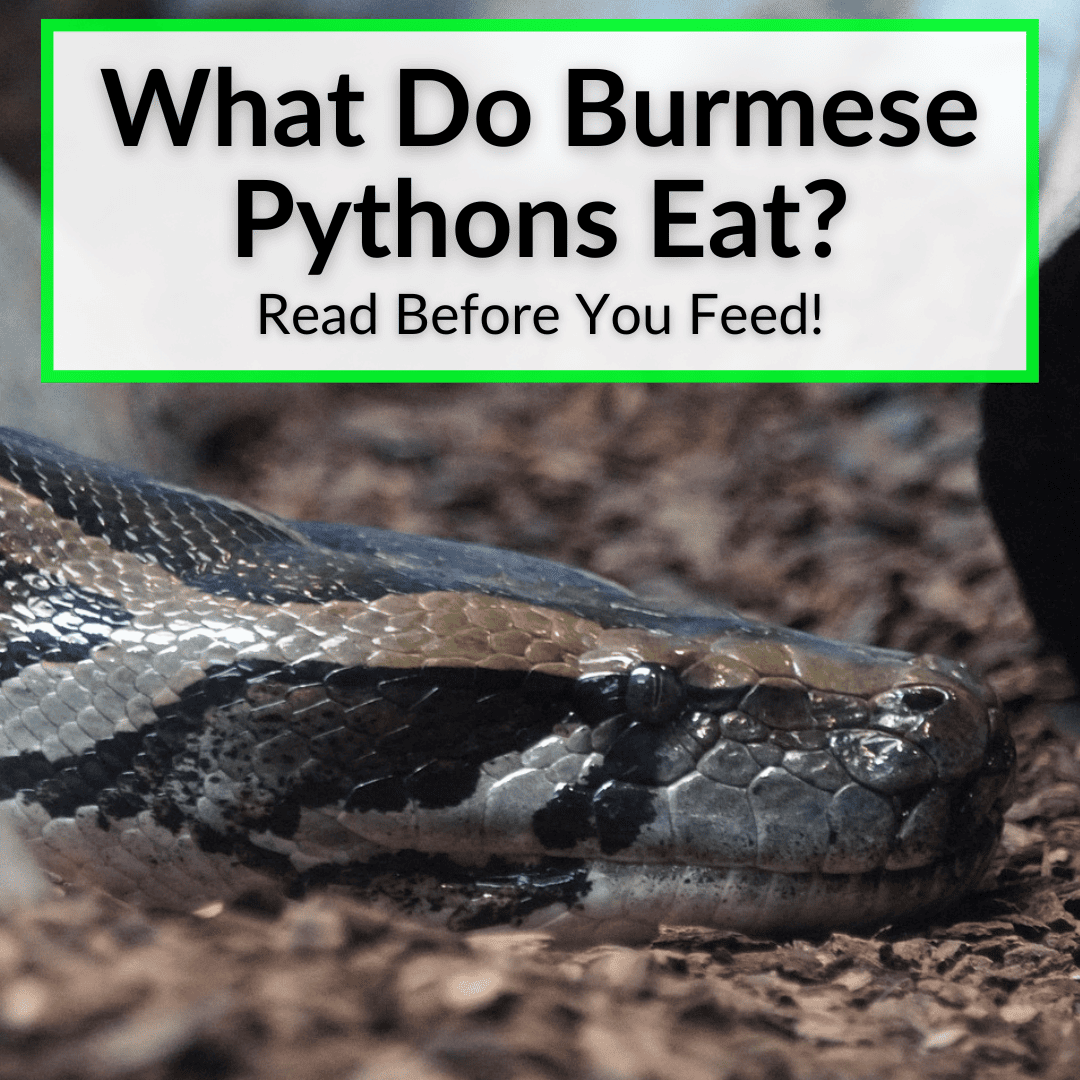 Maybe you've seen the videos of pythons swallowing gigantic animals whole.
We have one of a python eating an alligator below.
But that is a rare occurrence.
Pythons do not regularly eat alligators or other gigantic animals.
What do Burmese pythons eat most of the time then?
They actually have a fairly varied diet.
Keep reading to learn exactly what Burmese pythons typically eat in the wild, and what you should feed a pet python in captivity.
What Do Burmese Pythons Eat?
Burmese Pythons are carnivores, and they eat other animals. In the wild, they eat small mammals and birds. Rodents, like mice and rats, are their most common prey.
Where available, they may eat birds and bird eggs. Burmese pythons living near human settlements might eat domesticated chickens and their eggs. Large pythons have even been known to eat deer, cattle, monkeys, and even crocodiles and alligators.
Let's take a closer look at the animals Burmese pythons most commonly eat.
Animals Burmese Pythons Eat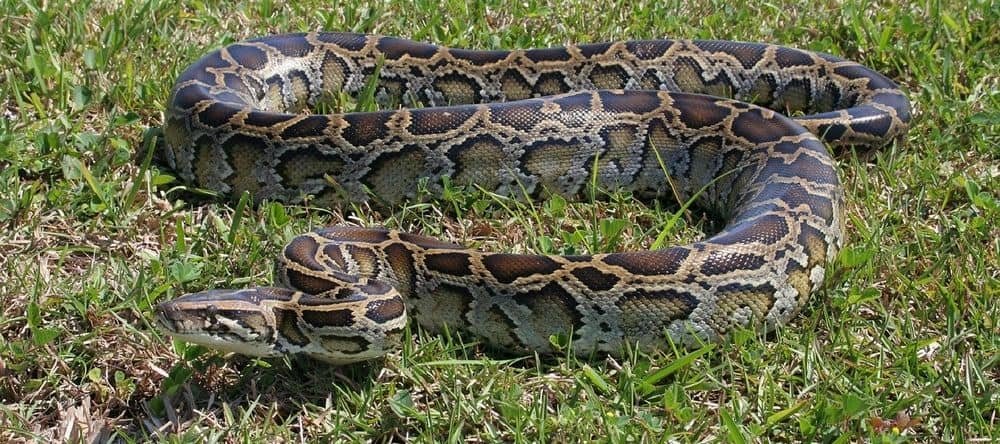 Since Burmese pythons only eat once in a while, they make every meal count. They catch their prey and cut off its oxygen supply by constricting around it.
They then use the stretchy connective tissues in their jaws to open them wide and swallow the entire animal. They usually eat the prey head first.
Since pythons have extremely stretchy jaws, they are easily capable of eating prey larger than they are. They can easily swallow prey that is five times wider than their heads.
Here is a list of the most common foods Burmese pythons eat.
Rodents
Smaller Burmese pythons eat rodents like rats and mice. In captivity, you can feed your python frozen mice, fuzzies, or pinkies.
Larger Mammals
Pythons can easily catch and suffocate larger mammals. These include monkeys, rabbits, and pigs. Some larger pythons have been known to eat antelopes, deer, wallabies, alligators, and even cattle.
A Florida Burmese Python is reported to have eaten a 35 pound fawn and a 32 pound Burmese python swallowed a 35 pound white-tailed deer in 2018.
Birds And Jungle Fowl
Another favorite food of the Burmese python is birds and bird eggs. Pythons living close to human settlements can easily enter coops and eat hens and their eggs. In the wild, they eat jungle fowl.
Do Pythons Eat Crocodiles?
Yes. Some species of pythons are known to swallow crocodiles. You might even find some thrilling videos showing pythons swallowing crocodiles or alligators, like this one.
Although crocodiles have one of the strongest jaws and the most powerful bite force among all animals on earth, they are no match for a large python species.
A large python can easily grab the alligator or crocodile and strangle it until it asphyxiates. The python then begins to swallow the crocodile head first until the entire alligator or crocodile is inside the python.
The python will digest the crocodile over the next 3 to 5 days.
Do Pythons Eat Elephants?
The largest animal eaten by any snake, including all python species, is a 150-pound hyena. On average, an elephant weighs over 15,000 pounds. So no, a python cannot eat one.
There is no record of any python eating an elephant, not even a baby. Even reticulated pythons and anacondas cannot kill an elephant.
However, the venomous bite of a king cobra could easily kill an elephant with its potent neurotoxin. But the cobra could not swallow the dead elephant.
Can A Python Eat A Cow?
Yes, a large python can swallow an entire cow. However, there was an incident in Thailand where a ravenous 15-foot long python swallowed a cow, only to have its stomach burst open while trying to digest the large prey. While looking for his cow, the farmer discovered the dead python.
Most pythons stick to eating rats and small mammals. But after they reach a certain size, they don't bother with the small rodents. The calories are just not worth it.
Do Burmese Pythons Eat Humans?
While it has happened that a python has eaten a human, it is exceedingly rare. And there is no record of a Burmese python swallowing a human, only other python species.
Burmese Pythons are usually shy and avoid direct interaction with us. If they do happen to get aggressive, they will strike from the front, not from the side or from behind us.
Most Burmese pythons won't attack or strike unless provoked. Thus, we could say that these shy creatures are neither friendly nor unfriendly to humans. They just want us to leave them alone.
If you're planning to keep a Burmese python as a pet, go for a smaller specimen. Some larger ones can be difficult to handle.
Large Burmese pythons are rather heavy, and they also have large teeth that could cause lacerations on human skin.
It is unlikely your snake would ever wrap around you to try to eat you, but you still might want to learn how to get a snake to stop constricting.
A lot of people who have these pet snakes have unintentionally been bitten by their Burmese pythons when they mistook their hands for prey while feeding.
Don't forget the fact that larger Burmese pythons are also capable of swallowing and eating domesticated animals like dogs and cats.
Are Burmese Pythons Aggressive?
In the wild, biologists have observed Burmese pythons showing aggression. They will even sneak up on unsuspecting prey from behind. They have used such attacks to swallow alligators, deer, and cattle.
Having said that, Burmese pythons are usually not aggressive towards humans. As mentioned before, they are usually shy and docile snakes that prefer hiding and avoiding altercations with us.
However, if you provoke a Burmese python, it might not hesitate to attack. And usually from the front.
Large Burmese pythons have incredibly sharp teeth. Although these snakes are non-venomous, their bites can cause lacerations on the skin.
Does A Python Bite Hurt?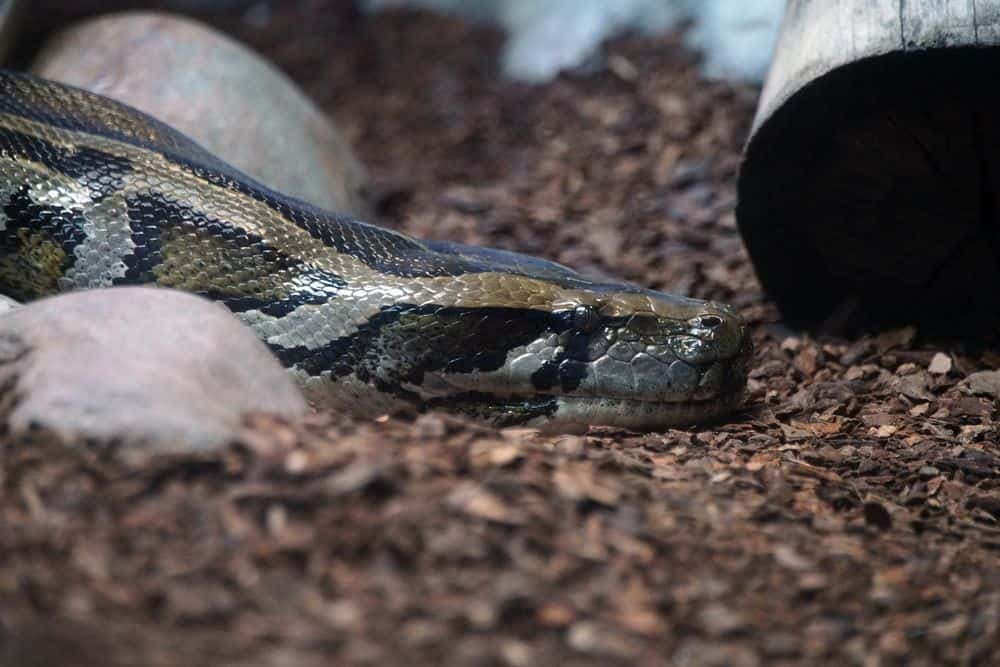 Burmese pythons could accidentally bite you, if they mistake your hand for food or if they feel threatened. Some scenarios when a Burmese python may bite us are:
if it is young
If you grab the python roughly
while the python is digesting its meal
while it is shedding
when you have just fed the python and the meal's scent is still on your skin.
Most pythons will assume the "S" pose when they are threatened and about to strike. If you see your pet python in this threatening S-pose, please avoid getting near it.
Although python bites are non-venomous, they can hurt. The python's teeth can easily scratch, bruise, or puncture your skin.
Larger Burmese pythons can even cause deep lacerations on your skin. In rare cases, the bites may result in serious internal injuries. Python bites are especially painful while they are healing.
People who own pythons as pets typically get bitten on their hands and arms. In the wild, pythons bite on the legs of humans who accidentally step on, or disturb, the unsuspecting python.
It might be worthwhile to visit a doctor to have the python bite examined. Better to play it safe.
What Does A Burmese Python Eat: Final Thoughts
Burmese pythons eat small mammals and birds. Primarily, they live off of rats and mice, but they have been known to eat animals as large as deer, cattle, and even alligators.
Of course, instances like that are rare. And no Burmese python has ever eaten a human, although some other python species have. You do not have anything to worry about with this shy species. Leave it alone and it will leave you alone, too.