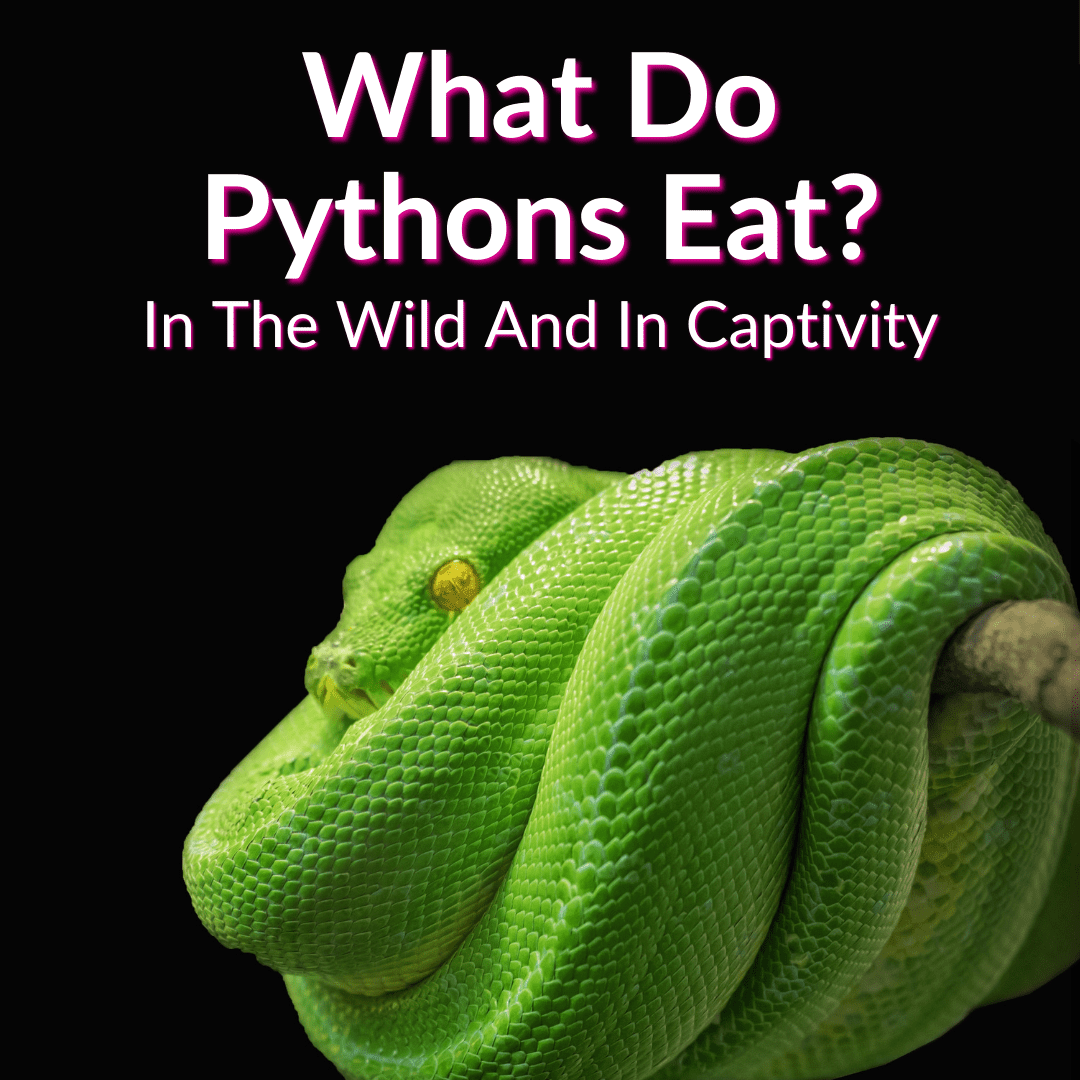 Do you have a pet python, or are considering one?
Or are you simply curious?
Because what pythons eat differs in the wild and in captivity.
In the wild, they tend to eat whatever they can get into their grasp.
In captivity, many of the things they eat in the wild are less than optimal, to put it mildly.
It is best to feed them healthy and convenient foods.
What does that mean exactly?
Keep reading to learn what pythons eat in the wild, and what you should feed a pet python in captivity.
What Do Pythons Eat?
In the wild, most species of Pythons are eating machines. They eat a wide variety of prey including small mammals, amphibians, rodents, reptiles, and birds.
Some species living close to human habitats eat chickens, pigs, and other domesticated livestock. A few species of pythons even eat other pythons and snakes.
In captivity, you can feed your pet python a similar diet of rodents, small lizards, etc. It is usually easiest to procure frozen mice or rats, so most owners feed their pythons those. Let's take a closer look at the foods pythons love.
Small Mammals
In the wild, pythons live in forests, swamps, rocky outcrops, deserts, rainforests, grasslands, and scrublands in Asia, Africa, and Australia.
Pythons are constrictors, which means they do not need to chase their prey. Instead, they wait patiently for their prey to walk to them. They secure their prey by constricting around their victim's body. This suffocates the prey so the python can swallow it whole.
Small mammals like rats, mice, bats, etc. often unsuspectingly fall prey to pythons. These animals are also found abundantly in the areas that pythons inhabit.
Larger pythons even eat deer, monkeys, apes, pigs, sheep, goats, and other livestock. A rock python is even known to have eaten a leopard and many pythons have eaten human beings!
But worry not: pythons prefer not to eat humans. They usually only go for smaller mammals. But there are exceptions. Sometime these snakes even eat things that are bigger than they are.
Reticulated pythons, native to South and Southeast Asia, are known to prey on humans. Several cases of humans being eaten by reticulated pythons have been confirmed and documented.
However, given a choice, most pythons will stay away from humans. They might go for our livestock (cattle, sheep, pigs, goats). Recently, there was the sad news of a 16-foot python eating a pet dog. Cats, too, are not safe from pythons.
In captivity, you can feed your python small mammals like rats, mice, and rabbits. It is important to vary your pet python's diet so it gets all the nourishment and balanced nutrition just as it gets in the wild.
Let's take a closer look at one specific type of small mammal: the rodent. Rodents are the primary food source for most pythons.
Rodents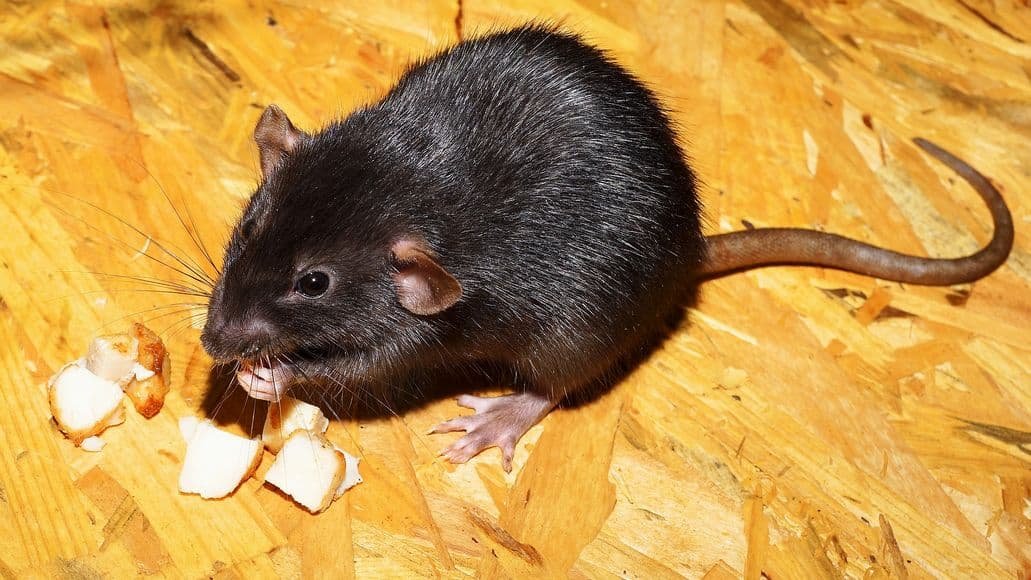 Rodents are a staple in the python's diet. Pythons in the wild and captivity both love rodents. Rodents include all species of rats, squirrels, mice, gophers, chinchillas, cavies, gerbils, degus, beavers, and marmots.
More than 40 different types of rodents are known to man, and wild pythons feast on whichever ones are available in their habitats.
Rodents generally inhabit hollow logs, tree roots, and tall grasses. They are also found in underbrush, grasslands, forests, and pastures. They love to hide in tall grasses, shrubs, and vines.
In captivity, it is easy and convenient to feed rodents to pet pythons, because many pet stores sell frozen rodents in convenient packaging. You can even buy them online on Amazon. All you need to do is thaw or warm the rodent, before feeding it to your python.
In short, rodents are easily available for pythons in most habitats. Moreover, human dwellings like farms, barns, and sheds also have rodents that attract pythons.
Adult and large python species prefer larger rodents whereas baby and small-sized pythons prefer hatchlings and small-sized rodents, like degus, hopper mice, chinchillas, etc.
Reptiles And Amphibians
Pythons are known to devour reptiles like lizards, geckos, chameleons, iguanas, bearded dragons, tegus, anoles, alligators, crocodiles, and more. They also feast on amphibians like frogs, toads, salamanders, and newts. Our article on what Burmese pythons eat has a video of them eating, and being eaten by, alligators.
Most python species living in desert areas feast on lizards and frogs that are abundantly found in dry, arid environments.
The reverse is also true. Some species of newly hatched pythons can fall prey to lizard species like Blue-Tongue Lizards. However, as the pythons grow, they become the predator and the lizards become the prey.
Some species of pythons eat other snakes and pythons. The chances of this happening are higher if there is a significant difference in their sizes. Hatchling pythons are known to display hatchling cannibalism.
Check out this interesting video of a python vomiting up another big python. The whole thing was caught on camera!
In captivity, you can feed your python live lizards, frogs, and small amphibians like salamanders and newts.
Feeding live food encourages your python to use the same skills it uses in the wild for catching its prey. This can help your pet's mental well-being, but it is always best to feed only animals that have a small chance of hurting your snake (so no rats, for example).
Birds And Bird Eggs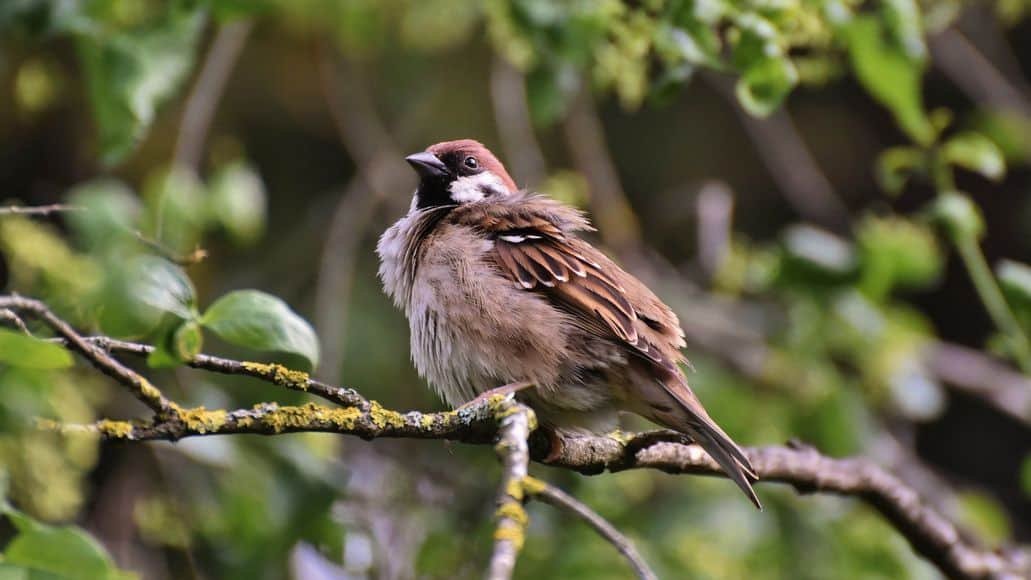 Recently, there has been growing concern among Florida's ornithologists that 16-foot-long Burmese pythons have been eating birds and bird eggs straight from the birds' nests.
This is strange behavior since Burmese Pythons are wait-and-watch feeders. They do not go in search of their prey, but rather wait for their prey to come to them.
However, this discovery proves that Burmese pythons may be turning into opportunistic feeders in this new habitat (they are not native to Florida). They now seem to go in search of bird nests.
Several species of pythons eat birds and bird eggs. These constrictors wait patiently for birds to fly close to them. They capture the bird and squeeze it until it cannot breathe. They then swallow it whole.
In captivity, you could feed bird or chicken eggs to your python. Many python owners also feed raw chicken to their pets. However, this should be offered sparingly and a majority of your python's diet should be made up of rodents.
Fish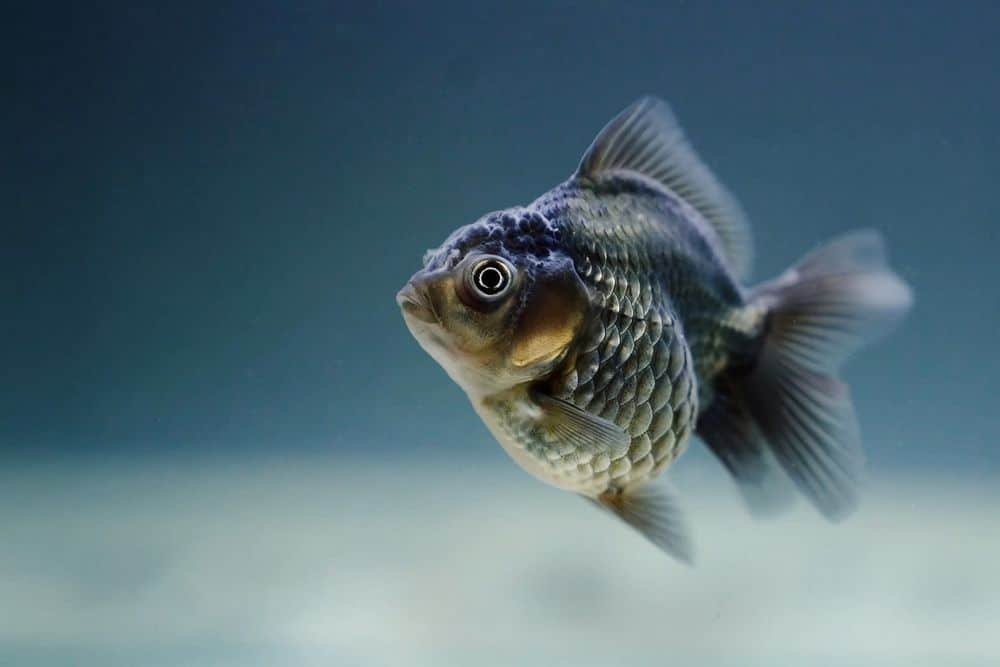 Water pythons do eat fish. Some varieties of pythons are even known to swim up to the saltwater mangroves of the Everglades to catch fish.
Certain python species can stay submerged underwater for over 30 minutes and these certainly feed on fish. However, a vast majority of pythons live in areas with limited access to fish. They prefer feasting on other animals mentioned above.
For captive pythons like ball pythons, you can feed raw fish occasionally. However, fish should not become a staple of your pet's diet. Your pet ball python needs rodents, lizards, and other small mammals to thrive.
Foods Pythons Eat: Related Questions
Below we will answer some common questions related to the python's diet. If you have additional questions, please feel free to ask them in the comments below.
What Do Pythons Eat In The Everglades?
The Everglades are natural Wetlands of Florida. They are home to many species of animals like alligators, crocodiles, storks, manatees, frogs, deer, birds, etc.
Pythons are not native to this region. They were introduced by pet owners who released them when they became too much work. They eat many of the native animals and birds to survive, wreaking havoc on the natural balance of the existing ecosystem.
What Do Pythons Eat In The Rainforests?
In the rainforests, pythons feast on frogs, lizards, rodents, other small mammals, birds, and even other snakes.
What Is A Python's Favorite Food?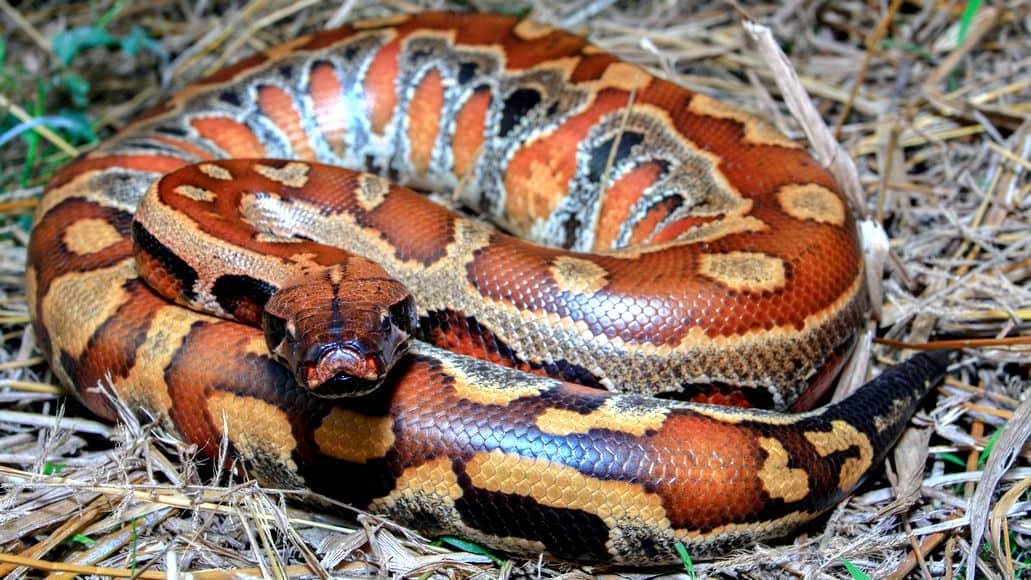 Pythons love rodents, frogs, toads, slugs, and lizards. Pet pythons, like the super popular ball python, enjoy eating thawed frozen mice and rats. How often do ball pythons eat? It ranges from ever 5 to every 50 days, depending on age.
You can also feed live prey from time to time for variety and to mentally stimulate your python. Whether alive or dead, always choose prey that is smaller than your python's widest point.
What Pythons Eat: Final Thoughts
The python diet in the wild varies greatly, since these snakes live in a variety of habitats. They basically eat whatever animals live around them that are the right size and that they are able to catch.
In captivity, it is best to feed them thawed frozen mice or rats. Other good options are rabbits or chickens. You can feed them live prey, too, but you should make sure it is not something that can injure your snake. See our ball python vs blood python comparison for more on snakes in the pythonidae family.