We should clear one thing up right away.
Snakes don't actually yawn.
But they do open their mouths in a way that looks like yawning to us.
So we could call it yawning if we want.
And we'll continue to use that word in this article.
So why do snakes yawn, or open their mouths wide?
Keep reading to learn everything you need to know about snake yawning, or mouth gaping, as it is correctly referred to.
Why Do Snakes Yawn?
Snakes yawn for a number of reasons. First, they tend to open their mouths wide before a large meal to give a workout to their jaws and enhance their flexibility.
They may also 'mouth gape' after eating to increase oxygen or airflow to the airways that are blocked by the meal.
Snakes also often yawn to smell the air for prey and they do it just before a shed. Sometimes, they might simply sit with their mouths open to regulate their temperature.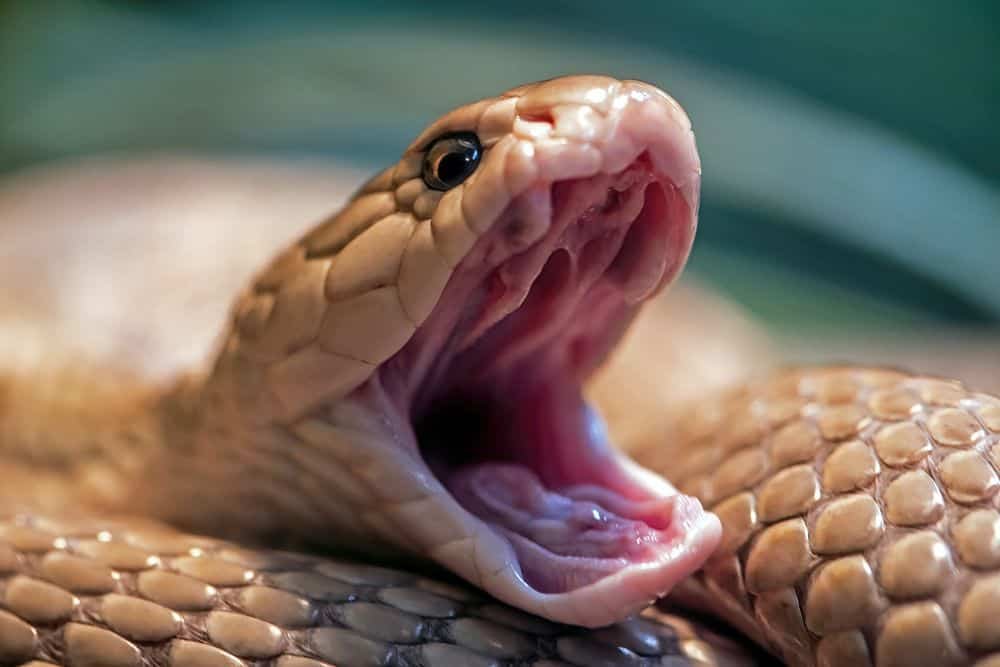 Most of the time, a snake yawning is not a problem. But excessive yawning could be a sign of stress or an underlying health issue, such as pneumonia, stomatitis, infections, parasites, or mouth rot.
8 Reasons Snakes Yawn
Snake owners often believe that their snakes are yawning because they are tired. That is not the case. Here are the reasons why snakes might open their mouths in a way that seems like a yawn to us humans.
To Make Their Jaws More Flexible
Snakes usually open their mouths wide before their meals, to stretch and realign their jaws. Remember that snakes' jaws are made of ligaments instead of bones.
If a snake is going to swallow large prey, it needs its jaws to function properly. By opening its mouth wide before a meal, a snake warms up its jaws and enhances their flexibility.
Thus, you could say that the yawning action before feeding prepares the snake for the 'workout' that is coming.
To Enhance Oxygen And Airflow
Some snakes also open their jaws wide in a yawn after they have eaten their meal. This action is known as mouth gaping.
Mouth gaping involves 'walking' the jaws along the large meal to help push it down and also enhance oxygenation to the airways that are blocked by the swallowed prey.
To Realign Their Over-stretched Jaws
Snakes may also yawn after their meals to realign the ligaments in the jaws. The jaws may have been overstretched while swallowing large prey. By yawning, the snake resets the ligaments to their original position.
Due To An Illness
Underlying health issues or some diseases may also result in excessive yawning or mouth gaping in snakes.
Conditions like stomatitis, pneumonia, or mouth rot could all cause a snake to leave its mouth open and appear to yawn.
A yawning snake could also have a viral or bacterial infection or external/internal parasites or mites. Please talk to a vet to rule out these issues.
To Smell The Air
Snakes often sniff the air to locate their prey. For this purpose, they flick their tongues and draw chemicals from the air back to their Jacobson's organ located at the roof of their mouths.
But sometimes, instead of flicking their tongues out, they may sit with their mouth open to sniff out potential prey.
Due To A Threat Or Stress
A snake may leave its mouth continuously open if it feels threatened or stressed. Opening the mouth helps the snake intimidate its prey or a potential threat. Keeping its mouth open makes the snake appear larger and more menacing.
If a snake is feeling threatened or intimidated, it might also appear ready to strike and take on the 'S' position.
If They're Too Hot
Snakes are cold-blooded creatures. They need to draw the warmth from their environment to regulate their body temperatures.
If a snake sits with its mouth open in what appears to be a yawn, it may be that its environment is too hot. Leaving the mouth open helps it regulate the temperature.
Just Before A Shed
Snakes usually yawn just before a shed. In snakes, the shedding begins at the jaws . The skin becomes dry so it can peel off. Your snake might open its mouth and appear to yawn to free its face from the peeling skin.
Is It OK For Snakes to Yawn?
Yes, snakes need to yawn for a variety of reasons, indicated above. Mostly, the yawning or mouth gaping is completely normal and is a way of regulating temperature, aligning the jaws before or after meals, or sniffing the air for prey.
In some cases, a snake may be stressed or might feel threatened and that is causing the yawning. In such a case, it wants to appear threatening or intimidating. It may also be getting ready to strike.
If your snake is yawning excessively and is also rubbing its mouth or has a red, oozing mouth, or other symptoms like respiratory distress, then please see your vet. Your snake may be sick and need urgent medical treatment.
Why Is My Snake Yawning At Me?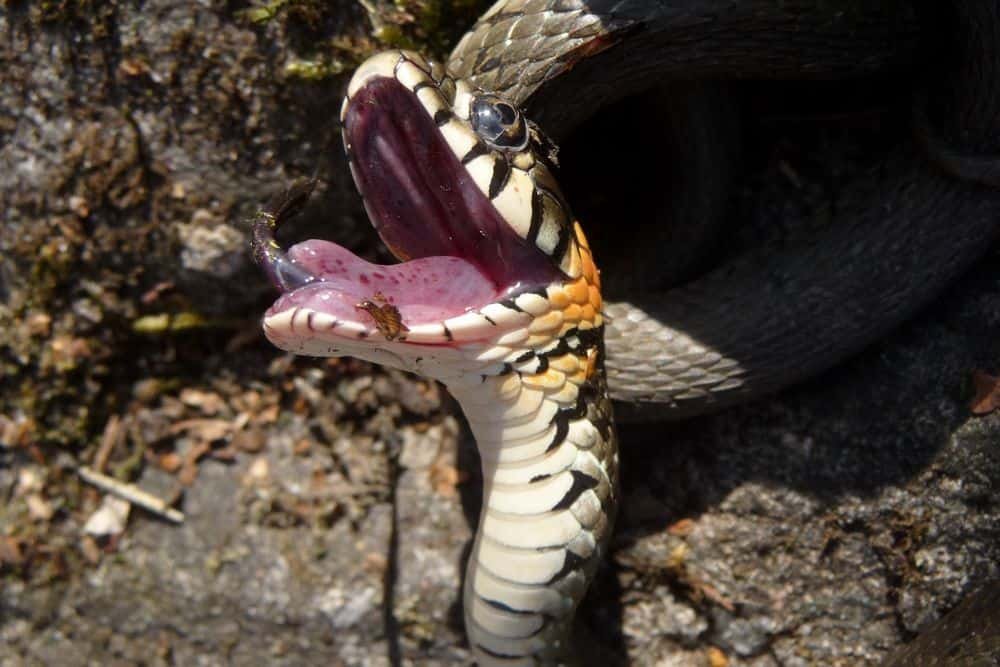 If your snake is continuously yawning at you, it may be due to the following reasons:
Your snake could be sick with a respiratory issue such as pneumonia. This is a critical illness and your pet needs aggressive medical treatment.
Sometimes, poor husbandry like incorrect humidity or temperature may also cause the snake to sit with its mouth open.
Your snake could also have mites or other external parasites or it may be malnourished or have a viral infection.
In any case, a herp vet should perform diagnostic tests and physical exams to analyze the exact cause of mouth gaping.
How Do Snakes Show Affection?
Snakes do not recognize us by our looks, but they do recognize our scents and may even associate our smell with positive feelings. However, snakes are unable to bond with us, since they do not view us as companions.
Having said that, a snake might show that it likes you by:
Being calm around you
Taking food from you
Exploring your hand or climbing or curling around you
Resting on you
Coming closer to the enclosure's walls when it smells you
Why Does My Snake Just Stare At Me?
There are several reasons your snake might stare at you. First, it may be hungry and needs feeding. When it smells you, it knows food is nearby.
Second, it might not be staring. After all, snakes do not have eyelids and cannot blink. Therefore, even a normal gaze may feel as if your snake is staring.
Third, a snake could be 'stargazing' towards the top of the enclosure where you are looking down at it. This is due to an illness.
Stargazing in snakes is a dangerous condition caused by cervical musculature contraction. It may occur due to bacterial or viral infections, poor nutrition, head trauma, or drastic temperature changes.
In rare cases, snakes may appear to stare at their owners or handlers because they perceive them as threats. They may not appreciate being handled too much and might be staring at you to show aggression.
Can Snakes Yawn: Final Thoughts
Yes, snakes can yawn, although it is not actually yawning. They simply open their mouths in a way that looks like yawning to us.
There are a number of reasons they do this and it is usually not anything to worry about. But sometimes, mouth gaping can indicate an illness. If you suspect your snake is suffering from an illness, take it to a vet as soon as possible.