Have you ever seen a snake with its eyes closed?
I already know the answer.
And that is why so many people ask if snakes can blink.
The truth is: they don't even need to.
Their eyes are quite different from ours and they have a unique feature that makes blinking completely unnecessary.
The same goes for closing their eyes in the same way we do it. Even while sleeping, there is no need.
Does that mean snakes can't blink at all?
Keep reading to find out. We'll cover everything you need to know about a snake's amazing and fascinating eyes.
Can Snakes Blink?
No, snakes can't blink, because they don't have eyelids. Instead, they have protective scales on the surface of their eyes. These scales are transparent and cover the eyes permanently.
Snakes are fascinating creatures with some unique characteristics that set them apart from other animals, and even other reptiles. But even among snakes, there is a lot of variety.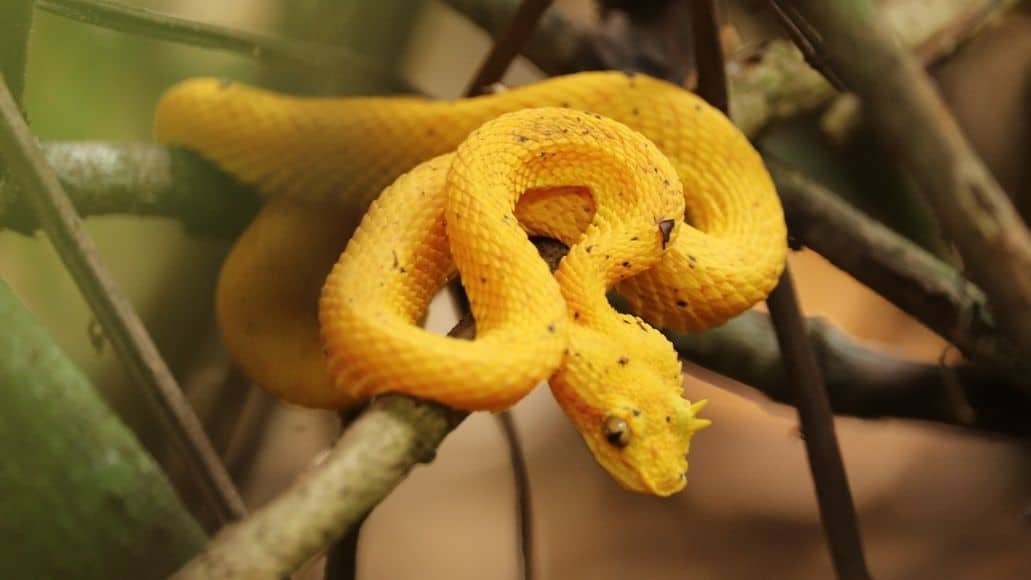 You'll find a little over 3000 different species of snakes on our planet, each with different qualities and attributes. But some things they have in common are long, scaly bodies and the fact that they shed their skin frequently.
And when they shed, they also shed the skin that covers the eye. The name for this covering is the brille.
The Snake Brille
Snakes have unique qualities that make them quite different to us humans, and to other animals. One quality that makes them different from many other animals is that they cannot blink.
As mentioned, they do not have eyelids that function to protect the eyes. But this does not mean their eyes are completely unprotected. Snakes have a different way of keeping their eyes clear.
Snakes have a brille attached to each eye. This is a layer of immovable, disc-shaped skin that covers both its eyes. This brille helps the snake keep its eyes clean and clear.
If you ever studied German, you may recognize the term. "Brille" is the German word for "eyeglasses." So we're basically saying snakes wear glasses. Except this brille does not improve their vision.
But it serves another purpose. One similar to protective eyewear. The brille helps cover the eye and keeps air out, so the snake's eyes don't dry up. Because of the brille, snakes don't need to blink or close their eyes.
When a snake sheds its skin, the brille also comes off. It actually begins to detach in the days before the shedding process begins. During this period, a snake's eyes turn blue and it is basically blind. It can't see through the detached brille.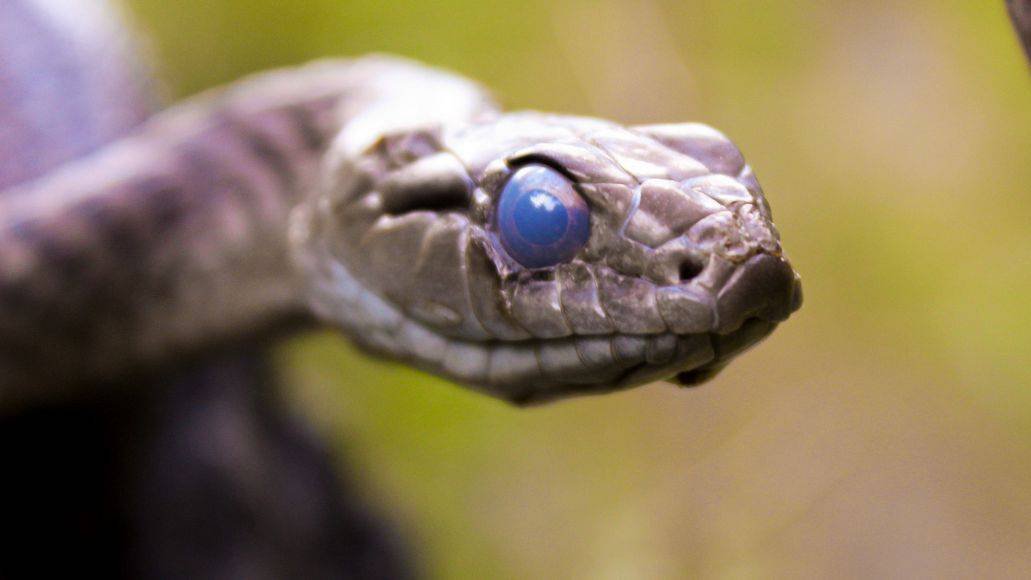 Once the skin has been shed and the loose brille removed, the snake can see clearer again. It is not uncommon for the brille to detach from the rest of the skin and remain on the eye after shedding. This can cause serious issues for snakes.
Now that we have our answer to the question at hand, let's look at some of the other commonly asked questions concerning snake eyes and their vision.
Snakes Blinking: Related Questions
The following questions are the most common ones we get related to the eyes and the vision of snakes. If you have additional questions, please do not hesitate to ask them in the comments below.
Do Snakes Sleep With Their Eyes Open?
Yes, snakes do sleep with their eyes open. However, that does not necessarily mean they can see while they are sleeping with open eyes.
This may seem confusing. After all, how can a snake's eyes be open but it does not see anything? You need to remember that snakes and human beings function very differently.
Instead of eyelids, snakes have clear, thin membranes called brille to protect their corneas. This protection is always there, so there is no need for them to close their eyes. Instead, they close their retinas while sleeping. Their eyes remain open, making it seem like they are still watching.
So while snakes sleep with their eyes wide open, this does not mean they are seeing anything. But they might not be sleeping, so you never really know.
Can Snakes Cry?
As unique creatures, it is fair to be curious about how these slithering beasts function and how different they are from humans and other animals.
Snakes do not have any eyelids, so an obvious question is whether these creatures have tear ducts to shed tears, similar to human beings and other animals.
It's a fair question, considering that most reptiles produce tears. However, snakes cannot physically cry, which is a stark difference from other reptiles.
Once you understand how shedding tears works, you'll know why they don't.
The tear glands above the eyes produce a fluid to flow down over the surface of the eye. Nasolacrimal ducts drain the fluids the tear glands produce into the sinus cavity.
But a snake's eye is different. Since it has a permanent cover attached directly to the eye, there is nowhere tears could even go in order to lubricate the eye. And there is no need. For that reason snakes can not shed tears.
Can Reptiles Blink?
If snakes can't blink, is it reasonable to assume that all species of reptiles cannot blink. But this is not the case.
Certain species of reptiles can blink. Lizards are one such example. They can blink, unlike snakes. Just like humans, lizards also have eyelids that protect their eyes when they blink.
However, there are also certain subspecies of lizards that cannot blink, like geckos. These creatures have a clear membrane instead of eyelids, which helps protect their eyes from dirt and other things. Surprisingly, they use their tongues to clean their eyes.
Can Snakes Move Their Eyes?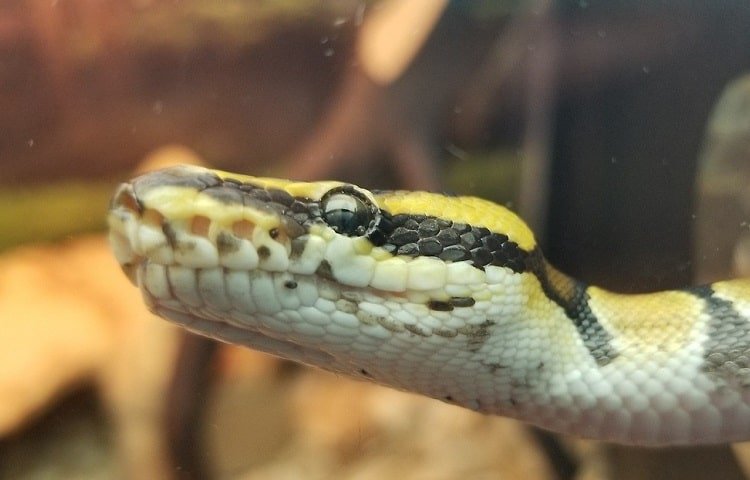 If snakes do not have eyelids, can they move their eyes? They can't open or close their eyes, so there is no movement in that way. But they do move their eyes themselves, in the same way we do.
The brille covering the eye is immovable, but the eye behind the brille can move around just like our eyes can move. It is not always easy to see, depending on the snake's eye color.
Can A Snake See You?
Snakes can see from their eyes, but it is primarily a visual representation of an outline of a body. They cannot see you well, but they use the help of other senses, like their sense of smell and ground vibration, to get a clear idea of their surroundings.
They also don't see color the same way we do. Can snakes see in color at all, then? Yes, they can, but hey only see two primary colors (blue and green), while we see three (red, green, and blue).
Many snake species also have pit organs that they use to sense heat. This allows them to pick up on the heat signatures of other living things and located both potential prey and potential predators.
Why Does Your Snake Stare At You?
There are a few reasons why your snake might be staring at you. As mentioned earlier, your snake doesn't have eyelids and sleeps with its eyes open, but retinas closed. It may just look like it is staring at you, but it could be sleeping.
It could also just be looking in your direction, but not at you. Snakes do not see well, and really just pick up outlines of things. That said, they have other ways of detecting the world. Your snake might not be staring at you with its eyes, but still 'staring' at you with its smell or heat sensing organ.
Snakes Do Not Blink: Final Thoughts
Snakes do not have eyelids, so they can not blink. They also have no need to. While we humans need to close our eyes at times to protect them from the environment, snakes have a permanent cover over their eyes that protects them at all times.
This cover, called brille, ensures nothing can get in their eyes. It eliminates the need for eyelids and the ability to close them to protect the eye. When they sleep, they close their retina, not their eyes. This shuts out light, but it appears to us that their eyes are still open.