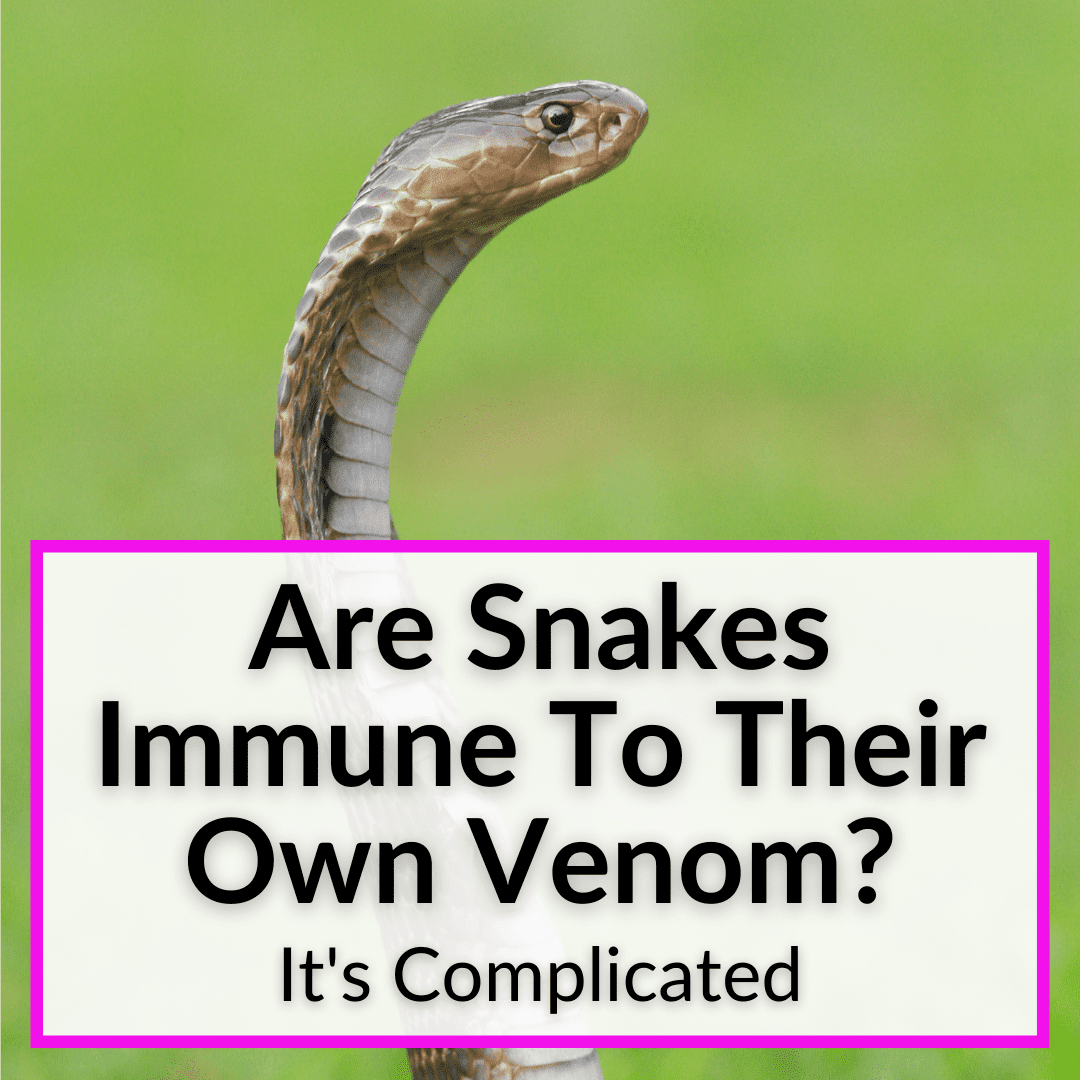 It's a logical question.
I'm sure we've all wondered why venomous snakes don't succumb to their own venom.
I mean, it's stored inside their bodies. Plus, they eat prey after injecting it full of their own venom.
And what happens when a snake suffers a venomous bite? Either from itself, another snake of the same species, or a snake of a different species?
Will the venom affect the snake?
These are all questions I had as a kid. And my parents were unable to answer them. But that was before the internet.
Now all you have to do is keep reading. We'll cover every question you might have about snakes and their own venom.
Are Snakes Immune To Their Own Venom?
No, snakes are not technically immune to their own venom. But it doesn't matter, because it can't harm them, so they are effectively immune.
However, if the venom were to enter their bloodstream, it could kill them, just like it does when the snake injects it into its prey. But the venom is stored inside special glands, safely away from the snake's bloodstream.
And even if a snake bites another snake of the same species, the bitten snake does not suffer the same effects as another animal would, even another snake of a different species. And, of course, snakes eat prey filled with venom and suffer no ill effects.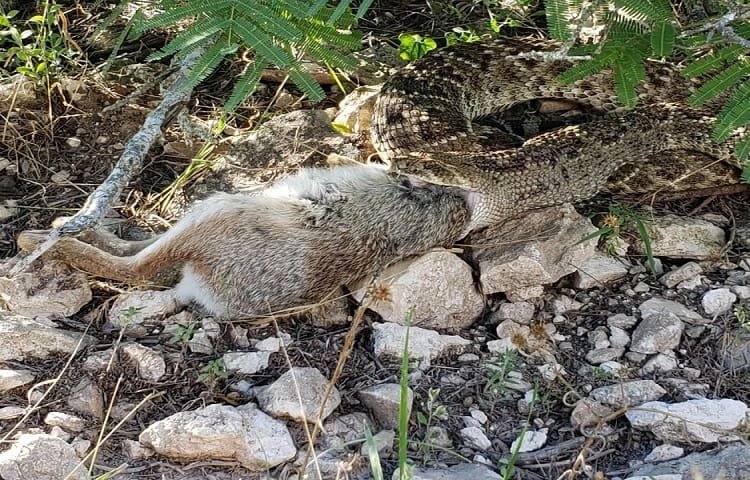 Al told, there are four possible reasons snakes are not negatively affected by their own venom. Let's take a look at each one.
4 Reasons Snakes Are Not Affected By Their Own Venom
Different case studies and research have shown that there are four possible reasons snakes are immune to the negative effects of their own venom.
Immune cells
Just like human immune cells protect us from various infections, snakes have special immune cells that protect them from their own toxins. Over its lifetime, every snake has developed a natural immunity to its own venom thanks to these immune cells.
To explain this further let's consider a fight between two or more snakes of the same species. During the fight, the snakes might bite each other several times, but they remain unaffected and do not die.
Likewise, during mating, a male and female snake of the same species could bite each other playfully, but remain immune to each other's venom due to the immune cells.
This also explains why two snakes of different species die, if they end up injecting their venom into each other. They do not have the necessary immuno-protective cells to help repel the other species' venom.
The Venom Has To Enter The Bloodstream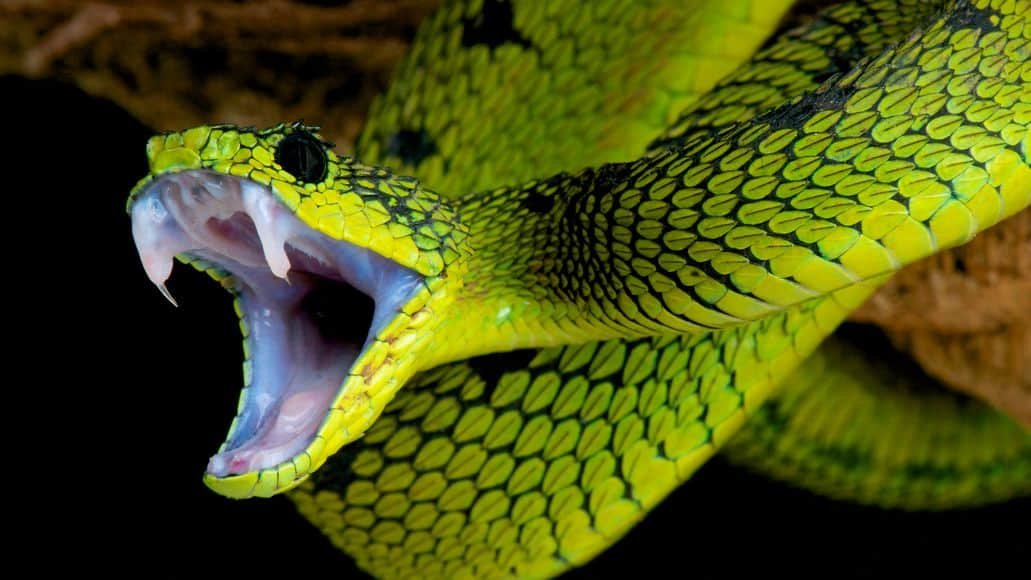 Snakes store their venom in a modified parotid gland which is located below and behind their eyes on either side of their head. This gland is protected with a muscular sheath and the venom can only be transported to the fangs through special ducts.
In short: the snake's venom remains protected inside the gland and does not enter the bloodstream.
When a snake sinks its fangs into its prey's skin, it injects the neurotoxic venom through its fangs into the victim's bloodstream. This leads to cell death in the prey, which causes paralysis or death.
When a mouse or any other snake prey is bitten by a snake, the venom from the snake enters the prey's bloodstream, killing it. The snake can, however, safely eat the bitten animal, since the venom from the dead prey is easily broken down into harmless compounds by special digestive enzymes in the snake's stomach.
However, there is a line of thought that states that a snake could commit suicide by biting itself. Fatal self-envenomation has also been seen in certain species such as the brown snake Boiga irregularis from South-East Queensland.
In this case, the snake's venom directly entered its bloodstream. But in most cases, the snake that inflicted bites on itself died more due to necrosis of the tissue from the self-inflicted wounds, rather than the effect of its venom.
The Snake Has An Antidote To Its Own Venom
The third reason most snakes are not affected by their own venom is that their bodies produce antidotes to their own venom. After all, the venom is also present in their saliva.
This explains why certain species of snakes are able to 'spit' their venom at their victims from a small orifice in their mouths. The poisonous spit can even hit prey 2.5 meters away!
This shows that certain species of snakes have the venom in their saliva, so clearly their bodies must have the antidote to it. The antidote prevents the venom from entering the nerve cells' receptors, protecting the snake.
In these cases, the snake actually is immune to its own venom. That said, the antidote is only effective against a small dose of the venom. If a large amount of venom enters the bloodstream, perhaps through a bite, the antidote will not be able to prevent the venom from affecting the snake.
Special Genetic Mutation
A recent study conducted in 2020 and 2021 at the University of Queensland, Australia revealed another reason snakes may be immune to their own venom and why certain snake species are immune to the venom of snakes belonging to different species.
The study showed that snake species such as Burmese pythons and molesnakes have specific genetic mutations in their nerve cell receptors that make them immune to the neurotoxins in snake venom.
Their cells carry the same electrical charge as that of the venom cells. As a result, they repel the neurotoxins just as two positively charged magnets repel each other. This helps protect the snakes from their own venom, as well as the venom of different snake species.
In the case of other snake species without this mutation, the snake could get sick or die if it is bitten by a snake of another species.
As explained earlier, snakes belonging to the same species (or even closely related snake species) are immune to the polypeptide toxins of their relative's venom, because of the same charges that repel instead of binding.
This explains why a rattlesnake can bite another rattlesnake during mating, or an in a fight, but will not kill it.
Snakes like cobras often prey on other smaller snakes. Their venom contains positively charged alpha neurotoxins.
These positively charged molecules seek the negatively charged receptors in the nerves of their prey. This attractive interaction helps the venom bind with the receptor molecules, instantly paralyzing the prey.
However, sneaky and evolved snakes like Burmese pythons have learned to avoid this attractive interaction by switching their cell receptors from a negative to a positive charge – the same as the alpha neurotoxin's charge. This helps repel the venom instead of binding with the nerve receptors.
Snake Immunity To Venom: Related Questions
The following are common questions related to snakes' immunity to their own venom. If you have additional questions, please feel free to ask them in the comments below.
Are Cobras Immune To Other Snakes' Venom?
Cobras could be killed by other venomous snakes that are not native to the same geographic location. They could even be killed by larger King Cobras, if the venom were to directly enter their bloodstream.
When Do Snakes Bite Themselves?
Snakes could mistake their tails for prey and end up biting themselves. Sometimes a snake might inflict bites on its own body, when it is hungry, stressed or over-heated, or it is unable to self-thermoregulate.
Will A Snake Try To Eat Itself?
Yes, snakes are known to eat themselves due to stress, overheating, confusion, or metabolic disorders. This behavior is more common in captive snakes, if you keep them under suboptimal conditions.
Snakes Immune To Own Venom: Final Thoughts
Snakes are not necessarily immune to their own venom, but they are not affected by it under normal circumstances. We have covered the four possible reasons for this.
As you saw, some of them do suggest that snakes have a certain level of immunity to their own venom, but it is definitely not absolute. And some snakes, along with some animals of other species, do seem to have immunity against snake venom in general.