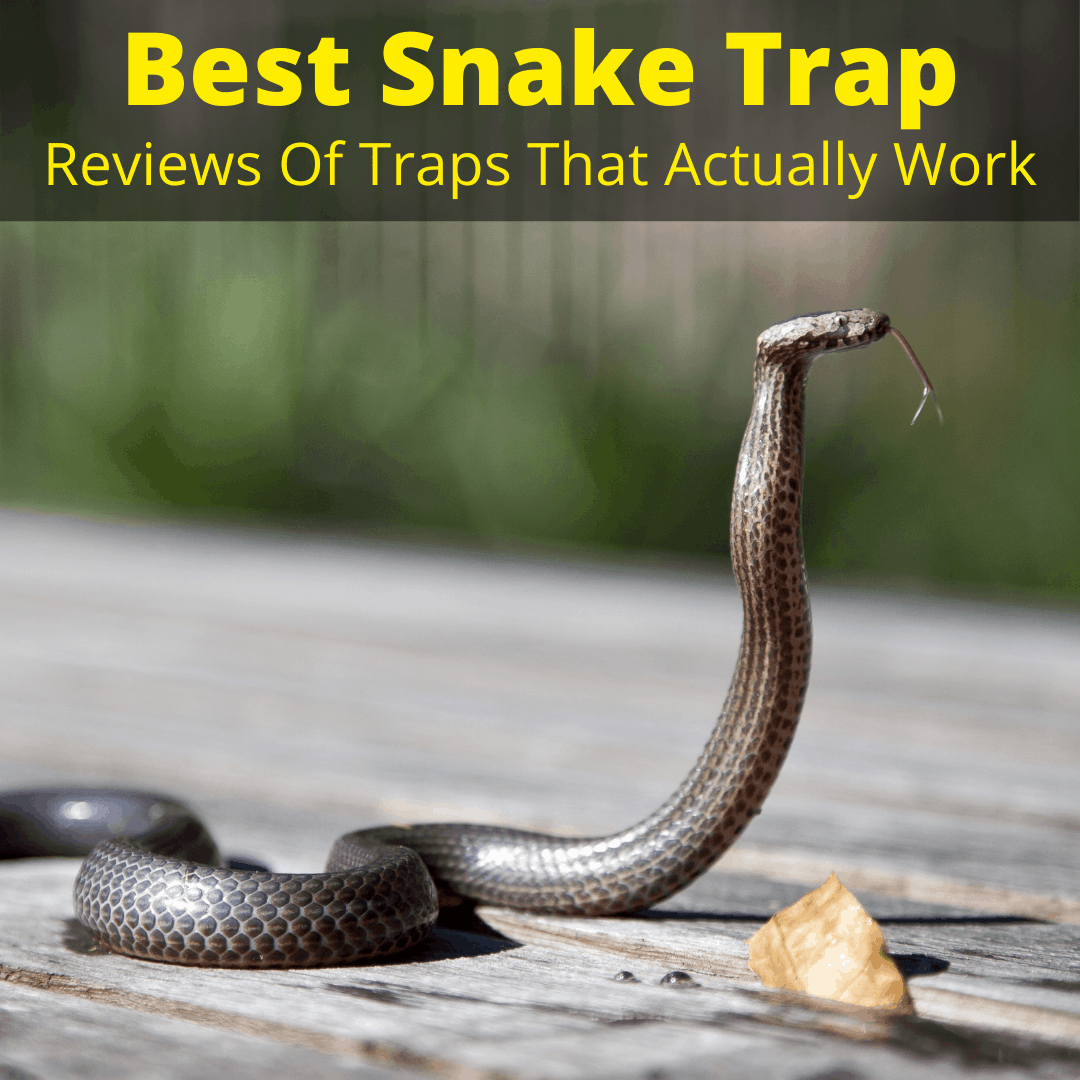 Are snake traps humane?
Some are. They allow you to catch the snake without harming it, so you can release it elsewhere.
These traps are generally hard to find and expensive. We included the best option below.
The cheapest and easiest to use are glue traps.
These seem humane at first glance, but they are not.
We explain why below.
Nevertheless, most of the best snake traps we listed use adhesive, because they get the job done at a low price.
Let's take a closer look at our favorite traps for snakes and find out which is best for you.
Best Snake Traps Compared
$30.99

$14.98 ($0.42 / Count)
03/22/2023 01:21 am GMT

Best Snake Trap: Reviews Of The Top Models
Here are brief reviews of the best snake traps. All are reasonably priced and they actually work. If you've got a snake, or snakes, you need to remove from your property, these traps will do the job.
Catchmaster Baited Rat, Mouse And Snake Glue Traps

Our overall favorite snake trap available on the market is this one by Catchmaster.
Featured Specs
Pre-baited
Non-toxic adhesive
Outdoor and indoor use
Pros
This snake trap is pre-baited to make your life easier. Simply separate the two boards and put the sticky traps along a wall or floor where you know snakes travel so you can trap them.
It's both non-toxic and safe to use, so you don't have to worry about harming your pets or children. If you come into contact with the adhesive, you can easily remove it from your skin with the use of mineral or vegetable oil.
These traps are great value for money because they can last for up to one year, and you can use them both outdoors and indoors.
These traps even work in humid areas, which is a bonus.
You don't have to use anything with the traps, such as bait, as they are ready straight out of the box.
Cons
Some people who have purchased this trap and used it to catch mice have said that it doesn't work for large rats. It therefore might not work on large snakes either.
Although it doesn't kill what you trap, it leaves you with a situation where you have to kill it, or use vegetable oil to neutralize the adhesive, which then leaves the animal covered in oil. It is better and more human to kill it, but overall, glue traps are not humane.
Buying Advice
This glue-based snake and mouse trap does not cost much. If you're looking for a solution to trapping a snake that doesn't involve you having to worry about bait, it's worth checking out.
Catchmaster 72MAX Pest Trap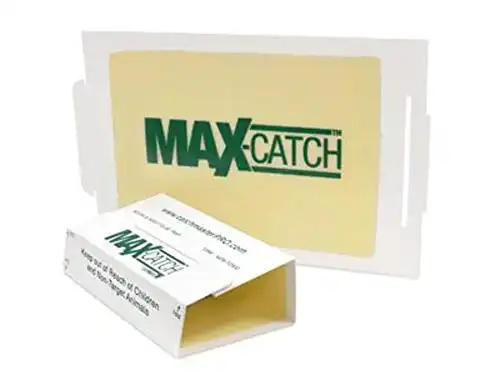 This trap is also by Catchmaster. Let's see what makes it different to the previous product.
Featured Specs
Useful in wet conditions
Peanut butter scented
Up to a year of use
Pros
These trapping boards are convenient because they can be placed flat to catch pests.
Once put down, these traps can last for up to a year as they are adhesive-based. If the trap fills with dusts or pests, then obviously it will need to be replaced.
Since the size of the adhesive part of the trap is six by eight inches, this is large enough to catch small snakes.
These traps are very sticky and remain so even in wet conditions.
Cons
Some reports of the peanut butter scent not working great.
When left out in the sun, they tend to warp.
Buying Advice
These traps can help you if you need to trap small snakes that are wandering around your property, but they will not work for anything large.
Kensizer Humane Live Animal Cage Trap

Want something a little different? Try this humane trap that's actually a cage. It certainly makes it easy to relocate whatever you catch.
Featured Specs
Wire mesh
Trigger mechanism
Escape-proof
Pros
This cage is made out of fine wire mesh so it's strong but safe – you won't have to worry about animals finding their way through the wire or biting it with their teeth.
This cage has a sensitive trigger mechanism that works easily. When the trigger is touched, the door locks itself. This makes it a great cage to use to trap animals without you having to put in much effort.
It has a strong and reinforced door that's escape-proof.
Precision cutting makes it strong, to ensure it lasts a long time.
Cons
You will have to supply the bait to lure the snake into the cage.
The trigger of the trap is quite sensitive and sometimes shuts the door without there being any animal inside, so you'll need to keep checking it.
Buying Advice
This trapping cage is humane and easy to use. It is available in two sizes.
Harris Supersized Snake Glue Trap

This is another glue trap for our list, but it's been specially designed for snakes. It's also really budget-friendly. Let's check out its specs in greater detail.
Featured Specs
Folding trap
Strong adhesive
Non-toxic
Pros
The trap is non-toxic so it's safe for use in a variety of places in the home.
It has a stronger adhesive than most glue traps, specifically meant to trap snakes on contact.
This trap folds open to increase its surface area. You can safely fold it closed once a snake has been trapped. This protects your hands from coming into contact with the snake, which is important to prevent bites, if you want to try relocating the snake (not recommended, it is safer to kill it).
It's not just a trap you can use to catch snakes – it's effective at catching other pests, such as mice, rats, and insects.
Cons
It's quite difficult to remove the snake from the adhesive, so you'll almost certainly have to kill it.
Buying Advice
This heavy-duty glue trap for catching snakes is an inexpensive way to get rid of snakes in your home. But it is not a humane option.
Kat Sense Sticky Rat 'N Mouse Glue Traps

This is another professional-strength trap that will help you eliminate unwanted rodents or snakes from your home. What's different is that it comes in rolls that you can apply to an extended area of the floor to trap pests.
Featured Specs
Moisture-resistant
Good coverage
Pre-baited
Pros
These traps are made of polystyrene that makes them last longer in wet and humid conditions.
They come pre-baited with a peanut butter scent, which also attract rodents.
They offer over 1,000 square inches of coverage.
Cons
The packaging of these glue boards can be improved because the glue rolls sometimes stick together. Some people have reported that they experienced difficulty unpacking them.
Other people have reported that the rolls don't stay in place when put on the ground. You might need to put something heavy on either side of them so they don't move around.
Buying Advice
This glue trap is ideal if you need to cover a larger area. Like other glue traps, it is not human and will likley require you to kill the animal you have trapped.
Snake Trap FAQ
Having to purchase snake traps can feel a bit stressful.
On the one hand, you probably want to be humane and not hurt the snake. Unfortunately, there are not a lot of simple and cheap traps on the market that are also humane.
Glue traps are usually the easiest, but they will probably require you killing the snake. Theoretically, you can remove it from the adhesive using oil, but that is easier said than done.
Don't even try if the snake might be venomous.
Even if its not, the snake will end up covered in oil, which is not very humane either. If you get a glue trap, know that you will likely have to kill the snake.
If you don't want that, buy the aluminum cage trap we listed above instead. If you frequently have serpentine visitors, it could also be a good idea to install snake fencing to prevent them from getting onto your property in the first place. Or use snake repellent.
We'll talk about glue traps a little more below in another one of the frequently asked questions.
What Is Good Bait For Snakes?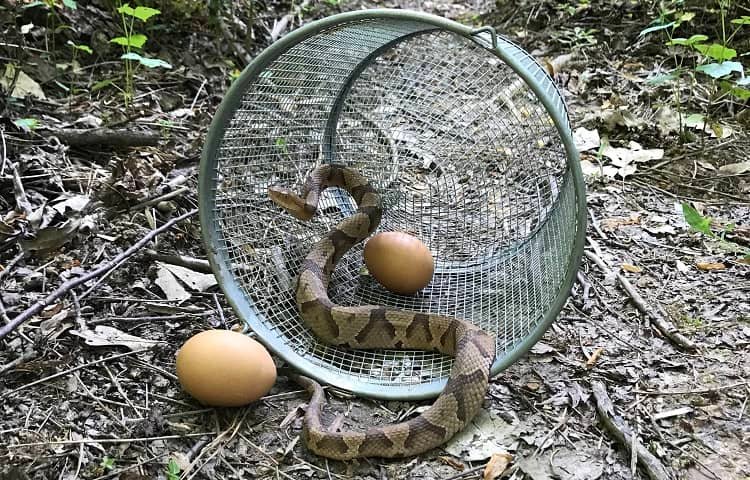 Snakes like to eat eggs, so fresh eggs can work well as bait. Dead meat isn't advised because some snakes don't like to eat it.
However, live animals as bait to attract snakes is not a good idea, either, for obvious reasons. This is why it's better to stick to fresh eggs.
If you want to go the live bait option anyway and you have a way of securing the bait in the trap so that it can't get away, you could opt for mice, cockroaches, or lizards, depending on the species of snake you are trying to trap.
Do Glue Traps Work For Snakes?
Glue traps are an effective way to trap snakes, provided that their adhesive is strong enough and that they are large enough for bigger snakes.
A glue trap won't kill a snake, so it seems more humane. As mentioned above, the glue is too powerful and sticky to simply pull off the snake. You will need to apply some oil to it to dissolve the adhesive to even have a chance.
Most likely, you will end up injuring the snake severely and have to kill it anyway. Better to just kill it right away, as quickly and painlessly as possible.
How Do You Flush A Snake Out Of Hiding?
If the snake you wish to trap is in its hiding place, a good way to lure it out of hiding is to put a source of heat nearby. This can take the form of heat lamps, electric blankets, or even a heating pad.
Since snakes like warmth, they will sense the heat and try to get closer to the heat source. If you know that the snake is hiding in a specific room in your home, you can lure it out by lowering the temperature in that room and making a nearby area nice and warm.
This works well to get a snake out of your car too. We have an entire article teaching you how to get a snake out of your car.
There are other ways to get a snake out of hiding. You could try to put a food source in the room or area where the snake is hiding as this will encourage it to come out and investigate the food.
What Scents Attract Snakes?
Snakes are attracted to certain smells, like fish. Knowing this can help you to find the right bait to trap your snakes.
As an alternative, you can also find commercial products that mimic the smell of live bait that snakes would like to eat. These are worth considering, not just when you want to trap a snake but when you want to lure it out of its hiding place.
Best Snake Trap: Final Thoughts
You don't want to have to trap snakes, but sometimes you can't help but have to do it.
This could be because you have seen signs you have a snake in your yard, but you don't want snakes entering your property and killing your chickens or rabbits, or perhaps because they're venomous and pose a real danger to you and your family or pets.
In this article, we've looked at some of the best snake traps on the market. We've also provided you with information on how to deal with snakes when they're in hiding and you need to get them out so that you can trap them easier.
When trapping a snake, make sure that you stay safe, wear protective clothing, and call a professional if you're not sure of how to go about the process, or if you're dealing with a particularly aggressive or venomous snake.