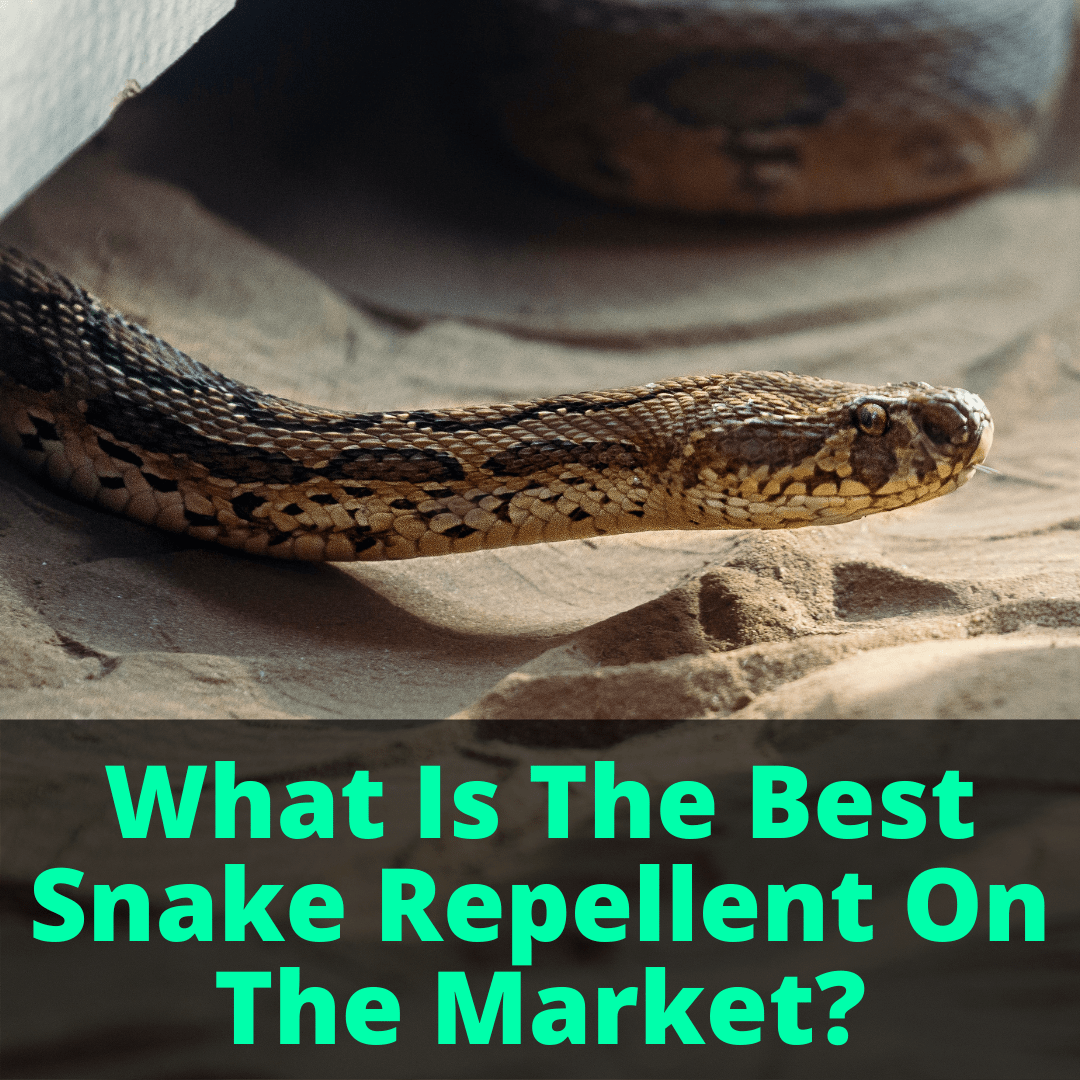 Do you love snakes?
Or do you hate them?
Either way, you probably don't want random snakes stopping by your place for a visit.
But you also don't want to kill them.
Or you shouldn't want that, because they do a lot to keep the rodent population in check.
So you need a snake repellent that keeps snakes away without harming them.
All the best snake repellents do this. Some of them could be harmful to children or pets, so you need to be careful about that, if you have either of those.
Keep reading to find out which snake-away product is best for your needs.
Most Effective Snake Repellents Compared
03/22/2023 03:13 pm GMT

One question we always get is "Can you use home remedies to keep snakes away?"
These always seem easiest and most convenient, but unfortunately, they don't always work.
What you can do is make your property as uninviting to snakes as possible. Make sure you have no holes, debris, or rock piles they can hide in.
But this is a limited solution. It might make snakes less likely to enter their property, but it isn't actively keeping them away.
That's why a snake repellent is usually the best option.
Best Snake Repellent: Reviews
Let's take a closer look at each of the most effective snake repellents on the market, to help you figure out which is the right one for you.
Victor VP-362 Snake-A-Way Snake Repelling Granules

This snake repellent is marketed as being a safe way to get rid of garter snakes and rattlesnakes in your property, but it's a great way to keep away a variety of snakes. Let's check it out.
Featured Specs
EPA-registered
Time-release formula
Not harmful to snakes
Pros
This is an effective product to repel both venomous and non-venomous snakes.
It's been registered by the Environmental Protection Agency (EPA).
It has a convenient time-release formula.
You don't have to worry about harming the snake after you have repelled it with this product because once you apply it to the perimeter of an area and the snake detects it, the product will interfere with the snake's sensory reception and make them feel a bit disoriented. This will make it want to leave the area to a safer one with no lasting harm.
You don't need to use a lot of the product in one go. To repel garter snakes, you'll need a four-inch wide band of product; you'll need an eight-inch wide band to keep rattlesnakes away.
Cons
While the product isn't harmful to snakes, it should be used with extreme caution as it's not safe to use in places that are frequented by pets and people. One of its main ingredients is naphthalene.
It also has a strong scent, so that's something to be mindful of. You'll probably want to keep it far away from windows.
Buying Advice
The Victor Snake-A-Way granules are a humane way to repel snakes from your yard. They are marketed as effective at eliminating rattlesnakes and garter snakes, two of the big ones that you don't want lurking around your property. But they work for other snakes as well.
Nature's Mace Granular Snake Repellent

When you apply a snake repellent powder to an area in your yard that you know snakes frequent, you don't want the disappointment of water striking the powder and making it less effective. You don't have to worry about that with this water-resistant snake repellent by Nature's Mace.
Featured Specs
Water-resistant
Low odor
High in sulfur
Pros
This snake repellent is water-resistant so you can apply it in your yard without worrying that the rain will wash it away. This makes it a low-maintenance and fuss-free snake repellent.
It's designed to train snakes to stay out of your yard. It contains high amounts of sulfur that works well to repel most types of snakes, which makes it a versatile repellent to own.
The smell from this product goes away quickly after application and it doesn't smell too strong. This is a big plus. As we've seen with previous snake repellents, most tend to have a strong odor.
Cons
There are some differences of opinion when it comes to how well this product works. Some people have reported it didn't work for them at all, while others have said they haven't seen any snakes at all after using it. You'll have to try it out and see for yourself.
Buying Advice
This snake repellent is a little pricey, but it has some great features. For example, it is water-resistant and it doesn't have a strong smell. This is especially useful if you're applying it close to your home. But we did rank it a it lower on this list due to the higher price.
Enviro Pro Snake Scram Shaker Bag

This is a versatile pest-control repellent that skips the chemicals in favor of more natural ingredients.
Featured Specs
Repels a variety of garden pests
Works for several weeks
Natural ingredients
Pros
Not only does this repel snakes but some people have reported that it also keeps bunnies and deer out of their gardens.
It doesn't have a strong smell.
If you worry about using chemicals around the home, you'll love that this snake repellent is made with natural ingredients, such as rosemary oil, clove oil, and cedar oil.
It works effectively to deter snakes from your garden for a few weeks unless there's really heavy rain.
Cons
A common complaint is that the container is difficult to open. The manufacturer states that you need to use a hammer to open the lid.
Buying Advice
This natural snake repellent is great for deterring a variety of other animals you wouldn't want getting into your flower beds or veggie patches.
Liquid Fence Snake Repellent

Get your hands on this Liquid Fence snake repellent that works well to keep snakes out of your yard. Here's why it's one of the best snake repellents on the market.
Featured Specs
No naphthalene
Safe for animals and plants
Disturbs snakes' sense of smell and taste
Pros
These snake-deterrent granules are completely harmless to other animals and plants, so they're a safe way to keep snakes out of your home.
They work for several weeks after application, meaning you can use less of the product and still get great results.
One of the great things about this snake deterrent is that it forms an invisible barrier to snakes, as well as other animals you don't want in your home, such as moles and rabbits.
How it works is that it uses both scent- and taste-deterring formula.
It comes in a five-pound container that is enough to use on an area that's 2,500 square feet in size, so it's sure to go a long way.
It's free of naphthalene.
People who have used this product have reported that it's effective at eliminating snakes such as copperheads.
Cons
Some people who have purchased this snake repellent have reported that they received defective packages.
Others have said that this product didn't do anything to deter snakes. It's worth mentioning that it's important to follow the product instructions and reapply the product regularly, such as after it rains, to ensure you keep snakes away for good.
Buying Advice
This best snake repellent for copperheads comes in a two pound container. It's a useful product to have in the home if you need to keep snakes away, and it's safe for use around kids and pets.
Dr. T's Nature Products Snake Repelling Granules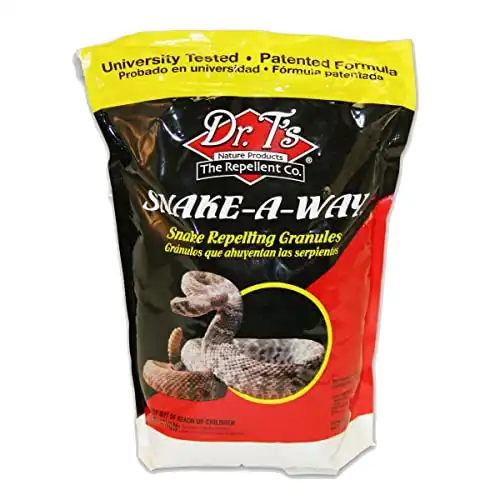 This is also an EPA-registered snake repellent. Let's jump into its features!
Featured Specs
Outdoor use
Works instantly after application
Resealable bag
Pros
This product works well to keep venomous and non-venomous snakes out of your yard.
It starts to work instantly after you apply it.
It comes in a convenient resealable bag so you can store it safely in your home.
The bag can last up to three months before you need to buy a new one, so it's cost-effective.
It comes with a 91-percent repellent rate of snakes like rattlesnakes or garter snakes.
Like with the previous product we featured, this repellent works by disrupting the sensory reception of snakes without doing them any harm.
Cons
You can't apply this product indoors, so if you have a snake hiding out in your basement you'll have to purchase a different repellent.
It has a very strong smell that can be a bit overwhelming.
Buying Advice
This is a great snake repellent for yards that works well to deter dangerous snakes from your property and it lasts a decent amount of time.
Snake Repellent FAQ
After reading through those brief reviews of the best snake repellents on the market, you now have five granule and powder products that work well to remove snakes from your yard without you having to make contact with them.
But you might still have some questions. For example, we often get asked about using home remedies to repel snakes from your home. Let's check out some common questions.
Do snake repellents work?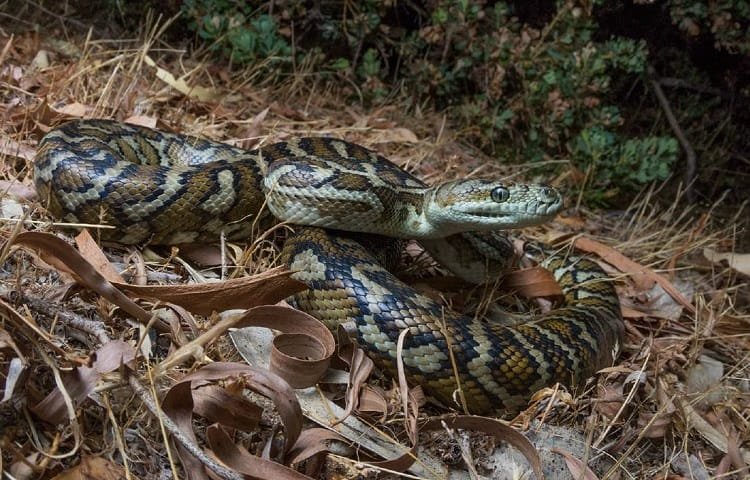 While some snake repellent products can be dangerous and useless at keeping snakes away, there are others that contain ingredients that are known to repel snakes.
Some natural products work well, such as clove oil, while naphthalene is a common ingredient you'll see in many snake repellent products. It is the main ingredient in mothballs, which you know is quite strong and repels pests.
However, one of the big mistakes some people make is relying solely on snake repellent products. If your garden is attractive to snakes, perhaps because it's filled with rats or has many places where snakes can hide, then you're sabotaging the success of the snake repellent products.
Make snake repellents part of your strategy to keep snakes away, and ensure you follow some important tips to make your garden unattractive to snakes. This includes:
Keeping grass short so that snakes don't have places to hide.
Finding ways to eliminate rodents from your home, like with the use of humane rodent traps or not leaving any food around that attracts rodents.
Sealing entrances to your home, as well as any crevices or holes in walls and in rock formations where snakes can hide.
Cutting back overhanging branches that provide convenient ways for snakes to enter your property.
Getting a cat. Snakes are scared of cats, so having one patrol your property can help keep snakes away.
By taking a more general approach to keeping snakes away, you'll find much more success with the snake repellent products you choose to use. Snake repellent can work, if you get the right one and take care of everything else, too.
Does peppermint oil repel snakes?
You might have heard that peppermint oil is useful when trying to keep mice out of your garden. And in keeping out mice, you also keep away snakes, because you're eliminating one of their food sources.
But what about using peppermint oil to repel snakes directly?
While the world is divided on the topic of whether peppermint oil can work to repel snakes, SFGate offers this interesting advice regarding other types of oil: The U.S. Department of Agriculture's Animal and Plant Health Inspection Services depends on the use of natural oils to keep snakes at bay.
Specifically, clove oil and cinnamon oil have been found to repel some types of snakes. These should be diluted with water or put on fabric strips that are then placed in snake-prone areas.
So, if you want to try the natural route before purchasing a snake repellent product like those featured in our reviews, clove oil and cinnamon are worth your time, and they're better to try than peppermint oil.
If you want a more natural snake repellent, you could also opt for a product like the Enviro Pro that we featured in this article instead of making your own.
It contains natural ingredients such as clove oil, cedar oil, and rosemary oil, so it's got everything you need in one formula. And it has the right quantities and blend of ingredients that's been tested to deter snakes .
Will ammonia kill snakes?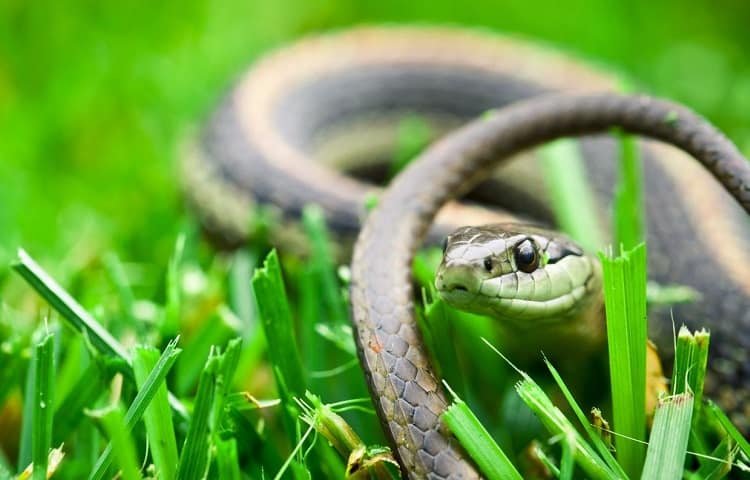 As you know, ammonia is a very strong substance. Snakes don't like the smell of ammonia, so you can try spraying it around areas in your garden that you know snakes regularly frequent. You could also soak a rug in ammonia and place it in an unsealed bag in those areas.
However, this is something you should avoid doing if you're worried about causing harm to the snake because ammonia gas or liquid can be harmful to these animals and they even have the potential to kill them.
It's also worth mentioning that the smell of ammonia can be quite unpleasant for you and dangerous for your pets, so it's best avoided at all costs.
While you definitely don't want dangerous snakes in your garden, you certainly shouldn't resort to killing them. Not only is this dangerous – you could get bitten by a venomous snake – but it's inhumane to the snake.
It's therefore a better idea to use snake repellents that are formulated to keep snakes at bay without harming them or putting toxic chemicals in your home.
Does salt keep snakes away?
It might be really convenient to grab some salt from your home and use it to repel snakes, by sprinkling it around your garden. But this won't do anything. It will just waste your salt, which you could have put to better use!
The reason for that is because snakes aren't slimy creatures like snails, and so they won't be affected by making contact with the sodium chloride that's in salt. They also aren't afraid of salt, which means they won't want to avoid it, thus busting the myth that salt can deter snakes.
Should I use snake repellent for my car?
If you often find snakes in your car, it might make sense to use repellent. But if it has never happened, or only happened once, there is no point. Besides, removing a snake from your car is not overly difficult.
Top Snake Deterrent: Conclusion
It's frightening and frustrating to have snakes on your property, especially if they're of the venomous variety.
But that doesn't mean you have to put up with them or live in fear. Using snake repellents should be part of your strategy to keep snakes at bay.
In this article, we've reviewed five of the best snake deterrent products on the market. We've also featured some important information you should know when you want to keep snakes from your yard, such as what natural products and DIY solutions could work to repel snakes.