I know this won't help.
But I'll say it anyway: most snakes are harmless.
Unless you live in an area with a large population of venomous snakes, any snake in your yard is likely to be harmless.
In fact, it can actually help keep the rodent population down.
But I understand that most people don't want skanes in their yard.
How do you know you have a snake living on your property? Or visiting it frequently?
Keep reading for 8 telltale signs of snakes in your yard. And if it turns out you have one, this article can help with removal and this one covers the best snake repellents, to ensure no more snakes make themselves at home in your yard in the future.
Signs Of Snakes In Your Yard
Each of the following eight signs can indicate you may have a snake in your yard. Some offer definitive proof, while others suggest the possibility. Those signs are a clue that you should investigate further for some of the more definitive signs.
Seeing A Snake With Your Own Eyes
The most obvious sign you have a snake in your yard is seeing it with your own eyes. Naturally, if you are like most people, you don't ever want to encounter a snake in your yard.
Even if you see a snake quietly slithering away into a corner of your yard under a pile of leaves, you may assume that the snake is living in your yard. But sometimes, the snake may simply be temporarily using your yard to cross into the woods beyond your property or even into your neighbor's cluttered property.
In any case, it may be prudent to assume that you have a snake visiting your yard. If you live in an area known for poisonous snakes, you might want to take some basic precautions like eliminating clutter in the yard and fixing or caulking holes through which snakes can enter your premises.
Hearing A Snake
Snakes usually don't make too much noise. They are mostly silent. But from time to time, they might make certain noises.
Since snakes like to seek hiding places under heaps of leaves, bushes, wood piles, and other dark and damp nooks and crannies, you might hear certain tell-tale sounds.
These could include the rustling or crunching of leaves, hissing, rattling, buzzing, growling, etc. If you frequently hear these noises, especially in the dark, then there is a chance that you have an unwelcome snake in your yard.
Snakes often use cellars and attics to hide, so you might even hear noises coming from there, as a result of moving furniture or the toppling of smaller objects that you keep in these spaces.
Shed Snakeskin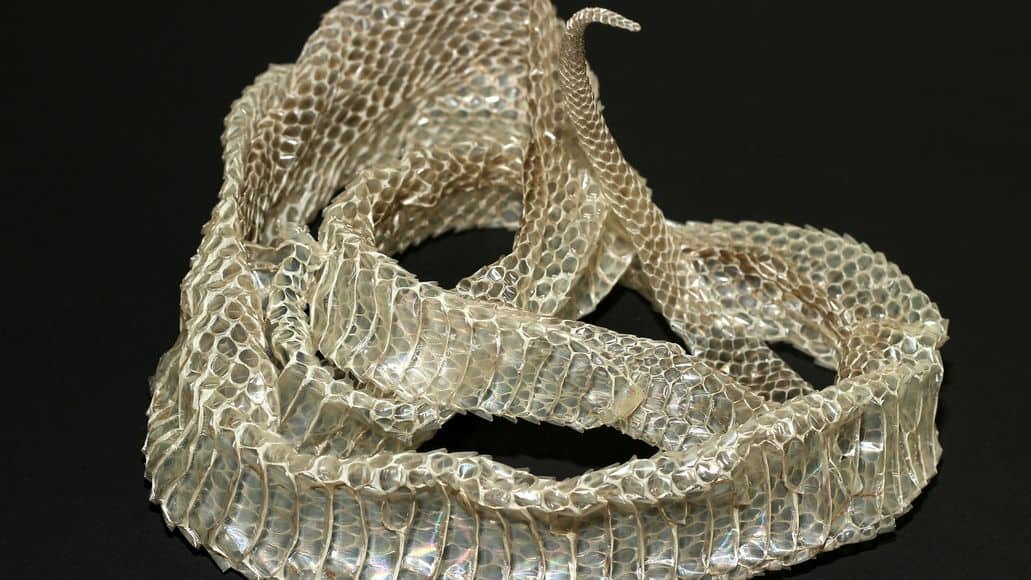 This is the clearest indication you have a snake, or multiple snakes, on your property, apart from actually seeing one repeatedly. Snakes shed their skin (or molt) as they outgrow the skin they have. Almost all species and types of snakes shed: small, big, venomous, and non-venomous.
If you see snakeskin discarded in your yard, it is evident that there is a snake nearby. Most snakes go into hiding after shedding their skin.
Note that snakes shed multiple times a year and they shed wherever they may be at the moment. It could be that a snake is just passing through your property when it sheds, but most snakes will keep a territory and range as to where they live, shed, etc. In other words, they shed near their home.
Slithering Tracks
Snakes use slithering movements to move from one location to another. Depending on the type of snake, they can use peculiar movements to move from one area to another. This movement leaves behind a trail or tracks on the ground.
Snake movements create specific track marks as described below:
Concertina movement: a snake using this movement bends and then straightens its body. You might see the peculiar top and bottom tracks left behind from this type of movement. Mostly, snakes use concertina movement when moving into tunnels or narrow crawl spaces
Lateral undulation: Lateral undulation is the most common type of movement seen in snakes. It creates wave-like tracks on the ground. A snake might even use more force around certain areas to navigate around objects like rocks.
Rectilinear movement: Snakes use this movement to drag their bodies forward on the ground. The tracks you see might be straight instead of wave-like.
Slide-pushing: this snake movement creates wide and broad tracks on the ground since the snake pushes its body using wider undulations.
Obviously, whether you can see any of these types of tracks depends on the kind of ground you have in your yard. You will be able to see them in softer soil, but not in hard soil.
Lack Of Rodents In The Area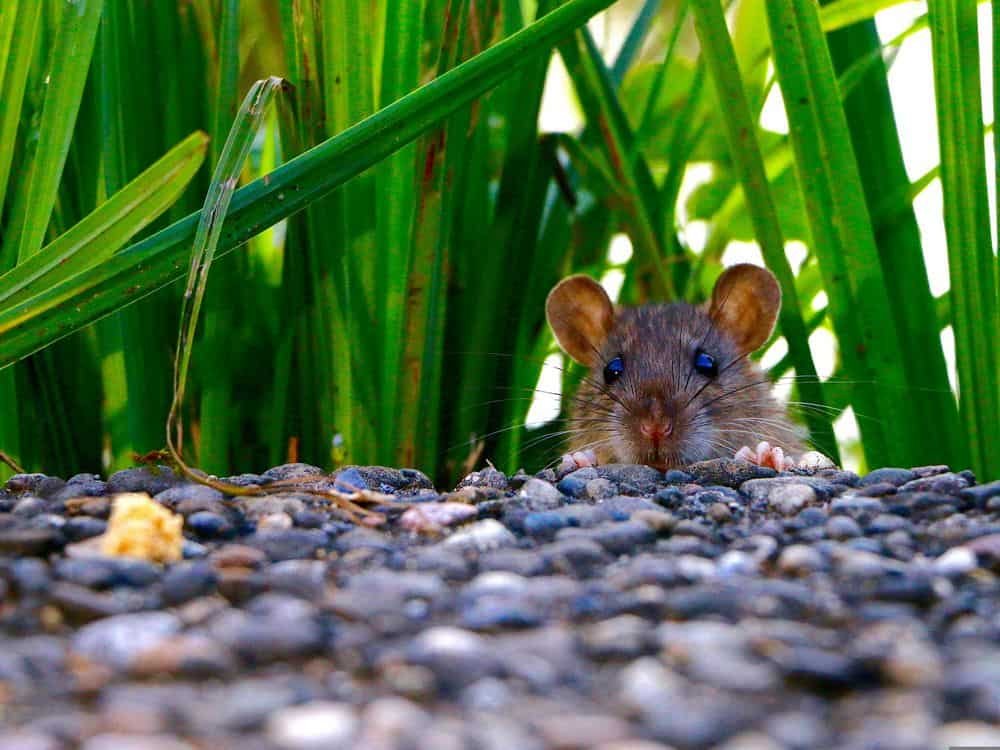 Another sign that there is a snake in your yard is the absence of rodents (mice, rats, squirrels, etc.), bird eggs, snails, insects, and other small animals.
A majority of snake species feast upon small animals like the above. If you haven't seen any of these animals lately, but you used to see a lot of these critters (and no one else has laid traps or gotten a cat), there is a good chance a snake has made its home in, or near, your yard.
Of course, this isn't a surefire sign of a snake. The above animals also have other predators. But it can be a good clue that you should keep an eye out for other snake signs, like shed skin, to ascertain for a fact that there is a snake in your yard.
Snake Smell
Snakes usually don't have any odor and even if they do, humans are not always capable of noticing it.
Some people report that rattlesnakes smell like cucumbers while copperheads smell like melons, but these are myths. Rattlesnakes definitely don't smell as refreshing as cucumbers!
Some rat snakes are known to have a scent of rotten eggs and this scent is even present in their dens and burrows.
Certain snake species like cottonmouths or water moccasins are known to produce a musk that mixes with their feces. This helps them mask their odor and keep their prey from knowing they are nearby. Some people have described the cottonmouth's smell as that of a 'skunk smell'.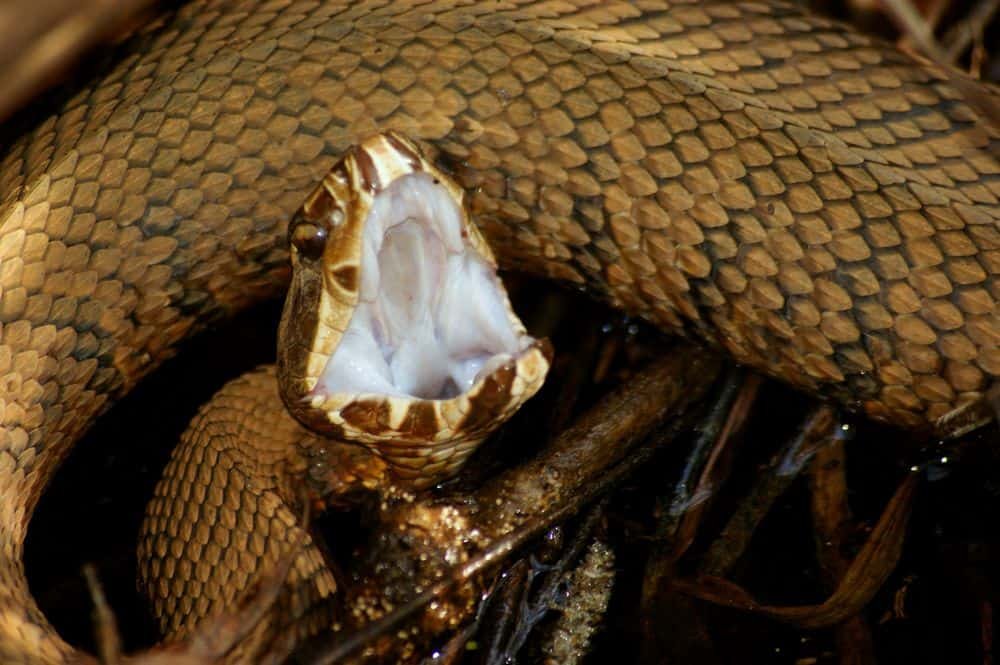 Most humans won't be able to smell snakes (especially ones that are just passing by) in their yards. Also, snakes tend to smell differently to different humans.
Bottom line: it may be difficult to say for sure there is a snake nearby based on this 'smell test'. But we wanted to mention it as a possible sign.
Snake Droppings
Snakes usually do not defecate frequently. And when they do it comes out as a mixture of feces and urine. As a result, the poop is diluted and ends up getting mixed in with the mud or soil.
Snake poop also does not look too different from the poop of rats, other reptiles, and birds. This makes it difficult to identify. But it is not impossible, if you know what you are looking for. Here are some general tips that could come in handy in identifying snake poop:
Most snake feces is of the same width as the snake's body.
Since the poop mixes with the pee, it will probably be more of a liquid rather than a solid.
You may see bones, hair, feathers, or scales in the poop, depending on the snake's diet.
Some species of snakes produce poop having a white tip, just like lizard or reptile droppings.
Sometimes, there may be a foul odor to the snake poop, due to undigested matter and the fermentation of food in the snake's gut.
Check Common Spaces Snakes Frequent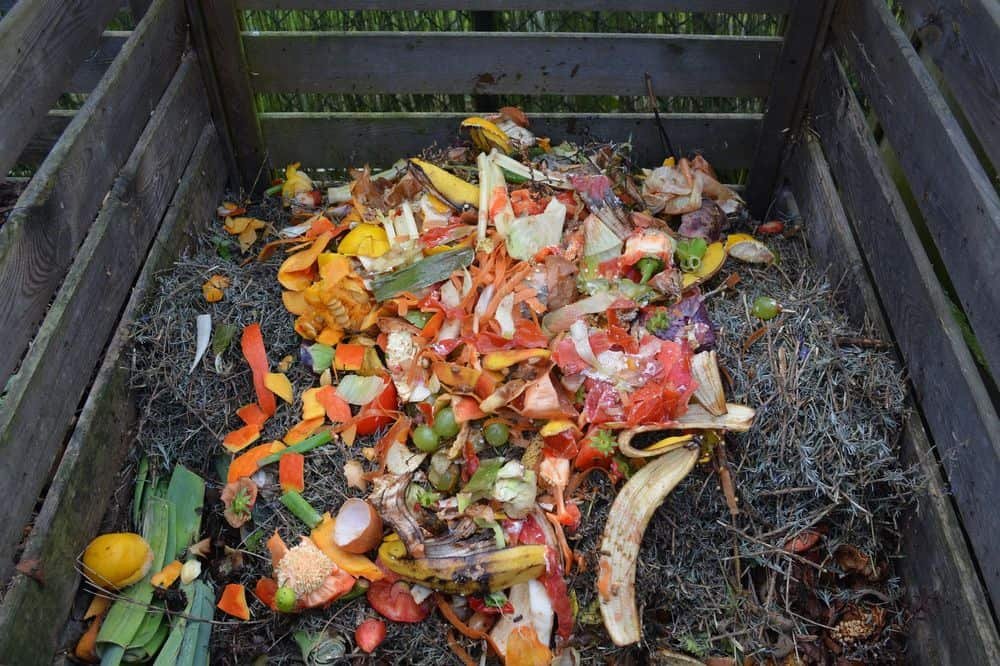 If you have seen one or more of the above signs of snake infestation, then it helps to know where snakes like to lurk. This can further help you know for sure if you have a snake in your yard and if it is time to call an exterminator.
Snakes like to nest in damp, cool, and dark areas.
They usually hide and lay eggs in compost piles, behind boxes, under piles of leaves and wood, in sheds, basements, and even under thick vegetation in the garden.
If you suspect a snake's presence in your yard, cautiously check the above areas. If needed, seek the help of a professional who is trained in the humane removal of snakes.
How To Know You Have Snakes In Your Yard: Final Thoughts
Have you found any of the signs of snakes in your yard we listed above, indicating that there is a snake in your yard, or that there may be one? If you suspect you have one, but are not sure, you could keep an eye out for additional signs, now that you know what to look for.
If you suspect it may be a venomous snake, it is always best to contact a professional. If not, you can remove the snake yourself. The article we linked to above will help. We also have an article on the best snake traps. You can find it here. But know that these traps may not be the most humane way to remove a snake.