Ball pythons come from west and central Africa.
They like some humidity, but not too much.
They generally like to stick close to bodies of water and often have a soak to cool down.
But can ball pythons swim? And do they like to swim?
Or do they simply use the water to cool down and to drink?
Keep reading to learn whether ball pythons can swim, whether they like to swim, and everything else you need to know about these snakes and their relationship with water.
Can Ball Pythons Swim?
Ball pythons can swim, but that does not mean they enjoy it! Most do not like to swim. They aren't the strongest swimmers, so they generally try to avoid swimming at all costs.
That said, they do like to soak in water. It helps them cool down and it can also have many health benefits for them. Let's take a closer look at the relationship between ball pythons and water.
Ball Pythons And Water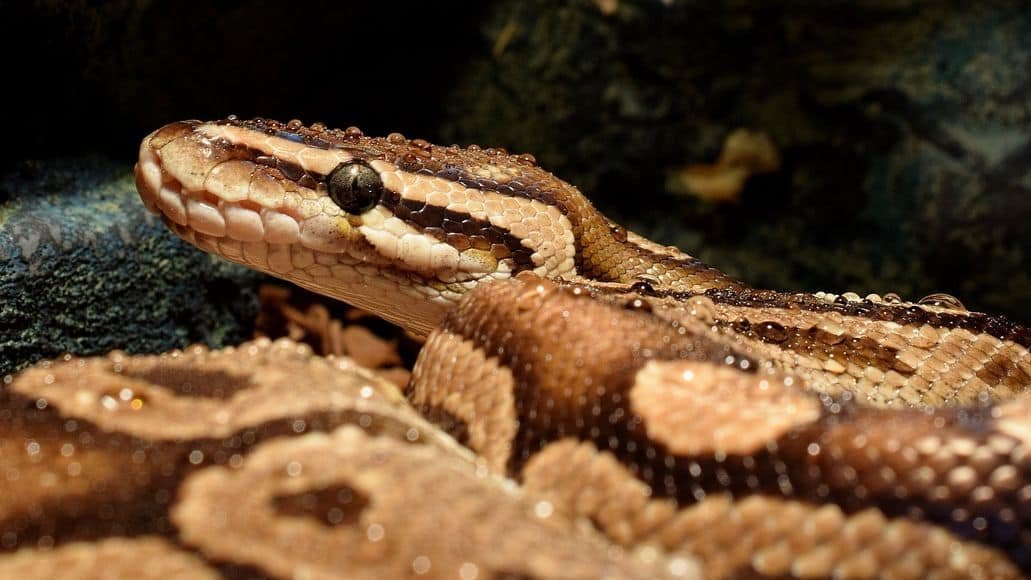 Ball pythons may not like going for a swim, but they still need water to survive. In their natural environment, you generally find ball pythons in grassy areas, in plains, or in forests.
They are usually somewhere near a body of water, because like other land animals, they need to drink water for survival.
Also like other land animals, ball pythons cannot breathe underwater. That is likely another reason they try to avoid submersing themselves in water.
Of course, every ball pythons is different when it comes to water. Some like it a lot more than others. You should be able to tell if your pet python likes water just by observing it.
If they spend lots of time basking by the water in its tank, then that could be a good enough indicator that it likes water. If you never see your snake near its water bowl, you can probably get a smaller bowl. You snake will not want to spend any time soaking.
Benefits Of Water
The first and most important benefit of water for a ball python is that it quite literally keeps them alive! If a python does not drink water, it will die.
Snakes drink water a little differently to humans. Rather than drinking water through the mouth, snakes absorb it through their skin. They do this by soaking in the water.
Along with hydration, being close to water also keeps parasites off a snake. Parasites can cause a snake plenty of discomfort and a main way a snake removes them from its body is by going in the water.
As previously mentioned, some snakes also just love to soak. If you have a pet snake that enjoys this, you can even soak it in some warm water in the bathtub.
This has many benefits for your snake, like helping it shed skin, relieving constipation, and keeping them hydrated. You should also keep a shallow bowl of water in your snake's tank, to give them it option of soaking whenever it wants to. This is an important component of any ball python terrarium.
Keeping Water In Your Snake's Tank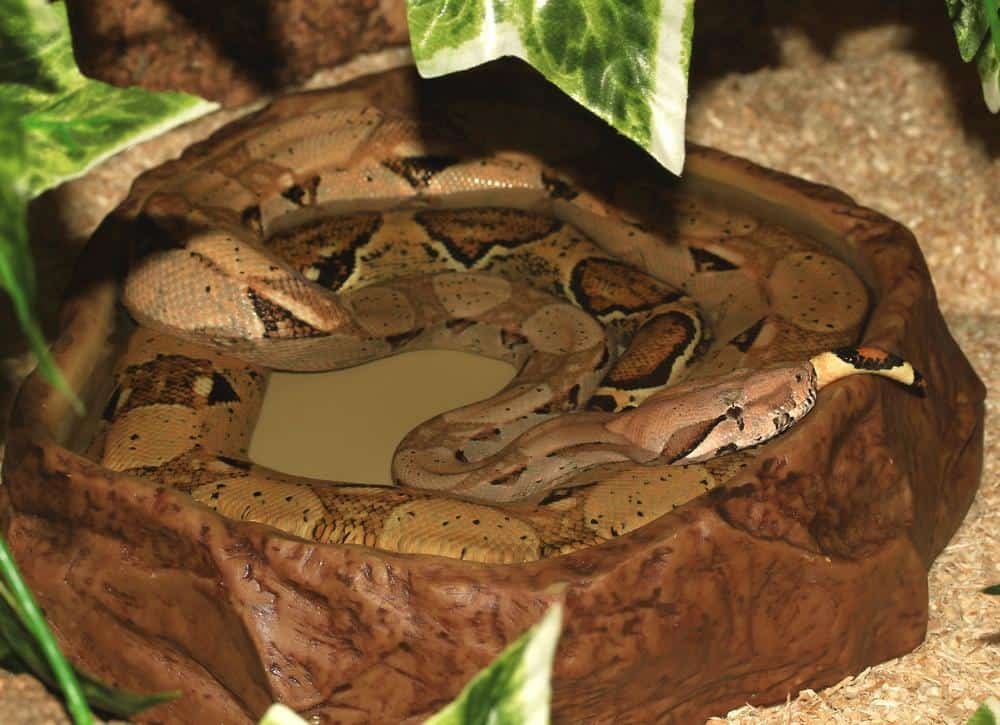 You should always make water available for your snake in its enclosure. Ideally, it should be in a shallow bowl or tray, rather than a deep dish.
This gives your snake the opportunity to climb into the dish and soak in it, if it wishes. This way, it can easily absorb the water through its body.
You should also make sure your snake's water is chlorine free. Fresh water is always best for your snake. Chlorine can cause irritation and I can't imagine it being the tastiest type of water to drink either.
How Long Can A Ball Python Stay In Water?
A ball python should not stay in water for any longer than twenty minutes at a time. This is the longest time that they can stay underwater.
Snakes are able to breathe underwater much longer than humans, because they have a low ectothermic metabolism. But you should not mistake this long time spent underwater for breathing underwater.
Ball pythons are still land animals, which means they are unable to breathe underwater. Do snakes have lungs? Yes, they do. Most have one lung and require oxygen to breathe. But pythons have two lungs just like humans.
Even though they need air to breathe, they can stay underwater for a long time and many snakes enjoy submerging themselves in water as a way to relax or cool down. They may even try to eat underwater at times. Snakes are natural predators and nothing gets in the way of a snake and its prey!
Do Ball Pythons Like To Swim: Final Thoughts
Ball pythons can swim, but they do not particularly like swimming. They enjoy soaking in water to hydrate, to clean themselves, and to cool down. But actually swimming is not something they enjoy.
They are not the best swimmers, so they prefer to stay on land and only enter the water for a quick soak. However, if there is something tasty to eat in the water, they will not hesitate to dive in and go after their food.