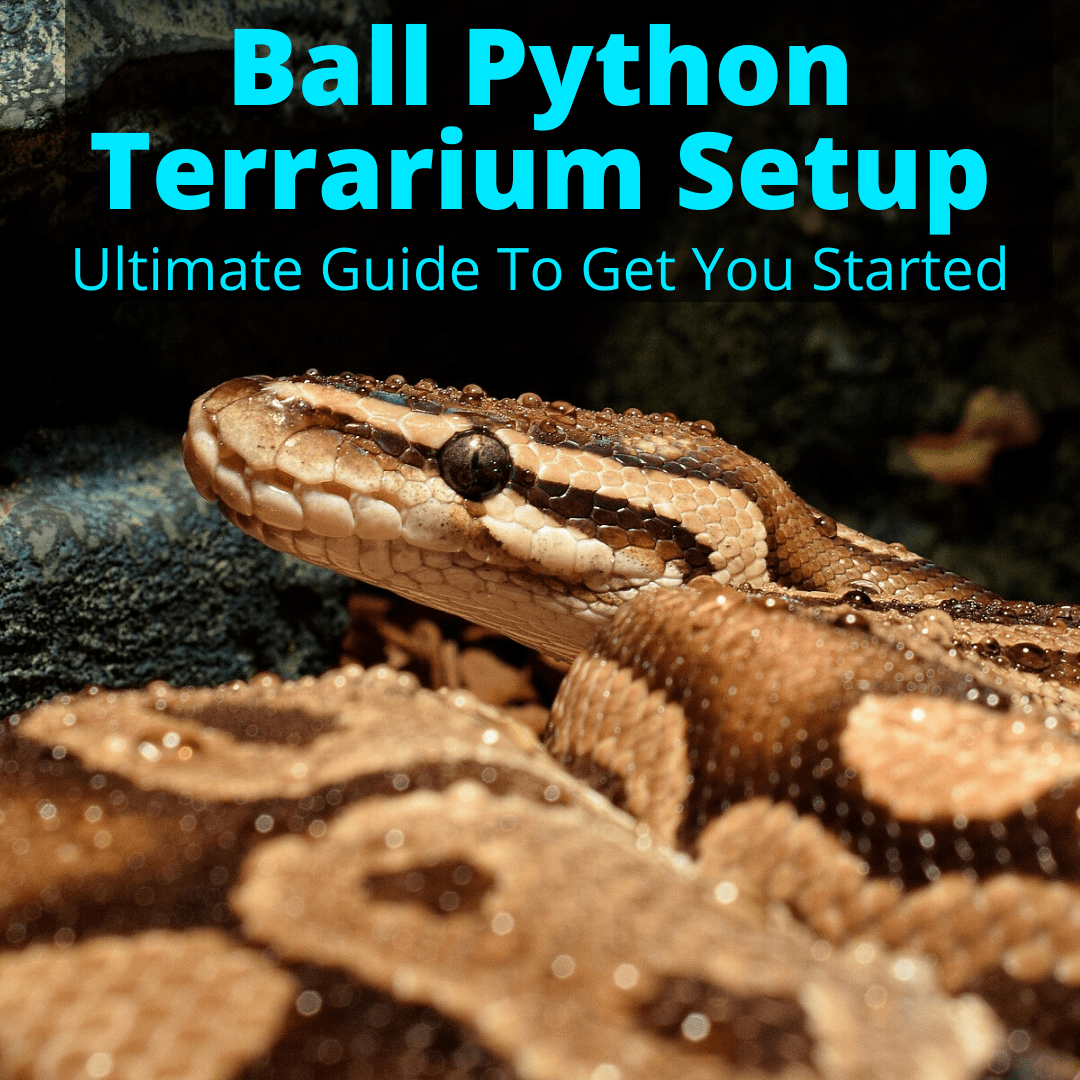 The wait is finally over…
You're bringing home your ball python!
But wait a minute…
Do you have your ball python terrarium setup correctly? If not, we need to take care of that immediately.
Without a proper home, you pet will never feel comfortable. It will suffer and most likely get sick and die.
The good news is: It's not hard to make your new pet feel comfortable and welcome in its new home.
In this guide, we'll take a look at everything you need to get your ball python's enclosure set up properly. And we'll begin with the most important part: the actual terrarium itself.
Ball Python Terrarium
The first thing you need in order to set up your ball python's habitat is the actual enclosure. The general rule is: the bigger the better.
You may have read that snakes get nervous if their enclosure is too big. That is completely false. Think about it: they have unlimited space in the wild. Why would they be nervous with a large home in captivity?
They get nervous if they have nowhere to hid in their home, whether it is large or not. So give them hiding places (more on that below).
For now, let's figure out the minimum enclosure size for your ball python.
Minimum Ball Python Enclosure Size
The age and the sex of your ball python will determine the size of the terrarium that it needs. That said, it doesn't make much sense to start out with a small terrarium, only to have to buy a bigger one when your snake matures. But some people like to do this, so here goes.
A hatchling can weigh up to 300 grams and can be housed in a 10-gallon enclosure. Juveniles or young ball python will do fine in a 40-gallon terrarium.
Adult male ball pythons grow to be 2 to 3 feet long, while the females get 3 to 5 feet long. The standard rule for ball python terrarium size is this:
Length: at least the same length as the adult snake
Width: at least a quarter of the snake's adult length
Height: at least a quarter of the snake's adult length
You can house a ball python in a 40 gallon tank, but it is a bit cramped, especially for a female. I'd go with at least 60 gallons, but ideally over 100, if you have the space.
Check out our article on the best enclosures for ball pythons for more on the correct sizes and for a list of the best terrariums on the market. You'll notice we only recommend glass enclosures. They are easily the best, but there are also other types to consider.
Types Of Ball Python Cages
There are different types of enclosures for snakes. As mentioned, we always prefer glass cages that are similar to aquariums, but usually with front doors that swing or slide open. Here are the primary options:
Wood Enclosures
These are usually custom-built, or homemade. The structure is made of wood and as such it ensures that there is always humidity and warmth within. The wood also conducts heat well, so you may not need as much heating accessory for the setup.
But wood also has drawbacks. It can get moldy and rot due to the high humidity in the enclosure. It also does not allow you to see inside. Generally, one side is made from glass, but that means the other sides are closed for viewing.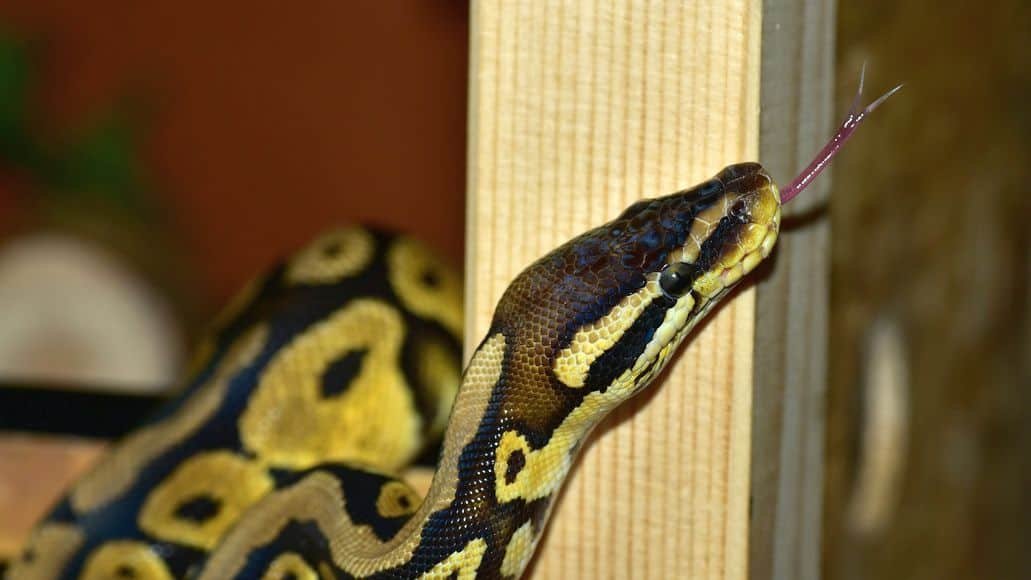 It is vital to use high-quality wood. Not only is it stronger, but is also lasts longer without being affected by the humidity. Make sure to install a good cage lock to prevent your ball python from escaping.
Glass Enclosures
Glass enclosures are ideal for ball pythons or any other snakes. The glass keeps in heat and moisture, as long as the lid is well secured. This makes it easy to create the perfect environmental conditions for your pet.
Glass is also easy to clean and it does not rot. It allows you to watch your pet from any angle, though most people do not keep the enclosure in the middle of the room. Most likely, one side will be up against a wall. Put a cover on that side that depicts the natural habitat of your ball python, i.e. a grassland or open forest scene.
Plastic Or PVC Enclosure
Plastic enclosures have all of the advantages of glass, plus three more: they cost less, weight less and are not as fragile. But they also have one major disadvantage, which is the reason we don't recommend them. You can't see inside.
Storage Bowls Or Tubs
Tubs are sometimes used to house ball pythons, but it is only recommended for hatchlings. Storage bowls and tubs should be used as a temporary enclosure. They are not designed to meet the security and safety requirements of keeping a ball python permanently.
Please note that even for a temporary stay in a tub, use a tub with a latching lid. Create holes on the top and side of the tub or bowl for aeration and humidity.
Shoe Box
No. Just, no.
Ball Python Terrarium Setup: Vital Components
These are the non-negotiable factors that must be in place for your ball python terrarium setup. If you want your pet snake to live a long, healthy and happy life, you need to give it everything it needs to feel comfortable.
Temperature
You absolutely need to maintain the correct temperature inside the terrarium. Regardless of your snake's age, maintain an ambient temperature in the range of 78° to 80° Fahrenheit throughout the enclosure.
To get the right temperature, you should measure at ground level which is where your python will be most times. It is easiest to keep a permanent thermometer inside the cage.
The best snake hygrometers give you the humidity in addition to the temperature, which you also need to regulate (see below).
You ball python also needs a hot spot: a special spot with a higher temperature it can use to help regulate its body temperature. This species does not last long without a heat source.
Hot Spot
In the wild, snakes can bask in the heat of the sun whenever they need to warm up. You need to provide the same opportunity in the terrarium by creating a hot spot.
The hot spot should be between 88° and 96° Fahrenheit. There two good ways to achieve this, as well as several bad methods that are best avoided.
The easiest way to create this hot spot is by placing a heat mat below one side of the terrarium. We reviewed the best snake heating pads to help you find the right one.
Heat lamps are another option. The heat lamp has the advantage of warming up the whole terrarium, but you need to be careful that it doesn't get too warm on the cooler side of the enclosure.
The type of heat lamp you buy depends on the type of terrarium you choose. Use a dome style heat lamp for any terrarium with a mesh top. Heating bulbs should be white or clear, to increase your ball python's ability to see. You can buy a reptile basking bulb if you want to go all out. Reptile basking bulbs also emit UVA light, which reptiles use to locate good basking spots.
You can also install a radiant heat panel in the terrarium. This option costs more than others, but if you can afford it, go for it. Things to avoid are heat tape, heat stones, etc. These can end up burning your snake.
Humidity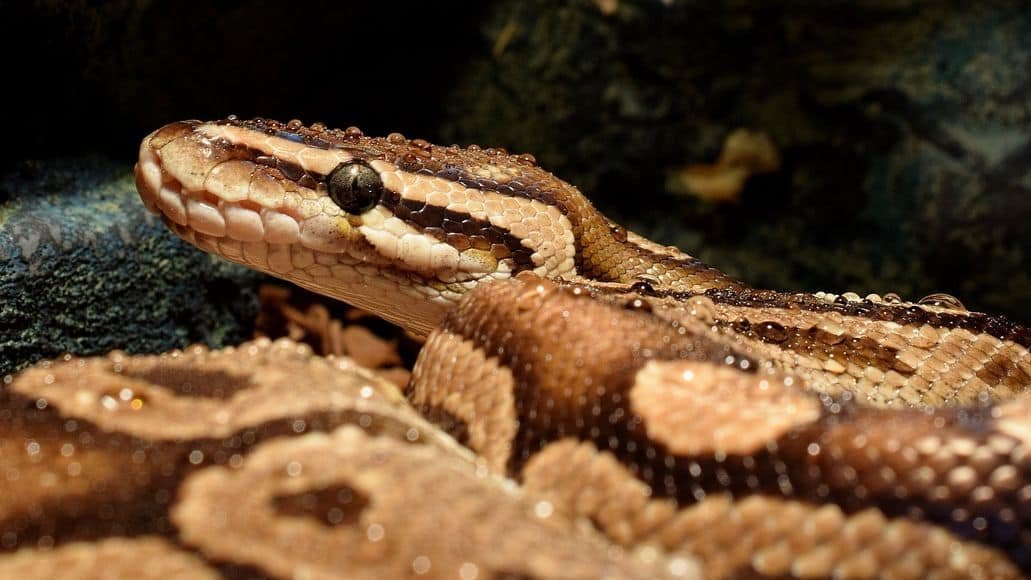 Humidity is the content of water vapor in the air. A ball python needs the right humidity to maintain a healthy respiratory system. Humidity should be between 55% and 65%. It can dip down to 40% and go as high as 90%.
Having water in the terrarium helps increase humidity levels and its something your snake needs anyway. They like to soak in the water. Ball pythons can swim, too, but they don't enjoy it. So just enough water to soak in is plenty for them.
Fog, dew, and precipitation all increase humidity as well.
If the humidity is too high or too low, it can hinder the skin shedding process of your ball python, in addition to causing respiratory issues. You need a hygrometer to accurately measure humidity. The thermometer we recommended above also functions as a hygrometer.
The easiest way to increase humidity is to get a humidifier. We reviewed the best snake humidifiers to help you find the right one. If you need to decrease humidity, read our post on lowering humidity in a snake enclosure for help.
Ultra-Violet Light
UV-B rays are beneficial for any ball python, even albinos like the banana snake. They provide much-needed vitamin D3. There is recent research that shows that UVB is also great for health both mentally and physically.
When using a UV fluorescent bulb make sure there is no glass and plastic between the bulb and your pet. These materials block UV rays. Keep the bulb on for 12 hours and off for 12 hours.
When it comes to buying a UV bulb, you basically have two options. Compact fluorescent bulbs or fluroescent tubes. Both work equally well, so it comes down to which fits better in your habitat.
The Zoo Med Reptisun is a great option for a T8 fluorescent tube (they also come in T5 tubes in multiple sizes).


The Exo Terra Repti-Glo is great if you prefer a compact fluorescent style bulb.

Substrate
Substrate is the floor covering, or bedding, that goes in the bottom of the cage. It is a vital component of your ball python terrarium setup. It should be about 3 inches thick and you should change it out completely once every month.
You have a few options to choose from, each with its pros and cons. You substrate choice can affect the overall health and well-being of your favorite reptile. We have an article reviewing the best bedding for ball pythons.
Paper Towels Or Newspaper
This is the cheapest of all substrates. It is readily available and easy to replace. However, it does not hold humidity and it is not visually appealing.
Coconut Fiber
Readily available, cheap and can hold humidity. It absorbs odors and moisture. It is not digestible. This ReptiChip substrate is a great choice, made from fresh coconut husks.

Aspen Shavings
Aspen shavings are probably the most used substrate. They are cheap and can accommodate humidity. Your python can also burrow within the shavings and they look good in the terrarium.
On the other hand, aspen shavings can become moldy easily (thought you should be changing them out regularly anyway) and they are slightly more difficult to clean and replace than some other substrates.
The shavings also get dusty. Aspen snake bedding from Zoo Med is specially designed for snakes.

Care Fresh Bedding
This is a paper-based product that is available in different colors. You can pick the color that matches your terrarium theme. It is mold resistant and heat treated for cleanliness. This substrate is expensive and difficult to clean and replace, because it is so small. Not generally recommended for snakes.
Peat Or Sphagnum Moss
Sphagnum moss is superior to peat moss. It retains water better. This makes it a great option for creating a humid environment. This Galapagos brand moss is great.

Sphagnum moss repels insects and other organisms that may cause harm to your python, plus it has anti-bacterial and anti-fungal properties. One disadvantage is that it tends to attract dust.
Cypress Mulch
Cypress mulch is appealing and readily available. It can be used to increase humidity. On the other hand, it can get dusty and be difficult to clean. Zoo Med Forest Floor Bedding is the best option.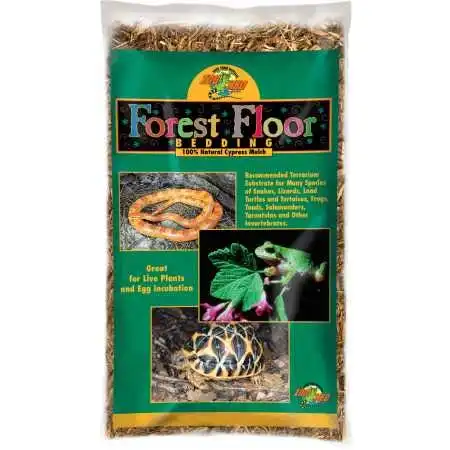 Substrate Mix
Since the different substrates have unique advantages, it can be a good idea to use a mix. This method allows you to maximize the benefits of each substrate.
A good combination is to mix cypress mulch, coconut fiber, and sphagnum moss. The percentage of each substrate ultimately affects the output. We recommend using 45% cypress mulch, 45% coconut fiber, and 10% sphagnum moss. You don't have to worry about getting the exact percentages. Approximating them is fine.
Substrates To Avoid
Substrates like cedar shavings should be avoided because the wood has oils that can neurologically damage your ball python.
Sand can harbor bacteria and odor. It does not accommodate humidity and will make the terrarium dusty.
Reptile carpets are difficult to clean. Finally, substrates with fine textures can get stuck in the holes along your reptiles' lips, which they use to sense heat.
Logs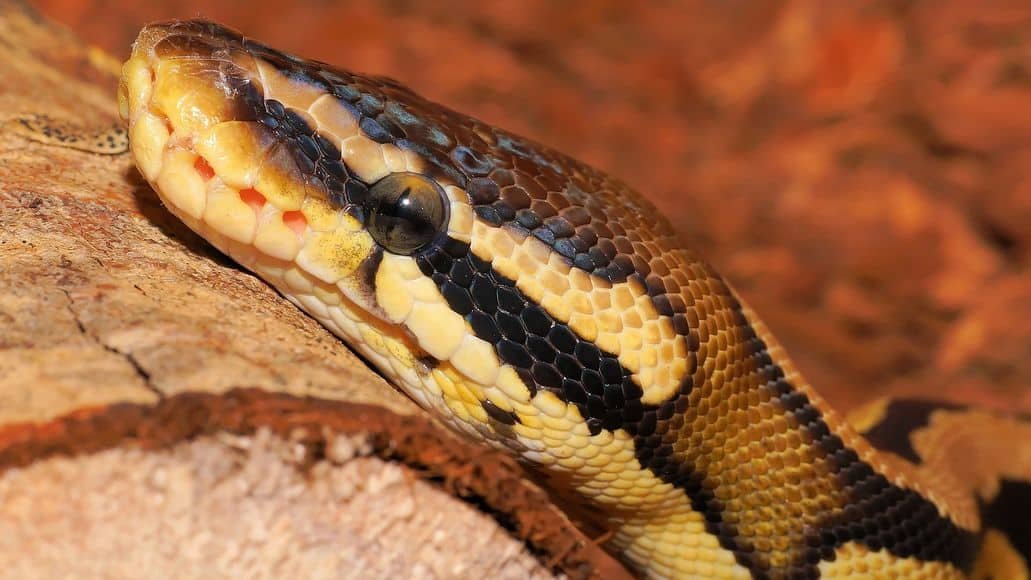 You want to include a log or two in your ball python's terrarium. The use of logs or thick branches can be multi-functional. A ball python loves to climb and the log will encourage such activities. It provides exercise opportunities that will help increase the muscle tone of your snake.
Another function of logs within the terrarium is to provide a shedding tool for your ball python. The ball python can rub on the log to make it easier to shed its skin.
Clutter
Branches, plastic leaves and grasses make good clutter material. Although a ball python can thrive without clutter, it is good to have some. Clutter helps prevent stress in the snake. It also creates an atmosphere that makes your ball python feel happy and safe.
Flunker's Pothos Reptile Vines are great. You can clean them easily by disinfecting them in boiling water.

Hideouts
Every ball python terrarium setup needs a hideout. Mimicking the life of a ball python in the wild is the goal and in the wild, these snakes hide most of the time.
Hideouts provide moist, cool areas for your pet to feel safe and to cool down. There many types of hideouts you can buy for your pet. We have a whole article on the best hideouts for snakes. If you prefer to make your own, you could use plastic flowerpot trays or clay flowerpots to create hideouts.
You want at least two hideouts: one in the warm area and the other in the cooler area of the cage. This allows your snake to regulate its body temperature, even while hiding.
Food
Food is not technically part of the cage setup, but it is vital and your snake will feed in its cage, so we're including it here.
You have to feed your ball python correctly. In the wild, they eat rodents like gerbils, rats, and more. The age of the ball python determines its feeding frequency and the size of its meal. For a ball python in a terrarium, you can feed it mice and rats.
Obviously finding live rats would be hugely inconvenient, so just give it pre-killed rodents. Frozen mice are perfect. Thaw them before feeding your snake.

You have to train a ball python to eat pre-killed meals. The best option is to start training early on. If you feed your baby python pre-killed mice and rats, then it will get used to them.
Feeding Frequency
For hatchlings, one hopper mouse per week is good. Juveniles will eat one adult mouse in a week. An adult ball python can eat two mice in a week, or a large-sized rat.
It is important not to handle your reptile before or after feeding time. If you handle or carry it after a meal, it may regurgitate the food. Handling before meals could cause them to not eat at all.
Ball Python Cage Maintenance
Once you have successfully set up your ball python terrarium, you need to perform routine maintenance. It keeps your ball python healthy and also ensures the terrarium lasts longer. The following is a list of maintenance tips:
Change your reptile's water daily
Remove soiled or stained substrate areas as soon as possible. You can spot clean, depending on the substrate
Disinfect the terrarium once a month or bi-weekly
Replace the substrate entirely once every month
Deep clean the enclosure with a 5% bleach solution
Ensure you rinse all bleached areas thoroughly
Wash your hands with soap after cleaning the enclosure and handling the snake
Important Ball Python Care Tips
The following information and tips are important for a healthy relationship between you and your reptile.
Buy your ball python from breeders who sell captive born and bred animals. Ball Pythons of this type are already familiar with captivity and as such, they have an adaptable temperament and are much easier to care for. Also, captive born and bred pythons develop fewer health problems as a result of parasites and diseases.
Don't put two adult ball pythons in the same enclosure. Ball pythons do not like to live together. Plus, snakes can pass diseases to each other when kept together.
Install under heating options which will aid your python's meal digestion. This may reduce the time it takes for your reptile to digest its meal.
You can get starter kits that are designed to make ball python terrarium setup easy.
Ball python enjoys small spaces so make sure you provide a few cozy hiding spots. Snakes spend a lot of their time in hiding.
Keep your ball python stress free because they get stressed easily.
You can never have too much information. Do more research on the husbandry and care of ball pythons by buying good books.
Ball Python Enclosure Setup: Final Thoughts
If you want to buy a complete terrarium kit for your ball python, there are some good ones available. However, setting one up from scratch is not overly difficult. Everything you need for a complete ball python terrarium setup is in this article.
A comfortable enclosure ensures your ball python lives a long, happy and stress-free life. And a happy ball python is one of the best pets you can have!