Snakes are not good parents.
I think that is common knowledge.
But the truth is: different species of snakes behave differently.
While some mothers seem to forget they had babies the second the have them, others do stick around. At least for a bit.
Part of this has to do with the very different ways that snakes give birth: some lay eggs, some give birth to live babies, and some actually do both.
We'll explain below how that is possible. We'll also cover everything else you need to know about a snake mother's care for its young.
Do Baby Snakes Stay With Their Mother?
Snakes are precocial, meaning they can survive on their own from birth. Most mother snakes immediately slither away after laying eggs or giving birth.
However, a few species will guard their eggs until they hatch or guard their babies for up to two weeks after hatching.
You probably noticed we wrote "after laying eggs or giving birth." That's because not all snakes are born the same way
Types Of Snake Births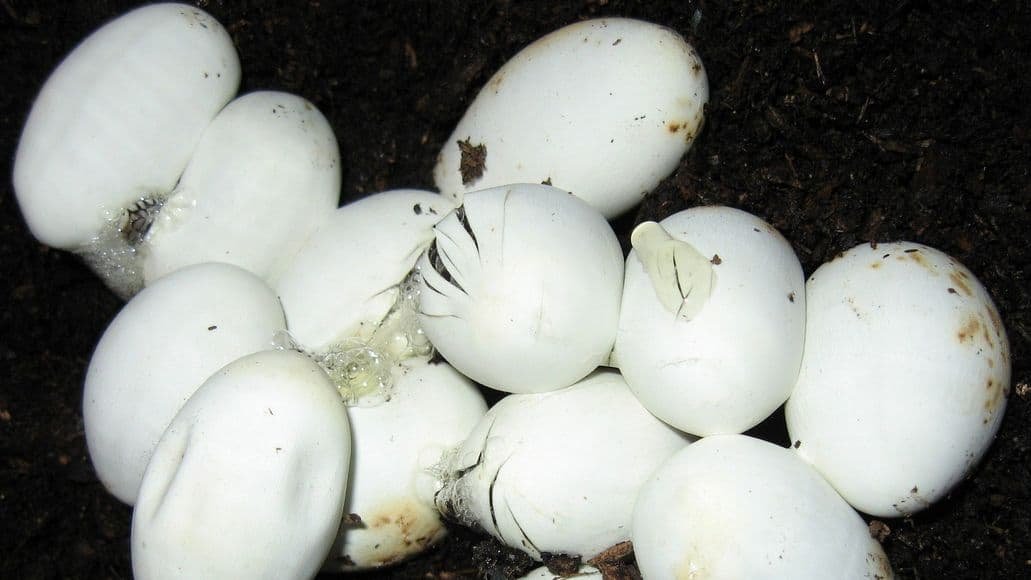 70% of snake mothers are oviparous, meaning that they lay eggs. The other 30% of snake mothers are viviparous and give birth to live snakes.
Some of those are ovoviviparous, which means they have eggs, but those eggs hatch while inside the mother's body, so the snakes emerge alive. All three types of snakes can have a lot of babies.
In captivity, it's best to follow the laws of the wild.
If a species doesn't stay with their eggs or babies in the wild, separate the mother from her eggs or babies in captivity as well. Some species don't recognize their own young or eggs and will gobble them up as a tasty snack.
Oviparous Snakes (Egg-Layers)
A snake mother finds a hidden, damp space to lay her eggs. A few species incubate their eggs until they hatch, but most don't. Only one python species stays around after the eggs hatch.
King cobras are the only snakes that build a nest for their eggs. They fill the chamber with vegetation that produces heat as it decays.
The parents aggressively guard the eggs against predators but leave the nest before the babies hatch.
Viviparous Snakes (Live Bearers)
Live snake births help minimize predation. Predators often eat eggs before snakes can hatch and slither away. Most live-bearing snakes leave their young to fend for themselves, but some protect their babies for a short period after birth.
Snake Instincts To Survive Alone At Birth
Some snakes stay in their eggs for a few days or spend a few days or weeks with their mother. However, all snakes are precocial and born with survival instincts. They can see, hear, move, and hunt right away.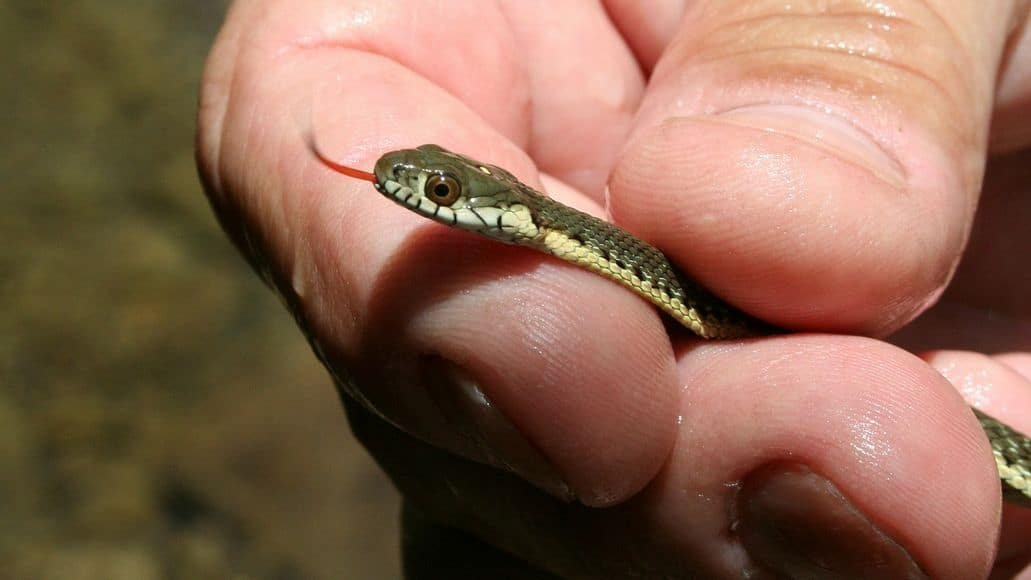 Venomous snakes are born with fangs for immediate self-defense. Their venom is as potent as adult snake venom. However, adult snakes have larger venom glands to inject more venom into their victims.
Some snakes have temporary features to help them survive into adulthood. Copperheads and cottonmouths have bright yellow-green tail tips that mimic worms to lure frogs.
Advantages Of Baby Snakes Staying With Their Mothers
Staying with its mother longer increases a snake's chance of survival into adulthood. Snakes that remain with their mothers include one python species, some vipers, garter snakes, and one sea snake species.
Snakes that stay with their mothers have an advantage in size, once they do become independent. Larger snakes have fewer predators, can handle lower temperatures, and have more food options, because they can eat larger prey.
Predators
Baby snakes that stay with their mothers longer can learn to hunt and escape predators. Predators include birds, cats, and other snakes.
Cold Weather
A mother snake can help keep babies warm. Baby snakes on their own may freeze in cold weather. They may not be able to find a place to stay warm when they're on their own.
Food
Baby snakes are also prone to starvation. Snake mothers don't hunt to feed their young, so babies must find food immediately. Because they are small and growing, they need to eat twice a week.
How do baby snakes eat? At first, they can get nutrition from the yolk sac. But after a month, they need to catch real food. They can only eat small prey like insects, little frogs and lizards, and eggs.
Oviparous (Egg-Laying) Snake Mothers
Most oviparous (egg-laying) snakes do not stay with their young. Scientists have only found one verified exception to this rule: a rock python species from southern Africa.
Pythons
Python eggs must remain within a 5º C range to develop correctly. So it's their evolutionary advantage for python mothers to coil around their eggs to incubate them.
Some large pythons or ones with powerful muscles "shiver" to add a small amount of heat. Research shows that incubation results in larger, faster, more active, and faster-developing babies.
A type of rock python in southern Africa, Python natalensis, is the first documented species of oviparous snakes that cares for its young after they hatch.
A 7-year study detailed in the Journal of Zoology shows that this snake cares for its babies for the first two weeks, before their first skin shed.
Unlike other python species, a female Python natalensis can raise her metabolism and change color to better capture heat. The babies stay wrapped up in their mother's coils, only leaving to warm themselves in sunlight.
Viviparous (Live-Bearing) Snake Mothers
Significantly more live-bearing snakes stay with their mothers after birth. Those staying with their mothers include several vipers, garter snakes, and one type of sea snake.
Vipers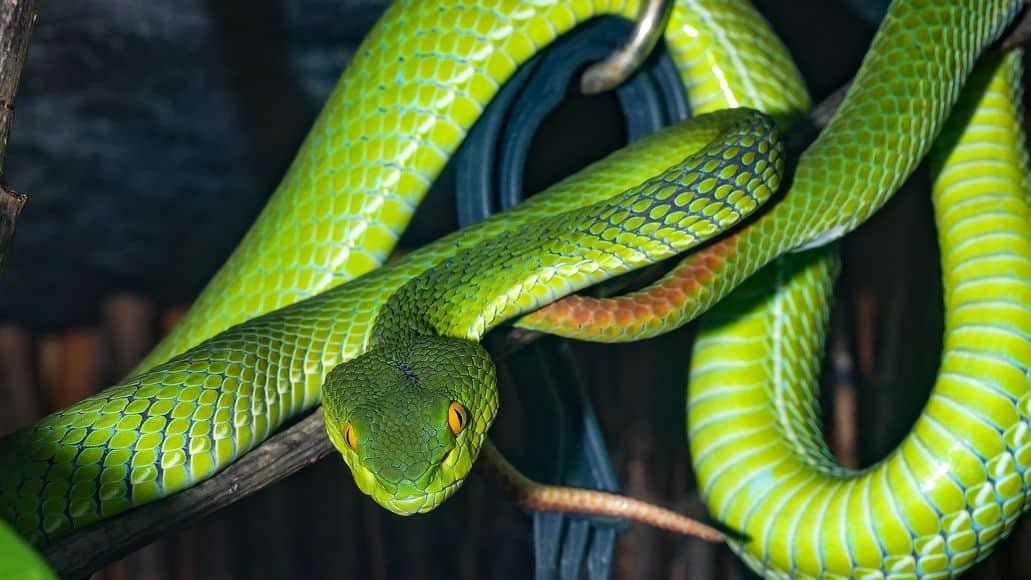 Most vipers bear live-young. This group includes rattlesnakes, copperheads, cottonmouths (water moccasins), adders, and bush vipers.
Researchers at Cornell and Stetson Universities have found 33 viper species that care for their babies after birth. Viper mothers and babies even return to each other if separated.
Most vipers stay with their mothers for two weeks, until their first shed. Rattlesnakes aren't able to rattle until after their second shed, so staying with their mother longer means predators are less likely to eat them before they are able to rattle to warn them off.
Garter Snakes
Even though a garter mother doesn't take care of her babies, they will stay with their mothers for a few hours or days.
I've often seen adult garter snakes living together under rocks and patio pavers, not just in cold winter months like most other snakes. My dog has spent many unsuccessful hours trying to dig them out year-round.
Garter snakes are one of the few snakes that can live together in captivity. Owners find that housing multiple garter snakes together makes them calmer. Garter snake mothers can live together with their young without fighting or trying to eat them.
Spine-Bellied Sea Snakes
According to the Journal of Herpetology, the only species of sea snake that takes care of its young is the live-bearing Spine-Bellied Sea Snake. These sea snake mothers create nurseries in safer, shallow waters.
Ultimately, the mother only stays a little while. However, the babies remain in these safer waters for up to one year. They can hide from predators in seagrass and eat the small fish they find there.
Baby Snakes And Their Mothers: Final Thoughts
Snakes are cold blooded in more way than one. Most species do not exhibit any feelings at all toward their offspring, leaving them to fend for themselves immediately after birth. And in some cases, even before birth, when they leave the nest with the eggs before they ever even hatch.