Some snakes have babies and some lay eggs.
How many babies do snakes have?
Some lay up to 100 eggs or more, while others birth far fewer.
But this does not tell the full story.
If it did, there would be far more snakes in the world. Why aren't there?
Because snakes are terrible mothers.
We'll explain in a minute. Keep reading to learn everything you need to know about snakes and how they have babies.
How Many Babies Do Snakes Have?
As mentioned, snakes lay up to 100 eggs or more in a single batch every year, depending on the species.
A batch of snake eggs is known as a clutch. While some species of snakes lay up to 100 eggs in a large clutch, they can also lay smaller clutches of up to 25 eggs, at other times of the year.
However, there is no way to predict how many snake babies actually survive. Snakes are not good parents.
The dad takes off immediately and most mothers don't care for their eggs or newborns once they've been born, so many babies die and fail to reach maturity.
There is no way to predict how many eggs will survive to hatch healthy baby snakes. Everything from predators to low temperatures can kill eggs.
More than 3,000 species of snakes exist globally, and these hardy creatures live everywhere from the tropics to Siberia. We obviously can't cover every breed's mating and reproductive details here, but we can provide a basic overview.
How Snakes Lay Their Eggs
About 70% of snakes lay eggs, while 30% give birth to live young. Whether they lay eggs or birth young depends on the species.
Snakes give birth in one of three ways. None involves birthing through the mouth, as some mistakenly believe. Let's take a look at each one.
Oviparous
An estimated 70% of snakes are oviparous, meaning they lay eggs. The eggs grow in the female's oviduct. Each egg has a yolk sac, which provides the growing snake baby with nutrients needed for development.
Once the snakes lays their eggs, they must keep them warm to keep them alive. A snake may incubate the eggs by burying them in warm earth or by wrapping its body around the eggs.
Types of oviparous snakes include king snakes and grass snakes.
Viviparous
Viviparous snakes do not lay eggs. They nourish their young through a placenta and yolk sack. This is an extremely rare means of reproduction among reptiles.
Types of viviparous snakes include adder snakes, anacondas, and garter snakes.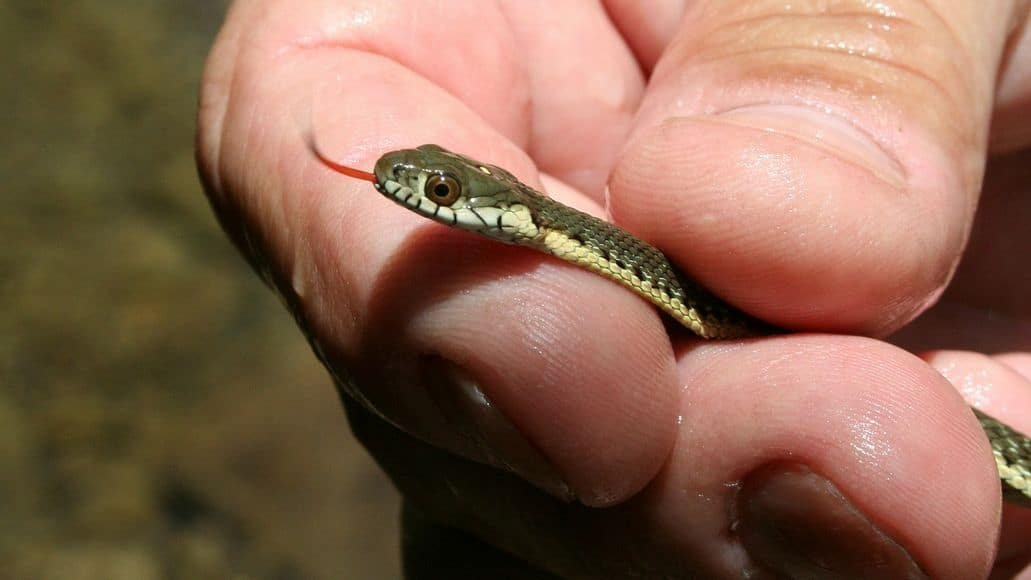 Though you may think this means the snake will have fewer babies, a viviparous snake can give birth to up to 150 young!
Ovoviviparous
This type of snake reproduction is a mix of the above two methods. Snakes in this category develop eggs but don't lay them.
Instead, they nurture them inside of their bodies. When the babies are born, the eggs hatch inside of the mother. The baby snakes then leave the body.
Boa constrictors, like the Amazon tree boa species, are an example of an ovoviviparous snake.
Snake Mating And Reproduction
To reproduce and make babies, snakes must first mate. Different species have different mating rituals. The process requires a sexually mature male and female.
Mating Timing
Snakes that live in colder areas tend to mate in the late spring and early summer. Those in warmer regions, such as tropical climates, may breed at any time during the year. Access to food is also a consideration and will influence when a snake mates.
Mating Behavior
During mating season, snake behavior changes significantly. Males become more aggressive during this time as they hunt for suitable mates.
They may fight with one another to try and get the attention of females. The female makes the ultimate decision regarding the choice of mate.
Mating Process
Snake's mate via copulation. The male snake has two spiked hemipenes, which he inserts into the female's cloaca, a urogenital chamber
He passes sperm into the female in this way. It then moves up the female's oviducts to fertilize eggs released from the ovaries.
Once the female has chosen a male, they mate and then go their separate ways, before the female births up to 100 young.
The creatures don't "couple up" or stick together. If the male remains, the female will become hostile. Usually, this doesn't happen, because the male quickly moves on to find new females for mating.
Snake Gestation And Hatching/Birth
After the male has left, the pregnant female can begin the gestation process or laying eggs. This occurs soon after mating. Most snakes place their eggs in a burrow, where they will be protected from predators and easily kept warm.
Some snake species lay the eggs and leave, while others stick around to protect their nest. Baby snakes are born with small sharp "beaks," which they use to crack open and break out of their shells.
Snake Babies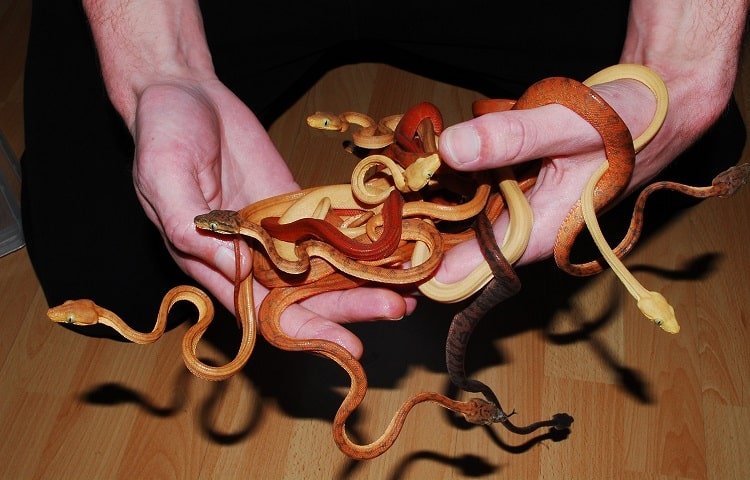 Given that a single clutch can have up to 100 snake eggs, you might expect that to result in 100 babies. But that never happens.
First, not all eggs in a clutch are fertilized. These so-called "slugs" won't ever hatch.
Additionally, snake eggs may be eaten by predators or fail to grow because they get too cold. Some snakes even eat their eggs, although this primarily happens in captivity.
Finally, snake babies have little to no parental protection when they hatch or are born. Most snakes are "precocial," meaning they are independent from birth. Only rare species like African rock pythons actively care for their youth.
Given all of that, it should come as no surprise that most eggs in a clutch won't grow to become healthy adult snakes. One study of northern pine snakes, for example, showed that less than ten percent of hatchlings made it to breeding age.
Related Questions
We tried to cover everything you need to know above, but there are a few other questions that sometimes pop up.
If you have any additional questions that are not covered here, please feel free to ask them in the comments below. If it's a good question, we'll add it to the article.
What Season Do Snakes Have Babies?
Snakes that lay eggs (oviparous) tend to hatch those eggs in late summer and fall. Similarly, those that give birth to live young (viviparous or ovoviviparous) hold the babies in their bodies until late summer and fall.
These rules aren't hard and fast, however. Species, climate, and food availability are all considerations that help determine when a snake has babies.
Do Snakes Care For Their Babies?
Most snakes that lay eggs lay their clutch and then leave them. The baby snakes have to find their own food. They are on their own and completely independent from birth. They do not meet their mother. Some egg-laying snakes will watch over their eggs to ward off predators.
Can A Snake Have Babies Without Mating?
A female snake can't fertilize her eggs. However, females may lay unfertilized eggs, known as "slugs," which never hatch.
There are anomalies, however, like a ball python at the St. Louis Zoo, which stunned zookeepers when it laid eggs despite having had no male contact for 15-plus years. Usually, female ball pythons require male connection to lay eggs.
Snake Babies: Final Thoughts
Snakes can have a lot of babies, but only a small percentage survive into adulthood. And the mothers will never know, since most take off immediately and never look back.
We covered all the basics above, including some frequently asked questions, but know that you may have additional questions. As mentioned, please feel free to ask them in the comments below and don't be swurprised to see your question added to the article.