Ball pythons are the most popular pet snakes in the US.
They are small, easy to care for, and usually docile.
But they also have a reputation for not wanting to be touched.
Is that true? Do ball pythons like being handled or not?
Snakes are individuals, just like humans. They each have their own preferences, likes and dislikes.
But we can generalize. Keep reading to learn if the average ball python enjoys being handled.
We will cover the different personality types you can encounter with these snakes and see how each type generally feels about being handled.
Do Ball Pythons Like Being Handled?
Ball pythons do not usually like being handled. For that reason, it is generally best to only handle your ball python when you have to.
This usually means you will handle it when you need to clean its tank, or take it out of its tank for some other reason. If you do want to handle your snake just to interact with it, you should keep handling sessions short.
That said, not all ball pythons are alike. They can have quite different personalities, so it could be that your particular snake does enjoy it when you handle it.
Different Personality Types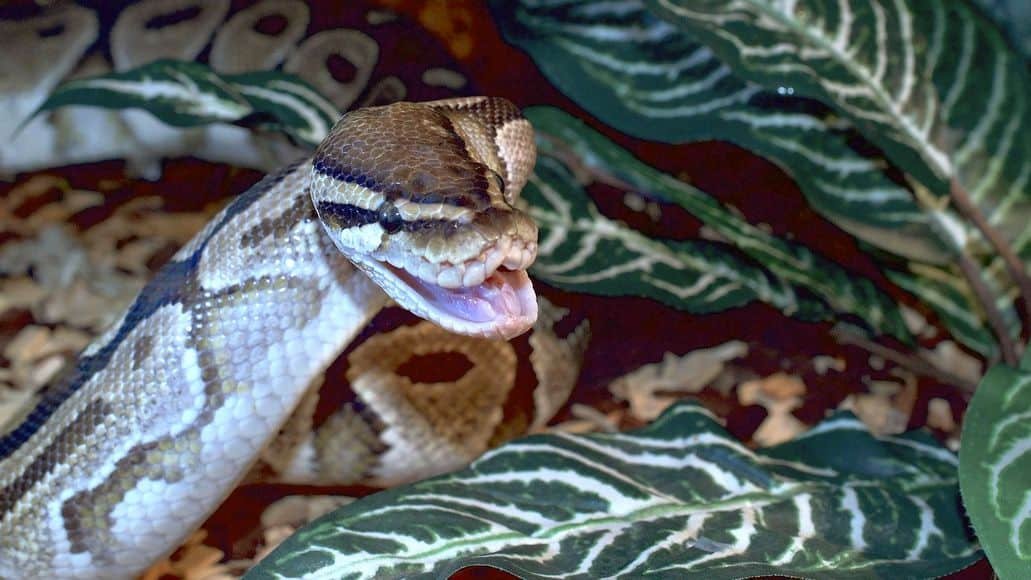 All ball pythons are different. If you find that yours does like to be handled, then that's great!
Ball pythons usually fall into several different personality types. The type your snake has will determine how much you should handle it.
The Laid Back Python
Firstly, you have the laid-back ball python. This type of python is the most common personality type. They are usually relaxed and very rarely aggressive.
A laid-back python will not have an in issue with you going into its tank. Usually, a laid-back python will not show any physical signs of distress when you handle it, but that still does not mean that it enjoys it.
The Observer
Next up, you have the ball python that just likes to observe. This types is similar to the laid-back python. They are both usually relaxed.
But when it is out of the tank, you may find that this type does less roaming and prefers to watch you or anything else of interest in the room.
An observant python may also not show any signs of distress when you pick it up, but again, it isn't something they really enjoy.
The Shy Python
An opposite to the laid-back and observant python is the shy one. It isn't common to find a shy python, but it can still happen.
A shy python may tightly curl up its body when handled. This is a sure sign that you should put your python down. I would recommend handling a shy python as little as possible and just do it when it is absolutely necessary.
The Anti-Social Python
You might also have an anti-social python. An anti-social python may move away, if you come to close to it or try to handle it.
Just like a shy python, try to handle an anti-social python as little as possible. Snakes are solitary creatures and like to be on their own, so don't be insulted if your python isn't friendly toward you. Ball pythons don't like being together with other snakes either.
The Explorer
Opposite to the observant python, you have the explorer. If you take this python out of its tank, chances are it'll be too busy exploring your room to want to be handled.
That said, out of all the personality types, a python that likes to explore will be the most open to being handled. They love to explore new things and and more likely easier to train when it comes to handling them.
The Aggressive Python
Finally, we have the aggressive personality type. This is the one most owners dread ending up with. Luckily, ending up with an aggressive ball python is very rare. If it does happen, you are very unlucky!
Sometimes it is the case that an aggressive python actually only becomes aggressive after eating. It pays to try to learn your python's behaviors, so you can work out the best and worst times to handle it.
Do Ball Pythons Get Attached To Their Owners?
The hard truth is that a ball python cannot become attached to its owner. They do not view humans as being companions which means they are unable to form any kind of bond.
They will, however, still be able to distinguish you from other humans due to your scent. So, while they may not form any kind of attachment, the good news is that at least they still know who you are.
Do Ball Pythons Like Being Held: Final Thoughts
Most ball pythons do not enjoy being handled. As a result, it is best to keep handling to a minimum. Ideally, only handle your snake when it is necessary, for instance when you want to clean the cage or if you need to move them to a different cage for breeding.
If you do handle it at other times, keep handling time short. Of course, you may end up with a snake that enjoys being handled. If that is the case, hold your snake as much as it wants.