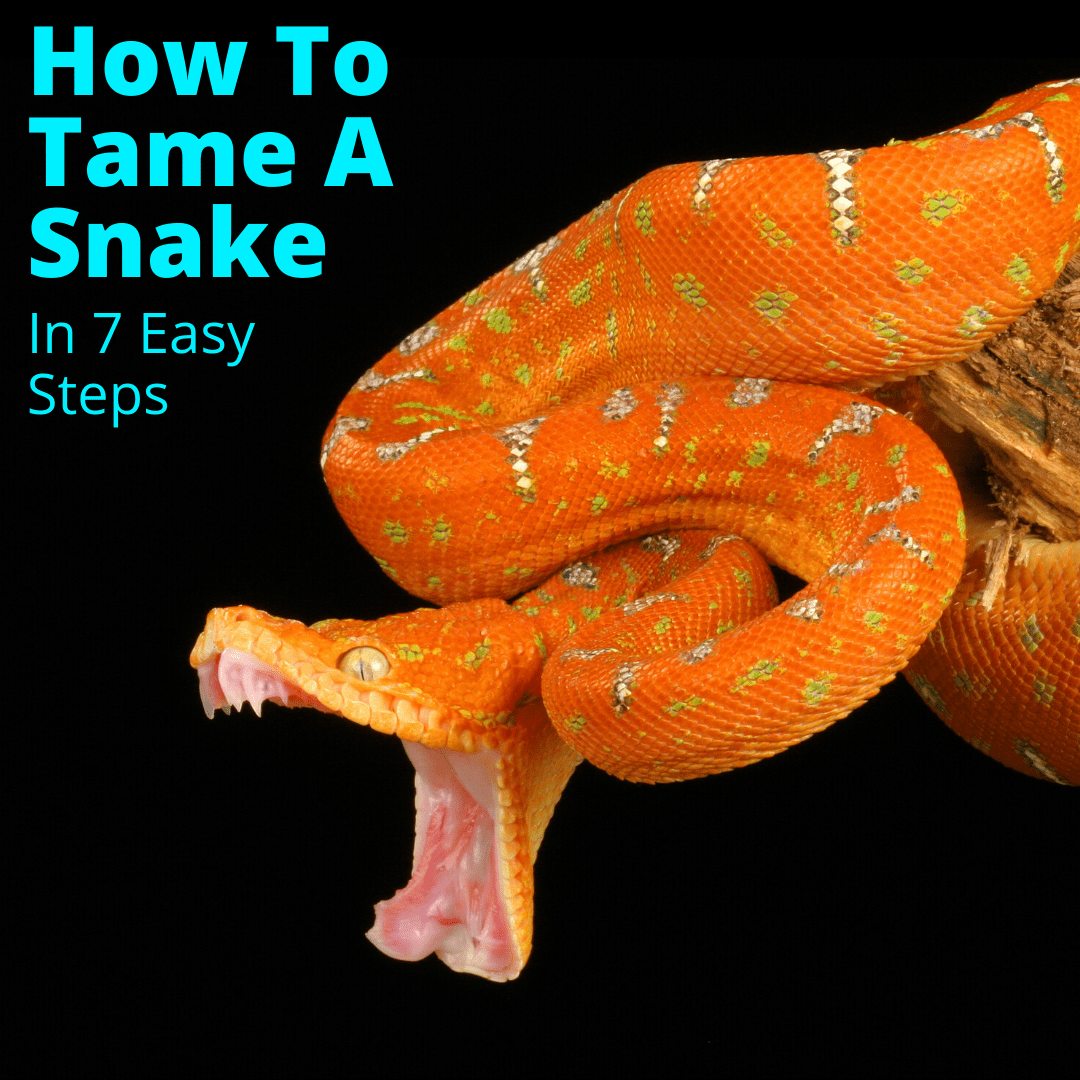 It is always best to get a captive born snake.
That way, there is no need to learn how to tame a snake, since it is already used to captivity. All you need to do is get it used to you.
But if you capture a snake in the wild, you first have to get it used to the idea that humans are not a danger. And that will take time.
It can also be dangerous, depending on the species you have taken from the wild.
That is why we strongly discourage anyone from capturing wild snakes, unless you are an experienced snake keeper and you know exactly what you are doing.
That said, some species are only available in the wild. And even for ones that are available from a breeder, some people just prefer to catch and tame their snakes themselves.
For you, the 7 steps below walk you through the process of taming your snake.
How To Tame A Snake
Taming a snake is relativity straightforward, but it does take time and patience, especially with a wild and aggressive snake.
The main focus is getting your snake used to you and the idea that you are not a threat. The more it begins to believe that, the less chance of it biting you.
But you should know that you are very likely to suffer some bites. It is almost unheard of to not get bitten at least a few times when taming a snake. That is because snakes can never truly be tamed in the way some animals can.
Can Snakes Be Tamed?
Yes and no. Most snakes stay wild. They will never be 100% tamed like a dog or similar pet. That said, they can definitely get used to living in captivity and get used to you, and change their behavior accordingly
Snakes get tamer the more you handle them. They will come to relate you to feeding time. As a result, they tolerate you around them and get used to it. Soon, you can begin to handle them a little bit at a time. The more you handle them, the more they will get used to your touch.
What Are The Dangers?
Simply grabbing a snake from the wild, because you'd like to keep a snake can be incredibly dangerous. It could be a venomous snake. Even if you know it is a venomous snake and that is exactly what you want, we strongly discourage against this, unless you are an experienced snake handler.
Some venomous snakes are so deadly, they can kill you in under an hour. The risk to you if you make one careless mistake is simply too high. Stay away from venomous snakes and make sure you know exactly what snake you are handling and that you have the correct equipment.
What You will Need
You will need to purchase:
The gloves are a great middle step between using a snake hook and using your bare hands. They will protect you against bites. The material is super thin, but no snake fang can penetrate the leather.
Even non-venomous snakes will try to strike you, so you should always protect yourself. Their bite is not generally dangerous, but their saliva does contain a non-coagulant and often carries harmful bacteria. There is a risk of infection.
How To Tame A Snake In 7 Easy Steps
So you have captured your new pet snake from the wild (again, we do not recommend doing this). It will take a snake about 3 weeks before it becomes fully accustomed to its new surroundings. During that time, you can begin to get it used to you through feeding.
Step 1
The first thing to do is place your snake in its new enclosure. Then leave it alone. Once it is in its new home, you want to leave it there for a couple of days without bothering it at all. This gets it used to its new environment.
Step 2
Feeding is the best way to get your snake used to you, because it will relate you to something positive: food. After a few days alone in the new cage, your snake is probably feeling a bit hungry.
Do not handle the snake or bother it in any other way. Simply use a pair of tongs to present some food. If the snake does not want it, move it around a bit to simulate live prey. If it still does not eat, try again the next day and keep trying until it eats.
You want to feed it like this several times, before moving on to the next step. This will show it that it can trust you, because sensing you means it is about to get food.
Step 3
After multiple feeding using tongs, you can start feeding your snake using the pair of welding gloves. It may take a few attempts, and you may have to go back to the tongs for a bit, but eventually your pet will trust you enough to take food from the gloves.
Step 4
After a few feedings with the gloves, the snake will start to get used to them. Now you can try touching it. Make sure to keep your welding gloves on.
Simply touch the snake at first. Do not pick it up and definitely do not remove it from the enclosure. Your snake needs to know that you will not eat it. That is the reason it is fearful and may try to protect itself, which it will do by striking.
Don't worry about this. the gloves will protect you. If it bites the glove, do not flinch or otherwise move your hand rapidly. Just keep it there until the snake releases it.
Once you are able to touch it without it striking or otherwise freaking out, you can try to pick it up and holding it. Do not take it out of the cage. Simply pick it up and hold it for a bit, before putting it back.
Step 5
After a couple of days of holding it with the glove, you can slowly start taking it out of the enclosure. Place it somewhere near you and let it explore. Do not move too fast near it. As before, you always need to show that you are not a threat.
Step 6
Once you have taken them it out of the enclosure and let it explore, you can also let it crawl on you. But always be super careful and handle it with great care, so as not to frighten it. The key to taming a snake is to show it you are not a predator.
Step 7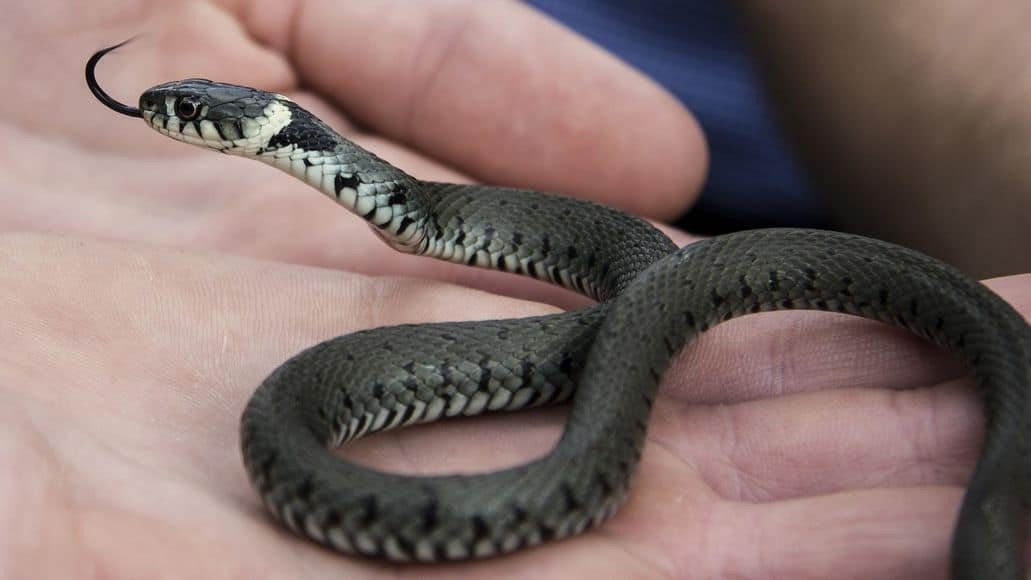 After doing the above for a couple of weeks the snake will start getting used to you. You can begin handling it with your bare hands if you like, assuming it is not venomous, of course. You will almost certainly get bitten a few times, especially if your snake is extra wild and aggressive.
The best is to again just start by softly touching it and doing that for a few days. Them move on to actually picking it up with your bare hands. It is the picking up that frightens them more than anything.
They simply have to learn that humans will do them no harm. Most snakes feel threatened by us and that is why they strike. It is 100% defensive.
What To Do If Your Pet Snake Bites You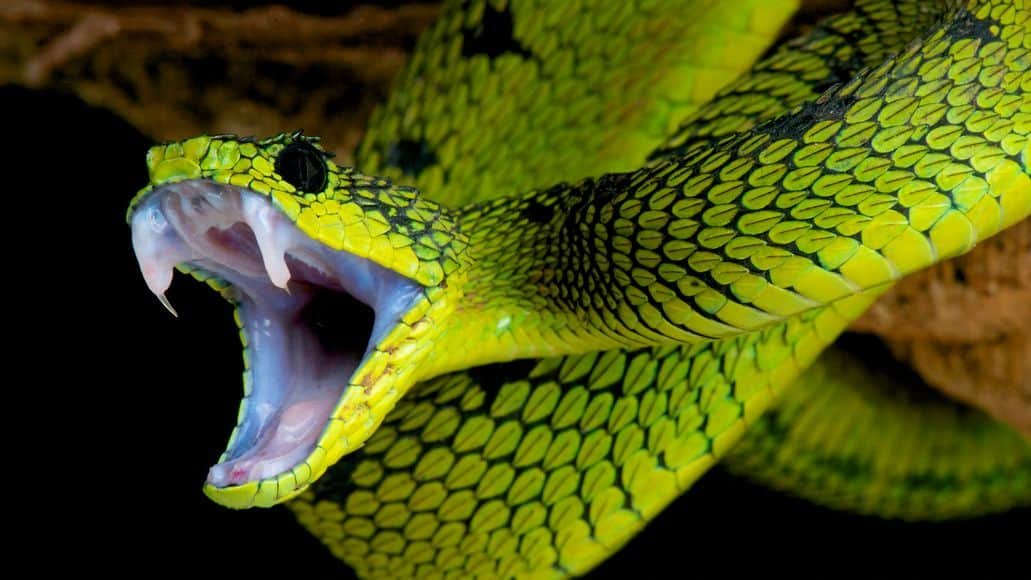 As mentioned, it is a near-certainty that your snake will bite you at some point, if it was caught in the wild. As long as it is non-venomous it will do you no harm.
Most snakes do carry bacteria in their mouths, like salmonella, so you need to clean the wound thoroughly. Here's how to react when you get bitten.
First, do not panic. Calmly remove the snake off of whichever part of you it has in its grip and put it in its enclosure. If it was just a quick bite and it is not holding on, you want to still put it back int he enclosure before doing anything else.
Once the snake is secure, tend to the bite. It probably won't hurt badly, so simply wash it with soap and water. Ideally, you'll also want to apply a disinfectant. Keep a close eye on it over the next few days. If it begins to look infected, see a doctor.
How To Train A Snake Not To Bite
Can snakes be trained in this way? No. It is virtually impossible to teach a snake not to bite. Snakes bite out of defense. The best way to avoid a snake bite is to know when and why a snake might bite you.
Also, the more you handle a snake, the less chance it will bite you while handling it. Here are some reasons a snake might bite, but keep in mind that this all depends on the snake itself. Behavior differs from one animal to the next.
When feeding a snake, be careful around its mouth. It can't always tell your finger apart from a mouse. That is why we recommend using tongs. That way the snake won't bite your finger by accident, causing you pain and it disappointment, since it was expecting to taste a delicious mouse and not your decidedly less delicious finger.
After you have handled food, your fingers might smell like food, making this mistake even more likely. Always wash your hands before handling your snake.
A snake might bite if you startle it or move quickly towards it. Sudden movements like this might cause the snake to become defensive and strike to protects itself.
Do not handle a snake after it has eaten. Some snakes might become agitated if you bother them while they are digesting and strike out as a result.
Do not try to handle a snake that has recently laid eggs. The mother might be a little disorientated, which can result in a strike.
If you tease your snake or move your finger around in front of them, it may bite. Basically, do not tease your snake.
Taming A Snake: Final Thoughts
Taming a snake from the wild is possible. But it is always better to get a captive born snake, if possible.
If you can't get the snake you want and you have to resort to catching it in the wild, just remember that taming it will take time and patience. Do not rush this process as it can harm you and your pet.