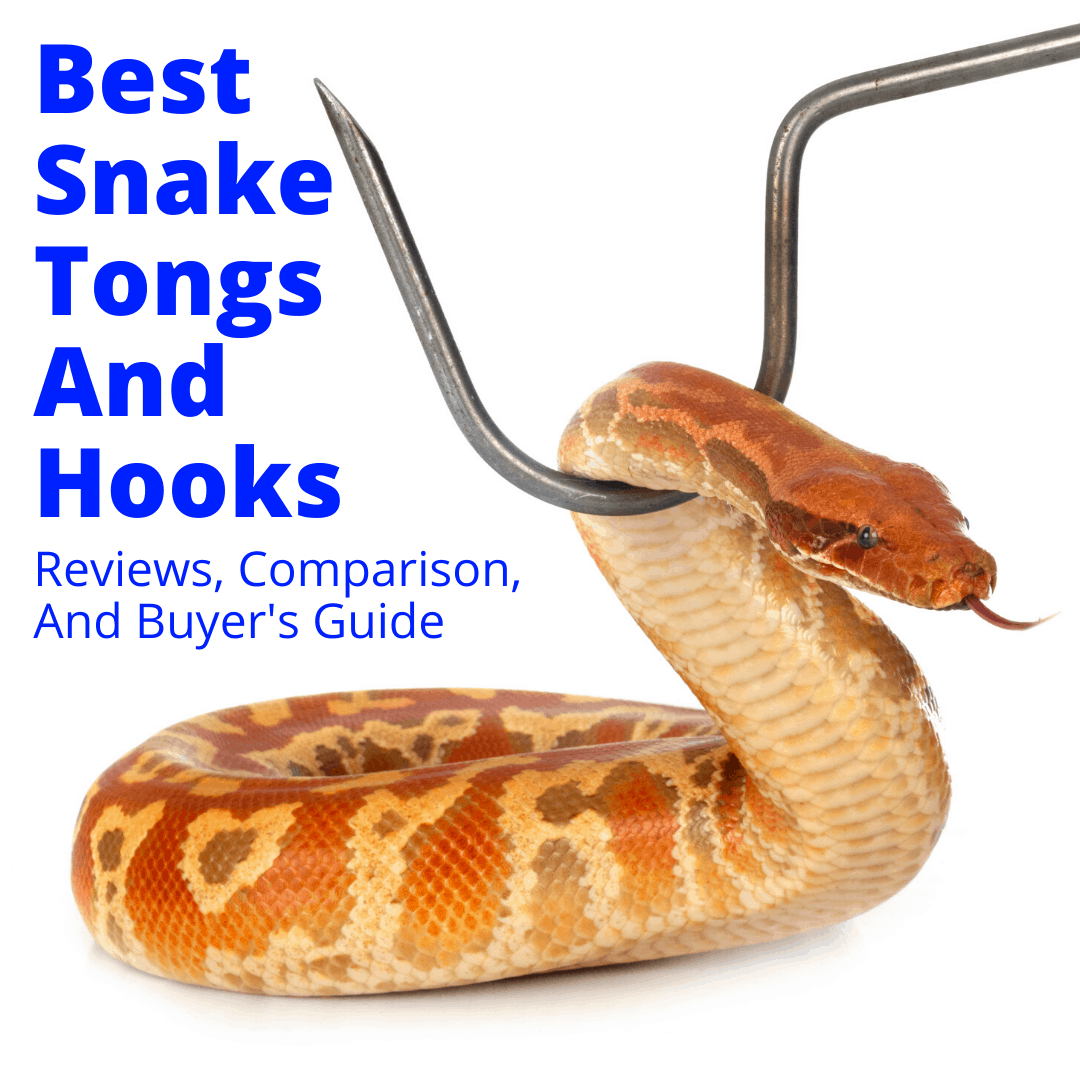 Snakes make wonderful pets.
They are relatively low-maintenance and don't care if you leave them alone for a while.
But there are times when you do need to handle them. Some people like to use their hands, but others prefer to use snake hooks.
For some snakes, like venomous species, you need to use a good snake hook or pair of snake tongs.
But how do you know you're getting a good pair?
They all look so similar. What's the difference?
That's what we're going to clear up here.
We've narrowed the options down to the best snake hooks and snake tongs on the market, with models in several styles and sizes. That should make it easy for you to pick the one best suited for your needs, i.e. the size and species of your snake.
Best Snake Hooks & Tongs Compared
03/22/2023 02:32 am GMT

Types Of Snake Hooks And Tongs
Snake hooks are just that: a simple hook. Snake tongs have jaws that can close around the snake, by squeezing the handle.
Hooks are thus more simple, but the snake can easily get out, if you don't know what you are doing. Tongs are more secure and generally better for more dangerous species.
Broadly speaking, there are three categories of snake hooks and two of snake tongs. There are as follows.
Standard Snake Tongs And Hooks
These are the most common types of hooks. They are heavy-duty and made of sturdy steel. They can be up to 46″ long. These are ideal for any type of snake, including larger and heavier ones.
Collapsible Hooks And Tongs
If you are planning to transport your pet snake to another location, you may need a hook that is easier to take with you. Collapsible snake hooks are much more portable and will easily fit in a carrying case.
Small Snake Hooks
These are built to take up less space and are ideal for handling small pet snakes. They are also portable, but unlike the collapsible hooks, they are only good for the smallest of snakes.
Top Snake Tongs & Hooks Reviewed
The following are the best snake hooks on the market. Which is best for you will depend on the species and weight of your pet.
DocSeward Snake Hook

The DocSeward snake hook is rugged and sturdy. It's well suited for controlling or lifting small-sized snake pets such as the ball python. It has a sturdy rubber grip, a copper ferrule that makes it lightweight, and a stainless steel frame for durability.
While most hooks are simply utilitarian, the manufacturer put some thought into aesthetics for this one. It looks more beautiful than other options, if that is important to you.
Why Choose It?
Build from sturdy materials for durability and reliability.
It has a length of 43″ which keeps you a safe distance from your pet. It also saves you from constant bending, which leads to back pain.
The solid construction of the shaft-hook joint minimizes the possibility of the joint cracking
You have an option of going with the MAX design if your snake is large and heavy or the standard design for medium to small-sized snake pets.
---
OdontoMed 2011 Snake Catcher Stick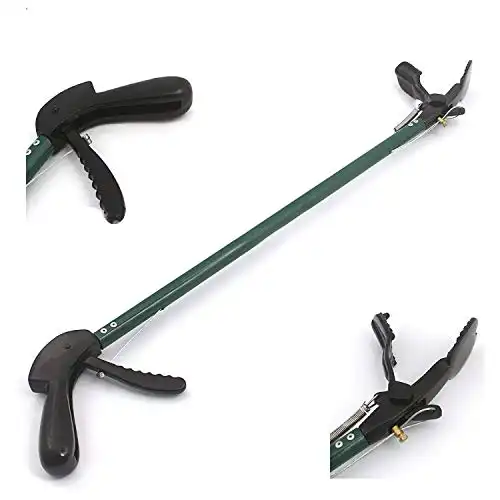 A handmade feel sets this tool apart. Made for a snake catcher, the OdontoMed2011 hook works just fine for snake keepers, too.
It has a 30″ rod that ensures you remain a safe distance from your pet. The frame is made from stainless steel for strength and durability. The handle gives you a good grip so that you handle your snake with confidence.
Why You Should Buy It
A combination of simplistic design and a good grip handle makes it easy to use
Stainless steel construction guarantees longevity
Special jaw for more human handling
---
Fnova 47 Inch Collapsible Snake Tongs

These are another great pair of tongs, with a much longer reach than the previous model. That makes them good for larger snakes as well, while being just as useful for smaller snakes.
Fnova tongs are made from aircraft grade stainless steel with a silver polished finish. They look great and are durable and reliable. A longer spring makes for better elasticity and the non-slip rubber handle makes it easy to use.
It has an automated locking mechanism and a serrated jaw that restricts the snakes ability to move, reducing the chance of injury. These tongs were specifically designed to be as humane as possible.
What Makes It A Good Pick
Rubber non-slip handle for a firm grip as you lift the snake
Human design
Tough, reliable and durable
Long reach
---
Fnova 52 Inch Professional Snake Tongs

These are professional level snake tongs. As such, they cost a bit more, but you definitely get what you pay for. They have an internal spring system that works far better than the external one you see on many cheaper models.
The body is fashioned form a more expensive aluminum alloy that is sturdier than stainless steel, but also weighs far less. The spring-loaded wide jaw does not harm snakes and works just as well for smaller snakes as it does for larger ones.
Why Choose It?
Quality material and construction
Works great with any size snake
Human jay does not harm snakes
---
Repti Zoo Mini Collapsible Snake Hook

This is the smallest hook on this list and is meant specifically for small snakes. Fully extended, it has a reach of 23.6 inches. When collapsed, it is 7.8 inches long, making it ultra portable. But it is not useful for snakes larger than 2.2 pounds.
The Repti Zoo mini hook is made from stainless steel. It is a sturdy and reliable hook, but again, is only meant for small snakes. IIf that's what you have, you can save a lot of money and get this hook instead of other, more expensive, options.
Why Order This Hook?
It's collapsible to 7.8 inches, making it ultra portable.
If you have a small snake, this size hook is perfect
Very inexpensive
---
Repti Zoo Retractable Snake Hook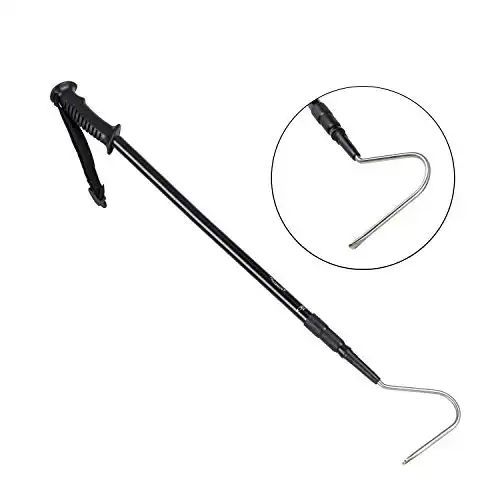 This snake hook is made from an aluminum allow, which makes it lighter and more durable than most. It is adjustable from 30 inches to 57 inches, which means you can use it for any size snake, though it is ideal for smaller snakes up to 4.4 pounds.
The long reach makes it especially good for more dangerous snakes or for times when you may need to wrangle an unknown species. Since it does collapse down, it is also quite portable.
Why Buy It
Extra long reach keeps you out of harm's way
Collapsibility makes it portable
Tough, durable, but lightweight construction
---
Ayamaya Collapsible Snake Hook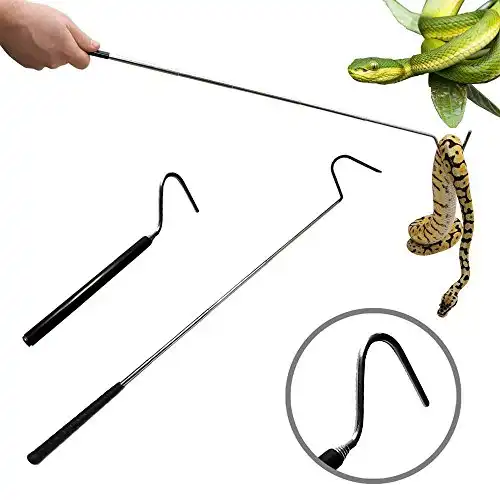 The Ayamaya snake hook is a budget model that allows you to get a decent hook, for a very low cost. It does not quite stack up to the other models, but sometimes you don't need a more professional unit and you just want to spend as little as possible.
And it's not like it's poorly made. The stainless steel makes it sturdy, though a bit heavier. It can extend to a maximum length of 39.3 inches and collapses down to 11 inches, making it very portable. It is good for handling small snakes up to 2 pounds in size.
Why Buy It?
Collapsible down to 11 inches, making it easy to transport or pack for storage
Very inexpensive
---
Snake Hooks And Tongs: Final Thoughts
Exercising caution when handling your pet snake doesn't only keep it safe but also cements your friendship and trust. Using a snake hook minimizes unnecessary contact and protects it from injuries, while giving you the confidence of correctly handling your lovely pet.
Most non-venomous snakes can easily be handled without a hook or tongs, but it is still a good idea to have a set available for emergencies. They are also great for moving items around the enclosure, without having to reach in and disturb your snake.
Of course, if you keep a venomous snake, you should only ever handle it with snake tongs. Handling a dangerous snake with your bare hands is simply too risky.