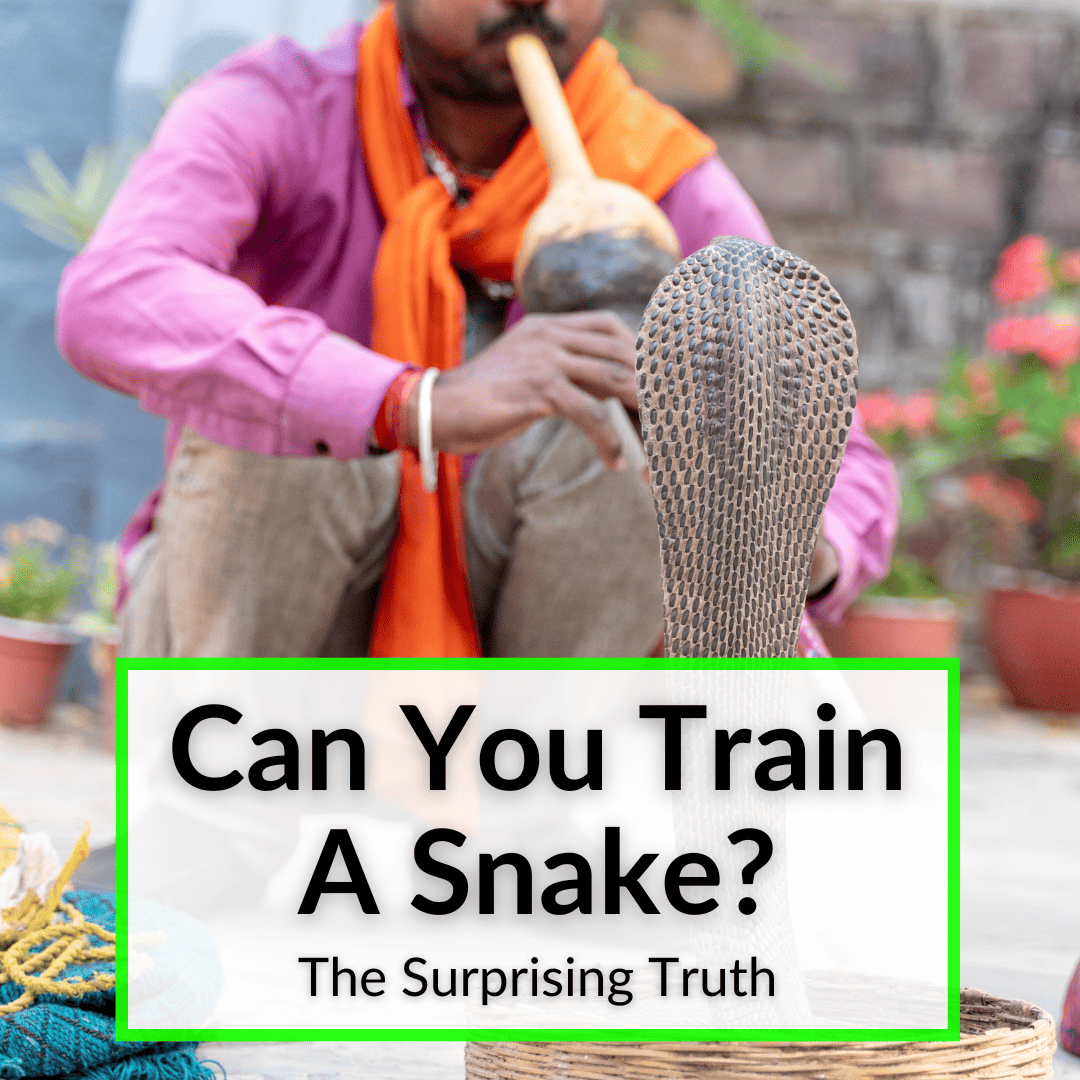 Picture this.
You give the command and your snake rolls over and plays dead.
Or it stands up to intimidate an intruder. And attacks if you give the order.
Is any of this realistic?
Can you train a snake to obey commands or perform tricks?
Unfortunately, no. Snakes are not like cats or dogs. They can't be trained in the same way. But you can actually train them in some sense.
Keep reading to learn what you can train a snake to do and how to train a snake to do it. Just don't get your hopes up. This is not "training" in the same sense as it is with dogs, cats, some rodents, etc.
Can You Train A Snake? (The Short Answer)
No, you cannot train a snake to follow commands, attack, or bite someone on cue. Snakes are wild reptiles. Unlike cats and dogs, they cannot understand what you expect of them. They cannot learn tricks like fetch or roll over.
However, you can tame an aggressive snake to be calmer in captivity. You can also use methods like 'hook training' to make a snake understand the difference between feeding and non-feeding times.
How To Train A Snake
As mentioned above, you cannot train a snake, but you can tame it enough to let you handle it without any display of aggression
Please note that certain species of snakes are generally more aggressive than others so you must exercise caution, particularly when handling a venomous snake. Here are the steps to tame an aggressive snake.
Step 1: Allow The Snake To Get Used To You
In the first few days after you first bring your snake home, do not handle it at all. Instead, just sit outside its enclosure and allow it to get familiar with your scent.
Step 2: Move Some Items Inside Its Enclosure
Next, move a few items that are in the snake's enclosure, like branches or leaves, but take care not to touch the snake when you do so. Do this for a couple of weeks so your snake understands that you mean no harm.
Step 3: Touch It Inside Its Enclosure
Now, you can gently touch your snake inside its enclosure. You may even move it around its enclosure. For example, you can try lifting its tail with your hand. Do this for a couple of days. Make sure to back off if the snake appears stressed or ready to strike.
Step 4: Hook Train Your Snake
Hook training is one of the most effective ways of letting a snake know the difference between feeding time and maintenance, handling, and other instances that do not involve food.
Use a snake hook like these, or another similar object (like a stick), to gently pat or push the snake's head down.
Rub the hook gently over the snake's body, always starting from the tail first and then proceeding towards the head. If you start from the head, the snake could perceive it as a threat and may strike.
Even if the snake assumes a striking position, continue hook training gently until it relaxes.
Try hook training each time you remove your snake from its cage. You can also hook train it several times a day so it understands that the presence of the hook means there is no food coming. This can reduce feeding-time aggression.
Step 5: Hold Your Snake More Often Than You Feed It
Snakes tend to bite their owners because they mistake their hands for food. Often, the snakes are showing a feeding response to their owner's hands because they only ever get to see them hands during feeding time. That is why they perceive the hand to be food.
A good solution is to handle the snake more often than you feed it. It is even okay to feed your snake just once every few weeks (depending on its age).
Always use tongs to feed your snake. This way, it won't strike your hand, which is warm and has the smell of food on it
Use a separate feeding area (a tub or another enclosure) during feeding. This way, the snake won't think that everything that comes into the cage is food.
Remember: snakes can go without food for several weeks so feed your pet just once every 2 to 3 weeks, depending on the species.
Step 6: Handle Your Snake With Confidence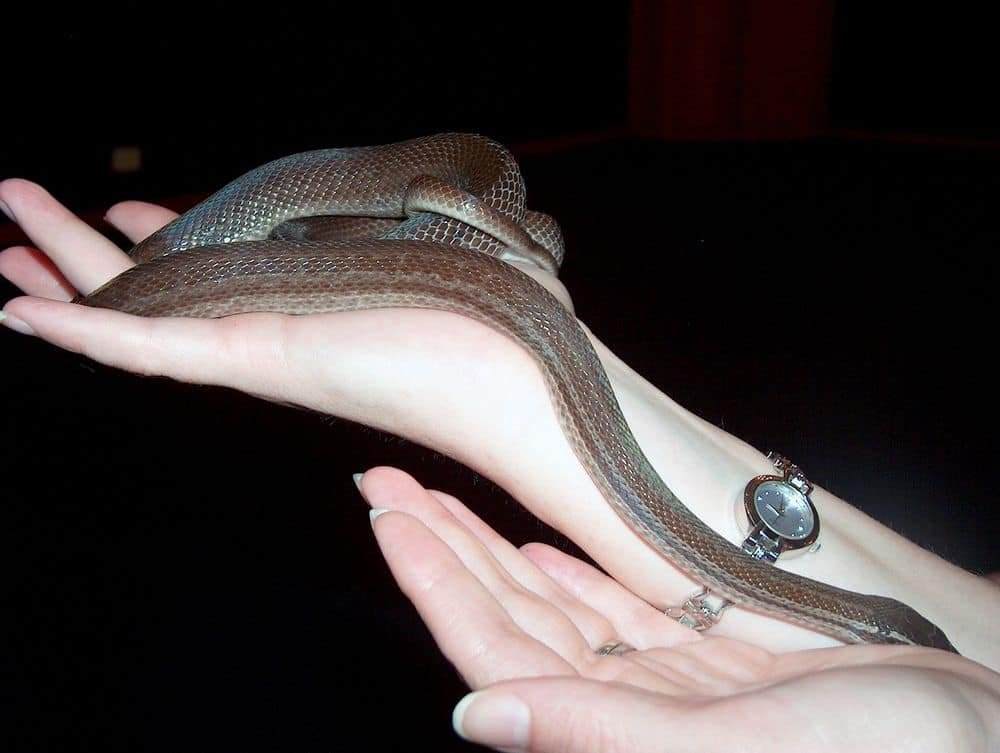 Hold your snake confidently.
Always hook-train your snake before handling it. Gently tap or press down its head using a hook to indicate to the snake that it is not feeding time.
Always wash your hands before and after you handle your snake. This will eliminate food smells and prevent food responses. Plus, this will keep parasites away and prevent them from harming you and your snake.
Never hold or grab the snake by its tail, because that can make it defensive.
Can You Teach A Snake Tricks?
No. Unlike dogs, cats, or small animals like gerbils and hamsters, snakes are not trainable. They cannot remember commands and you cannot really expect them to understand stimuli and reactions. You certainly should not expect a snake to modify its behavior.
After all, snakes, although smart, have very small brains. They are wild animals that do not have the ability to learn from their experiences. This is why it is impossible to teach a snake to fetch, roll over, come when called, and other commands.
Can You Train A Snake To Attack?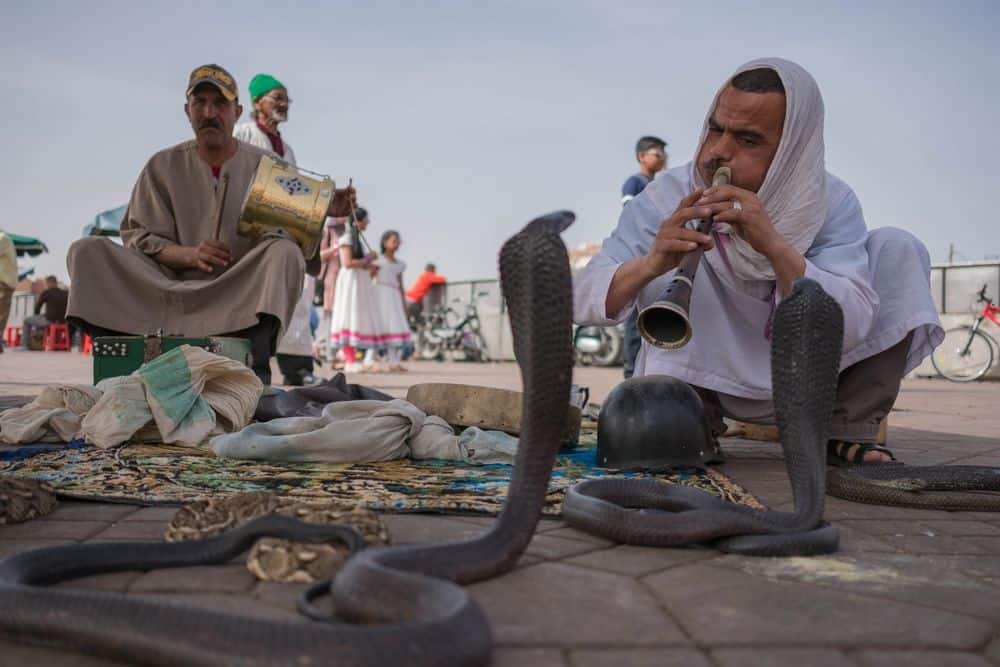 No. You cannot teach a snake to attack or bite on cue. Snakes are not trainable animals. They do not learn by repetition, and their brains are not evolved enough to learn response-stimuli and behavior modification.
You can use certain techniques to make your snake remain calm in captivity. You can also condition your snake to become more trusting or accepting when you handle it. However, you cannot teach it to attack someone.
Can You Train A Snake To Not Bite?
You cannot specifically train a snake to not bite, but there are some things you can do to ensure that your snake does not bite you.
Use Hook Training
As mentioned above, hook training helps your pet understand the difference between feeding and non-feeding times. This can prevent aggression that comes from food responses.
Always Use Tongs To Feed Your Snake
Never offer food directly from your hands to your hungry snake. Use a pair of tongs. This will prevent the snake from mistaking your hand for its food. You can also wear gloves while feeding.
Keep Your Snake Well-Fed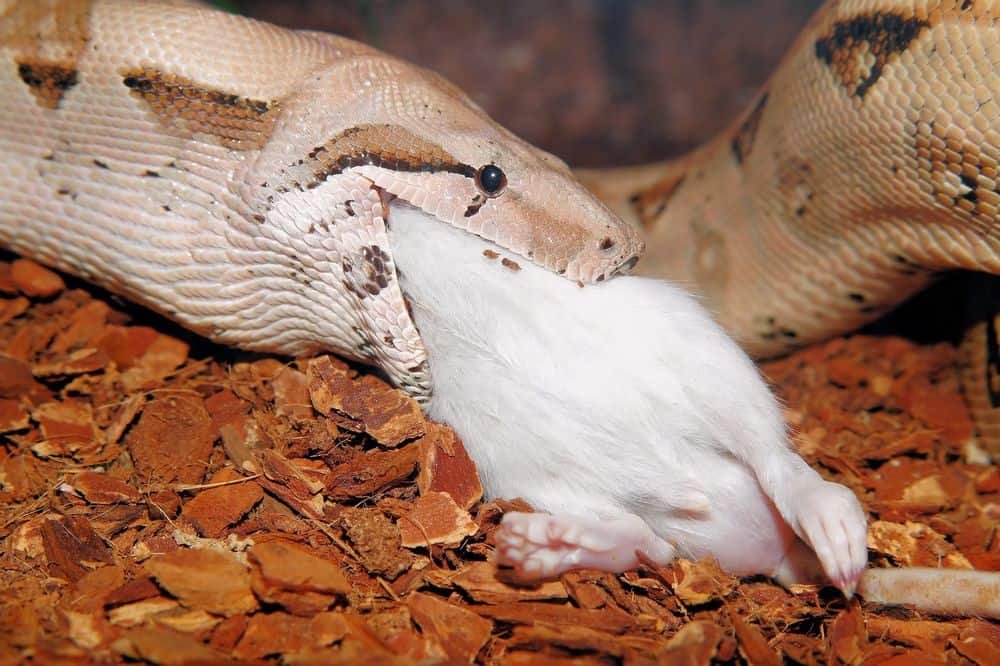 A hungry snake is more likely to attack and bite. Feed your snake every couple of weeks (depending on its age, size, etc.).
Approach Slowly And Handle Gently
Remain calm while handling and avoid handling if your snake seems stressed or hungry. Never handle a snake when it is about to shed.
Can Snakes Be Trained: Final Thoughts
If you have thoughts of training your snake to do tricks or to obey commands, you'll need to let go of that. It simply isn't going to happen. The answer to "can you train a snake?" is a definite no.
The only thing you can teach your snake is that you are not a threat. If you want to have a snake as a pet, that's going to have to be enough. If it isn't, snakes (or any reptiles) are not the pet for you.