Reptiles like snakes, turtles, lizards, tarantulas, and amphibians require a certain amount of humidity.
Those that come from a tropical habitat require a lot of humidity.
If you keep one of these animals as a pet, you will probably need to add humidity to their enclosure, unless you yourself live in a very humid environment.
The best way to add humidity is using a fogger, mister or humidifier.
But what is the difference between these three devices? And which is best for your purposes?
Read on to find out. We answer those questions and also show you a few good models for adding humidity to a reptile enclosure.
Reptile Fogger Vs Mister
If you are keeping a tropical snake, like a ball python, as your pet, you will need to provide a high level of humidity in their enclosure. The standard 50 to 55% humidity is not enough.
There are different products available to control the humidity in your reptile habitat. The most commonly used products to add humidity include misters, foggers and humidifiers.
Difference Between Reptile Misters, Foggers, And Humidifiers
If you want to maintain humidity in your vivarium one of the best options is a reliable misting system. These range from simple systems to highly complex setups. You can purchase ready-made ones, but some people prefer to make their own.
The purpose of the misting system is to maintain humidity as well as the proper circulation of fresh air. A misting system uses different spray heads to expel water in a fine mist to create moisture in the air.
A powerful pump pushes water from a reservoir through these spray heads, which disperse the water into fine droplets. There are two general varieties of misting systems: low pressure and high pressure.
High-Pressure Misters
High-pressure misters are anything above 100 pounds per square inch, while low-pressure misters are under 100 pounds. High-pressure misters are preferred over low-pressure misters, because of their efficiency.
Droplet size is another important factor to consider when deciding on a mister.
Efficient misters have an ideal droplet size of 100 microns or less, to produce enough humidity for the terrarium. Dense fog can be created with a 20-micron water droplet, while 5 micron droplets create lighter fog.
The dry atmosphere in winters needs a constant supply of water droplets to keep the air moist. Reptile humidifiers are the most important necessity during winters. They are required to increase the content of water in any tropical terrarium. A moist reptile habitat is not only required for hydration or humidity, but also for incubation of eggs, shedding and other reptile behaviors.
There are five main types of humidifiers for any environment:
evaporators that use moistened filters to blow the moist air
central humidifiers that spread the humidity evenly throughout the habitat
impeller humidifiers for cool mist
ultrasonic humidifiers that use ultrasonic vibrations and come in different sizes
steam vaporizers that turn the water into cold steam before blowing it
Herp enclosures need a cool mist, which is best provide by ultrasonic humidifiers, also known as reptile foggers.
Reptile Foggers (Ultrasonic Humidifiers)
These create a fog-like fine mist which is channeled to the enclosure via a PVC pipe. Water quality can be monitored because of the refill feature of these humidifiers. You can create a cloud-forest atmosphere with these humidifiers, producing surreal environments that are ideal for many reptiles.
Increase your tank humidity and temperature with the help of a compact ultrasonic humidifier. Humidifiers are different from misters in that the latter spray water droplets directly in the environment to create fog-like clouds, while humidifiers moisten the air, to introduce humidity into the terrarium.
Reptile foggers are also known as vaporizers. These reptile foggers create a fog in order to build humidity in a reptile enclosure.
Reptile foggers are very different from reptile misters. The best reptile foggers do not use powerful pumps. Instead, they use ultrasonic sound to vaporize the liquid water. As the name suggests, a reptile fogger shoots molecules of water into the air, creating an effect like fog or mist.
The practical difference between the two is that misters form a rainy environment while the foggers are used to introduce fog in the habitat.
Foggers have the same functionality as humidifiers. The only difference between the two is that foggers are just scaled-down and used in cages.
When the foggers are used in a small enclosure like a reptile cage, the water vapor condenses on the wall of the cage, increasing the humidity and providing water in the form of droplets for drinking.
The main functions of foggers is to convert water into vapor and to disperse it in the cage. Fogging is a great method for increasing humidity for your snake, but fogging devices can be labor-intensive to maintain.
The following are the best misters, humidifiers, and foggers available online. We also have an entire article covering the best snake humidifiers on the market.
---
Zoo Med ReptiFogger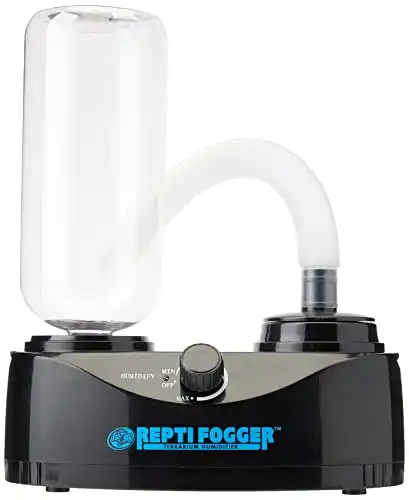 You can increase the humidity of your tank with the help of Zoo Meds Reptile Fogger. The package includes a one-liter bottle and all the necessary fittings. The dimensions of the product are 10.1 x 9.7 x 6.2 inches and the total weight of the package is 3.6 pounds. It is a plug and play model, making it dead-simple to use.
The humidifier is compact, but does a great job increasing the humidity of your tank. You can easily control the output level of humidity, so you can dial in the exact amount your snake needs
---
Blue Spotted Deep Jungle Fogger
The Deep Jungle Fogger from Blue spotted provides suitable humidity and moisture for your ball python or other tropical snake. The cool moisture ultrasonic fogger allows you to develop a jungle environment in your terrarium. This fogger is ready to use and designed with an adjustable flow control.
The package includes a two-liter bottle, so you do not need to constantly refill it. The dimensions are 9 x 5 x 5 inches, with an approximate weight of 1.5 pounds.
---
Betazooer Reptile Humidifier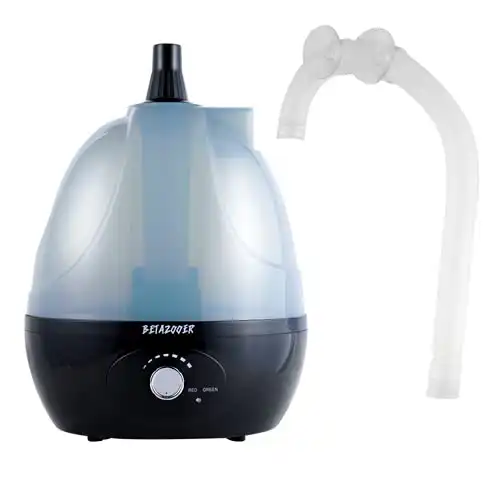 The Betazooer Reptile Humidifier is suitable for different kinds of reptiles including turtles, lizards, toads, snakes, bearded dragons and many more. The total capacity of the tank is 2.5 liters and the output range for fog is 150 ml to 320 ml per hour.
This humidifier automatically shuts off when the water runs out. The size is 7.9 x 3.6 x 11.4 inches and it weighs approximately 3.8 pounds. The package includes the humidifier, a 2.5 liter water tank, a joint, an extension tube, an instruction manual, and two suction cups to hold the hose in place.
---
Vivosun Reptile Humidifier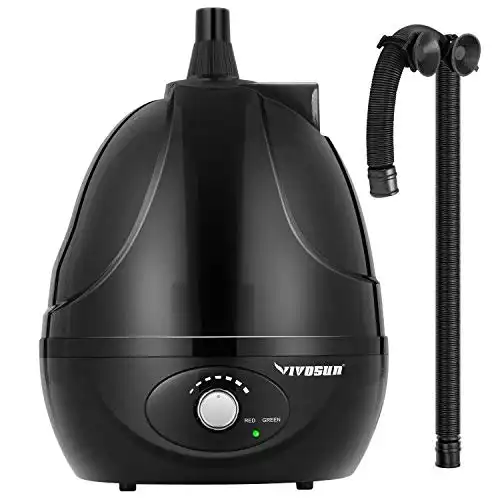 The Vivosun fogger has a 2.5 liter tank, which is large enough that you don't have to constantly fill it up. You can choose misting levels of 100 ml, 200 ml or 300 ml per hour. The tube is expandable from 1.5 to 5 feet.
It has a red warning light to inform you when the water level is low. It also shuts off automatically to prevent damage. It runs quietly, so it will not disturb your snake. Vivosun provides a 1 year warranty with their product.
---
Evergreen Reptile Humidifier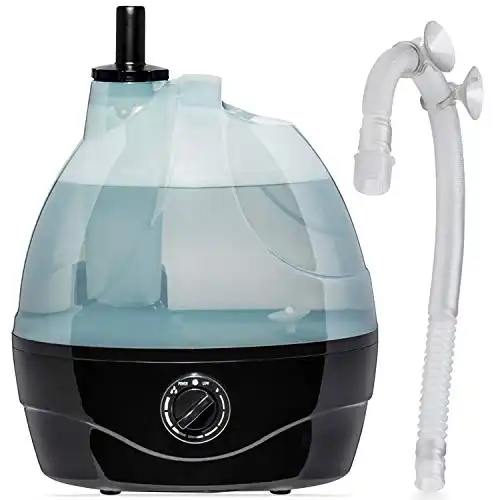 The evergreen reptile humidifier allows you to develop a healthy environment for your reptile. This humidifier is easy to assemble and operate. It is compatible with most reptile habitats like terrariums, tanks, vivariums, vision cage, aquariums or glass/PVC/Plastic cages, etc.
The output can be controlled, up to a maximum of 300 ml per hour. The can hold up to 2 liters of water and is easily refillable with a no-spill valve. The dry-run protection shuts down the system when the tank is empty.
It has an adjustable hose that ranges up to 5 feet. The Evergreen Reptile Humidifier has a longer rated lifespan than similar humidifiers, but the manufacturer only provides a 6 month warranty. The size is 8.5 x 7 x 11.5 inches and it weighs 1.5 pounds.
---
BETAZOOER Top Fill Reptile Humidifier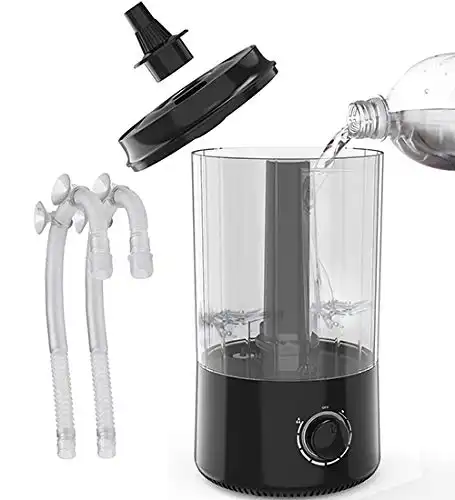 This easy to fill humidifier generates almost no noise. You, and your snake, will hardly know it is on. With an impressive 320 ml per hour maximum fog output, this unit works great for larger tanks as well.
It can hold up to 3.8 liters of water. With that capacity, you can use it to fog two tanks and it even comes with two stretchable pipes, specifically for this purpose. The humidifier will let you know when the water tank is empty by flashing a red light. It will also shut off automatically.
Fogger Vs. Mister: Final Thoughts
Most mister, foggers or humidifiers do not last for more than 2 years. The models listed here are all more reliable, so you won't have to replace them in a year or two.
Please make sure to read all instructions provided before use, because improper use will often shorten the lifespan. With proper use, your pet snake can enjoy the perfect environment for a long time.