A snake tongue is useless for drinking water.
And they don't have any hands.
How are snakes even supposed to drink water?
You've probably heard that they get all the water they need from their food.
But that's not actually true.
Snakes need more water. And they get it by drinking.
But how in the world do they drink water, given their useless tongue and lack of any other appendages that could help?
Keep reading to learn the fascinating way snakes drink water.
Do Snakes Drink Water?
Yes, snakes drink water. But they don't lap up water in order to drink it. As mentioned, their tongues can't do this. They are too small and the are covered in a protective sheath.
The way snakes drink water is very different from the way some lizards, birds, and mammals drink. Read our comparison of lizards vs snakes for more. And not all snake drink the same way, either!
Let's look at how snakes manage to drink water, before talking a little more about their tongues and diving into everything else you need to know about the how snakes drink water.
How Do Snakes Drink Water?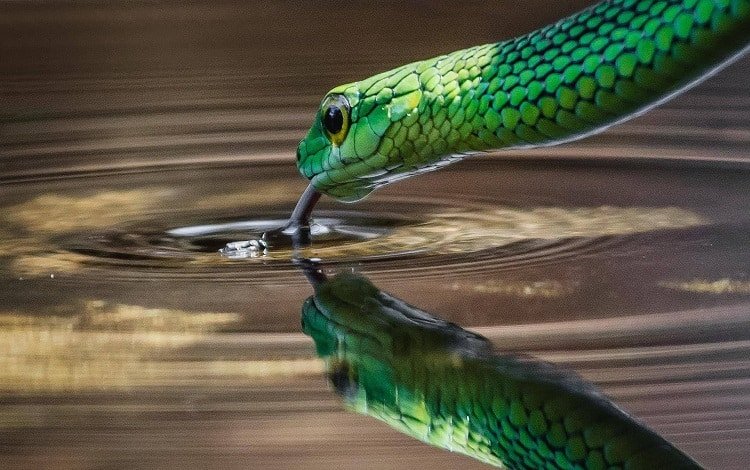 Instead of slurping water like other pets, most snakes use a sponge-like action to consume water.
Snakes have skin creases in their lower jaws that expand when they open their mouths wide to swallow prey whole. They use these same skin creases to drink water.
When the snake wants to drink, it lowers its jaw into the water so that the loose tissue can absorb that water in the same way a sponge would. Once the "sponge" is saturated, the snake uses the same muscles that work food down its throat to push the moisture out of the creases and down its throat.
But not all snakes drink this way.
In 1993, researchers discovered that boa constrictors can suck water through a tiny hole in their mouths. In essence, this functions like a straw.
The boa can make its mouth air tight and use the tiny hole like a straw to suck water up and into its mouth. Pretty cool, huh?
So far, they have not discovered this unique method of drinking water in any other snake species.
The way some snakes get access to water can be pretty clever too.
In the desert, species like rattlesnakes have a unique way of collecting water so that they can drink it. When it rains, they flatten their bodies into a coil shape to allow them to collect rainwater.
Then, they suck the water from their bodies!
It might sound impossible because snakes tend to be smooth-skinned, but science does have an answer for this amazing strategy they use to stay hydrated.
What makes this process possible is that when water strikes the snake's scales, a droplet will break into smaller ones.
The snake's scales have a network of minute channels on them – they're each one-tenth the width of a red blood cell in diameter!
These channels ensure that the water droplets remain on the snake's skin instead of sliding off, so that the snake has time to suck them up and drink them. This clever adaptation is one way snakes survive in the desert.
What About The Tongues?
Since snakes don't have any drinking use for their tongues, you might wonder what purpose their tongue has. Well, a snake flicks its tongue out to collect scents from its environment, so that the snake can navigate better and sense its prey when hunting.
Their tongue, therefore, helps them to smell! To find out more about the process, read, "Do Snakes Have Taste Buds?"
How Long Can A Snake Go Without Water?
When it comes to food, different snakes can go for different amounts of time before needing their next meal. This can be every 10 to 14 days, or less, depending on the snake species.
But what about water?
Amazingly, some species of snakes can go a long time before they need to top up on their water supply. An example is the pelagic sea snake.
It lives in the sea, but it can't consume seawater so it needs to find fresh water for drinking. And it can can go for months – sometimes up to seven months – without drinking any fresh water at all.
But don't make your pet snake do that.
It's important to always have a bowl of fresh water in your snake's enclosure, no matter what kind of snake it is. Even if it doesn't seem to want the water, make sure it always has some anyway.
Ball pythons, for example, like to drink and bathe in water, but they don't actually drink that much of it. Similarly, corn snakes will drink water when it's available to them.
You also need to ensure that you put the water in the best possible place in the snake's enclosure. Avoid putting it in the warmer area of the snake's cage as it will evaporate quickly and raise the humidity in the enclosure. It is always best to put the snake's water bowl in the cooler area of its enclosure.
Whatever snake you have, it's a living creature so it will need water in order stay hydrated.
Can Snakes Get Their Water Content From Food?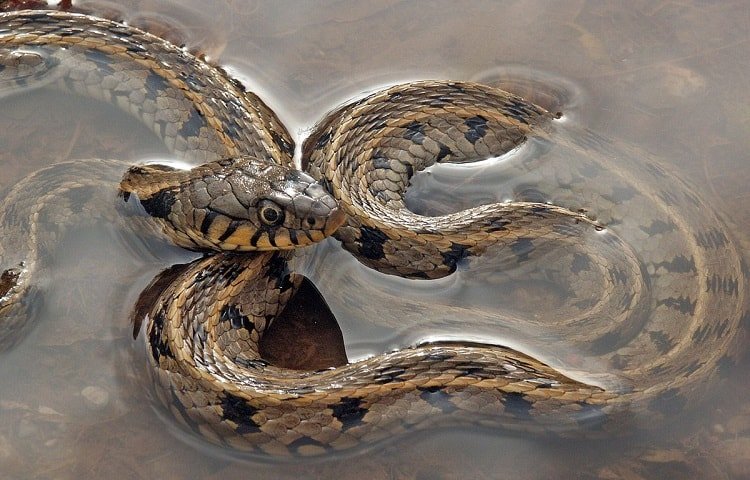 You've probably heard that snakes get the water they need from the food they eat. But that isn't quite true. They do get water this way, but it is not enough.
Snakes will drink water when presented with it. Snakes in the wild that don't have fresh water bowls at hand will find creative ways to find water to drink.
Sometimes snakes that live in coastal areas can be seen drinking from puddles that form after the rain. And we already mentioned the desert rattle snakes that soak up beads of rainwater that accumulate on their skin.
What Water Should Snakes Drink?
When you fill up your snake's water bowl, you probably fill it with tap water. But is this safe for your reptile?
It's actually not a good idea.
This is because municipal tap water sometimes contains chemicals that can be harmful to snakes. As for distilled water, this can lack important minerals that your snake requires. Your best bet? Filtered water.
How To Tell If Your Snake Is Dehydrated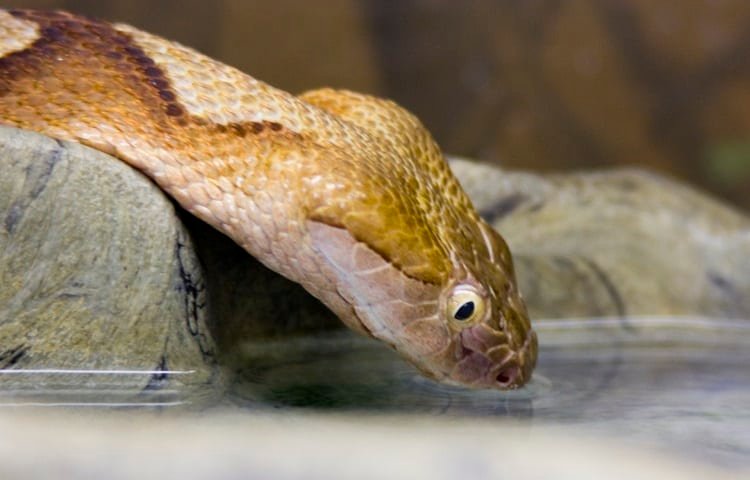 It's always good to monitor your snake regularly for any signs that it could be dehydrated, especially because dehydration can lead to a variety of potentially serious health problems, like shock.
Here are some warning signs that your snake could be dehydrated:
Your snake has wrinkled or dry-looking skin that doesn't seem to have flexibility.
Its eyes have become sunken.
It seems lethargic and doesn't want to move a lot. This could be a warning sign that your snake is feeling weak, especially if it is a species that likes to stay active.
It has flaky skin.
It's experiencing difficulty with shedding or having incomplete sheds.
It doesn't defecate regularly. Generally, a snake should defecate about two days after its last meal. How often snakes defecate varies according to the type of snake, but if your snake eats regularly then it should be eliminating its waste regularly, too.
Related Questions
What are other ways to prevent dehydration in your snake?
Besides putting fresh water bowls in your snake's enclosure, ensure your snake has the right levels of humidity and is misted regularly. Just make sure you follow the requirements for your specific snake species so that you don't give it too much moisture.
Will snakes find your yard attractive if there's water?
Yes, if there are areas of open water, this could attract a snake to your yard. This is especially true for species that like water, ike grass snakes. Of course, if you have a grass snake in your yard, you have nothing to worry about. While grass snakes do have teeth, they are tiny teeth and they almost never use them to bite humans.
But some other snakes may be more dangerous, depending on where you live. If you want to prevent snakes from getting into your property, remove these water sources as a natural way to repel snakes. If that's not possible, you might need to use snake deterrent or install a snake fence.
Can snakes crawl through water pipes?
Everything you read so far might get you thinking that a snake could crawl through your drain pipes and emerge from your shower drain or your toilet.
While this is possible, it is exceedingly rare. You don't need to worry about this, but you can read our article on snakes coming through a shower drain for more.
Snakes Drinking Water: Conclusion
Despite what you may have read or heard, snakes do drink water. The way they drink it is completely different from us or from most other animals. But like any other living thing on earth, they need water to survive.
You also may have heard that food provides all the water a snake needs. Now you know that this is nothing but a myth. The food snakes eat provides some water, but not enough for them to live.
If you have a pet snake, it is vital to always have clean and fresh water in its enclosure. Even if it rarely drinks it, you want to make sure it can, when it feels the need.