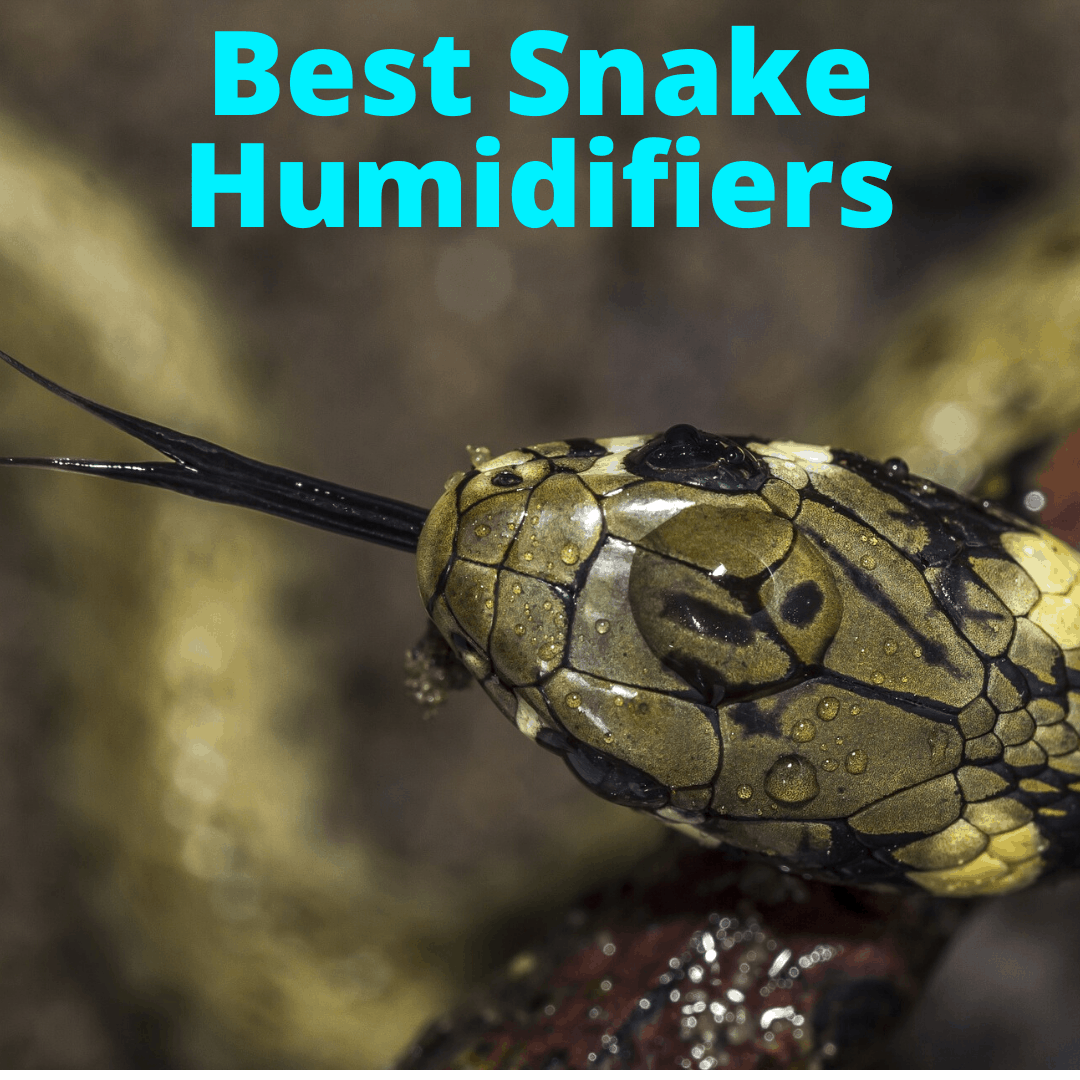 Snakes need moisture.
They naturally live in a humid environment, so they rely on you to provide that humidity when in captivity.
It keeps their skin and respiratory tract moist to avoid poor shedding and respiratory infections.
Even if you live in a humid area, you will probably not have as much humidity in your home.
There will also likely be times when humidity drops.
That is why you want to get a humidifier for your snake's terrarium. But which one to get?
We realize there are far too many options available, and that many of them are pretty useless.
That's why we've done the research and narrowed all the choices down to only the best. Let's take a look.
Snake Humidifier Comparison Table
03/22/2023 03:22 am GMT

Best Snake Humidifier Reviews
Coospider Reptile Humidifier

Every reptile has its own humidity requirement. If you don't fulfill that requirement, it might die. Don't worry! This reptile humidifier will make your reptiles comfortable.
It is crafted from high-quality materials, which allows it to control the fog level perfectly. Using will protect your reptile from skin shredding problems, dehydration, and respiratory issues.
The power input is AC voltage from 100 to 240 V, with a 27 watt maximum power usage. The capacity of the water tank is 3 liters. You can vary the fog output up to 380 ml/hr.
The best feature is that it will fill the enclosure with an ultra-fine cool mist output. It also has an automatic shutdown function when the water level gets too low, which not only saves power but also makes the machine more durable.
You will also receive a 1.5 ft machine durable flexi-cable hose that is adjustable up to 6.3 feet, a pair of suction cups to fix the hose in place, a tank, and an instruction card. The components are well fitted so you don't need to detach parts while using it. It also comes with a 12-month warranty.
FAQs
What is the condition for an automatic shutdown?
It shuts down when the water level in the tank is low. That is the indication that you should refill the tank.
Normally what is the height of fog?
It can easily get fog up to 2 meters (6 feet) high, but in the end, it depends upon the dimension of the enclosure.
Do we need to disconnect the tank for refilling purposes?
No, we connected a sturdy flange to the hose with the machine so that you can easily refill water without disconnecting tank.
What type of water shall I use?
You can use drinking water, normal or tap water.
---
Oiibo Reptile Humidifier

The Oiibo humidifier is the best humidifier if you have two enclosures, because it allows you to attach two hoses to it.
It is ideal for snakes (rainbow boa, reticulated python, green tree python, ball python etc.), iguanas, frogs, toads, water dragons, lizards, iguanas, chameleons, hermit crabs, tortoise, geckos, bearded dragon and even for a variety of plants.
This ultrasonic humidifier sprays moist into the enclosure silently and provides a clean, healthy and moist environment for your reptiles.
The maximum output varies from 250 ml/hr to 350 ml/hr. The front regulator is used for varying the output flow of mist. The tank can hold up to 2.2 liters of water. Refilling it is easy through the orifice at the bottom. The capacity is enough that it can run easily for many days.
As mentioned, it has a double port and 2 extension tubes, so that you can mist two enclosures at the same time. It saves you having to buy a second unit. It automatically shuts down when the tank is empty.
FAQs
How long is the stretchable tube?
The stretchable tube ranges from 1.3 feet to 5.3 feet. This allows you to adjust the length in order to fit in the enclosure.
Do I need to use both tubes or just one and attach it directly to the tank?
The model will work fine with a single tube.
What is the purpose of a double port?
With the help of double port, you can use a single unit for 2 different enclosures. No need to buy another.
Is it necessary to use distilled water?
You can use any type of water you want, but we recommend you use distilled or purified water.
What is the voltage requirement?
You should supply 120V.
Does it require a filter?
No, it works fine without a filter.
---
Vivosun Pet Supplies Reptile Humidifier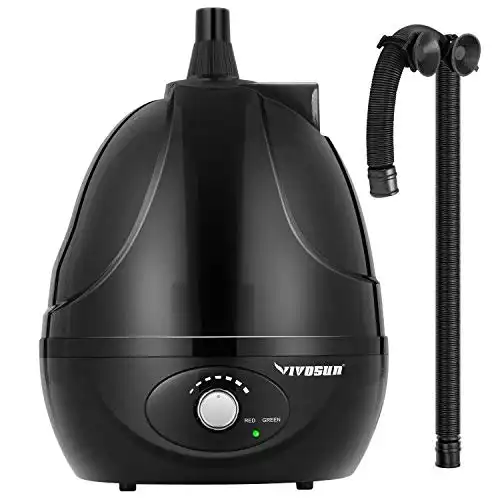 As an animal owner, it is your responsibility to keep your animal safe and comfortable. There are many factors affecting the animal's health and one of them is humidity. One of the best ways to better control this factor is the Vivosun Pet Supplies Reptile Humidifier
It weighs 2.4 pounds and measures 10.6 by 8.8 by 8.8 inches. This spray mister/humidifier is perfect for turtles, snakes, tortoises, gecko, lizards, chameleons, iguanas, frogs, toads, and many other reptiles. Not just reptiles. You can use it for amphibians as well.
It will provide reptiles enclosure with fresh air and clean and odorless moisture. The output can be adjusted, with your choice of 100 ml, 200 ml, or 300 ml per hour.
Filling the 2.5 liter tank is easy: simply unscrew the nozzle and pour water into the tank. The hose is adjustable from 1.5 to 5 feet. Included suction cups fix the pipe in place.
There is an automatic shot-off feature that discontinues operation when the water level gets too low. This avoids damaging the unit. Vivosun provide a 1-year warranty when you buy this model.
FAQs
The power light is blinking red and the unit has stopped working.
This happens when your tank is empty.
My machine is making bubbles, but the fog isn't coming out. What shall I do now?
Take a clean cloth and wipe the internal water storage part of the base and then restart the unit.
Can I run 2 tubes for 2 reptiles?
No, you cannot use 2 tubes for 2 reptiles
What shall I do if I encounter a new problem not mentioned in FAQs?
Please contact Vivosun's customer service staff. They are available 24 hours so feel free to contact anytime.
---
ReptiZoo 4L Reptile Humidifier

Having a beautiful humidifier makes the enclosure beautiful right? The ReptiZoo is a humidifier which not only controls the humidity level, but also looks great with the enclosure with it's sleek, dark design.
It is ideal for using snakes (pythons, boas, etc.) but you can use with other reptiles and amphibians as well. It has a large 4 liter tank that is easy to fill. You can use it for up to 12 hours of working time and mist up to 300 ml per hour, with additional settings of 100 and 200 ml per hour.
The larger tank means you do not need to add water frequently, making this unit excellent for long-term fogging and moisturizing. It comes with an adjustable hose that stretches from 15.6 to 63.6 inches.
It has a smart touch screen and a memory function to make operation as easy as possible. You can set the spraying frequency, interval time and spray duration for repeated periodic humidification.The memory function means you do not need to reset it every time. It remembers your previous settings.
It comes with a one year warranty and the company is knows for its excellent customer service.
FAQs
What is the voltage requirement and how do I supply power to this humidifier?
It runs on 110v – 240v (auto-sensing), which is supplied by the included power cable. It just plugs into any standard US outlet.
Do I put this humidifier inside the enclosure?
No, it is meant to sit outside, with the hose running into the enclosure.
How hard is it to clean?
It splits into three parts for easy cleaning.
How long is the power cord?
It is 68.9 inches long, which is 1.75 meters.
---
ReptiZoo 10L Reptile Mister

The 10 liter ReptiZoo humidifier is a monster. It is the largest model reviewed here by far.
The 10 liter tank capacity is humongous. This model is clearly made for someone with multiple enclosures that all need humidifying.
It comes with 4 spray nozzles, but you can connect up to 20. They are 360 degree nozzles with a timed spray function and wide range. The timed function, along with an adjustable flow, allows you to mimic your snake's natural environment.
The pump runs incredibly silent, so as not to disturb your reptiles. Internal backwatering technology cuts the water off at the moment of stoppage, to minimize dripping. It is usually less than a single drop, which avoids water accumulating in the bottom.
It has three controls on the panel: one for the length of the cycle, one for the spray duration and one for the amount of spray. In addition to the unit and the four nozzles, you also get a power adapter, 196.8 inches of water pipe, a pipe cutter, a copper filter head, and a plug.
FAQs
The duration knob does not seem to work. It just sprays continuously.
It may have just been turned too many times. Turn it counter clockwise for two to three full turns. Also check the cyslke know. If it is turned off, the unit will run continuously.
Nothing is coming out. The nozzles are not working. How can I fix them?
This usually means that the nozzles are clogged. Try cleaning them.
Can I use this overseas?
Yes, it auto-detects the voltage and can run from 110v to 240v. You'll likely need a plug adapter, though.
Does the enclosure need to be open for it to work?
No. We recommend cutting a hole in the roof of the enclosure for the hose to enter.
---
Evergreen Pet Supplies Reptile Humidifier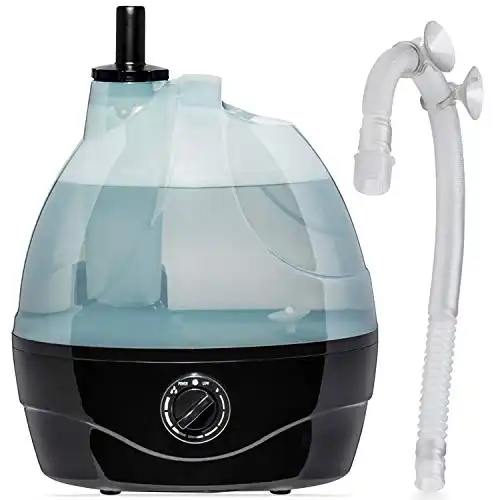 If you want your reptiles happy and comfortable then you need to take special care of their enclosure. Many reptiles die because we fail to provide them the proper environment. The Evergreen Reptile Humidifier makes sure that the enclosure's moisture is exactly where your snake likes it.
This reptile humidifier contains ultrasonic technology which balances the moisture level in the enclosure by releasing a cool mist. In front, there is a dial that allows you to adjust the moisture level from low to heavy. The max limit is 300 ml per hour. The mist will last between 7 hours to 4 or 5 days, depending upon your settings.
It also has a safety shut-off feature which will shut down the humidifier when it gets too low on water. This reptile humidifier comes with an adjustable house. The length varies from 1.5 to 5 feet.
Advantages Of The Evergreen Reptile Humidifier
It makes no noise
The tank can hold up to 2 liters of water
No-spill value feature allows its user to easily refill water
Can be used for any reptile or amphibian
FAQs
What is the diameter of the hose?
1 inch.
How much time is required for making fog?
As soon as you start the machine it should immediately start making fog.
Why my humidifier's LED red?
It has 2 possible meanings: either it ran out of water or the water level switch is stuck.
My humidifier makes noise. Is that a problem?
Yes, contact your supplier's customer service to solve this problem.
Does it come with any warranty?
Yes, it has a 12 month warranty.
Does it work with any enclosures?
Absolutely, it works with many types of enclosures.
---
Exo Terra Mini Terrarium Humidifier

Taking care of your reptile's natural habitat makes them comfortable and healthy. Some reptiles such as snakes, frogs, lizards etc. require a specific humidity level to avoid problems such as molting, breathing problems and to stop mold growth in the terrain.
The Exo Terra Mini Terrarium Humidifier is a machine that uses ultrasonic technology to release mist and dampens the environment which increases air humidity up to 100%. It provides a great visual effect to the enclosure, by simulating fog and generating early morning dew in a desert environment.
To operate, it requires shallow water of a depth no more than 5 cm. Just place it in the water area of the enclosure. Make sure that the water fully covers the water level sensor.
For best performance, make sure that the cable doesn't have twists and that the water is at room temperature. You need to replace the ceramic membrane from time to time because it has a limited lifespan.
FAQs
My machine isn't making fog.
There are many reasons why it might not be working. First check how much water you have. Make sure that the water level sensor is completely submerged. Check whether your on/off indicator is lit. If it is on then it should produce mist. If it is not producing any, then the sensor may be faulty. You'll need to contact customer service.
Any recommendations for the water level?
All you need to do is make sure that the water sensor is submerged completely. It works best if you keep the water level 5 to 30 mm above the water level sensor.
Does the mist come out from hose or is the hose used to suck water?
That is not a hose, it is the power cable which is used to supply power to the mister.
Can I use this for snakes?
Yes, you can use it with any reptile.
---
Zoo Med ReptiRain

The Zoo Med ReptiRain is an automatic misting machine that controls the moisture levels in terrariums, aviaries, indoor gardens or bird cages. Not only does it control the humidity, but it also provides drinking water for your reptiles and encourage breeding activity.
One of the best features is that it can rotate up to 360 degrees and that it has an adjustable mist nozzle.
The whole package includes adjustable mounting hooks, a remote nozzle extension, a 6-watt AC adapter, and a 4-point suction cup. You can also pump mist into 2 different enclosures.
The Zoo Med ReptiRain has four spray interval settings (1 hour, 3 hours, 6 hours, or 12 hours) and four spray timings: 15, 30, 45 or 60 seconds.
It is portable and you can use it indoors or outdoors. For power consumption, you can use either batteries (4 C-type batteries) or use the included AC adapter. It comes with a 1-year manufacturer's warranty.
FAQs
How much water can ReptiRain's tank hold?
You cannot fill more than 28 oz of water in the reservoir.
Can I set the mister multiples times?
Yes, you can have your own custom settings.
Can you tell me the minimum time for misting?
15 seconds.
Can I run this on 220V?
No, this misting machine runs off 110V only.
Can I use this for snake enclosures?
Yes, you can use it for different enclosures.
The pump is working but water isn't running through the tubes. Why?
First check that the valve is open. Check the flex in the tubes. If you are using AC power, then check if it is connected to socket properly. If this doesn't help, contact customer service.
---
Buying A Snake Humidifier: Conclusion
Reptiles like snakes, crocodile, frogs, toads, water dragons, lizards, iguanas, chameleons, hermit crabs, tortoise, geckos, and bearded dragons are very sensitive. If you don't provide them the correct natural environment, they could die. People mostly take care of the soil, water, and food but they tend to forget about the air.
These rainforest reptiles love a moist environment and that's where humidifiers come in. The humidifiers above are different in structure and in features, but the one thing they all have in common is that they allow you to control the level of moisture in the air.
When you are looking for a good humidifier one thing matters above all: can it make enough fog to make your reptile comfortable? Once you are satisfied that the machine is up to par in that area, then should consider the tank.
The capacity of the tank should be high enough so that you don't need to keep refilling it throughout the day. Try to look for a humidifier that can alert you when the water level is low or empty, because it is easy to forgot to change it, and that could affect your reptile.
These three things are very important while looking for a good humidifier. After those, look at additional features that might be helpful for your specific need.
For instance, if you have multiple enclosures, it makes sense to get a model with several hoses, so you can provide moisture to several enclosures with just one unit.
If you want a fine fog, instead of a mist, check out our article covering the top snake foggers on the market.