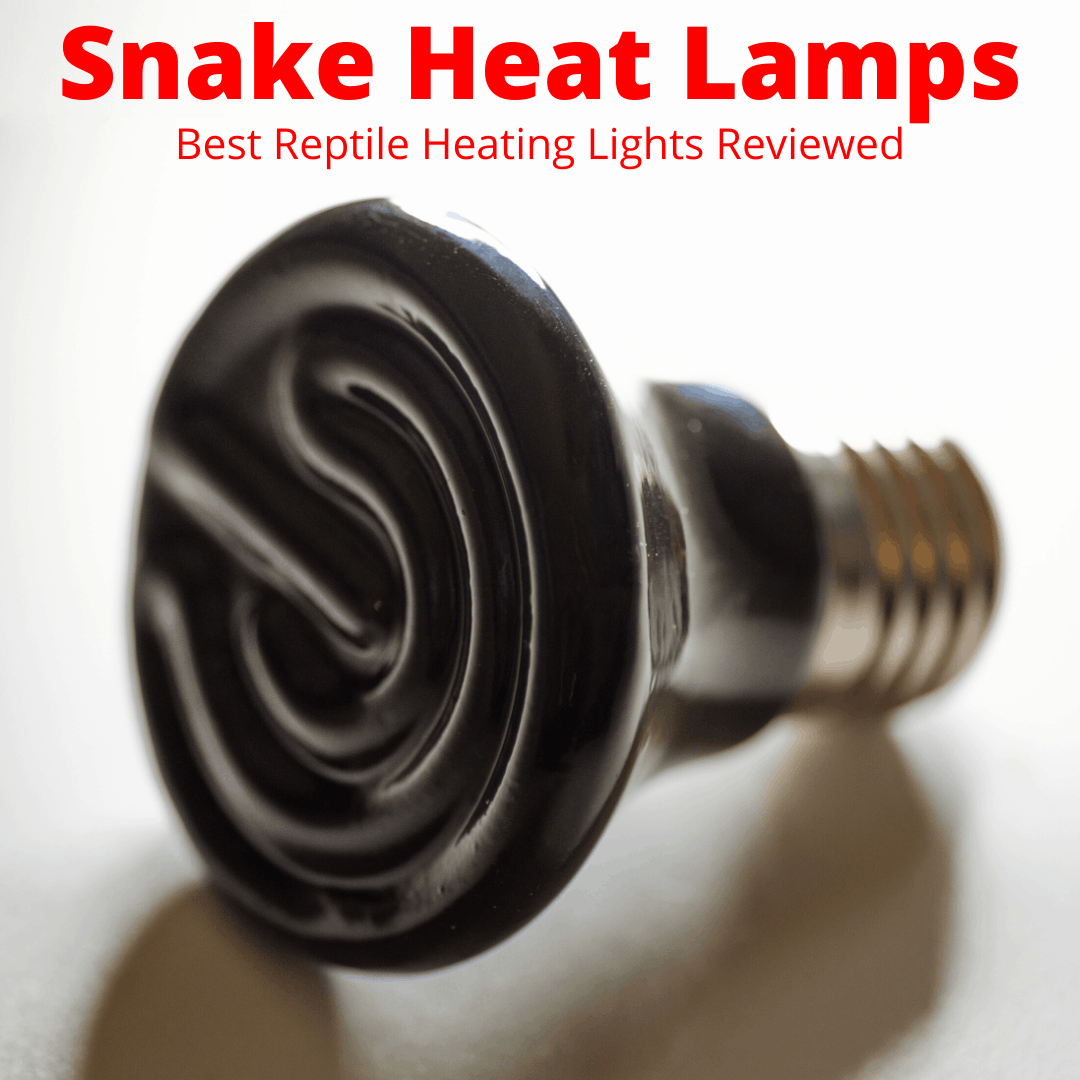 Snakes need heat.
Because they are cold blooded, they need an external heat source to help them regulate body heat.
In nature, they like to use the sun. In captivity, they don't generally have that option.
That means you need to provide your pet snake with a hot spot in its enclosure.
Snake heat lamps are a good way to accomplish this.
But there are a lot of options out there and most are not very good. That's why we've done the research and have narrowed the options down to the best.
Snake Heat Lamps Compared
03/22/2023 11:56 am GMT

Best Snake Heating Lamps
The following heating lamps are the best on the market for snakes. We've made sure to include different types, including some ceramic ones that give off only heat and no light.
Zacro Reptile Heat Lamp

This heat lamp has a flat-faced surface. We've already touched on the advantages of that above. This is an infrared ceramic heat emitter. That means it gives off heat only, no light.
Why would you want no light?
Since it does not provide light, you can keep it running 24 hours. You can use it to provide your snake a hot spot even at night, without disturbing its sleep thanks to a light.
This light runs on 110 volts. The ceramic construction means it has a 99% thermal efficiency.
It does get hot though. For that reason, you should only use it is a ceramic socket, not a plastic socket. It screws into a standard E27 socket.
This lamp ships with a thermometer, so that you can always monitor the temperature in the enclosure and adjust the bulb's height accordingly. It also comes with a 18 month warranty.
Advantages
It comes with a digital thermometer
It emits heat only, no light
Disadvantages
It can burn you or your pet, if you come in contact with it
FAQ
What is included in the box?
It contains the bulb and a thermometer for temperature regulation.
Is there a possibility it could spike when the temperature is adjusted?
It could, if done incorrectly.
How hot can it get?
It can get extremely hot: up to 90 degrees Celcius.
Does the thermometer control the bulb?
It does not. The thermometer only measures the temperature.
Can it work with my snake tank?
Yes, though the size of the gallon tank, the distance of the bulb and weather needs to be considered.
What wattages are available for the bulb?
It is available in 100 and 150 watts.
Will it be effective at a distance of 10 inches?
Yes, if the weather is not too cold.
Is the heat direction downward only?
It is directed in all directions, but primarily downward.
Zilla Mini Halogen Reptile Dome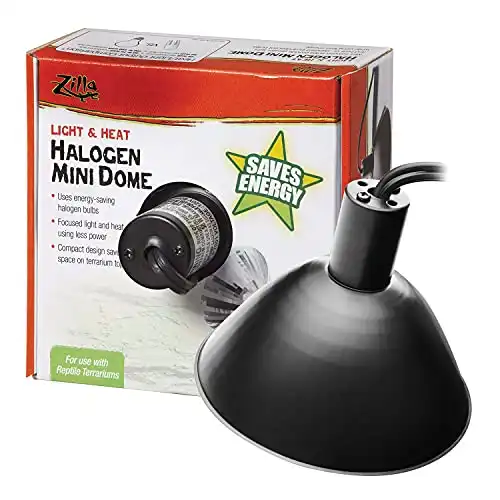 This pet heat lamp is small, but provides plenty of light for smaller snakes.
It has a reflective aluminum interior that reflects all of the light from the bulb downward, intensifying the heat to perfectly recreate the feeling of the daytime sun for your pet.
It comes with a mounting spring clip that makes it easy to attach to the top of the terrarium and ensures the light stays in place. It also prevents the bub from getting damaged easily.
Several different bulb colors are available (sold separately): day white, day blue and night red. It can take 25 watt or 50 watt halogen bulbs. The 6 foot power cord has an attached switch.
Advantages
Includes spring clips for easy attachment
Small size
Halogen bulbs last longer
Works with different bulb wattages and colors
Disadvantages
Not powerful enough for larger snakes
Fixture only, bulbs are not included
Frequently Asked Questions
Does this work well in a snake tank?
Yes, but keep the space between the lamp and the snake tank to a minimum.
How big is it?
It is 4 inches in diameter.
Do you need a thermostat control for temperature regulation?
No, it is mainly used to create a heat spot in the terrarium.
Q: Do you need a lamp stand?
No, it has mounting clip with three springs in it.
Can it be mounted beneath the terrarium?
You can mount it beneath the terrarium, but be sure to maintain proper distance between the lamp and the substrate.
Can I use two 50 watt bulbs in a 20-gallon tank?
Yes, but you have to split the task between the two bulbs. Use one during day time and the other at night.
Is this product a heater or light?
It is both a heater and a light.
Does it give off a smell when turned on?
No, but a faulty fixture might produce a burning smell.
Can you dim this light?
No, it is not dimmable.
Magoog Reptile Heat Lamp With Guard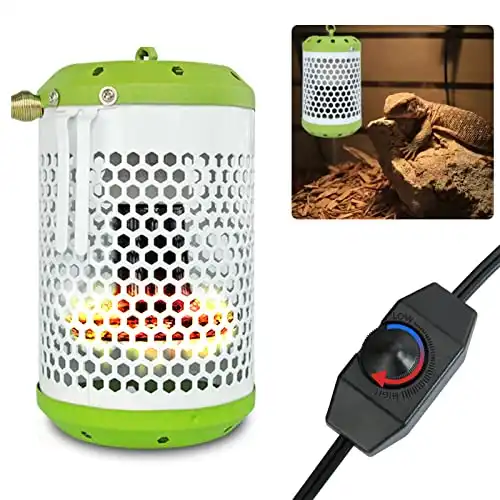 This heat lamp comes with heater guard with anti-biting pipe. It has some special features which make it different from other heat lamps for snakes.
It has a nickel-chrome resistance wire that serves to raise the temperature in the enclose and keep it there. This generates and maintains warmth better than other bulbs using the same amount of power.
This lamp uses long-wave infrared thermal radiation to provide heat. This makes for an excellent 24 hour heat source, because it generates no light to disturb your pet at night and disrupt its sleeping cycle.
You can adjust the power to the bulb from 0 to 100 watts. This means you can dial down the heat if the bulb is too hot for your snake at full power.
The ceramic exterior of the lamp radiates heat well, adding to the overall efficiency of the bulb. It also means that it can safely be used in a damp environment, since the ceramic has no cracks through which moisture can enter.
The guard basket makes this lamp ideal for the inside of a snake enclosure. It provides plenty of warmth, but there is no risk of burning your snake, since it can't get too close.
Advantages
Highly durable
It has protective covers that prevent the pets from getting electrocuted
It is portable
Long lifespan of 10,000+ hours
Adjustable power setting let's you control the temp
Disadvantages
The guard around the light still gets pretty hot
Frequently Asked Questions
Does it include a thermostat?
No, it does not come with a snake thermostat control.
How hot does it get?
It can heat the terrarium up to 70 – 75 degrees Celsius.
Does it include the bulb?
Yes, it comes with a bulb.
How long is the cord?
The power cord is 5.91 feet (1.8 meters) long. The anti-biting pipe is 15.75 inches (40 cm).
How can I get a replacement for a faulty bulb?
You can contact the seller to get it replaced, if under warranty. You can also purchase bulbs separately.
My snake tank is 20 gallons. Would 100 watts be too hot?
No, it won't be too hot. Plus, it is adjustable.
Can it be hooked up to the top of a tank?
Yes, it generates heat downward, so it won't affect the upper plastic.
Exo Terra Mirror Dome Light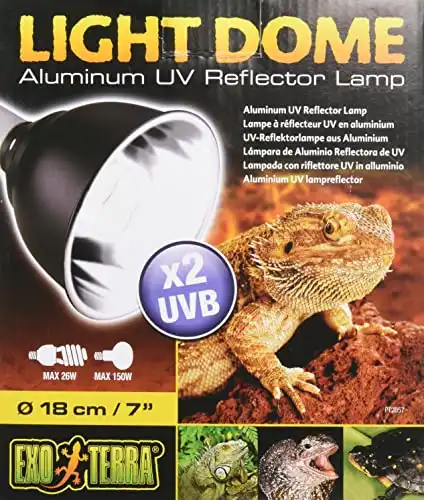 The Exo Terra mirror dome light has a ceramic socket that has the capability to take both compact fluorescent or incandescent bulbs.
The maximum wattage of compact fluorescence bulbs is 26 watt. The maximum wattage for Exo Terra incandescent bulbs is 150 watts.
The highly polished aluminum reflector increases light output of the bulb by 100%, whether it is a datylight bulb, a UV-B bulb or a UV-A bulb.
It has an on/off switch and a 6-foot long power cord. The box includes a switch, clamp, hanger and a 7-inch wide reflector. A smaller size with a 5 1/2 inch reflector is also available.
Advantages
It is more reliable than other products
It can be used for other purposes
Disadvantages
The light tends to flicker sometimes
The cord on it is very short
FAQ
How much power does the bulb use?
It runs on 110 volts and the maximum wattage is 150w.
Can it be used with Exo Terra solar GLO UVB light or with Sunray UVB bulbs?
No, those lights are too powerful and can cause damage.
Is the clamp included or do I have to purchase it separately?
Yes, it is included, though you can also purchase another one separately in case it breaks.
Does it have a ceramic socket?
Yes, it does.
Fluker's Sun Dome Reptile Lamp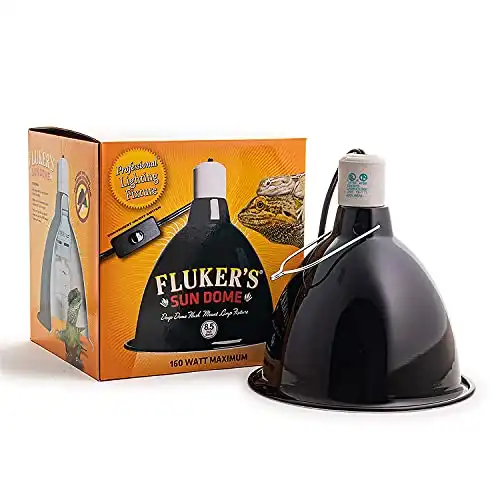 Fluker's sun dome lamp has a bigger dome than most. The diameter is 8.5 inches. There is also a smaller 5.5 inch version available. This larger dome design has two advantages.
First, it covers the sides of the bulb, which means all light and heat is directed downward where you want it, and it does not escape off to the sides.
Second, the larger dome can accommodate larger bulbs, like Fluker's sun glow or sunspot bulbs, as well as most other types. The ceramic socket can be used with incandescent bulbs, ceramic heat emitters, compact fluorescent bulbs, and mercury vapor bulbs.
The inside of the dome is polished to increase reflection of light, heat, UVA and UVB over domes with white interior surfaces. The maximum bulb wattage you can use with this dome is 160 watts.
Advantages
It has the capacity to take bigger bulbs
The dome can be used with different accessories
Disadvantages
It gets extremely hot at times
FAQ
How do I attach it to the tank?
It is best to hang it above the tank.
Does the lamp have a hook for hanging?
Yes, it does.
What wattage is recommended for my 20-gallon snake tank?
50 watts would work perfectly.
Is the bottom of the bulb attached with the lip of the dome, or is it separated?
It is not attached directly to the dome lip.
What is the most powerful bulb that can be used with it?
The bulb should not exceed 160 watts.
Is there a specific bulb recommended for the dome?
No, any compatible bulb can work.
Can it run a whole day?
Yes.
Zilla Incandescent Dual Bulb Reptile Fixture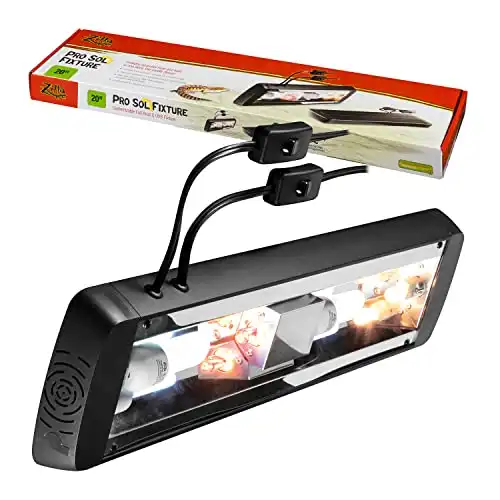 This fixture has two sockets, so you can put two bulbs in it at the same time. This gives you a lot of options.
You can use it with a daytime and a nighttime bulb and simply switch between the two when it is time for your snake to retire to bed.
You could also put two different types of bulbs in to run concurrently, like an IR bulb with a UVB bulb.
This works, because each of the two sockets operates independently with its own switch. Both sockets are made from ceramic, so there is no danger of them melting due to heat form a bulb that runs 24 hours a day. It can take bulbs up to 150 watts.
The fixture is designed to be affixed to the top of a terrarium tank. It is only 4 inches tall, so it does not add a lot of extra height to your terrarium setup.
Advantages
Ceramic sockets are durable and withstand high heat
The two bulbs operate independently; you can turn on off and have one on
Disadvantages
The top gets hot
It requires a timed power switch to work effectively
Bulbs not included
FAQ
Is it waterproof?
No, it is not waterproof.
Can you use any bulb with this fixture?
You can use any bulb as long as it does not exceed 150 watts.
How close are the two light bulbs?
There is a distance of 12 inches between them.
Can it be used as a normal light?
It can, but it would not make any sense.
Can the bulbs be used in an aquarium hood?
Yes, it can be affixed at each end.
How big is it?
It is 21 1/16 inches in length, 5 1/2 inches in diameter and 4 inches across. There are several sizes available.
Aiicioo Ceramic Heat Emitter

This ceramic heat emitter is designed in such a way that it can generate heat for 24 hours. There are two types: the flat-face and the conical type.
The flat face is generally preferred, because the conical type tends to build up too much heat internally which results in the element becoming carbonized.
These bulbs are especially good in terrariums with high humidity, where many other types of bulbs would fail. The ceramic heat emitter is more durable than other heat lamps overall and can last for 5 years.
You can find these heat emitters in different wattages ranging from 60 watts to 150 watts. The wattage you need depends on the size of your tank.
It is recommended to use a wire cage fixture with porcelain socket. Regulate the heat using a thermostat. Many come packaged with one, so you shouldn't have to buy a separate thermostat.
Advantages Of Aiicioo Ceramic Heat Emitters
Last for years without failure
Less expensive
Can be adjusted (can be made dimmer or brighter)
Can run 24 hours a day
Disadvantages
Doesn't work with some type fixtures
It gets extremely hot while in operation and can burn skin
Frequently Asked Questions
What is the size of the 60 watt bulb?
It has a width of 3 inches and a height of 4 inches.
How long does it take to achieve even temperature?
It depends on the atmospheric temperature in the environment.
Can the 60 watt bulb be used in conjunction with clamp lamps (flukers)?
Yes, they can be used together.
What kind of ceramic is it made from?
PTC ceramic.
What is the highest heat it can generate?
It maintains a temperature ranging from 75 to 84 degrees F.
What is the minimum distance between the light and my pet?
It should be a foot away.
Does the color of the bulb affect the heat generated?
No, the heat depends on the wattage.
Is it effective in a 10-gallon tank?
Yes, just make sure to place it above the tank and not have it sitting on top, as it may burn the lid.
Best Snake Heat Lamps: Final Thoughts
Snake heat lamps are one of the easiest ways to give your snake a hot spot they can use to regulate their body temperature. But they are not always the best. If a heat bulb does not work well with your setup, check out heating pads instead. They go below the tank, instead of above or inside it.