We've all seen the movies.
The ones where someone is camping. They are sleeping peacefully outdoors, when a snake slithers across their body in the dark.
If Hollywood is your source of information, you might think snakes are all active at night.
And they only come out to stalk and attack you.
But snake behavior is incredibly varied.
Below, we'll get to the truth about snake activity during the night and the day. We'll also look at the factors that influence whether a snake is more active after dark.
Are Snakes Active At Night?
This question does not have a straightforward answer. There are over 3,000 different snake species worldwide. Each has its own behaviors and characteristics.
Some species are only active during the daytime. Some are only active at night. Some can be active at any time, depending on their location, environment, and whether they need to feed.
Types Of Snakes
Snakes fall into one of two categories: nocturnal or diurnal. And almost all snakes are one or the other. While there are some occasions where a snake may behave outside of its characterization, it's rare.
Nocturnal Snakes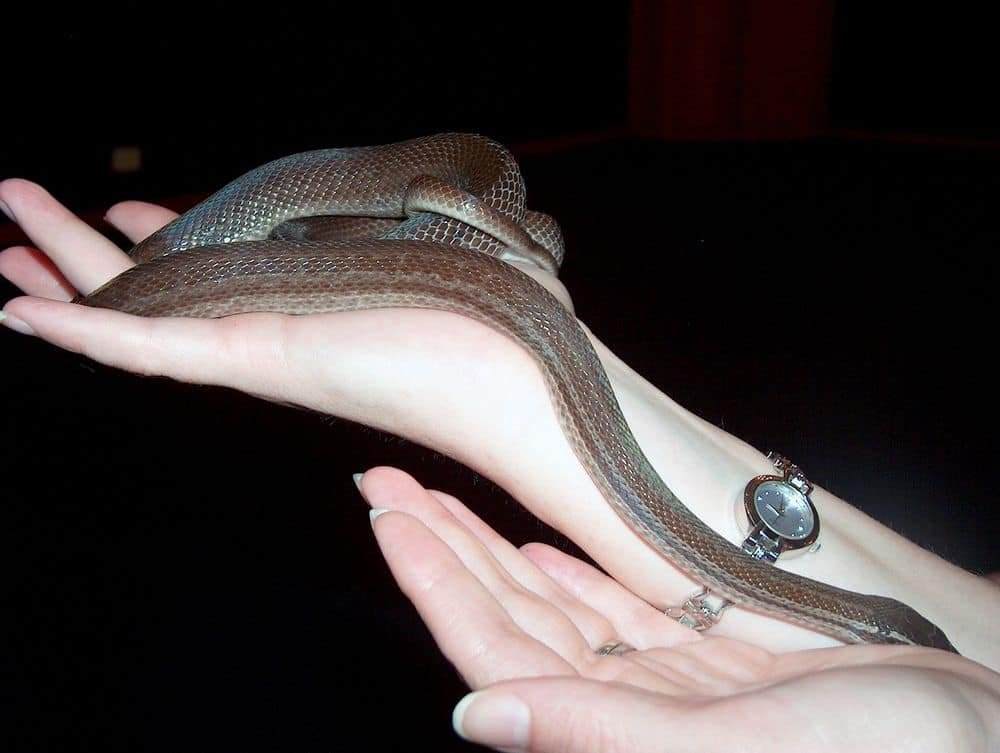 Some snake species are considered strictly nocturnal. They are almost exclusively active at night, and they spend the daylight hours resting in their burrows.
The cover of darkness allows many snake species to move and hunt without detection by their prey or by predators in the area.
Since snakes hear by detecting vibrations in the ground, they are especially well suited to hunting at night, when their eyes are not useful anyway. Some species also have the ability to detect heat.
Snakes like death adders, little whip snakes, and many python species are strictly nocturnal. It's rare to see them out and active during the daytime.
There aren't many nocturnal snake species, and most areas don't have any. If you're worried about running into a dangerous snake in the dark, the chances are very slim.
Diurnal Snakes
Most snakes are diurnal creatures. A diurnal animal is one that is active during both daylight and nighttime hours.
Diurnal snakes adapt their habits to environmental conditions. Most snakes prefer to be active during the daytime hours and are only active during nighttime in situations where they need to feed, find shelter, or escape danger.
If the environment is amenable, snakes are more likely to be active during the daytime, while spending the evening hours resting. Let's look at some of the factors in a snake's environment that can influence its activity.
Factors That Influence A Snake's Activity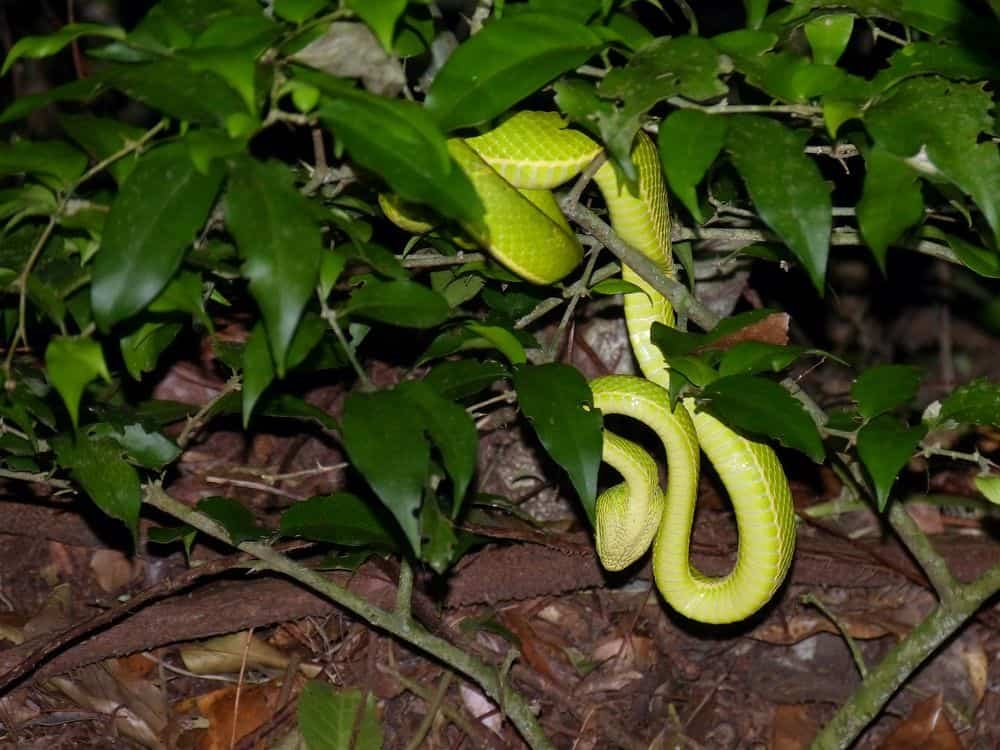 Almost all snake species change their behavior and activity in response to their environment. Below, we'll cover the most common factors that will influence whether or not a snake is active at night.
Temperature
One of the most significant environmental factors that influence the time a snake is active is ambient temperature. Snakes are cold-blooded, and the temperature of their environment regulates their body temperature.
In temperate climates, snakes are most active during the daytime, when the sun provides warmth for them to regulate their body temperature. As the sun sets and the temperature drops, so will snake activity.
In hot climates, the hot daytime sun can cause a snake to overheat, so they'll find shelter during the hottest parts of the day to keep their body temperature down.
Snakes in these hot climates are much more likely to be active at night because that's when temperatures are optimal for snake activity.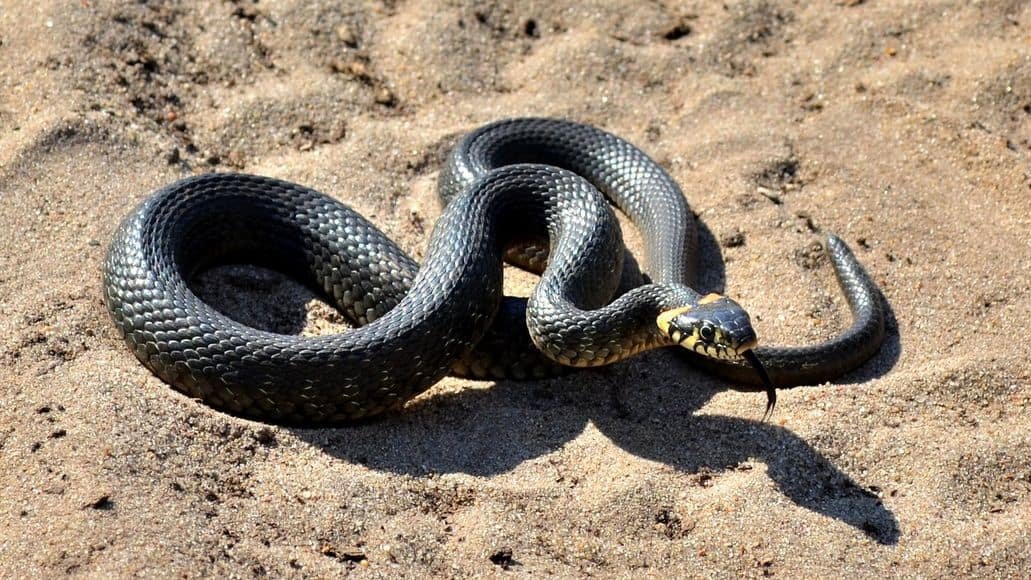 Colder weather will cause a snake to move more slowly because its muscles are tenser than they would be if it were warmer.
As a result, the snake won't move as quickly when attacking prey or trying to escape a predator. On colder days, snake activity is generally lower during both the day and night hours.
Food
The availability of food sources will also influence when snakes are most active. Generally, most snake species prefer to be active when the temperature is ideal.
But it there are insufficient food sources during that time of the day, they will modify their behavior and hunt during a less ideal time when food is more plentiful.
Predators
Snakes have plenty of natural predators. True, some snake species have fearsome fangs and venom.
But most snakes make a relatively easy target for predators like large birds (ospreys, hawks, eagles), wild boars, mongooses, coyotes, raccoons, and more, including some animals immune to snake venom.
Snakes will modify their activity to protect themselves from predators. They'll become more active during hours when the risk of falling prey to the local predators is lower.
Climate
The climate plays a major role in snake activity because it dictates whether or not the snakes enter a state of brumation. Brumation is very similar to hibernation. But instead of entering a deep sleep, a brumating animal remains awake.
When a snake is brumating, it's still active and able to move, but it's vital functions slow to a crawl. The heart rate decreases and the animal is able to conserve resources as it weathers the colder months of the year.
As the winter progresses, it's common for a snake to move deeper and deeper into its refuge to further insulate itself from the cold.
In the colder northern hemisphere, a snake may brumate for seven months a year or longer. As you move closer to the equator, brumation periods range from several weeks per year to several months.
Tropical snakes don't brumate at all. The year-round warm climate means they can keep consistent activity levels throughout the year.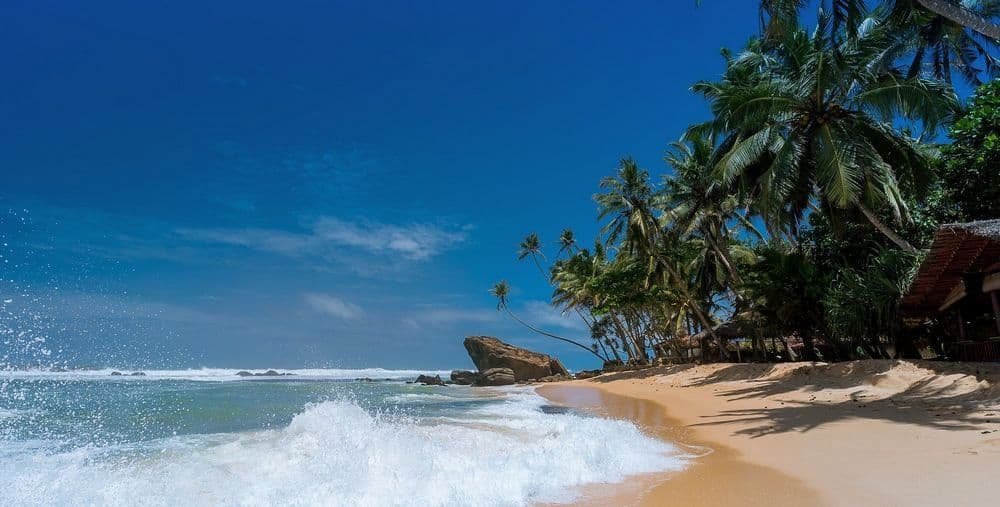 The climate will also dictate how active an animal is while brumating. In warmer climates, brumating snakes are more likely to emerge from their habitats to forage or bask in the sun.
This behavior is less common in areas with many predators, because brumating snakes are significantly more vulnerable than they would be in their regular state. If you come across a brumating snake, exercise caution because it's more common for them to strike if they feel like they're in danger.
Weather Conditions
The last factor that affects how active snakes are at night are the weather conditions in the area.
You can always expect snake activity to be higher on warmer nights. But many snake species will only go out when conditions are favorable.
Cloudy nights with little moonlight provide the best cover from predators, so snake activity is typically higher when it's cloudy than during well-lit nights.
Many snake species prefer high humidity, so it's also more common to see snakes at night on humid nights than drier ones.
Snakes Active At Night: Final Thoughts
Snakes are not necessarily more active at night, despite what you may have seen in movies. They can be active at any time of the day, depending on a number of different factors in their environment.
If you are camping and sleeping outdoors, it is certainly possible that a snake might join you. You could surround yourself with a braided rope, but tricks like that won't help. The best thing you can do is familiarize yourself with the habits of the local snakes and then act accordingly to protect yourself.