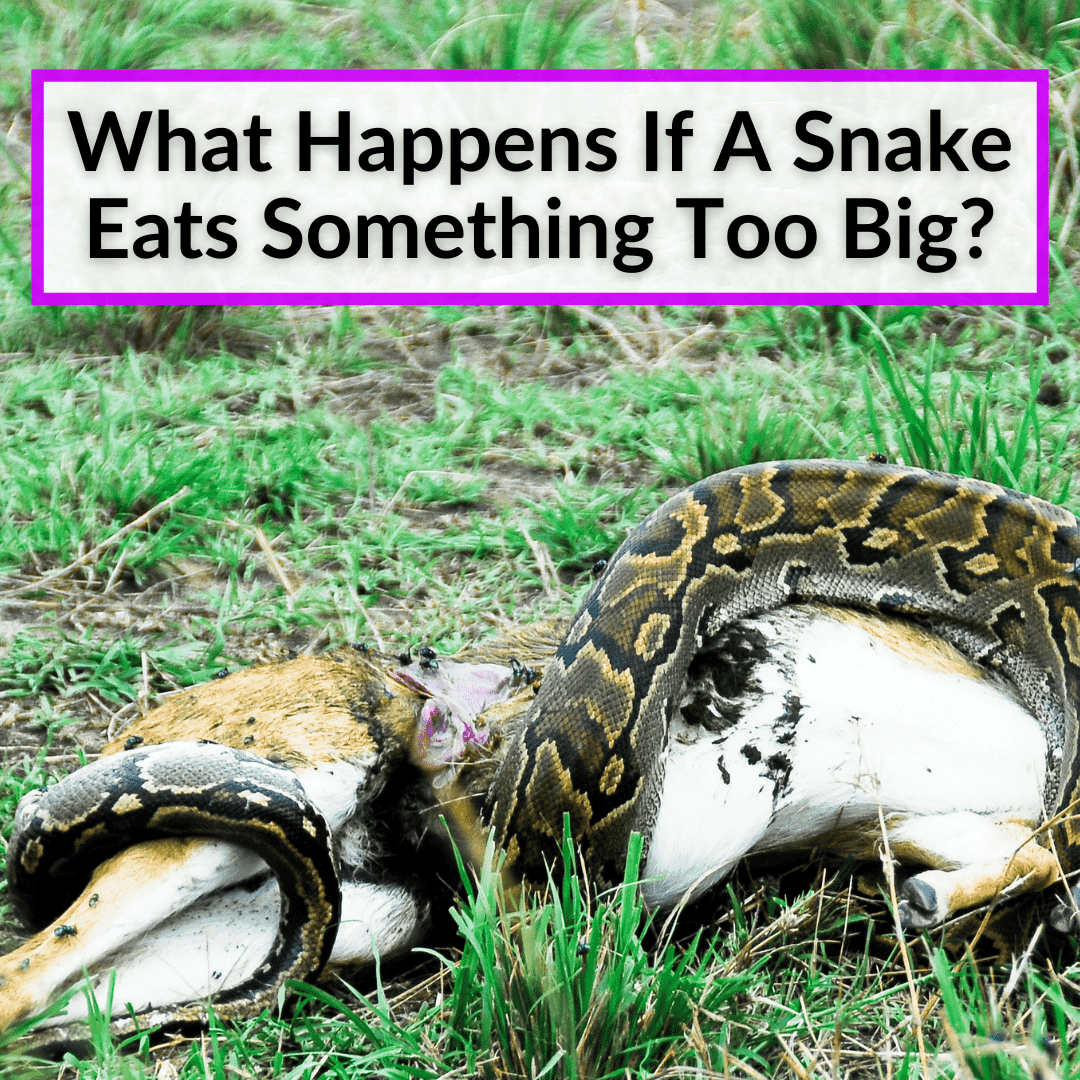 We've all heard the stories.
Or even seen the images.
Snakes swallowing things like alligators and huge cows. Or even humans.
Perhaps the most famous image of recent times is that of an alligator that has eaten its way out of a snake's stomach after being swallowed. Both animals ended up dead.
In other words, snakes eating huge prey definitely occurs.
But what actually happens when a snake swallows something that is too large for it to digest?
Does it burst open, as many believe? It does not.
Keep reading to learn exactly what happens when a snake can't handle the size of an animal it swallowed.
What Happens If A Snake Eats Something Too Big?
If a snake eats something that is too big, it will most likely just spit the animal back out. This is commonly known as regurgitation and it can happen when the snake physically can't digest its prey.
Let's take a closer look at what happens when snakes eat things that are too large to digest, and how they are able to swallow prey that large in the first place.
When A Snake Can't Digest Its Food
Regurgitation isn't healthy for a snake. In fact, it can cause your snake's digestive system some serious harm. Just imagine how you would feel puking up an entire animal whole.
To start with, because the prey is dead, it may have already begun to rot inside of the snake's body. It may take a while for the snake's body to realize that it can't be digested.
When it does, the body will send it back up through the mouth. If the prey is too large, it can do considerably damage on its way out. Often, this results in the snake's death.
The most common reason for regurgitation is that the snake has eaten prey that is too big for it. If you own a pet snake, make sure you do your research on what size prey is best for your breed of snake.
Common foods to feed your prey include small rodents such as mice or rats, cut up chicken, or small birds. Anything larger could be too much for your snake, depending on its size.
For some guidance, the prey should be no larger than the mid part of a snake's body, since this is where the majority of the digestion takes place.
Can A Snake Choke?
Snakes can choke if they eat something that is too big for them. However, it isn't very common. It is more common that the oversized prey causes damage internally and this could even end up killing the snake.
The only time a snake might choke from eating something too big is if the prey stops the snake's breathing muscles from contracting.
Can Snakes Eat Things Bigger Than Them?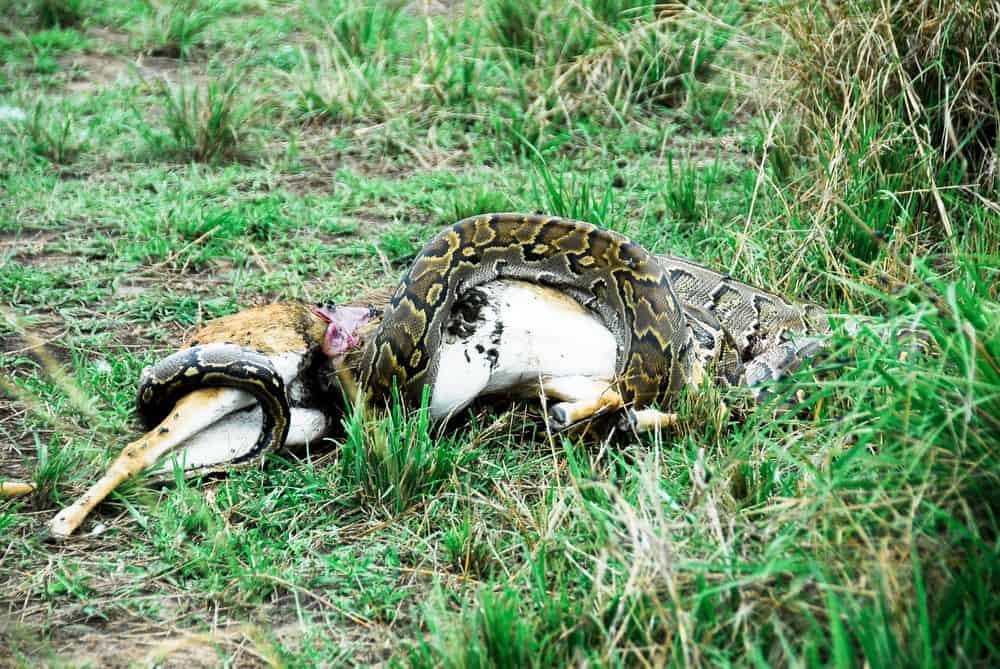 Snakes can eat things much bigger than they are, which is why they have the ability to regurgitate their prey.
They can swallow items bigger than their whole head, or even larger than their body. They can do this, because their jaw is not attached directly to their skull, but connected with ligaments instead. This allows them to open their mouths extremely wide, like they are yawning.
Once the snake has managed to get its prey down through its throat, it then pushes it down the body in two different ways.
First, just like mammals, a snake's throat muscles contract to push the food down into the body. Second, it also swallows using its backbone and body.
The snake uses its ribs to push inward against the food, which also helps move the prey down the body. If a snake is unable to do this, for instance because the prey is too large, then wit will most regurgitate its meal.
What Is The Largest Thing A Snake Has Eaten?
Deer and cattle are the largest animals that snakes has eaten. Sometimes, they even eat prey larger than themselves!
In 2018, a Burmese python weighing 32 pounds ate a white-tailed deer weighing 35 pounds. To date, this is the largest predator to prey ratio we know of. Burmese pythons eat some large animals, but it is rare. Mostly they eat smaller mammals or birds.
Sadly, the snake did end up dying from regurgitation, soon after consuming this deer. this just goes to show that you should never bite off more than you can chew!
The largest recorded animal a snake has eaten was a 150 pound hyena. It became the meal of an African rock python in 2017. The incident was even captured on film:
It's also well known that some of the biggest prey a snake has ever eaten is actually a human, which isn't too nice to think about.
In Indonesia in 2017, a 25-year-old man was actually eaten by a python. But try not to worry too much. Snakes eating humans is incredibly rare.
Other large items snakes have consumed include alligators and cows. But if you have a pet snake, you don't need to worry about procuring cows for it to eat. Even large snakes are fine with meals of rodents or rabbits.
Snakes Eating Something Too Big: Final Thoughts
Snakes have the ability to swallow animals almost as large as they are. In fact, there are even cases where a snake has swallowed something larger than itself.
When that happens, it does not usually end up well for the snake. If a snake can not digest an animal because it is too large, its body will regurgitate that animal.
A large animal coming back up out of the snake can cause a lot of damage. This often results in the snake's eventual death.