There are times when your chances of encountering a rattlesnake are much higher.
Certain months of the year and certain times of the day.
Do you want to go hiking and are hoping to avoid rattlesnakes? Or are you actually hoping to encounter one (for whatever reason)?
Either way, it pays to know when rattlesnakes come out.
So when do rattlesnakes come out? What months and what times of day see the most rattler activity?
Keep reading to learn when you are most likely to encounter a rattlesnake, along with some advice to follow in case you do run into one.
When Do Rattlesnakes Come Out?
Rattlesnakes come out of hibernation in spring and warm themselves in the sun before setting out to eat and mate. They are most active during the early parts of the day and from dusk into the night.
They like to hunt during these times, when they feed on mice and other rodents. You are most likely to encounter rattlesnakes on trails in September and October.
If you live in rattlesnake country or go hiking in areas they inhabit, use the following guidelines to know when they are most likely to come out.
What Time Do Rattlesnakes Come Out Daily?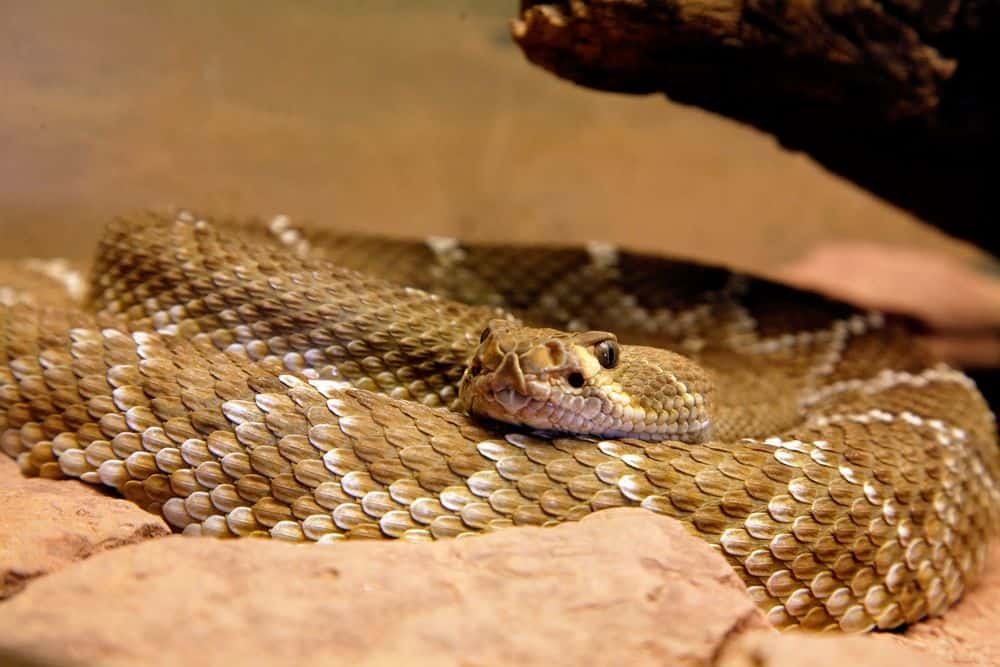 Rattlesnakes can be active any time of the day, but you are most likely to encounter them around dusk. Some rattlesnakes are also active during the early parts of the morning, at night, and late evening.
Most rattlesnakes are nocturnal during the summer months. They prefer to avoid the heat of the day.
Rattlers also prefer hunting for rodents in the darkness, because they can sense their prey with special heat-sensing organs on their faces.
What Temperature Do Rattlesnakes Come Out?
Rattlesnakes like it warm, but not too warm. They are most active at temperatures between 70° and 90° F, or 21° to 32° C.
They usually become less active or go into hibernation when the temperature falls below 65° F. Late summer storms, hurricane season, and fall are prime times for rattlers to be most active.
What Month Do Rattlesnakes Come Out?
Rattlesnakes are the most active between April and October. They usually come out of their hibernation dens in March or April. You are most likely to encounter one on hiking trails in September and October.
In Arizona, most rattlesnake sightings occur from March through October. In California, most rattlesnake bites are reported between April and October. In Texas, snake season runs from March to October.
When Do Rattlesnakes Come Out Of Hibernation?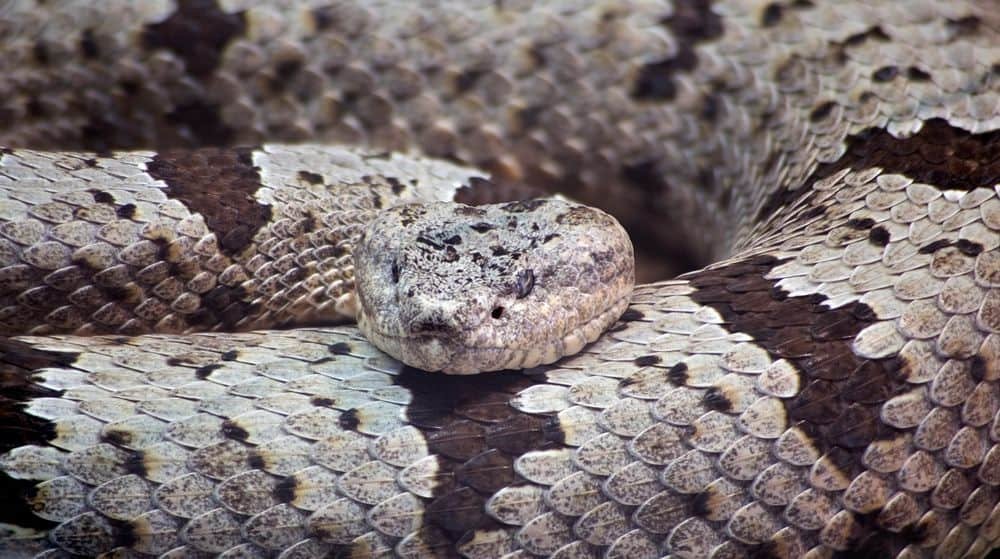 As mentioned, rattlesnakes usually come out of hibernation in March or April. It depends on the outside temperature, so they will emerge from hibernation at slightly different times of the year, based on the climate where they live.
What Time Of The Day Should I Hike To Avoid Rattlesnakes?
You can encounter rattlers at any time of the day, and especially at night, when hiking. In the oppressive summer heat, rattlesnakes tend to seek shade to keep themselves cool.
So, look before you step or sit on logs or rocks to rest.
Similarly, in the cooler months, rattlers tend to come out to bask in the sun's warmth and sit on warm rocks and hard-level paths. Stick to the main trails to avoid snakes warming themselves in the side vegetation.
The best time to hike is during the early morning and mid-morning and just before dusk. Avoid hiking at night because that is the time most rattlers come out to feed.
Always carry a flashlight if you have to go hiking at night. Remember: rattlers can lose their rattles, so you won't necessarily be able to hear a warning rattle every time a rattlesnake is nearby.
Rattlesnakes are also usually found at lower elevations, although some species have been found as high as 10,000 feet.
What To Do If A Rattlesnake Is Near You?
If, despite your precautions, you encounter a rattlesnake, here's what to do:
Stop and remain calm. Take a deep breath. You don't want to pass out in front of the snake!
Back away slowly. Give the rattlesnake room to move away or pass you. Remember: these shy creatures want to avoid you as much as you want to avoid them. Their rattling tail is a warning to move away.
Make noise. If the snake starts to move toward you, stomp the ground loudly, once. Keep backing out of its path. Make sure you see where you're stepping while keeping one eye on the snake.
Please do not kill a rattlesnake. They are an essential part of the ecosystem and they came here long before we did! Not only that, in many states, it is illegal to kill a rattlesnake, depending on the species.
Where Do Rattlesnakes Bite The Most?
Rattlesnakes are usually startled by hikers who put their hands in the crevices of hills or under rocks and logs when they hike or climb mountains. Therefore, most bites occur out of self-defense and usually on the victim's hands, ankles, and legs.
The highest number of rattlesnake bites have been reported in Arizona and California. Those are also the two states with the most species of rattlesnakes. They are the most dangerous venomous snakes in California, as well as in Arizona.
How Do You Scare Away Rattlesnakes?
The best way to scare away rattlesnakes is to stomp the ground loudly. Rattlers may not be able to see or hear very well, but they are very sensitive to the vibrations in the ground.
In fact rattlesnakes can detect vibrations between 50 and 1000 Hz. Stomping the ground will give the rattlesnake a chance to move away.
Many people clap to scare the snakes away. However, clapping won't work because rattlesnakes cannot hear very well. Stomping the ground is a better way to scare away rattlesnakes.
Using a flashlight at night to shine on the snake also won't do much. Rattlesnakes do not see very well and they may lunge at the light source. Instead, back away slowly and let the snake move away.
Can You Survive A Rattlesnake Bite Without Treatment?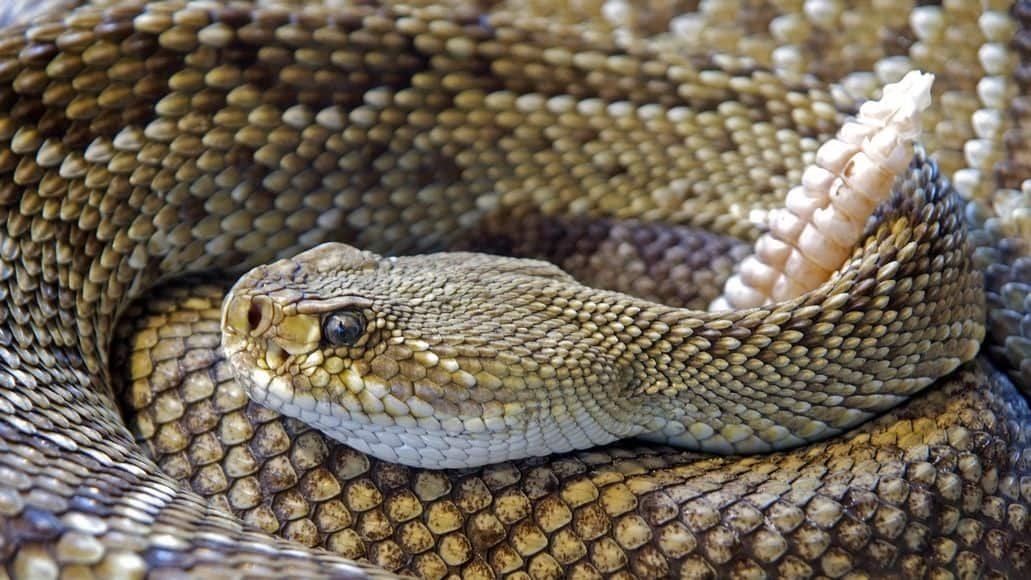 A human being in reasonable health should be able to survive a rattlesnake bite without treatment, as long as she or he can stay calm. Breathing too fast or panicking could cause the venom to spread rapidly.
Remember: the majority of rattlesnake bites are out of self-defense and therefore, dry bites. This means that the rattlesnake may not have injected any venom at all. In such cases, you can survive without treatment.
Even if a rattlesnake has injected venom, fatality rates are very low. In fact, in Arizona–the state that is home to more rattlesnake species than any other–the chances of dying from a lightning strike are higher than the chances of dying from a rattlesnake bite.
However, whether it is a dry bite or a bite with venom, you should seek medical help right away. It is also very important that the bitten person is driven to the hospital instead of walking, because exercise could cause the venom to spread.
Here are the steps to treat a rattlesnake bite:
Wash the bitten area with soap and water.
If you have an extractor, apply suction, and suck the venom out, but do not incise the wound.
Apply a constricting band tight enough to slow down the circulation but not stop the pulse. This should help stop the venom from spreading.
Keep the bitten limb immobile and below the heart.
When Rattlesnakes Come Out: Final Thoughts
Rattlesnakes come out of hibernation in March or April. During the hot summer months, they generally come out in the mornings and at dusk and into the night. They do most of their hunting at night.
In terms of temperatures, these snakes come out once temps climb above 70° F (21° C). They find a cool place to hide, if temperatures climb above 90° F (32° C).
If you are trying to avoid rattlesnakes when out hiking, do not go hiking during September and October. Suring those months, snakes are not yet hibernating, but daytime temperatures are lower, so snakes can come out during the daytime.