First off: snakes are venomous, not poisonous.
But more people search for poisonous snakes in California than for the word "venomous".
Hence the incorrect word in the title.
Second, there is really only one venomous snake in California: the Rattlesnake.
But there are 7 different species of rattlesnake in the state. Two of those have subspecies, for a total of 9.
Keep reading for a full list of all venomous snakes in California along with identifying information, plus any other info you will need to know about each snake.
Venomous Snakes In California
As mentioned, the following nine snake species are all different types of rattlesnakes. Despite being venomous, they do not want to hurt us. They do their best to avoid human contact and only strike us when they feel cornered and threatened.
Western Diamondback (Crotalus atrox)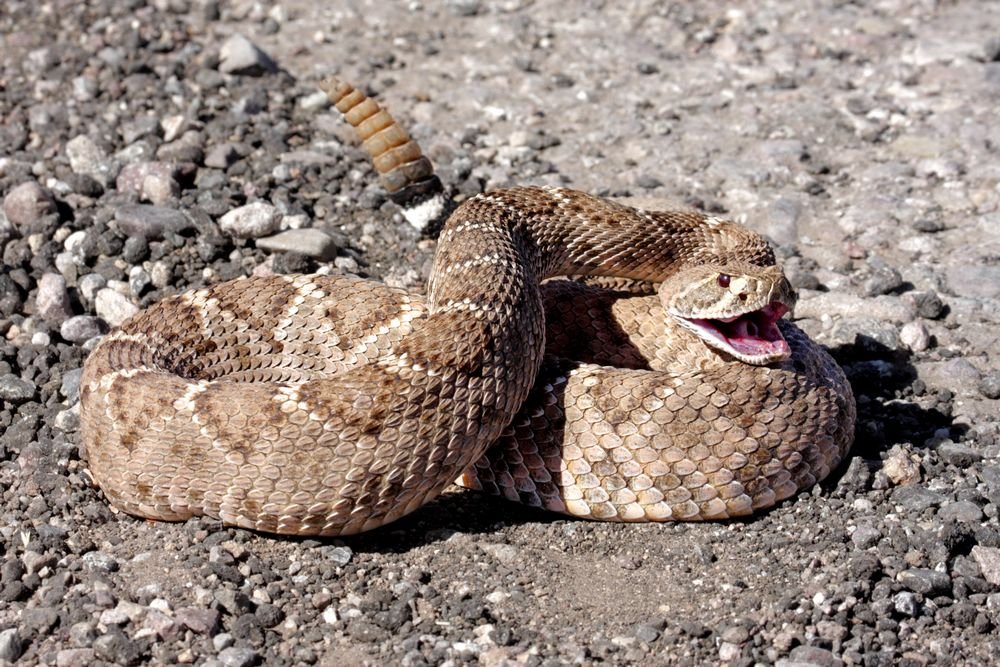 The Western Diamondback is a heavy-bodied snake with a triangular head. It has black and white rings around the tail just above the rattle. The rings are about equal in width.
There are two dark lines running from the eyes to the jaws. Western Diamondbacks also have dark diamond-shaped patterns along their backs. They are lighter than eastern diamondbacks.
Habitat
Western Diamondbacks are found in the southern deserts and the southeast corner of California. They have evolved to be able to survive the harsh desert climate.
Habits
They are active day and night. Western Diamondbacks are known to bite hundreds of people each year.
Diet
These desert snakes mainly eat rodents, like rats, mice, squirrels, gophers, chipmunks, and birds.
Sidewinders (Crotalus cerastes)
Sidewinders have a small horn-like projection above each eye. They have unique sideways locomotion. This video shows this unique way of moving.
Habitat
Sidewinders are mainly found in southern California. They prefer open sandy areas in the deserts
Habits
They are mainly active at night and sometimes during the day. Sidewinders are extremely shy snakes, so relatively few human bites are reported each year.
Diet
They feed mostly on lizards and rodents.
Colorado Desert Sidewinder (Crotalus cerastes laterorepens)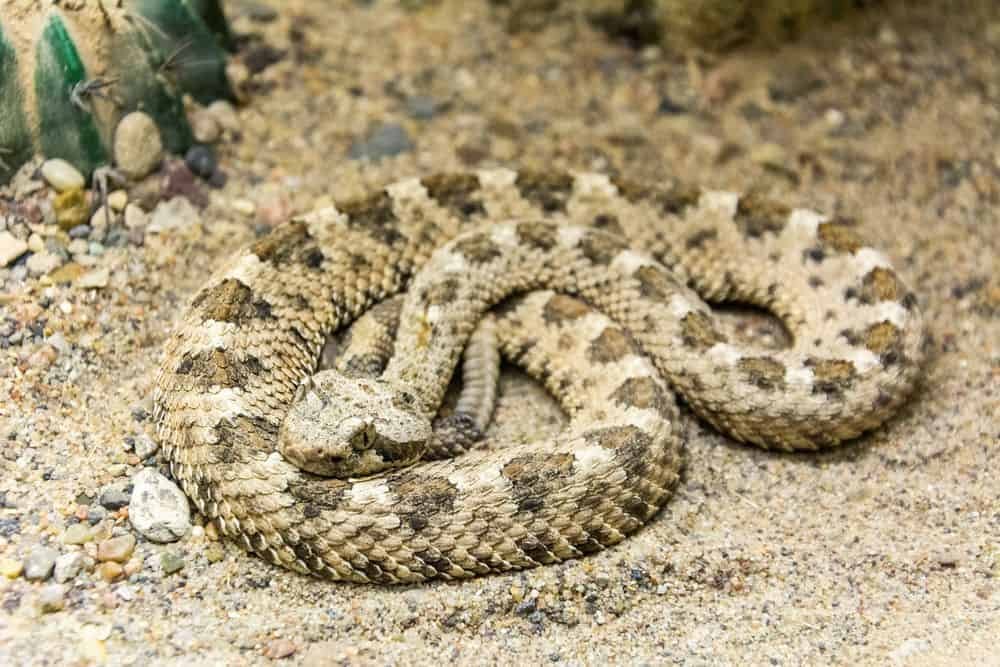 The Colorado Desert Sidewinder is a sub-species of the sidewinder described above. It is a small-to-medium-sized snake. It uses a sidewinding motion to move diagonally forward.
Colorado desert sidewinders are gray, cream, or tan in color. They may have dark gray or brown blotches along the back. Like all sidewinders, the Colorado desert sidewinder has horn-like projections above its eyes giving it the name Horned Snake.
Habitat
In California, the Colorado desert sidewinder is mainly found in central and eastern Riverside County.
Habits
This ambush predator hides in the desert sands to strike its prey. It is a shy and nocturnal snake that usually does not bite humans.
Diet
They hunt and eat all kinds of desert animals, mainly gophers, rats, and lizards.
Southwestern Speckled Rattlesnake (Crotalus Mitchellii Pyrrhus)
The Southwestern Speckled Rattlesnake is a large snake with a vague pattern of dark-speckled banded markings. The speckles are somewhat faded and do not have distinct outlines, unlike those seen in other rattlesnakes.
The tail is thick and has dark and light rings surrounding it. The colors change to match the rocks in its habitat.
Habitat
Southwestern speckled rattlesnakes are mainly found in the rocky areas in southern deserts and the south coast.
Habits
These snakes are mostly active at night. Bites in humans are usually unintentional, but potentially fatal, so they need immediate medical attention.
Diet
Southwestern speckled rattlesnakes mostly feed on small mammals like rats and rodents.
Western Rattlesnake (Crotalus oreganus)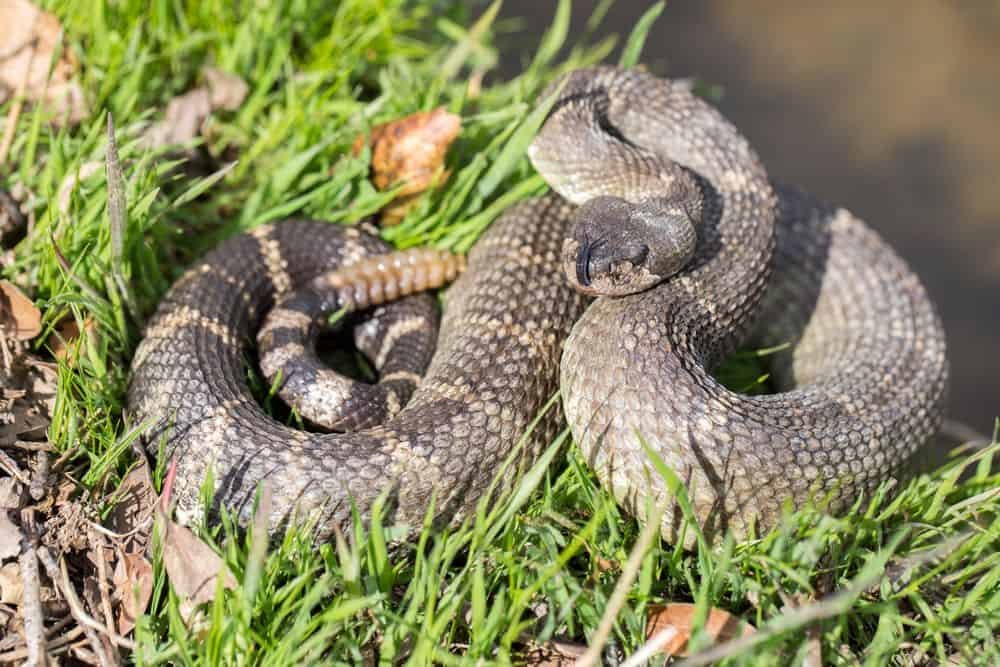 Also called Northern Pacific Rattlesnakes, western rattlesnakes are heavy-bodied snakes with thick, triangular heads.
They do not have black and white rings around the tail. The rings may be dark and light but never black and white. Western rattlesnakes have highly keeled scale. Their eyes have vertical slits.
Habitat
Western rattlesnakes are the most commonly seen rattlesnakes in California. They are found throughout the state except for the southern deserts.
Habits
Western Rattlesnakes are active day and night. They are found hiking in undisturbed areas and even on roads. Bites in humans are rare, because these snakes do their best to avoid us.
Diet
Western Rattlesnakes mainly eat small mammals, birds, lizards, and amphibians.
Great Basin Rattlesnake (Crotalus Lutosus)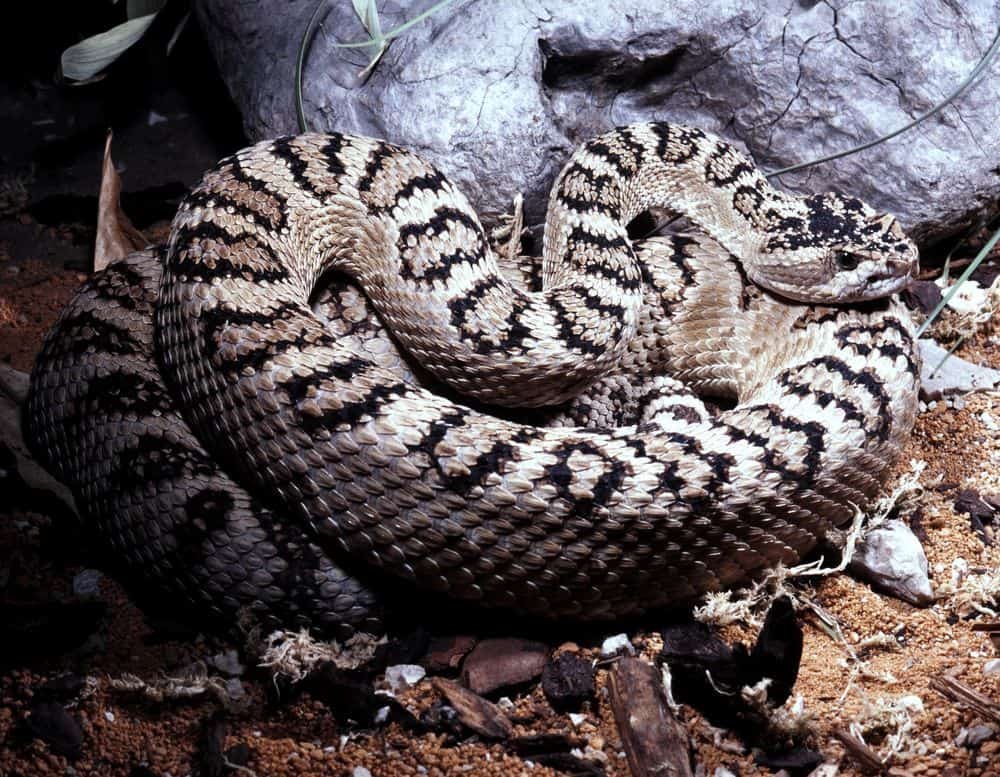 Great Basin rattlesnakes are a subspecies of the Western Rattlesnake. They are massive snakes with dark blotches with light centers and light borders. Their colors vary according to the habitat. Mostly, they are pale gray, buff, olive green, brown, tan, and other muddy colors (the word 'lutosus' means muddy).
Habitat
In California, they are found in the northeastern parts of the state. They frequent dry and barren areas, rocks and boulders on hillsides, mountains, and deserts, and also alfalfa fields.
Habits
Great Basin rattlesnakes are active day and night. They have bitten mountain climbers and hikers who climb with their bare hands.
Diet
They mainly eat lizards, rats, birds and bird eggs, etc.
Red Diamond Rattlesnake (Crotalus ruber)
The Red Diamond is a large rattlesnake with various hues of red, pink, reddish-tan, or brown. Males are larger than females. They have diamond-shaped blotches with light edges marking the back. The ring adjacent to the rattle is black.
Habitat
The Red Diamond Rattlesnake usually inhabits rocky woodlands, grasslands, and desert areas. It is mainly found in Southwestern California.
Habits
It is active day and night. A bite from the Red Diamond Rattlesnake can be extremely dangerous and may need hospitalization.
Diet
Red Diamond Rattlesnakes feed on squirrels, rabbits, lizards, wood rats, birds, etc.
Northern Mojave Rattlesnake (Crotalus scutulatus)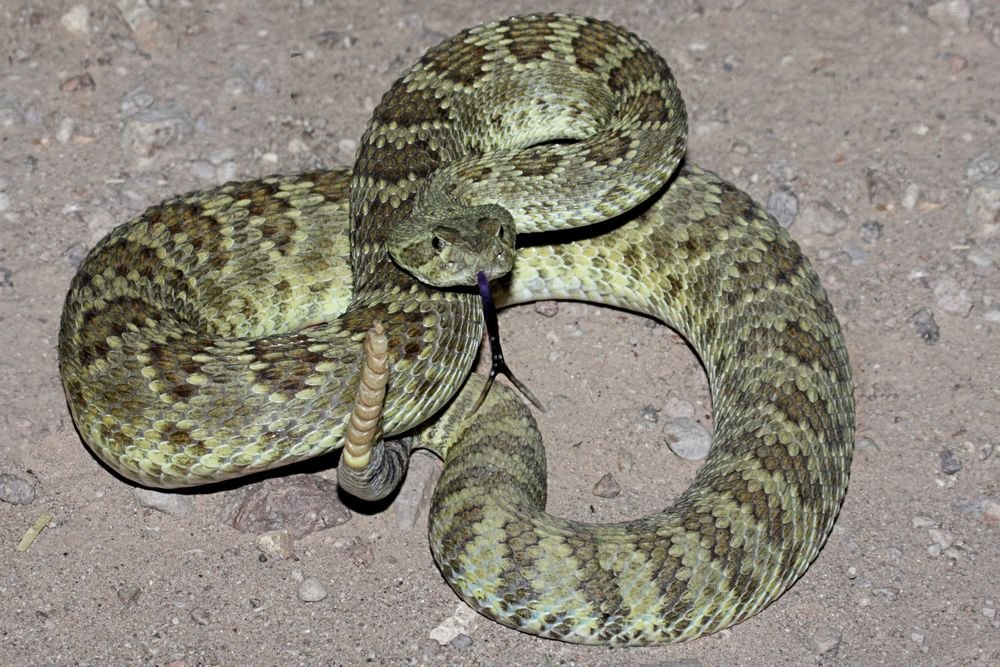 The Northern Mojave Rattlesnake is brown to pale green in color. Due to its greenish hues, it is also called Mojave Green.
This snake has black and white rings on its tail. The white rings are wider than the black bands. Northern Mojave rattlers also have diamond-shaped blotches or patterns along the back.
The Mojave is often confused with the Western Diamondback. Learn how to tell them apart in this article on the differences between the Western Diamondback and the Mojave Rattlesnakes.
Habitat
Northern Mojave (Mohave) Rattlesnakes are mostly found in southern California and other desert area si the US, like Arizona and New Mexico. They are usually found near the shrub bushes of sage, creosote, etc.
They prefer the environment in high deserts or on lower mountain slopes. These snakes avoid dense vegetation and seem to prefer open arid areas.
Habits
Northern Mojave rattlers are active day and night. They are aggressive snakes and will attack when disturbed. This is one of the most venomous snakes in the US (and the world) and its venom is both a neurotoxin and hemotoxin.
Diet
The Northern Mojave Green feasts on toads, rats, birds, lizards, rodents, mice, etc.
Panamint Rattlesnake (Crotalus mitchellii stephensi)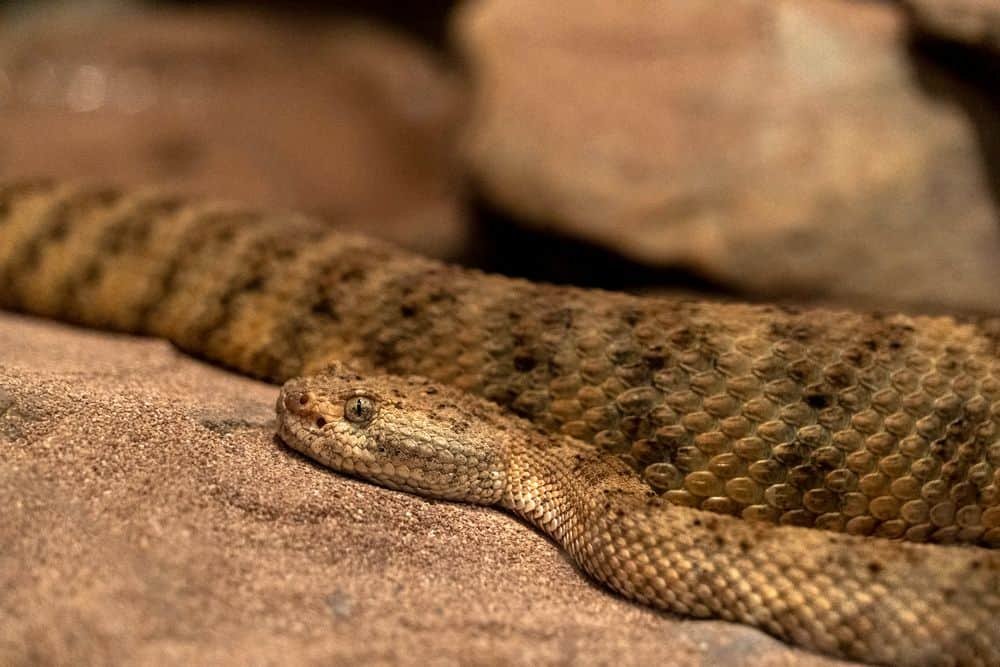 This large rattlesnake has a faded saddled pattern on its back. The colors may be tan, brown, yellowish, orangish, buff, gray, or deep-red brown. It may change colors to blend in with the rocks.
There may be a scattering of black-tipped scales along the edges of the blotches. It has a thin neck and a large head.
Habitat
The Panamint Rattlesnake is found mainly in the rocky areas in the northern and eastern Mojave Desert. They are also seen in Mono County, California, which is located in the east-central region of the state.
Habits
This snake is active day and night. Panamint Rattlesnake bites on humans are rare, but need prompt medical treatment.
Diet
The Panamint Rattler eats lizards, rodents, and small mammals.
Poisonous Snakes In California: Related Questions
Next, we will answer some common questions related to poisonous snakes in California. If you have any additional questions, please feel free to ask them in the comments below.
Which Is The Most Venomous Snake In California?
The Northern Mojave rattlesnake (Crotalus scutulatus) is considered the deadliest snake in California. It is a rattlesnake, which is a type of pit viper, just like all poisonous snakes in California.
Which Is The Most Dangerous Snake In California?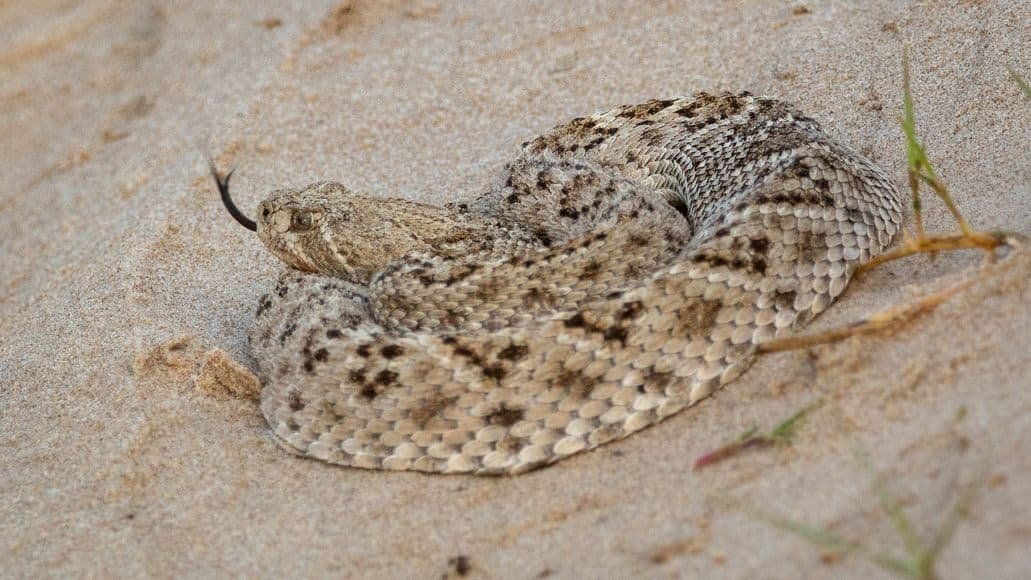 The western diamondback is considered the most dangerous snake in the state, because of its large size and aggressive attitude. Its bites are also the second-most fatal in the US.
Are There Cobras In California?
Cobras aren't too common in California and they are not native to the state. The one species found here is the California Common Cobra (Naja westilii) which may have descended from the Egyptian and Indian Cobra varieties that escaped from zoos.
Are Rattlesnakes The Only Poisonous Snakes In California?
Yes, the rattlesnake is the only venomous snake in the state of California. There are 7 different species of rattlesnakes here and two of these have subspecies. That makes 9 in total. They are all highly venomous.
Venomous Snakes In California: Final Thoughts
There are a lot of different poisonous snakes in California, but they are all rattlesnakes. Most do everything they can to avoid us humans, but a few are quite aggressive. They still prefer to avoid us, but are more likely to strike if threatened.
As always, do your best to keep your distance. If you are out in nature in an area with rattlesnakes, take all necessary precautions. And if you encounter a snake on your property, call a professional to deal with it.