Arizona has more venomous snake species than any other state.
Most of them are rattlesnakes.
Over half of all rattlesnake species make their home in the Grand Canyon State.
Rattlesnakes are also the most dangerous species in the state.
But another species has the most potent venom.
Keep reading for a list of 10 poisonous snakes in Arizona, along with help in identifying them.
We'll also talk about the snake with the most potent venom, which happens to be one of the most beautiful snakes in the entire United States as well.
Poisonous Snakes In Arizona
Arizona has 21 species of venomous snakes. The list is dominated by rattlesnakes, which are the most dangerous by far of the venomous snakes in Arizona.
However, we wanted to include a few other species besides only rattlesnakes. Top of that list is the the coral snake, which actually has the most potent venom, though rattlesnakes cause more deaths.
Mojave Rattlesnake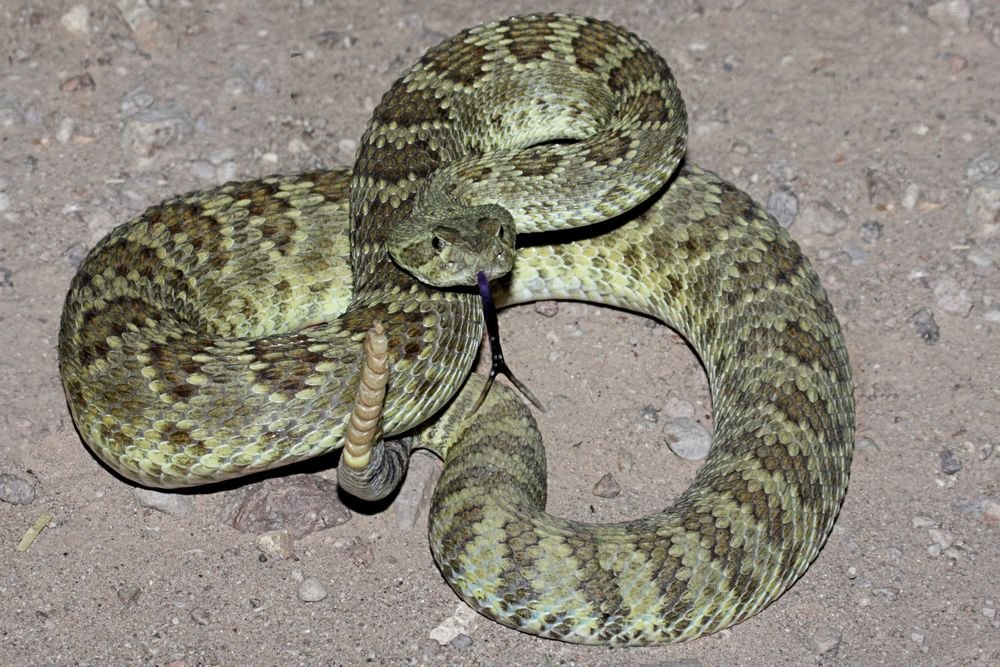 The Mojave Rattler is not only the most venomous snake species in Arizona, but in the entire US. Its venom, drop per drop, is even more toxic than that of the Western Diamondback, which is the snake that causes the most snake-bite deaths in the country.
Mojave rattlers grow up to 3 feet in length, although some have reached record lengths of 4.5 feet. They are brown, dark green, or earth-colored which helps them easily blend with their surroundings. They usually inhabit desert-like areas and call the southwestern US home, including southern California.
The Mojave toxin blocks nerve impulses and can cause respiratory issues, hearing problems, vision loss, and paralysis. Thankfully, deaths by Mojave rattler bites are rare thanks to the availability of CroFab antivenom.
Arizona Black Rattlesnake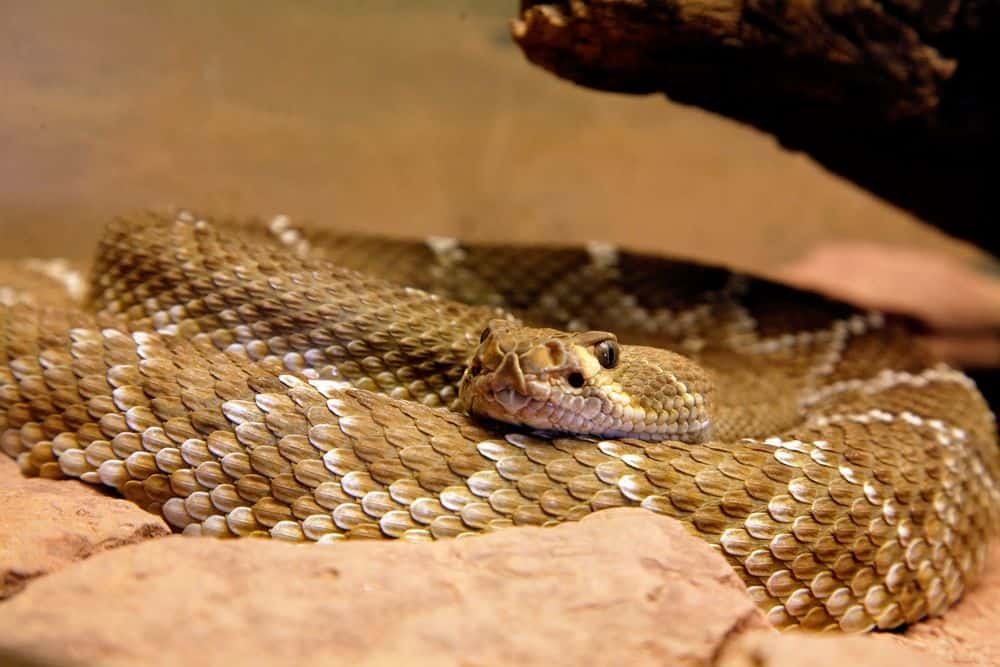 The Arizona Black Rattlesnake (Crotalus oreganus cerberus) is the most widely found venomous rattlesnake species in Arizona. They are mostly found in canyons, rocky hills, and areas with dense forestation. Apart from Arizona, they can also be found in Mexico, western Texas, and other parts of the southwestern USA.
Black Rattlesnakes can grow to about 5 feet in length, but average adults are closer to 3 to 4 feet long. Like all rattlesnakes, they have a distinctive rattle on the ends of their tails, which they use to warn potential predators or threats.
Arizona Black Rattlesnakes are moderately venomous. A bite from them can cause serious medical issues in humans, including swelling and tissue damage, if not treated immediately.
However, this species of snake is generally not aggressive and will usually try to avoid confrontation with humans. The Arizona Black Rattlesnake's diet primarily consists of rodents and other small animals.
Sidewinder Rattlesnake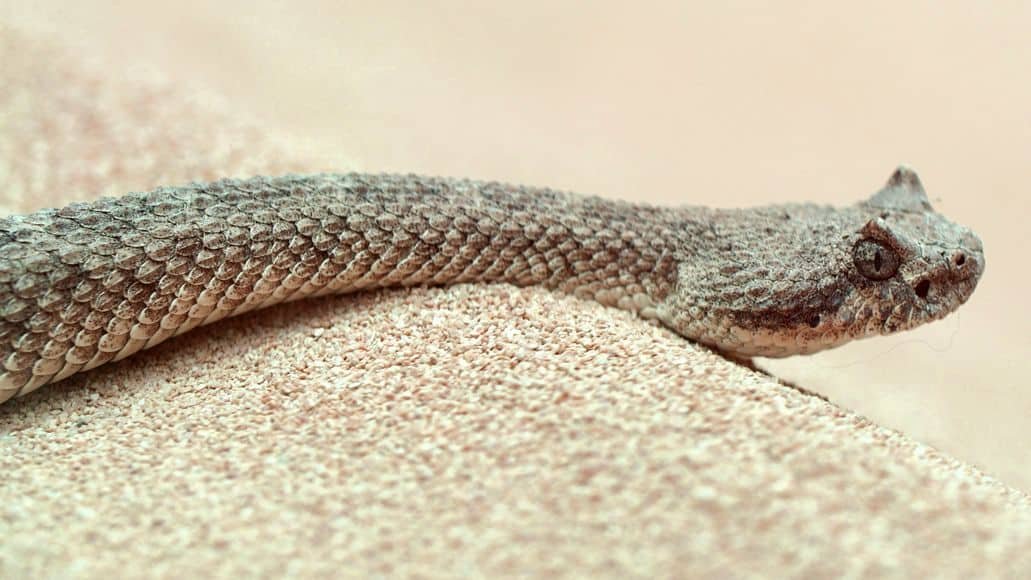 The Sidewinder Rattlesnake, also known as the Mojave Desert Sidewinder (Crotalus cerastes), is another poisonous snake species in Arizona. It is found in the deserts of Arizona and Northern Mexico. It gets its name from the peculiar sideways slithering motion it uses to move around.
Sidewinder Rattlesnakes are relatively small, with adults typically measuring between 1 to 2.5 feet in length. They are typically tan or light brown in color, with dark stripes or huge spots on their back.
The venom of the Sidewinder is toxic, but comparatively mild compared to some other rattlesnake species. It has a paralyzing effect on its prey, (mostly small rodents, lizards, and other desert animals).
However, a sidewinder's bite can still be extremely dangerous to humans and it is important to seek medical attention right away.
Apart from its unique method of movement, the Sidewinder is also known for its specialized heat-sensing organs, which it uses to locate prey in caves, or other low-light environments.
These organs are located on either side of the snake's head and are extremely sensitive to even slight temperature changes in the environment. This enables the sidewinder rattlesnake to detect prey more effectively.
Banded Rock Rattlesnake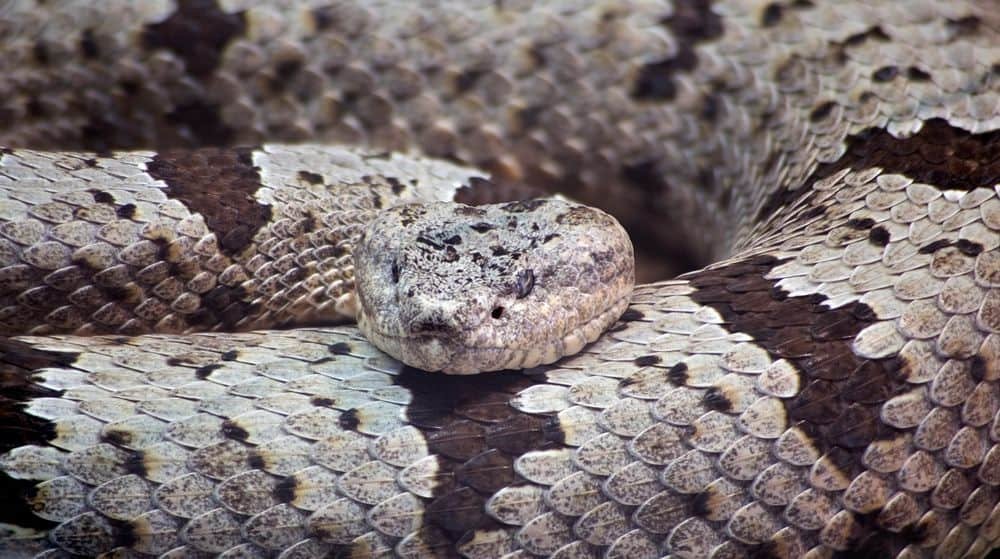 The Banded Rock Rattlesnake, also known as the Arizona Rattlesnake (Crotalus lepidus klauberi), is another venomous snake species found in Arizona and New Mexico.
Banded Rattlesnakes can grow anywhere between 1.5 to 2.5 feet long. The most commonly found colors are gray or light brown with dark bands across their backs. These bands are what gave them their name.
The venom of the Banded Rock Rattlesnake is quite potent and is capable of causing swelling and tissue damage in human beings. However, these snakes are shy and are generally afraid of humans. They only bite in defense.
Banded Rock Rattlesnakes are typically found in rocky or mountainous habitats, including canyons and hillsides. Their diet primarily consists of rodents and other small animals, which they immobilize with their venom before consuming them whole.
Grand Canyon Pink Rattlesnake
The Grand Canyon Rattler is characterized by yellowish, reddish, dirty-pinkish, or salmon-pink coloring. They may also have fading dorsal blotches. Grand Canyon pink rattlers measure up to 3 feet.
As their name indicates, they are found in the immediate vicinity of Grand Canyon in northeastern Arizona. Sightings of this snake are relatively rare and they are also quite shy and stay away from people. Therefore, not many bites have been reported.
However, experts believe that their venom can be highly toxic. If you plan to hike in the Canyon, be careful around logs and boulders and watch where you place your hands and feet!
Prairie Rattlesnake (Hopi Rattlesnake)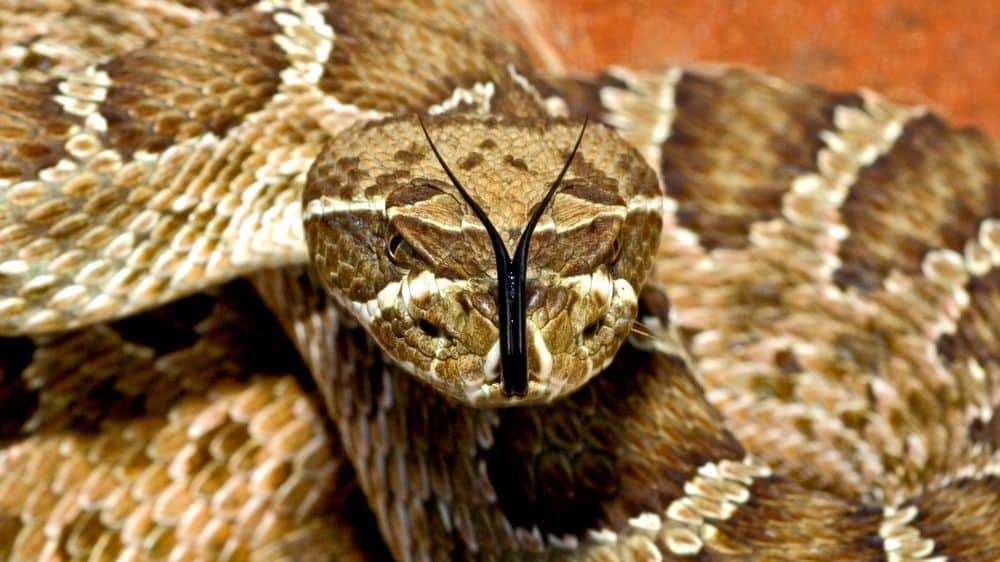 Prairie rattlers grow between 3 and 5 feet in length. They are greenish-gray, greenish-brown, or olive-gray, although some may be yellow or light brown. Their colors help them easily blend in with their surroundings.
They are mainly found in the northeastern parts of Arizona or east of the Colorado river.
The potency of the Prairie rattler's venom is comparable to most other North American viperids. However, since these snakes are shy and also small in size, they do not do as much damage to humans or pets as other venomous snake species.
Western Coral Snake
Western Coral Snakes (Micruroides euryxanthus) are found in southeastern Arizona as well as southwestern New Mexico, but they are not as common in these areas as they are in other parts of the Southwest.
Western coral snakes are small, typically measuring less than 2 feet in length. They are characterized by a set of red and black bands which are separated by thin yellow or white bands in between.
Of the snakes on this list so far, western coral snakes have the most potent venom. A bite from a fully-grown coral snake can cause muscle weakness, difficulty in breathing, and even death.
However, these snakes are generally not aggressive and it is quite uncommon for people to be bitten by western coral snakes, since they are relatively shy and elusive.
It is also a good idea to educate yourself on how to identify the snake, as well as the signs and symptoms of envenomation in case you are bitten. Many people remember the following rhyme to help them distinguish between the dangerous coral snake and other similar-looking, but harmless, species:
Red on yellow kills a fellow
Red on black, friend of Jack
This rhyme simply serves to remind us that a snake with yellow rings bordering red rings is the deadly coral snake. If the red rings are bordering black rings, then it is one of the harmless coral snake look-alikes.
If you are bitten by a western coral snake, seek medical attention immediately. Its antivenom is the most effective treatment for this type of snakebite.
Mexican Vine Snake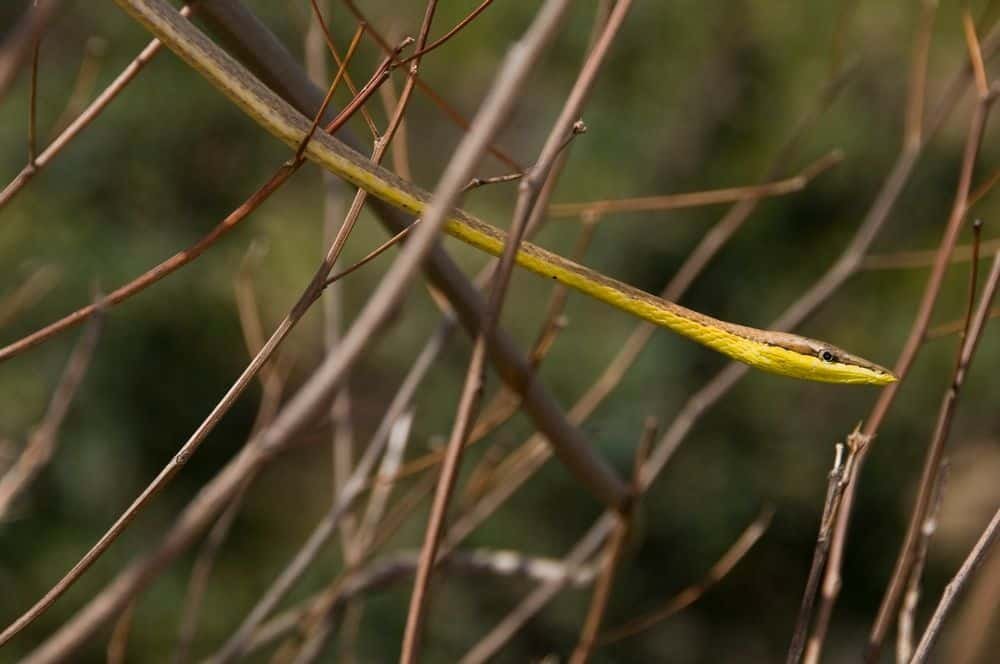 Mexican vine snakes (Oxybelis aenus), also known as brown vine snakes, are a species of colubrid snakes that are found in the Atascosa, Patagonia, and Pajarito mountains of southern Arizona, as well as Mexico and northern South America.
They are slender, brown snakes with yellow bellies. They can grow over 6 feet long. They are mildly venomous but usually aren't a huge threat to humans. However, a bite from them may cause skin irritation and discomfort.
The Mexican vine snake's diet mainly consists of lizards, frogs, small birds, and rodents. When threatened, these snakes emit foul-smelling secretions from their skin vents.
As always, if bitten by a Mexican vine snake, seek medical attention quickly to prevent severe allergic reaction.
Southwestern Blackhead Snake
Southwestern Blackhead Snakes (Tantilla hobartsmithi), also known as Smith's blackhead snakes, are a small, nocturnal snake species native to Arizona and other parts of the southwestern United States.
They generally grow to a maximum length of 1 foot 3 inches, but on average are around 8 inches in length. Southwestern Blackhead snakes are characterized by a brown body, a black-colored head, and a red stripe running down their bellies.
Their saliva is venomous and toxic to insects (which constitute a major portion of their diet) but has no effect on large mammals (like humans). They are very shy and elusive and usually hide under loose soil and leaf piles in search of centipedes, grasshoppers, and other insects as prey.
Banded Burrowing Snake
The banded burrowing snake (Chilomeniscus cinctus) is one of the smallest snakes found in Arizona. They grow to around 7 to 11 inches on average and have smooth, shiny scales, a flat snout, and a narrow head.
They are either yellow or reddish-brown in color. Banded burrowing snakes are mostly nocturnal and burrow themselves under the sand during the daytime. As a result, you will mainly find them in deserts or gravelly areas.
Their diet primarily consists of insects like grasshoppers, cockroaches, and centipedes. They hunt prey by suddenly emerging beneath them from the sand and devouring them instantaneously.
Though these snakes do have venom, it is not harmful to large mammals like humans.
Venomous Snakes In Arizona: Final Thoughts
Arizona certainly has no shortage of venomous snakes, especially when it comes to rattlesnakes. If you plan to do any hiking out in the wilderness, you'll want to be on the lookout to ensure you don't accidentally startle a snake. That is when they tend to strike humans.
To be on the safe side, you could get a pair of heavy boots designed to offer protection against snake bites. You could also avoid times when rattlesnakes are out. When it is hot, snakes tend to stay hidden during the day. In winter, they hibernate, so you may not see any at all.