Frustrated at the number of different substrates available for your ball python?
You're not alone.
Each type has different advantages and disadvantages.
It can be hard to figure out which brings the ideal mix of characteristics for this species of snake.
There are actually a few types that work really well.
We prefer cypress mulch bedding above the others.
Keep reading to learn why we think cypress is the best substrate for ball pythons, what other types are also good, which brands are best, and everything else you need to know.
Best Bedding For Ball Python Compared
$30.25

$28.70 ($0.05 / Fl Oz)

$26.99

$21.99 ($0.14 / Ounce)
03/22/2023 05:29 am GMT

Why does your ball python need substrate?
Bedding or substrate not only makes your ball python feel comfortable and secure, but it can help to boost the humidity of its enclosure.
If your snake's enclosure has low humidity levels, it can cause you snake to fall ill. When it is time to shed, humidity is vital to avoid shedding problems.
The right bedding will absorb moisture and hold on to it. It starts with the material used. Some materials hold moisture much better than others. Our top choices all hold moisture well.
Best Ball Python Substrate Options Reviewed
These are the best ball python bedding options currently on the market. All do well with moisture and help you regulate the humidity in the cage. They are also non-toxic and easy to clean.
Zoo Med Forest Floor Bedding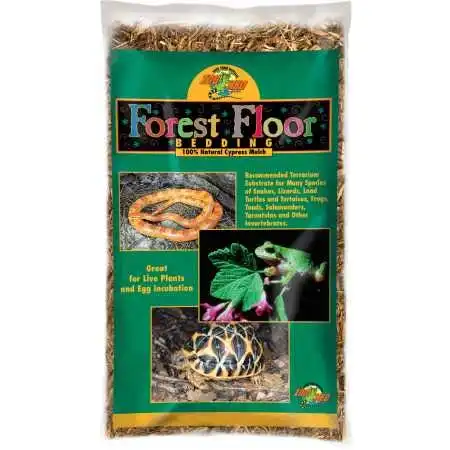 This Zoo Med bedding is easy to use and great for your snakes. Here's what you need to know about it.
Featured Specs
Humidity booster
Dust-free
Pros
This bedding gives your ball python's terrarium a lovely forest floor appearance.
The cypress mulch absorbs moisture so that snakes, amphibians, and other herps can have the correct level of humidity in their enclosures. It's great for any pet that needs a higher level of humidity.
It's great for burrowing, which some ball python snakes like to do.
This mulch can be used right out of the bag and it doesn't produce any dust – it keeps your snake's enclosure, and the surrounding environment, clean.
The bag will provide you with twelve or more bedding changes if your enclosure has a 55-gallon capacity, so it will go a long way.
Cons
Some people have concerns that cypress mulch is not good for the planet. This is because of the environmental impact of growing and harvesting cypress trees.
Cypress bedding tends to attract mites more than some other types
Buying Advice
This cypress mulch is the best bedding for a ball python snake. A 24-quart bag sells for a great price, so it won't break the bank. It is also available smaller sizes, too.
Zoo Med Eco Earth Coconut Fiber Substrate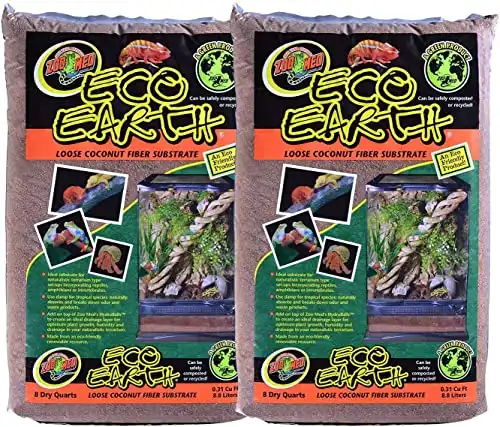 If you're looking for a greener product to use as substrate, this Zoo Med Eco Earth one is worth checking out. Let's jump into its details.
Featured Specs
Fiber consistency
Can be used damp
Pros
This substrate is perfect to help you create a natural terrarium setup for your ball python.
It can be used damp to absorb water and break down waste products.
You can throw old or soiled substrate in the compost heap after it's been used, which makes this a fantastic eco-friendly option.
Since it comes in the form of fibers, this bedding is much easier to use. That also makes it great for beginners!
Cons
Can be a bit dusty.
Not good for burrowing, though not all ball pythons like to burrow. If yours does, go with a different type of bedding.
Buying Advice
This Zoo Med coconut bedding is another great option, especially if you want to be eco friendly. It is generally around the same price as the cypress mulch substrate.
Zilla Snake And Lizard Litter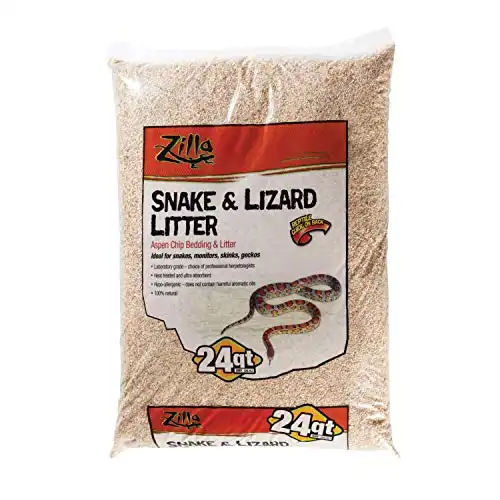 These Zilla aspen chips make a great substrate for beginners. They are easy to clean up and they help control snake odors. But they don't hold moisture as well and aren't great for burrowing.
Featured Specs
Hypoallergenic
Premium eucalyptus and fir
Pros
These chips are laboratory grade and have been heat-treated to make them very absorbent.
Since your ball python is going to be in contact with this substrate a lot of the time, you don't want it to get any allergic reactions from it. You don't have to worry about that, because this substrate is hypoallergenic.
The chips are small, which makes it easier to spot-clean your ball python's cage on a daily basis.
This substrate is made from premium white fir shavings and eucalyptus that provides a natural, pleasant scent for your ball python.
Cons
Aspen chips are very small, so not great for burrowing. If you have a burrower on your hands, go with cypress mulch instead.
Does not hold moisture as well as the two options above, so you will need to mist more, or use an automatic fogger or mister.
Buying Advice
Aspen chips do not hold onto moisture as well and are not as good for burrowing as Aspen shavings. But they don't mold as easily either. That is why we prefer the chips.
If your snake is a burrower, go with cypress mulch or aspen shavings, instead of chips. As for humidity, you can keep it in the correct range in other ways (misting, for example).
Exo Terra Forest Bark

This is the same product as the one we featured earlier, but it's value for money because it comes in a double pack. Let's check it out!
Featured specs
Regulates humidity well
Natural fir bark
Pros
Made from 100% natural fir bark, so it is not harmful to your pet or to the environment

This bedding is hygroscopic, meaning it readily absorbs and releases moisture. This helps to controls humidity levels in the cage, which is great for a snake like the ball python

Good for burrowing, though not as good as cypress mulch
Cons
Can be very dusty
Some issues with quality control, with some customer reporting other substances in their bags, like pieces of brick. Some also got smellier bags than others.
Buying Advice
Fir bark is a good alternative to the substrates above, but for a ball python, we prefer cypress mulch or coconut husks. That said, you can't go wrong with this one either and the price is lower than the ones above.
Josh's Frogs BioBedding Tropical Bioactive Substrate

The manufacturer of this product states that you won't have to change your reptile's bedding for years if you use this product, which sounds appealing – but is it good for use in your ball python's terrarium? Here's what you need to know.
Featured Specs
Contains fungi
Plant-friendly
Pros
This is a blend of organic and inorganic ingredients as well as beneficial fungi. Since ball pythons like to have plants in their environment, this is a useful substrate to own because plants will be able to thrive in it. Plants offer pythons natural protection and hiding places, which they crave. They can even use them to climb, provided that the plants are strong enough.
This mulch works to improve and maintain the humidity of your pet's enclosure.
Since it's bioactive, this mulch is a fantastic way to break down waste naturally while also working well with your ball python's humidity requirements.
Cons
This substrate is a bit more expensive.
A bioactive substrate that you never have to change sounds great, but in practice, the snake's waste is not broken down fast enough. We don't find this type of bedding as hygienic as other types, unless you change it more often, which eliminates the main reason for using it in the first place.
Buying Advice
If you're intrigued by the idea of a more bioactive substrate for your ball python, this one is your best bet. We prefer more traditional types of bedding and do not find this one hygienic enough, unless you do change it.
Bedding For Ball Python FAQ
After reading the above reviews of the best type of bedding for ball python snakes, you might still have some questions about what substrate is best for your snake. Let's check out some common questions.
What Is The Best Bedding For A Snake?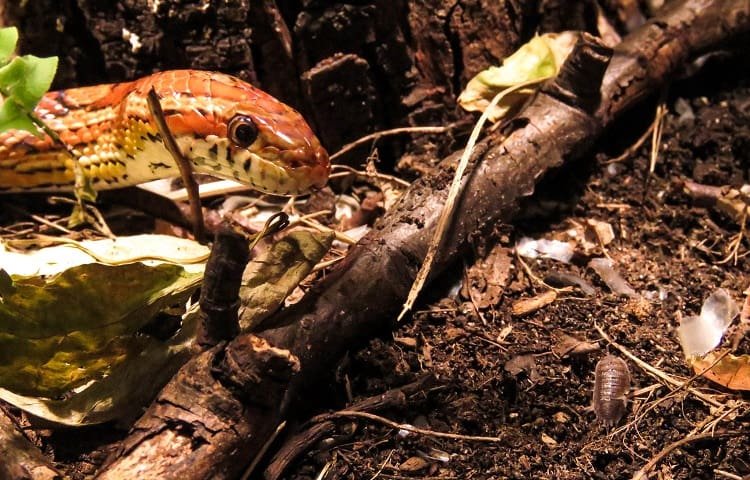 There are many great options. Which is the best snake bedding depends very much on the requirements of your particular species.
If you own a snake that doesn't like to burrow, you could even just use something like paper towels, or artificial turf. Aspen chips would be our preferred choice for non-burrowers, however. But only if they don't have high humidity requirements.
In that case cypress mulch is our favorite option. It allows for burrowing and it's useful for maintaining the correct levels of humidity for your snake. It also has a pleasant smell. It is the best snake bedding for ball python snakes overall.
If your snake needs humidity and likes to burrow, then cypress mulch is a better choice than aspen shavings. The latter can become moldy and they're recommended for reptiles who don't need a lot of humidity.
Is Coconut Substrate Good For Ball Pythons?
Coconut substrate works well to boost the humidity of your snake's enclosure, because it absorbs a lot of water. However, it's not that great if your snake likes to burrow in its substrate because the pieces of coconut husk are quite large.
If you own a ball python, it's recommended that you opt for cypress mulch or pulverized coconut husk, or you can even choose to have a blend of both. Just make sure you avoid bedding that's drying, such as pine shavings, paper, or sand.
What Plants Are Good For Ball Pythons?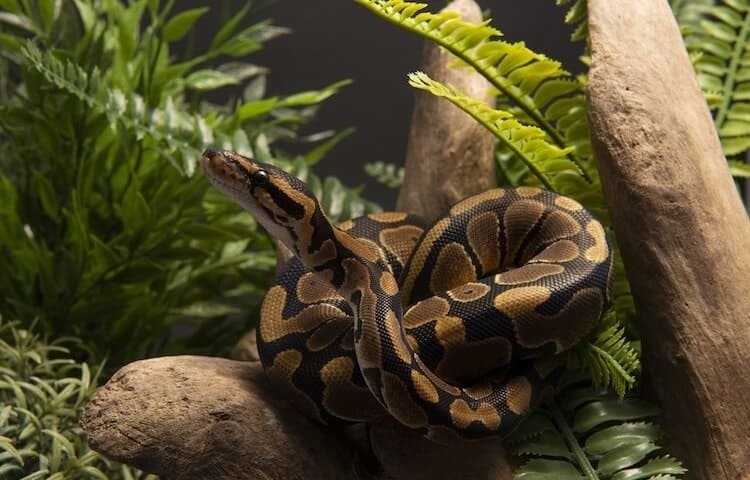 The best ball python enclosures will have live plants. Your pet will love being able to hide behind them or even climb them.
That said, you need to ensure that you choose the best plants – they need to be strong enough to handle you snake's weight as the level of activity in which it likes to engage.
Some of the best plants for ball pythons include the following:
Weeping Fig Tree – this is hardy and leafy, providing a lovely hiding place for your ball python.
Tineke Rubber Plant – this plant looks lovely with its green, white, and pink leaves, but it's also great for ball pythons because it is great for climbing and hiding.
Neregelia (Tiger Cub) – these plants are robust and hardy, so you don't have to worry about them getting destroyed by your highly active ball python. As a bonus, with its striped appearance, it's a lovely way to improve the décor of your snake's enclosure.
How Often Should You Change Snake Bedding?
How often you need to change your snake's bedding really depends on how dirty it gets, but generally you should try to change it every one or two months. This ensures that you keep it fresh and hygienic for your pet snake.
This might seem like a long time and that the enclosure will become very dirty if you wait that long, but this assumes you spot clean daily.
Ball pythons only poop once every 10 days to two weeks, and you should definitely clean up as soon as you notice any waste. But apart from the affected bedding, you can leave the rest undisturbed.
That said, if it starts looking really gnarly, go ahead and swap it out sooner.
To make spot cleaning your snake's cage easier, choose an aspen chip substrate, like the one by Zilla reviewed. But be aware that it also has drawbacks. You'll have to decide for yourself how important a slightly easier cleanup is.
Best Ball Python Bedding: Conclusion
If you need to purchase bedding for your ball python, any of the five options above are excellent. All have some advantages and disadvantages, but overall, we prefer the cypress mulch.
We hope this article has helped you find the best substrate for your ball python. If you still have some questions, please ask them in the comments below.