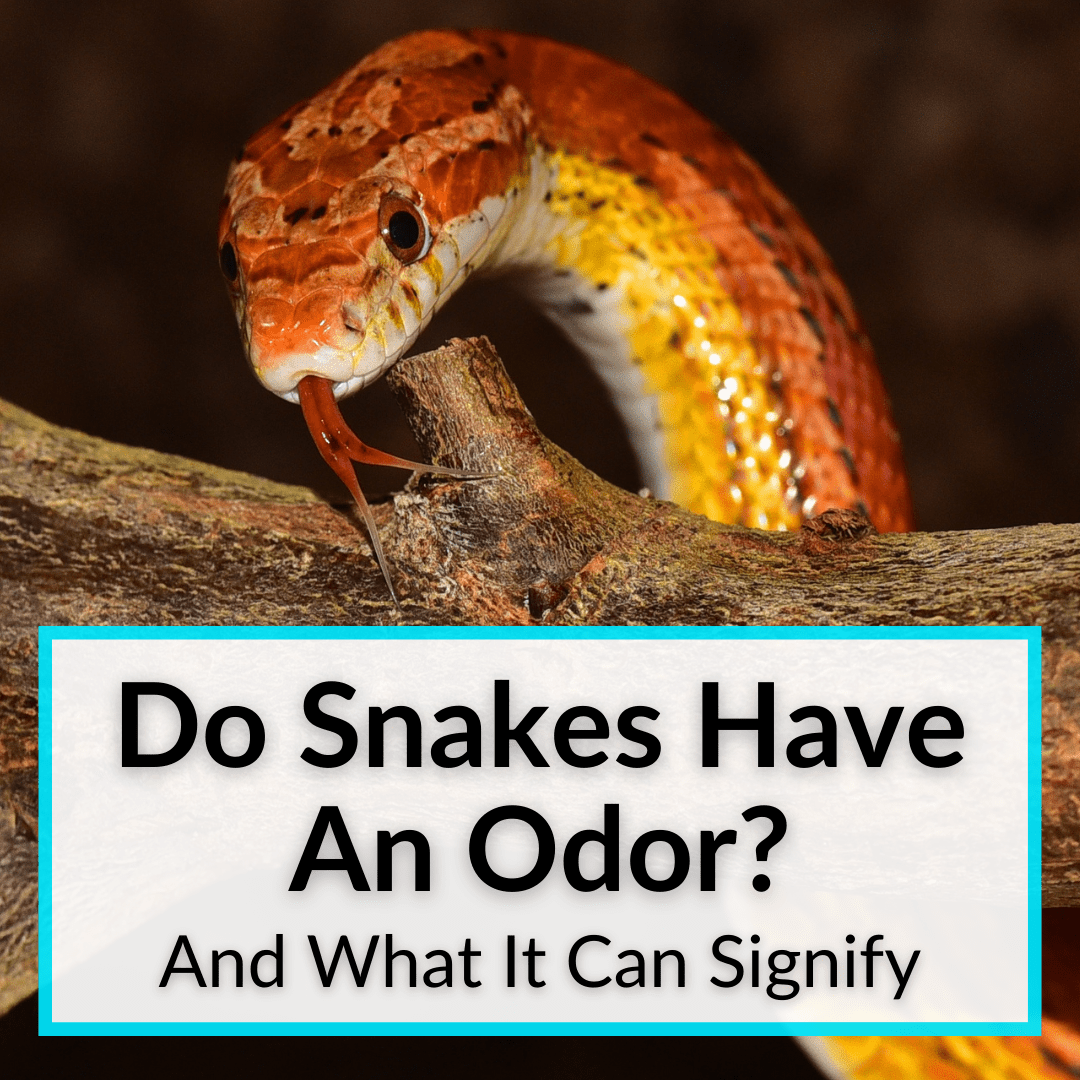 Do you occasionally notice a foul odor in the room where your snake lives?
You glance at your primary suspect, you son, but he points at the snake.
He's lying.
It is unusual for snakes to emit a strong odor. That said, it is not impossible.
There are certain situations in which a snake can actually smell quite foul.
So do snakes have an odor then? Or can you only smell them in special circumstances?
Keep reading to learn everything you need to snow about snakes and their odors.
Do Snakes Have An Odor?
Snakes have glands in their tails that contain a stinky liquid musk. They will expel this musk when they feel threatened, which will often repel the attacker due to the stinky smell.
"How do snakes defend themselves from predators?" is a question iI get asked a lot. Snakes actually have a number of defense mechanism, depending on the species. Musk glands are one such mechanism.
Why Snakes Have Musk Glands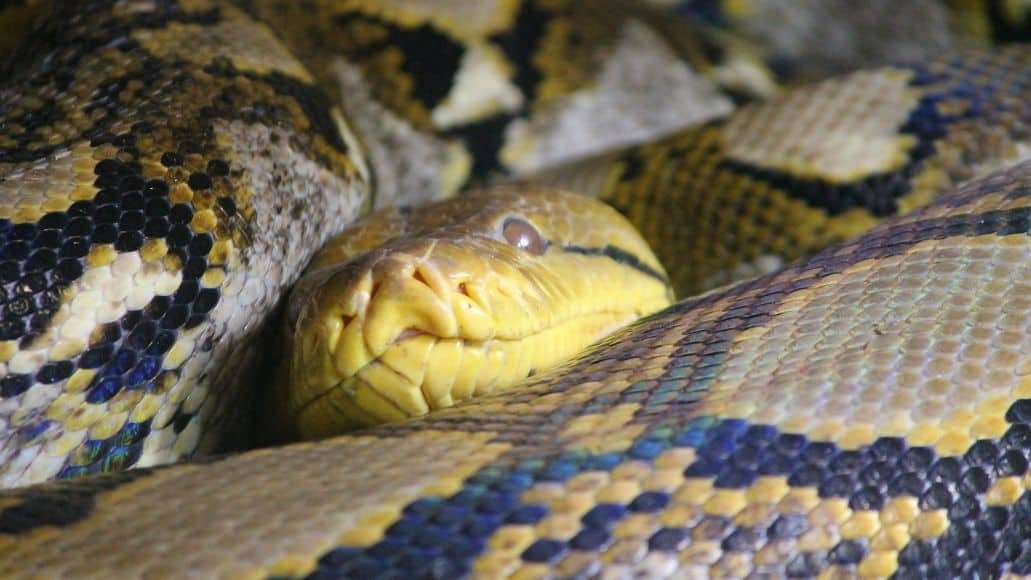 The glands that are at the base of a snake's tail are called cloacal glands. These glands have evolved over thousands of years as a defense mechanism to help ward off predators.
Each snake has a different smelling liquid in its cloacal glands. Ironically, in many cases, the less dangerous the snake, the smellier the musky liquid.
Much like the ink that octopi and squid shoot out when they feel threatened, the musk from the cloacal sacks is meant to make a predator think twice about eating the snake.
This defense mechanism makes perfect sense, since all predators understand that a bad smell usually means bad food.
In addition to the musky odor they squeeze out of the glands, some snakes poop a little bit and roll around in it while being attacked. This also adds to the nasty smell and helps keep predators from eating the snake.
Do Snakes Have A Smell Apart From The Musk Glands?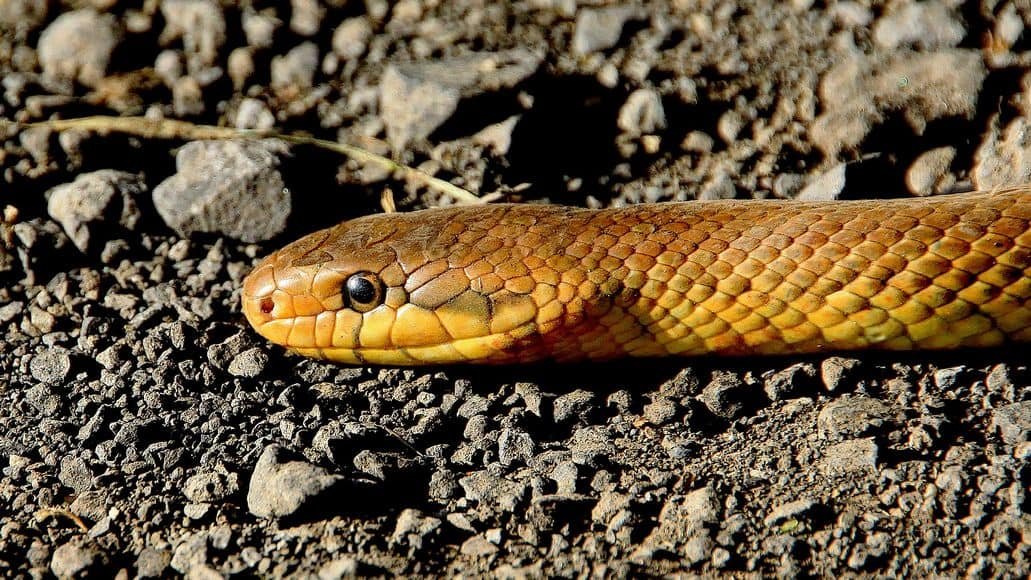 Most snakes have no additional odor apart from the odor that is produced by the cloacal glands. Because snakes have no fur, there is nothing to trap odors or keep the odor on the snake's body for long periods.
Many mammals have smells due to the fur and the natural oils that are needed to keep the fur healthy. With snakes, they don't sweat or have fur, or any other way to keep odors stuck to their body.
Many snakes have no smell at all unless you disturb them. Their scales have no inherent smell of their own, unless they have recently rubbed on something smelly or emitted some of their musk from the glands at the base of their tails.
Shedding snakes can have a bit of a decomposing odor as they release the old dead skin, and the new skin grows underneath.
Which Snakes Have The Strongest Smell?
The smell of snake musk can differ considerably from one species to the next. The following types of snakes are known to have the strongest smelling mush.
King Rat Snake
The King rat snake is known to be the smelliest of all the snakes in the world. It is mostly found in Asia, in the forests of China and Northern Vietnam. The smell that this snake emits is a terrible strong sharp and overwhelming odor that smells like death or feces. Or both.
Garter Snake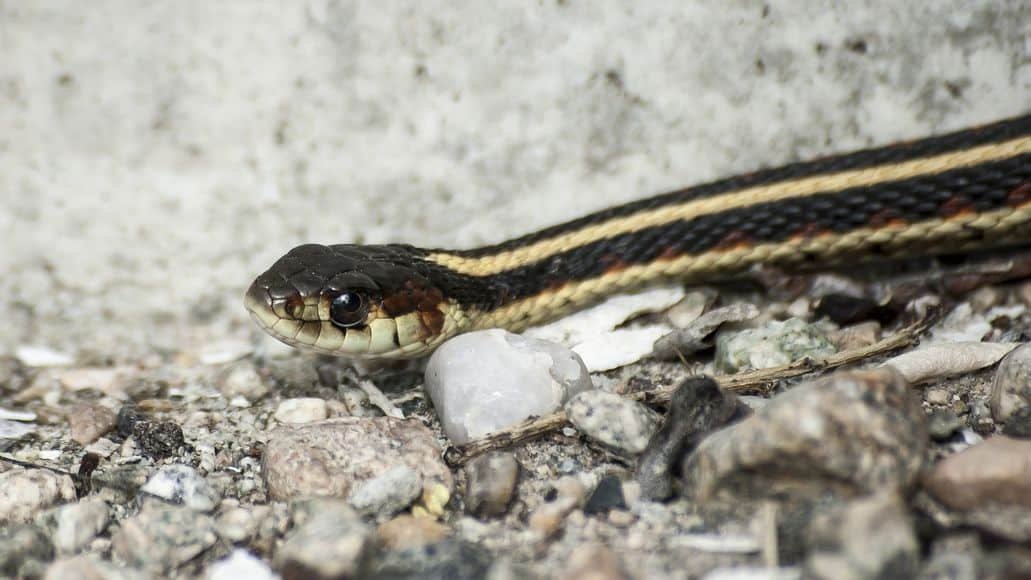 The garter snake is a common and harmless snake found in almost every climate in the United States. However, this common snake can emit one of the worst and strongest smells of any snake. A threatened garter snake can emit an unbelievable amount of stink from such a tiny harmless little snake!
Hog Snake
Hog snakes can produce an amazingly nasty smell as well. These are commonly kept as pets and many owners of these snakes have said they have extremely stinky glands and can stink up an entire room all by themselves!
Do Copperheads Smell Like Cucumber?
This is one of the things you will hear people say when you talk about copperheads and other venomous snakes. There is a widespread belief that they smell like cucumber.
There is no proof of this at all.
Scientists and herpetologists that work with copperheads and other venomous snakes have reported no such smell. Some have even said the claim has no basis.
If this is the case, where did this myth come from?
It is possible that somebody may have come across a den and there may have been some dead prey in there or some old skin or something that smelled like cucumber.
This person may have then spread news of this discovery to many other people who also spread it, and it gained momentum, until it finally became a widely believed (but untrue) rumor.
Do Snakes Smell When They Hibernate?
This is another one of those myths that somehow gained momentum over the years. It is also false. Snakes have no odor whatsoever when they are hibernating. And they don't fart.
There may be other things in their den that produce an odor or strong scent, but any scent that may be coming out of the den is not coming from the snake itself.
There will inevitably be some snake poop in the den which could cause some odor, but there will be no odor coming from the hibernating snake.
Their bodies go into a slowed-down state where they are barely alive and producing scent from their glands would serve no purpose and use up energy they do not have.
Pro Tip: If you come across a hibernating snake, leave it alone. They need to hibernate to survive the winter. How would you like it if somebody came and kicked you while you were sleeping?
Can Snakes Smell Other Snakes?
Yes and no. Snakes can smell the pheromones released by other snakes trying to mate.
However, since snakes have no inherent smell other than their musk glands, snakes do not smell the presence of another snake automatically. If an approaching snake has released musk recently, it will be detectable by another snake.
Snakes have an incredible sense of smell. They do not have great eyesight or excellent hearing.
Snakes rely on their sense of touch and sense of smell to get by in the world. They use their tongues to flick the air and collect small particles and bring them back into their mouths to smell their surroundings.
In their mouths, they have a special organ called the Jacobson's organ. This organ is located on the roof of their mouths. In conjunction with the tongue, this organ is responsible for the way snakes smell and taste their environment.
Snakes take their tongues after flicking in the air and bring them back into their mouths. When they do this, they touch their tongues (which are full of smell molecules and particles) to their Jacobson's organ, which then transfers the smell to the brain. This is the full story of how snakes smell.
A Snake's Odor: Final Thoughts
Under normal circumstances, snakes do not have a noticeable odor. But if they feel threatened, they can emit a musk that does smell quite foul. They can also slither through poop and then smell like that.
If you do notice that your snake smells bad, and you have ruled out the musk, we recommend cleaning the cage thoroughly. Most likely the source of the odor is something in the snake enclosure, and not on the snake itself.
But it might also be a good idea to give your snake a bath, just to be sure there is nothing on the animal itself that is causing the odor. After cleaning the cage and the snake, the smell should be gone. If not, contact your vet.