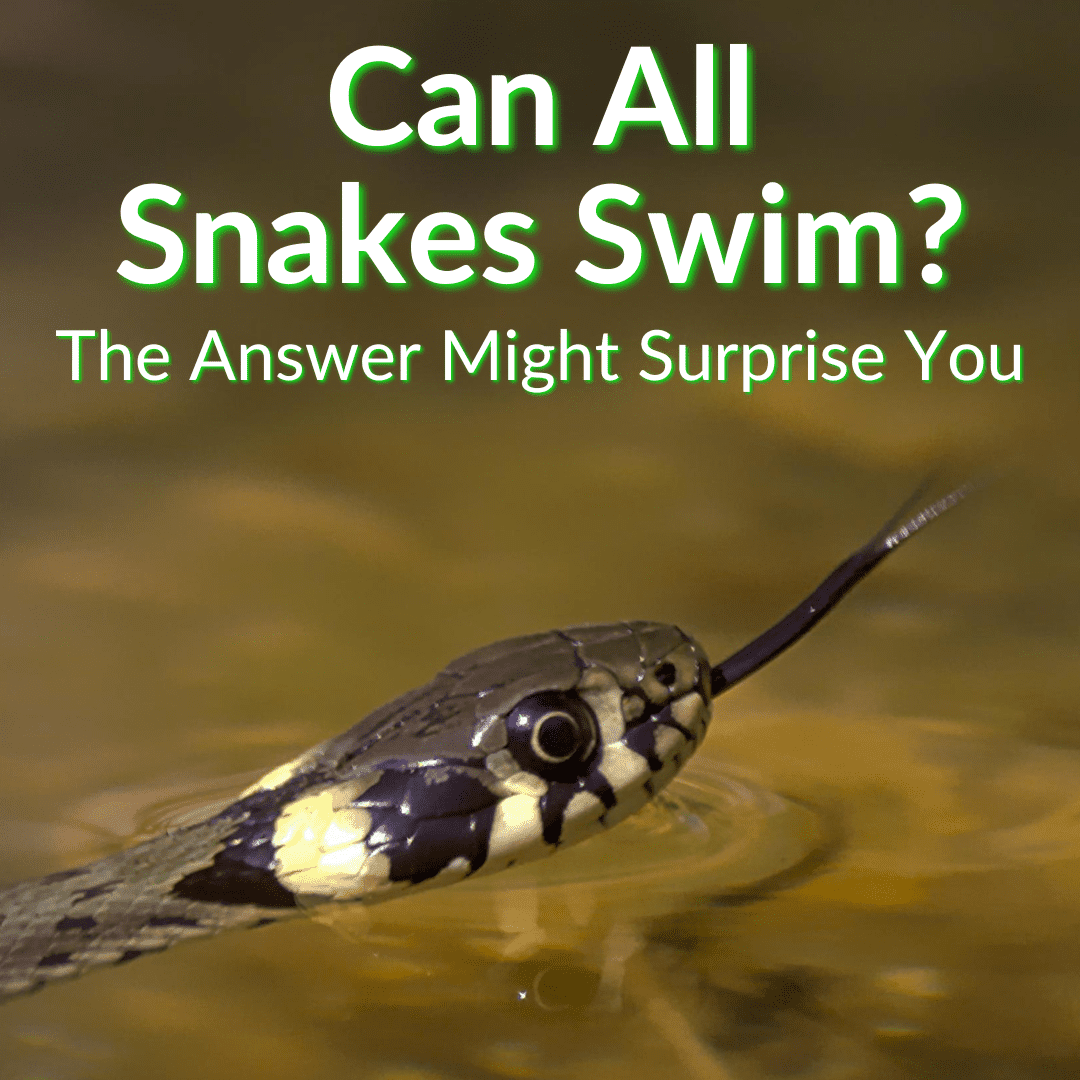 Snakes get around pretty fast on the ground.
They can even climb trees, when they want.
But how do they deal with water?
Can snakes swim?
If you've heard of sea snakes, you likely know that some of them can certainly swim.
But can all snakes swim?
Keep reading for the answer to that, plus everything else you need to know about snakes and swimming. Some of the facts below will probably surprise you.
Can Snakes Swim?
Yes, snakes can swim. But how often they do so, and even their preferred swimming styles, can vary quite a bit from snake to snake to snake.
Some prefer to move across water buoyantly on top, while others like to poke their heads out with their bodies still submerged. Naturally, freshwater and sea snakes, are generally the best swimmers.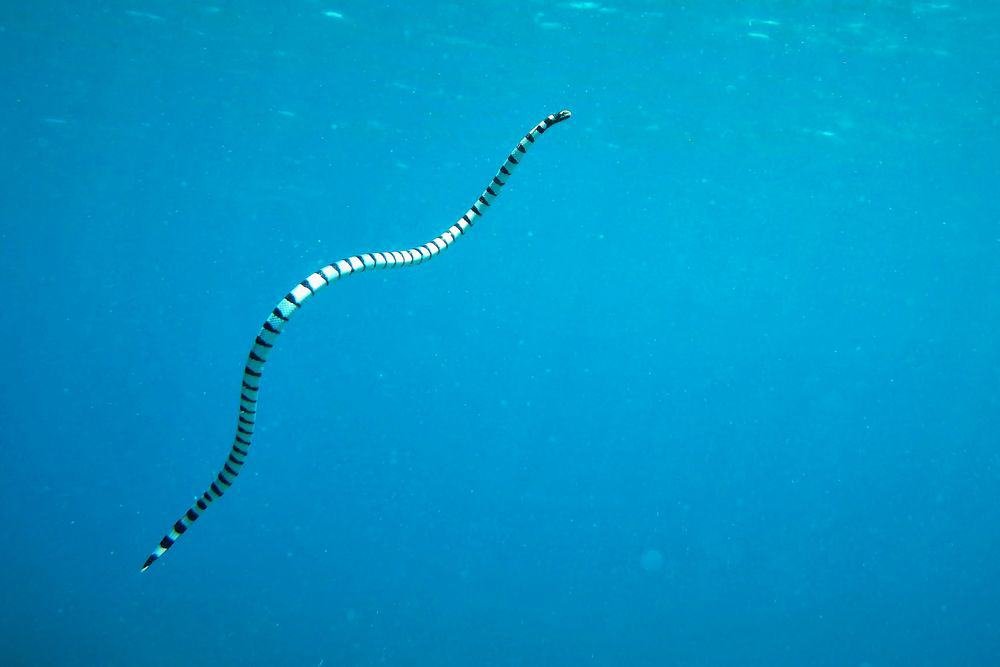 We're going to take a closer look at snakes and swimming. We'll learn a little more about how they move, if they can breath underwater, why they'll swim, and more.
Can All Snakes Swim?
Yes, all snakes can indeed swim, though freshwater snakes, like Water Moccasins, and sea snakes, like the Coral snake, are definitely better suited for it.
Most land snakes don't particularly enjoy swimming, but they can do it, if they need to. Our article covering whether ball pythons can swim has more.
How Often Do Snakes Swim?
This is another case of 'it depends on the species'. With land snakes, it's mostly a matter of convenience.
If they need to cross a body of water then they certainly won't hesitate to swim across it – provided that it's not a large distance.
Land snakes will also take to the water if they are fleeing from a predator or if they are chasing their prey.
Freshwater and sea snakes do much more swimming, as expected. They hunt their prey in the water, eating anything from delicious frogs to fish.
Why Do Snakes Swim?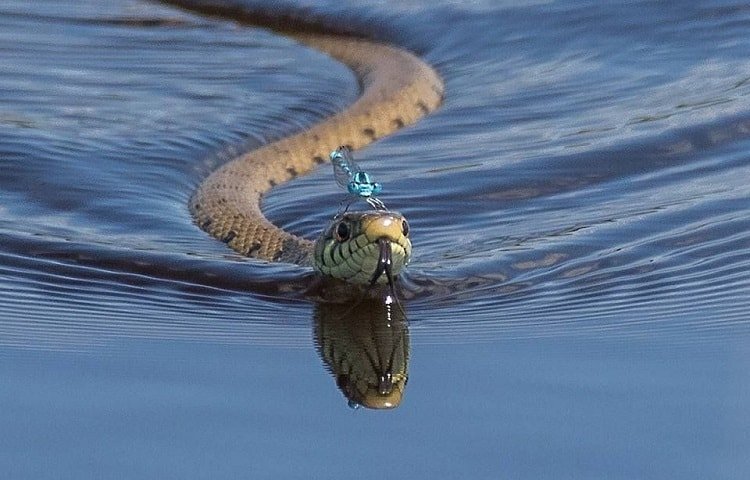 Land snakes mostly swim when they need to, while freshwater and sea snakes swim because they are hungry and wish to hunt.
Hiding is another good reason for a snake to swim, although they will usually just swim briefly, dropping below the surface to hold their breath until a predator goes away.
During this time, they are still quite capable of biting to defend themselves and moving around. Their 4 styles of movement can certainly take advantage of the terrain underwater.
How Do Snakes Swim?
To understand how snakes can swim, we first need a better understanding of how they move around in the first place.
When moving across land, a snake's muscled body uses its scales in order to move it along. Snakes do not have hips or legs. Every snake has 4 types of movements.
Rectilinear Method: This is just a straight movement forwarded, propelled by the snake's muscles and scales.
Serpentine Method: This is the wavy 's-shape' movement that we're all familiar with. The snake gives its body a mighty push forward and keeps the momentum by moving left and right, while its muscles and scales keep pushing against the ground.
Sidewinding Method: When a surface is difficult to grip with the scales, a snake 'sidewinds' by pushing its head forward in the direction it wants to go, followed by wriggling its body behind it, and then throwing its head forward again to repeat the process as-necessary.
Concertina Method: The tail-end of the snake pushes against a surface, acting as an anchor, while the front part of the body slowly moves and stretches forward. Then the snake anchors with its head and moves the rest of the body forward. They mostly use this movement in confined spaces.
So, how does this apply in water? Well, just as the snake grips land with its scales, it can also grip the surface of the water, because water has a property called surface tension.
Without getting too technical about it, surface tension makes the water act like a stretched elastic. This is the reason that certain objects and bugs can float along on the surface with little to no effort.
With their many and mighty muscles and broad scales, snakes can push against the surface of the water and the surface tension 'pushes back'. This propels the snake forward, as if it were on a solid surface!
Can Snakes Breathe While Swimming?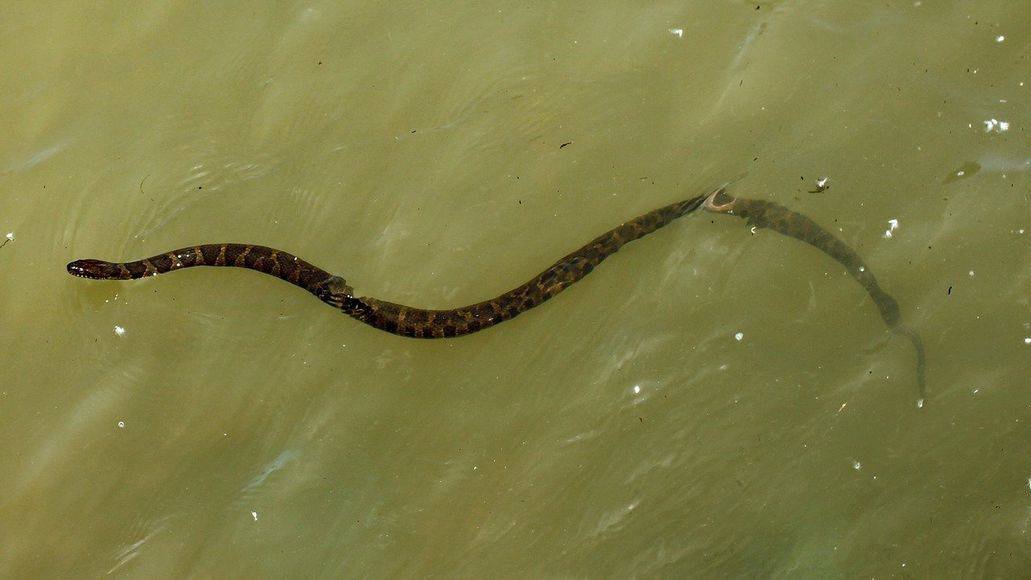 They can certainly still breathe. Snakes exhale carbon dioxide and inhale oxygen just like us. And like us, they can't do it underwater. Even freshwater and sea snakes don't breathe underwater.
However, since those species spend a lot of time underwater, they have adapted to hold their breath for longer periods of time than their land-preferring cousins.
Snakes, depending on the species, have one or two lungs located on the left and right side of the body. Snakes fill those lungs by breathing through their mouths and their nostrils, just like we do.
They even have an opening inside their mouths called a 'glottis', which lets them breathe when they are eating and their mouths are full!
As far as holding their breath, land snakes can usually do this underwater for an average of 15 to 25 minutes – provided that they are relaxed.
This is indeed an average. It varies a lot between species. For instance, Anacondas can hold their breath for about 10 minutes, while Ball pythons can do it for 20, and Burmese pythons can hold it for a whopping 30 minutes.
Sea snakes have the record, though, with some being able to hold their breath for as long as 8 hours! Don't worry – we'll tell you a little more about them shortly!
More On Sea Snakes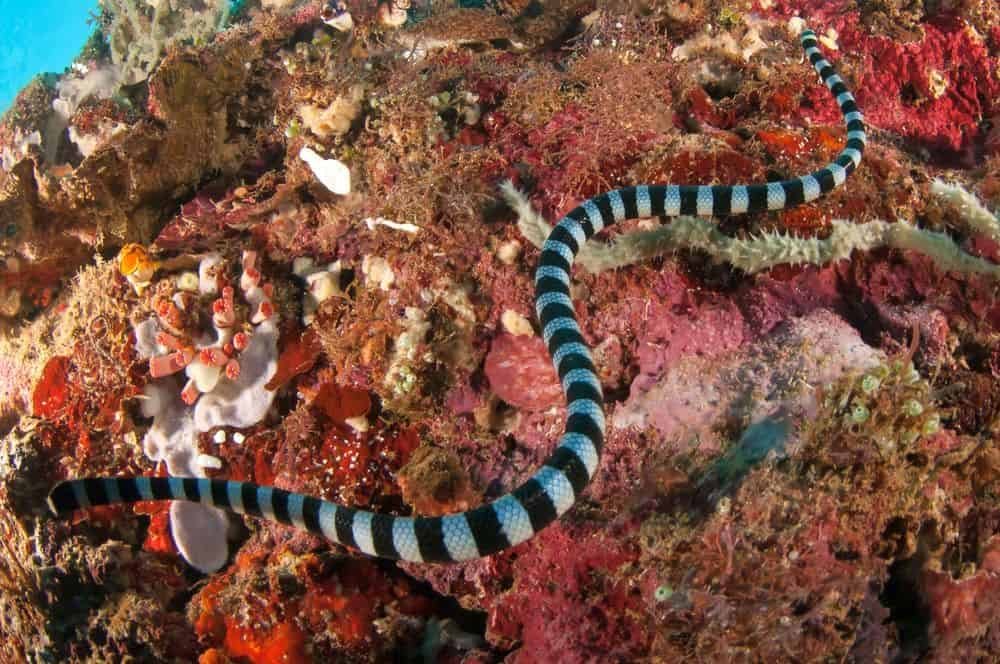 We promised you earlier to talk about Sea snakes, so let's discuss these water-adapted wonders! There are 69 identified species of sea snake and they are found only in the Indian and Pacific oceans.
There are no sea snakes in the Gulf of Mexico, so you won't have to worry about these venomous snakes swimming where you swim on your next vacation to Florida.
Sea snakes have been around for a while. We estimate them to have evolved somewhere between 6 and 8 million years ago.
So how can you tell if you've spotted a sea snake? It's actually a matter of their tails.
Sea snakes have long ago evolved flattened, paddle-like tails that give them a speed boost and a lot of extra grace as they dive, hunt, and evade animals in the salty brine.
Those same tails make them much more awkward on land but make no mistake – they can still slither pretty fast when they like!
While you might think that this paddle makes a sea snake look like an eel, there's actually a pretty easy way to distinguish them – simply look for a fin.
Eels have a fin or a ridge-type structure that runs along the length of their bodies and sea snakes definitely don't have one of these.
Sea snakes also have the rare honor of being the only reptiles that can give birth in the ocean.
Because they try to spend as little time on land as possible, most sea snakes are able to store their eggs until they hatch. This way, they give birth to live snakes in the water while they are swimming.
That's a pretty neat trick. But Sea snakes do still need land from time to time.
Water is a big reason for this. Sea snakes are actually at danger of dying of thirst, if they spend too much time in the saltwater.
That said, some sea snakes have a really interesting trick up their sleeves, that means they don't always have to go to land to get a drink. It has to do with storms.
When the rainfall is heavy enough, a layer of freshwater actually forms on top of the seawater. Snakes like the Yellow-bellied Sea snake can drink this as they swim along.
We actually didn't know until recently that they could do this. Everyone just assumed that they somehow drank the saltwater.
But a study published in PLOS One, led by a professor of biology named Harvey Lillywhite, was able to determine this amazing fact by studying 99 captured sea snakes. Fascinating stuff, indeed!
Even with that trick, you'd think that sea snakes end up eating a lot of salt, just from hunting their lunches and dinners. But evolution has resulted in another very cool adaption: specialized sublingual glands.
Located just under the tongue, these glands make it possible for sea snakes to push salt from their bloodstream and expel it with a cool flick of the tongue.
All in all, we have to say that sea snakes are definitely quite the amazing reptiles! If you want to learn more about marine wildlife and sea snakes, go check out marine patch.
Can Snakes Swim Underwater?
Yes, but not all snakes can swim underwater. It is usually just sea snakes and freshwater snakes that can swim beneath the surface of the water. Land snakes swim with their head above the surface.
Can Rattlesnakes Swim?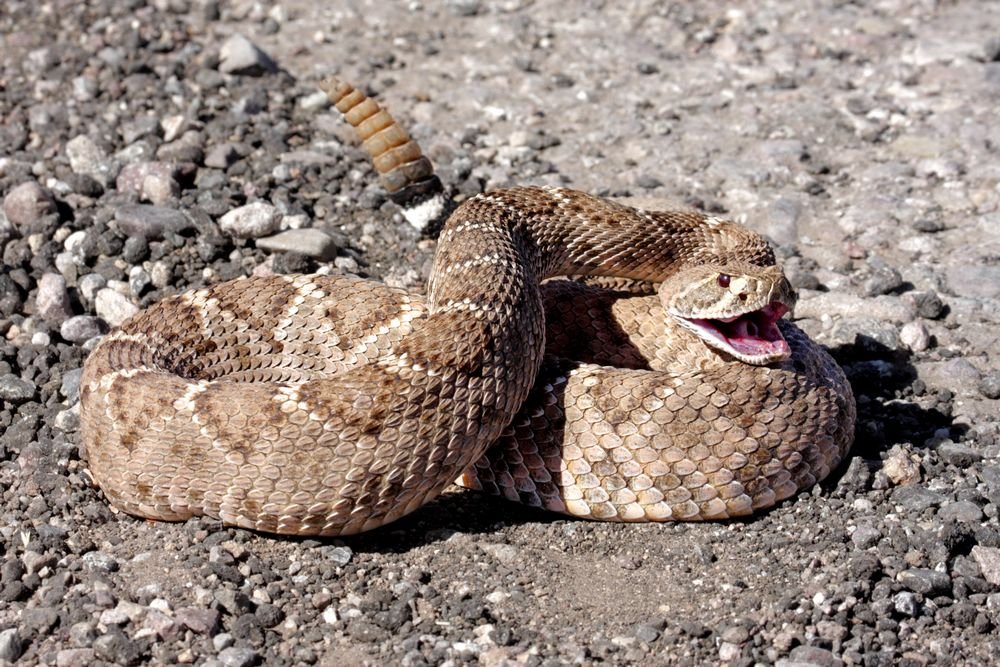 Yes, just like all other species, rattlesnakes can swim. That said, it is quite rare to see a rattlesnake in the water. It is definitely not their preferred habitat.
Can Garter Snakes Swim?
Yes, garter snakes can also swim. However, they prefer to spend their time on land and will usually only enter the water to escape a predator or to catch prey.
Can Corn Snakes Swim?
Corn snakes are similar to garter snakes. They can swim, but they only do so if they need to save their own life, or if they are trying to take the life of something that will become dinner.
Can All Snakes Swim: Final Thoughts
All snakes can swim and while some, like sea snakes with their adapted tails, can certainly swim better, any snake that you see is more than capable of taking to the water.
Land snakes generally swim to escape predators or to follow the prey that they are chasing, while aquatic and semi-aquatic snakes are swim more of the time and hunt prey underwater.
It just goes to show that snakes aren't really hindered at all by their lack of arms and legs. These fascinating creatures can quickly move along on the ground, climb up into trees, and swim along gracefully without those unnecessary limbs. Just as nature intended!