It is one of the great evolutionary mysteries.
For some reason, there are no sea snakes native to the Atlantic Ocean.
This means there are also no sea snakes in the Gulf Of Mexico.
Sure, snakes have been discovered there, but they were not native species.
Keep reading to learn all about sea snakes and the different species, along with the main theories for their absence in the Atlantic and the Gulf of Mexico. We'll also cover some snakes that do live around the Gulf.
Sea Snakes In Gulf Of Mexico
As mentioned, there are no native species of sea snake in the Gulf of Mexico. Before we get into more detail on that, let's first cover some general information about sea snakes.
Definition

O

f Sea Snakes & General Information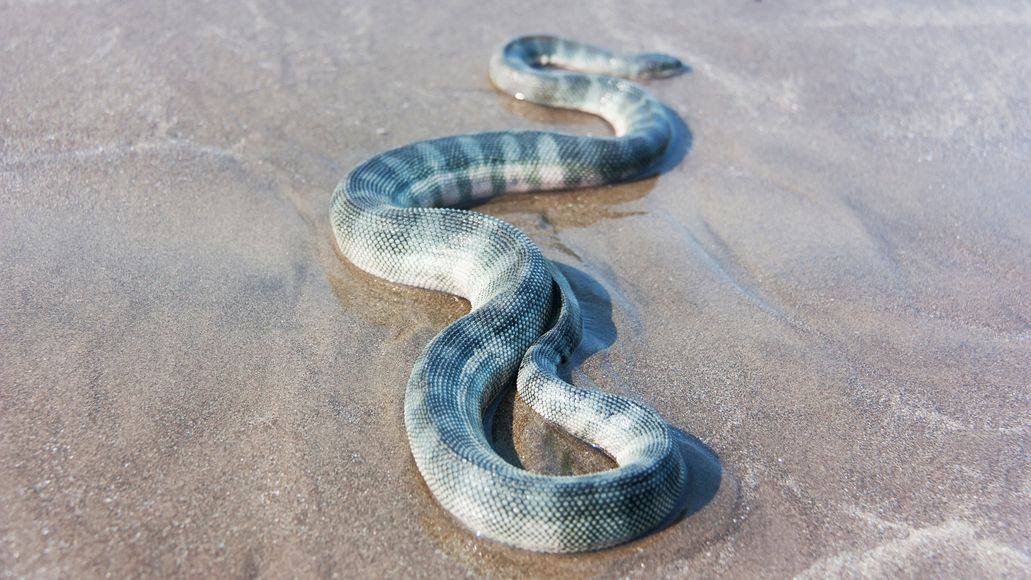 Sea snakes' proper name is Hydrophiinae. Most sea snakes are venomous, but there is a genus called Emydocephalus which is nonvenomous and eats fish eggs.
Sea snakes live in the water for their entire life in most cases and have evolved paddle-like tails, so they can swim effectively and efficiently.
Sea V

s

Land Snakes
Land snakes have scales that allow them to grip the earth and move freely, while sea snakes have scales designed to help them move quickly through the water.
If a sea snake ends up on land it will have no way to move around, since they have completely different scales and physiologies than land snakes. If they do end up on land they flail wildly and become aggressive and mostly immobile.
Habitat
They are found in the Indian Ocean and parts of the Pacific Ocean as well, mainly the western Pacific. Some species are found in various parts of Oceania too.
Temperament
Most sea snakes are mild-mannered. They can bite you underwater, but it is very rare. But not every snake is the same and some may be more aggressive than others. Like any other wild animal, if you provoke a sea snake (especially during mating season) you are more likely to get bitten.
Types

O

f Sea Snakes
There are around 70 species of sea snakes. Most will get up to around 5 feet long. They are sometimes confused with eels, but if you know what to look for, they are not very similar.
Eels are flatter and tend to have wider mouths, and are usually a dark black color (with some species being different.) Sea snakes have rounded bodies like terrestrial snakes, but they also have a distinctly flattened paddle on the end of their tails.
Sea Kraits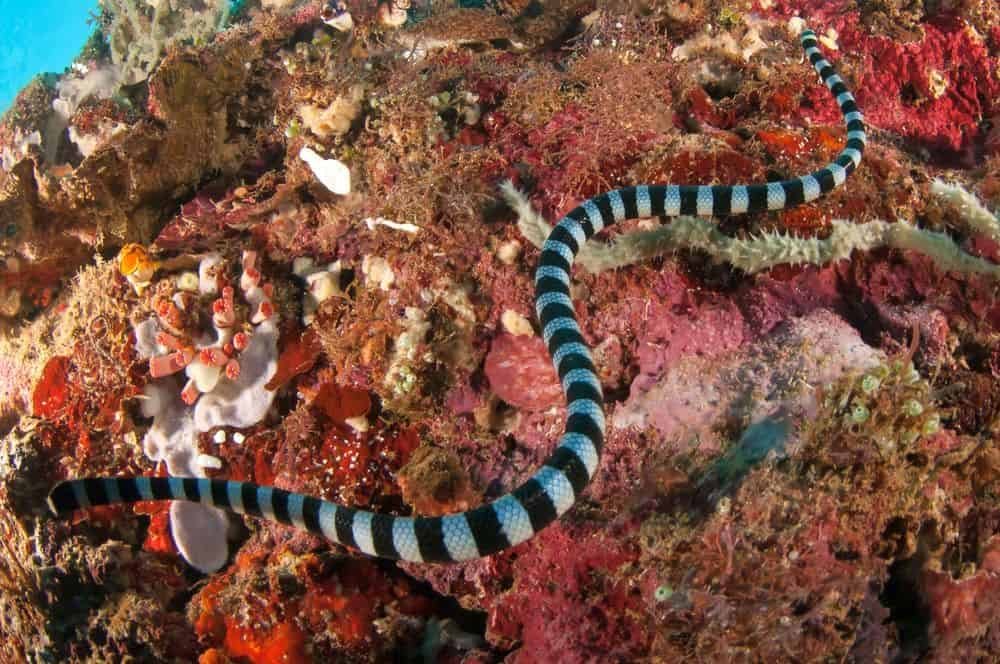 Sea Kraits are venomous sea snakes. Unlike most other sea snakes they are semi-aquatic, meaning they can also move around on land. They have scales that are suitable for land movement, but they also have the paddle-shaped tail that is common with sea snakes.
They need to come on to land to lay their eggs or to digest their food, so they are considered oviparous. They are from the sub-family Laticaudinae.
They have a striped pattern that goes the length of their bodies with dark stripes and a lighter color base.
They can be found all over the Asian islands and India, and as far north as Japan. They are one of the main poisonous snakes in the Philippines. Rarely these snakes can be found on the Eastern Australian coast.
Spiny Headed Sea Snake
This species is known for its spiny head or horn-like appearance on its head. It is native to Thailand, the Gulf of Siam, Vietnam, the Philippines, Australia, and New Guinea.
They prefer to hang out on the sandy ground near coral reef structures. They eat mainly small fish and are not aggressive to humans unless provoked.
Turtlehead Sea Snake
Also called the egg-eating sea snake, this species is known for its turtle-like head. It is not an exceedingly large snake and normally grows to 41 inches long.
Not all these snakes have the same coloring, which is common with snakes. The coloring adapts to the snake's environment.
Still, most will be either a light color or a white/yellow base color with dark rings. They eat only fish eggs and do not feed on live animals.
Yellow-Bellied Sea Snake
This unique snake has an interesting two-color pattern on the top of its body with a yellow underside as the name suggests. It is a venomous sea snake that lives in tropical waters almost all over the earth, except for the Atlantic Ocean.
This species of sea snake is one of the most spread out species geographically, showing how successful the species is.
These guys spend their entire life at sea, unlike the Sea Kraits above, making the yellow-bellied sea snake a true sea snake.
They have extremely potent venom, so be careful if you find yourself swimming near one. They are the most poisonous snake in the US, but luckily, bites are extremely rare. Females give birth to live babies, unlike many other species which lay eggs.
Are There Sea Snakes In The Gulf Of Mexico?
No. It is one of the big mysteries in the scientific world. Sea snakes are an evolutionary success story with many species living all over the world in almost every ocean.
But the Atlantic Ocean (and therefore the Gulf of Mexico), for some reason, does not contain any native species of sea snakes. There are ample places for them to breed, plenty of food to eat, and yet, they never evolved there.
Sea snakes are a diverse group of subspecies that can live in almost any aquatic climate, so why have they not decided to take up residence in the Atlantic Ocean?
Nobody knows currently, but studies are ongoing as scientists work to solve this evolutionary mystery.
One popular theory as to why they do not live in the Atlantic, is that they simply cannot get there.
When they evolved in the southeast Asian waters 3 to 8 million years ago and spread across the Pacific Ocean, the Isthmus of Panama was already blocked, which gave them no way to get to the Atlantic via the Caribbean.
You can read more about this in this excellent paper by Harvey B Lillywhite and others.
Snakes That Do Live Around The Gulf Of Mexico
Many species of land snakes live around the Gulf of Mexico, but as I said earlier, none evolved in the water there. Most live on the continent, but smaller species also live on the islands. In fact, there is only one Caribbean island devoid of snakes entirely.
Eastern Diamondback Rattlesnake
This snake is notorious because of its menacing appearance and its ability to strike quickly and inject venom into the body immediately.
It is also well known because it is the largest and heaviest species of rattlesnake. You do not want to get bit by this guy.
Coachwhip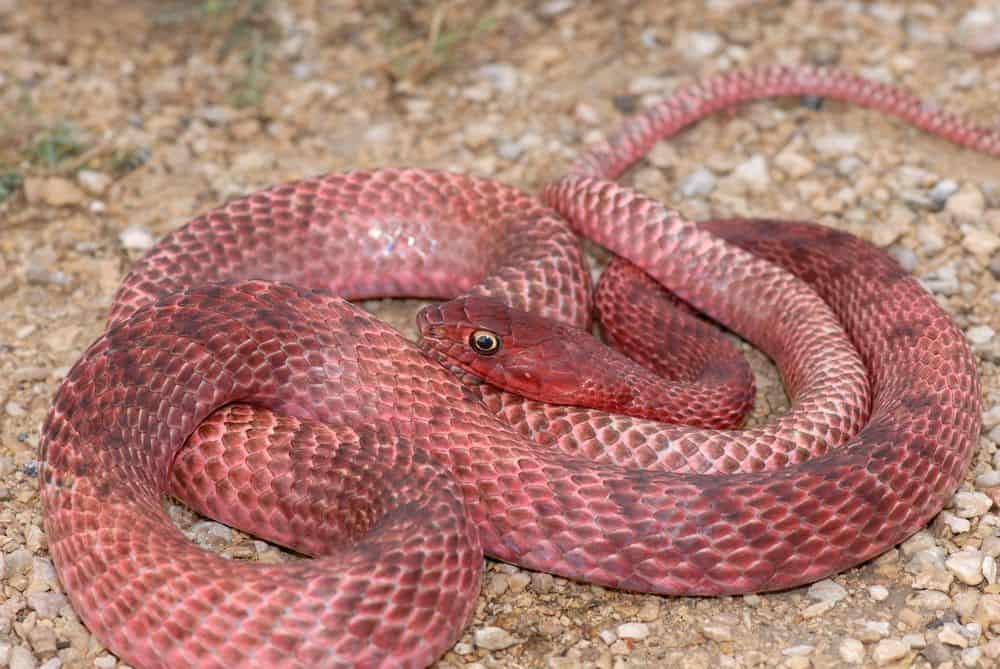 Coachwhips are skinny but they can get extremely long. They are beautiful and distinctive colored snakes.
They have a dark-colored head and the color fades down the length of their bodies ending at a light-colored to whitetail. There are no other snakes that look like this.
They are daytime snakes and do not hunt or move around much at night. They are found all around the Gulf of Mexico but not in the ocean.
Black Racer
These snakes are common in the land areas surrounding the Gulf of Mexico. They can get up to 60 inches long and they are pure black.
Some black racers have a little bit of white coloring under the chin, but most are black all over.
These guys are commonly mistaken for rat snakes that live in the same areas and look like the black racer. These snakes are non-venomous and are active during the day. They feed on lizards, rodents, bird eggs, and sometimes other snakes.
Cottonmouth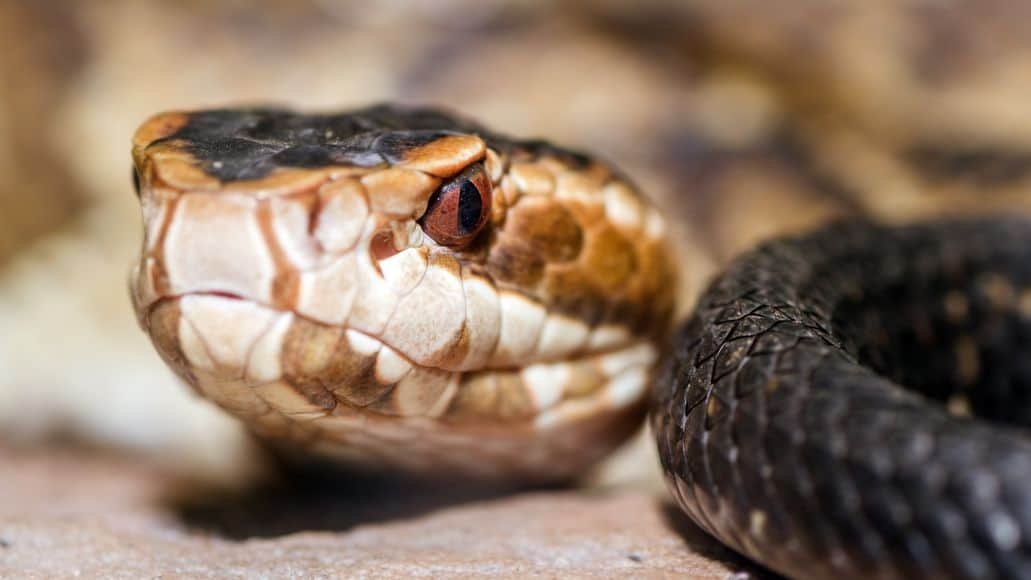 Also known as water moccasins, these are venomous water snakes that are semi-aquatic. Their heads are big and shaped like a triangle.
They are found in lakes and rivers or other freshwater areas all around the south and southeast of the United States, near the Gulf of Mexico.
Although some cottonmouths can and do venture into brackish salty freshwater to feed or mate, the ocean is much too salty for them, and they do not live in it.
Can a water moccasin kill you if it bites you underwater? It can, but the bites are rarely fatal, if you get medical attention in a timely fashion.
Sea Snakes Found In The Gulf Of Mexico
There have been reports over the years of people discovering sea snakes in the Gulf of Mexico, which got the scientific community interested.
There have been reports of sailors finding sea snakes swimming around in the Gulf, which is strange because they do not live there. No species of sea snakes live there, so you can imagine these reports became highly discussed.
Yellow-bellied sea snakes have been one species discovered there and discussed in these reports. There is a theory that the snakes have been hitchhiking in the ballast water of vessels coming from other parts of the world.
This makes logical sense because there are often thousands of gallons of seawater in the ballast of a large ship.
In certain circumstances a ship needs to let out some of its ballast water to remain buoyant, in the process of letting out this ballast water, some sea snakes perhaps got out, and went off on their way.
These snakes were then spotted by other ships who had no idea they came from ballast water. This is how the sea snakes in the Gulf of Mexico controversy started. You can read more about it here. It is not unlike how snakes made it to Hawaii.
Sea Snakes In Gulf Of Mexico: Final Thoughts
There are a lot of different snake species that live around the Gulf of Mexico, but none that live in it. Apart from a few stragglers that somehow made their way to this part of the world from their homes in the Pacific or Indian Oceans.
If you are curious as to why there are no sea snakes in the Gulf of Mexico, stay tuned. The scientific community is currently working on solving this mystery. Hopefully they will have a definitive answer for us soon.