Snakes are very different from us.
While we have some of the same biological features, there are far more differences than similarities.
That is probably one the reason many people have a strong fear of snakes.
One big difference is in the eyes. If you observe a snake for a while, you will notice it never blinks.
Does that mean it doesn't have any eyelids? And if not, how does it sleep?
Keep reading to find out if snakes have eyelids and everything else you'll want to know about the subject.
Do Snakes Have Eyelids?
Once you notice that snakes don't blink, it's only natural to wonder if they have eyelids.
The quick answer is that they do not.
However, they do have a thin scale, known as brille, that covers each eye and protects it from outside debris.
The Snake Brille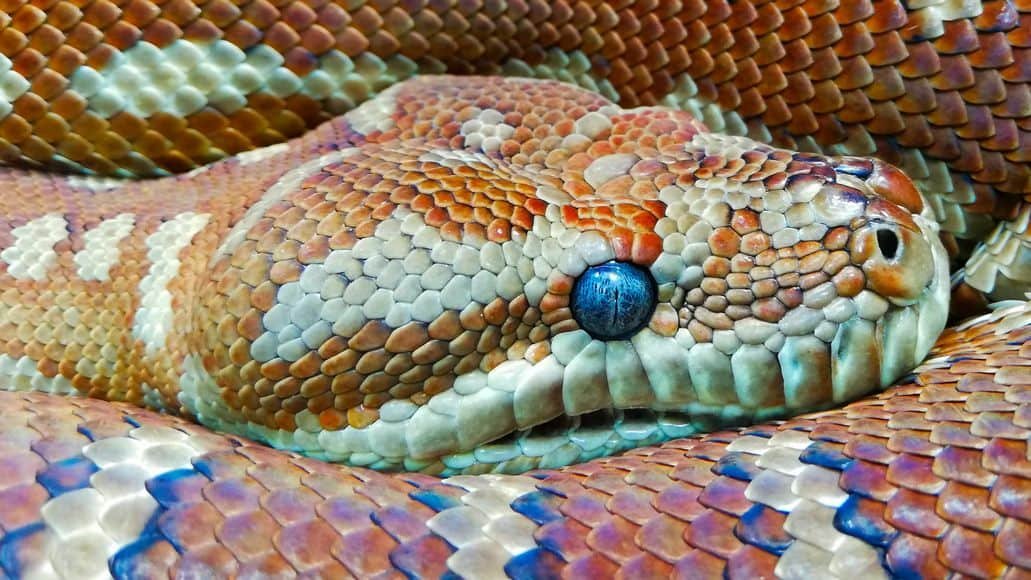 While it's true that snakes don't have eyelids in the traditional sense, they do have casings (brille) that protect their eyes from outside dirt, debris, and other harmful elements.
The term "brille" comes from the Germanic and means "glasses."
Normally, you can't see the brille on snakes. It's a clear eye cap, also referred to as a spectacle, that doesn't move or even blink, as normal eyelids would.
But you can see brille when it's almost time for a snake to molt or shed its scales.
Much like the rest of the snake's scales, the brille becomes cloudy, dull, and easy to distinguish from the eye underneath.
If all goes well, the brille detaches the same way as the rest of the snake's skin, leaving the eyes with a new, clear brille covering.
Shedding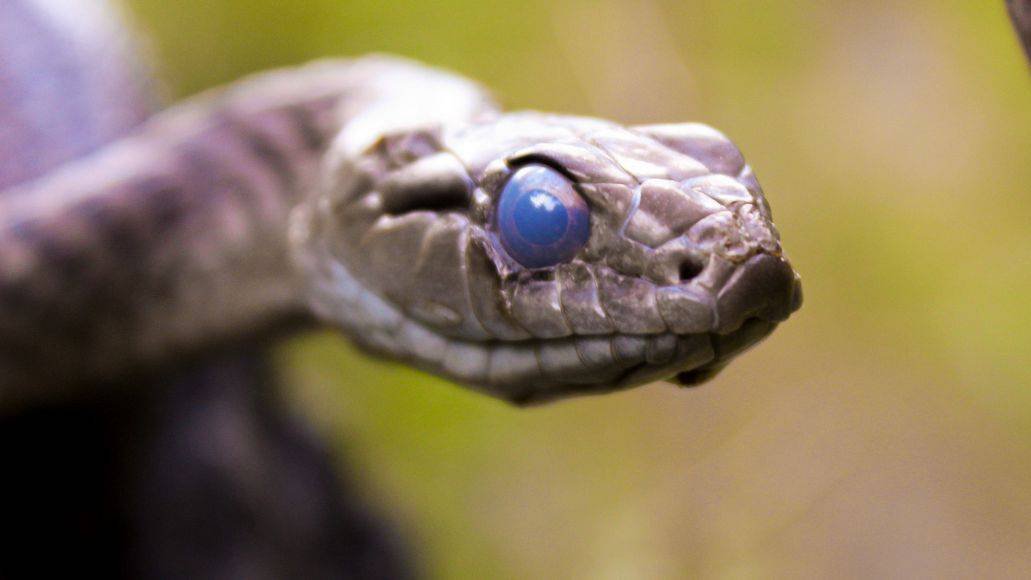 Snakes shed their skin when they outgrow it. Snakeskin doesn't grow with their body, so they must remove it via shedding.
This process is also known as ecdysis. It helps keep their skin healthy and unwanted bacteria out.
How often snakes shed depends on a few different things. Young snakes shed more often because they grow at a much faster rate.
Other factors that influence how often a snake sheds are species, the climate, and nutritional health. Adults typically shed a few times a year but it could happen up to once a month.
What If The Brille Isn't Removed?
Sometimes, during the shedding process, the brille separates from the shedded skin and remains on top of the eyelid.
The brille remaining after the rest of the skin is shed is called "retained spectacles." This can have serious health consequences, but you can easily remedy the problem.
The best way to see if your snake's brille has successfully sloughed off their body is by examining their shed skin.
You'll need to be careful because sometimes shed skin can be a breeding ground for salmonella, but as long as you wash your hands, you should be safe.
If the snakeskin seems to have holes where the brille would have been removed, it could indicate that the old brille is still on your snake's eyes.
However, it's also possible the brille came off separately from the rest of the skin and may be found in the tank somewhere.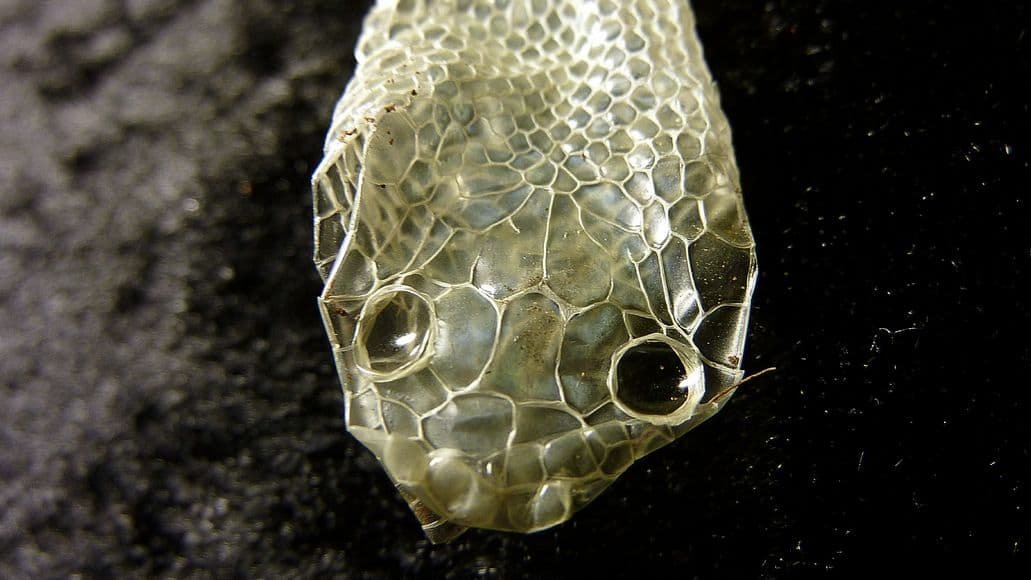 After you've looked at the shed skin and determined the brille may be missing, you need to examine your snake's eyes up close.
If the eyes are clear and no longer cloudy, there's a good chance the old brille came off separately from the rest of the skin.
If you notice your snake's eyes are still foggy or clouded, the old brille may still be on top of their eyes.
Before you start freaking out, let me offer you some advice—don't. Yes, this can seem scary, especially if this is the first time it has happened to you or your snake, and you've read some of the horror stories on the internet (never a good idea), but it can be easily remedied.
How To Remove Old Brille
Some snake owners believe it's best to let the old spectacle come off on its own, but this leaves the snake open for infection, especially if multiple pairs of brille have remained.
It's best to bring your snake to its regular, reptile-specialized vet rather than waiting around for the brille to fall off.
If you want to ease the process, you can give your snake a warm (not hot!) bath a few times each day. The water needs to be deep enough to cover your snake, and you cannot leave it unsupervised, as there is a risk of drowning if you leave your snake alone.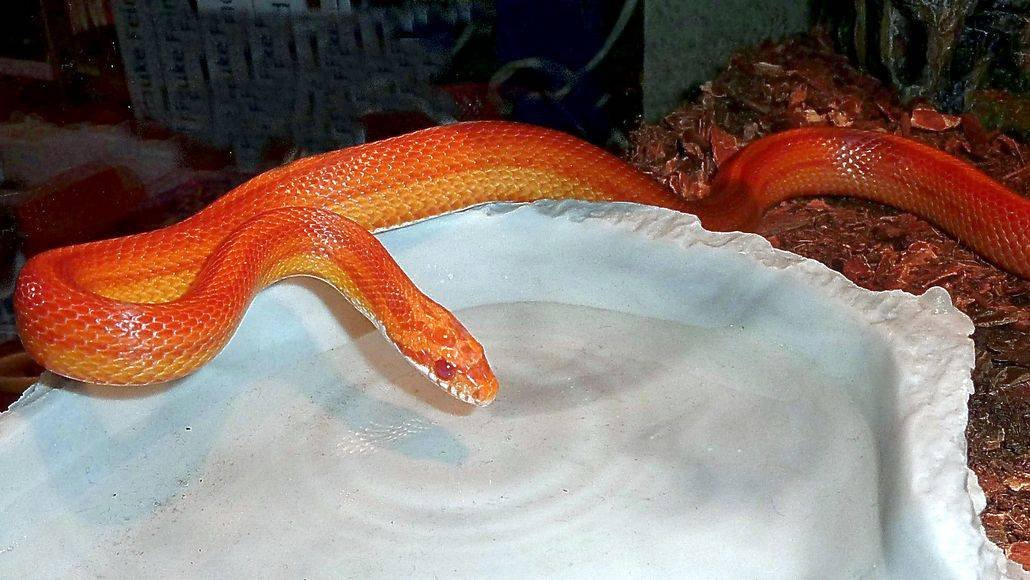 If you find that the retained brille has not fallen off after multiple soaks and the skin's softening, it may be best to arrange a visit to the vet.
You could also attempt to remove the retained skin on your own, but you should only do this if you're confident in your abilities.
Ultimately, you need to make sure the old brille is removed from your snake's eyes because it can cause health issues, as mentioned. If the old eye caps don't come off, it can lead to things like eyesight problems and even infections.
How To Prevent Retained Spectacles
Retained spectacles on snakes can occur for a few reasons. The most common is probably a lack of humidity in their environment.
Low humidity dries the skin. As a result, it won't come off in one piece as it should. Instead, it sheds in patches, which usually leads to retained spectacles.
Other reasons your snake may have retained spectacles are malnutrition or mites/ bacterial infections. You'll need to get these under control immediately to keep your snake healthy.
Make sure your snake is getting enough food and that it is not suffering form an infection or other type of illness. If necessary, consult your vet to get your snake treated for any other health issues you alone cannot fix.
Snakes need at least 50 to 70 percent humidity in their enclosure at all times. You can mist your snake to give it extra hydration. A reptile fogger can help if you need to raise the humidity a large amount.
What About Sleeping?
Snakes, like most creatures, need sleep in order to survive. But without eyelids, how do they sleep? Do snakes sleep with their eyes open?
Yes, they do. This makes it hard to tell when they are sleeping! The lack of traditional eyelids makes it difficult to tell the difference between sleeping or just not moving for a little bit.
But if you look closely, you'll notice that snakes can actually close their retinas when they're asleep. So, if you watch a snake and notice its unblinking stare, don't be alarmed. It could just be relaxing, or it could be asleep, if its retinas are closed.
Snake Eyelids: Final Thoughts
While snakes do not have eyelids, they do have a scale covering their eyes to protect them. Unlike an eyelid, which can open and close, the scale is transparent and always there.
This means a snake can't close its eyes to sleep in the same way we can, but it can close its retinas, which has the same result. It keeps out the light allowing them to get some shut-eye, even if that eye is shut in a different way.