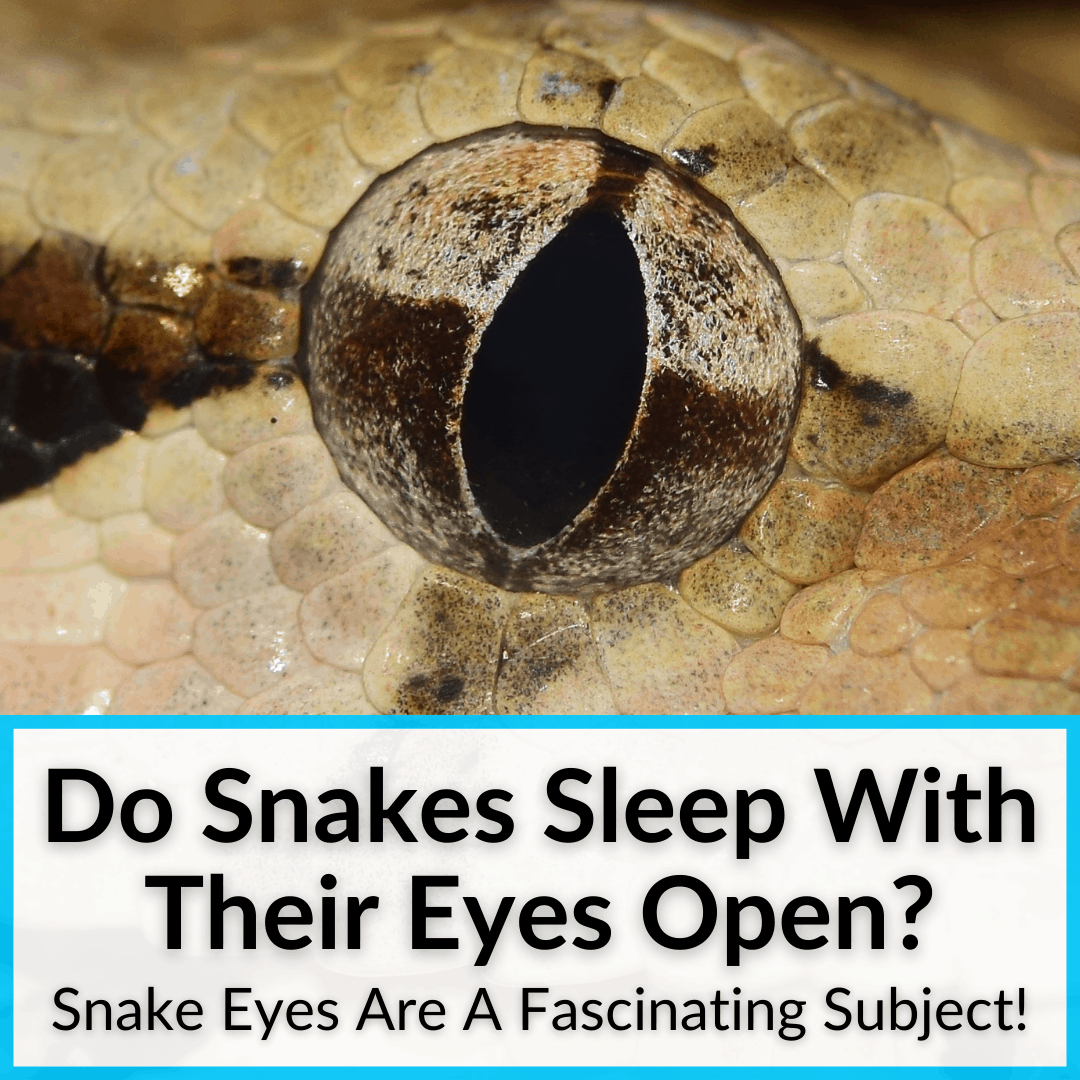 Think back on every time you've seen a snake.
It doesn't have to be in the wild.
It could be at a zoo, or even on TV.
Did any of the snakes you've seen ever have their eyes closed?
That's the reason this is such a common question.
Now, it could be that you've just never seen a snake sleeping. They don't sleep out in the open, completely unprotected, after all.
So keep reading to learn everything you need to know about a snake's eyes. You'll soon see that it is quite the fascinating subject.
Do Snakes Sleep With Their Eyes Open?
Yes, snakes sleep with their eyes open. They do not have eyelids as we do, so when they sleep, their eyes are open.
How Do Snakes Sleep With Their Eyes Open?
They do so much in the same way we humans can sleep without turning off our ears, or sense of smell, or touch.
The snake's brain has a process for regulating what information makes it to the conscious part of the decision-making brain.
When a snake gets tired and wants to sleep, it can relax its body and muscles and the brain knows how to de-prioritize visual stimuli coming in from its eyes.
In humans, our ears are always listening, even when we sleep. The same is true for snakes regarding their eyes.
They can still see while sleeping, but the things they see are deemed unimportant by the snake's brain. If there was a loud sound and something threatening that the snake can see, it would wake up.
Much like when a loud noise happens while we sleep, we can wake up even though our ears were not 'tuned in' to listen. The snake brain has evolved a way to sleep while still getting visual stimulation.
What About Blinking?
Can snakes blink? No, they can not blink or close their eyes. Their eyes are covered with a membrane that keeps them from drying out or getting damaged, so there is no need to anyway.
Snakes' eyes are not made like our eyes. They have a different design, and they work a bit differently.
They are large in proportion to their heads. But even with relatively large eyes, they do not do as much as they should. Vision is not the most useful sense that snakes possess.
Snakes have poor eyesight. They see fuzzy, cloudy images that their brain deciphers into food, threat, or non-threat status.
They have light receptors in their eyes that take the information around them and form shapes and shades of light much like a fuzzy television picture you see when the reception is bad.
They use their tongue to get most of their information about the world around them. Their eyes are primarily used to escape danger, strike at prey, or find food.
What Protects Snakes' Eyes?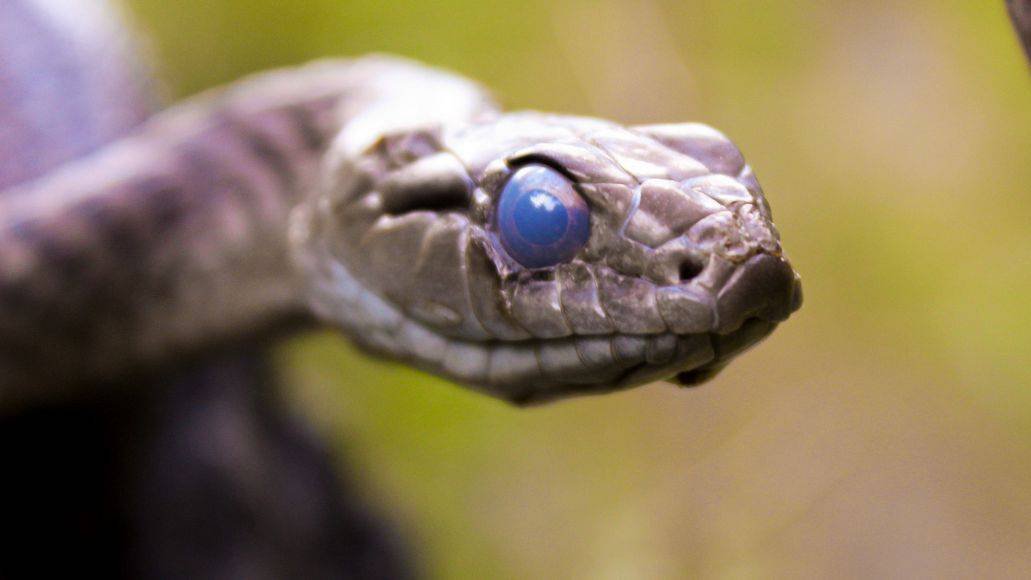 Snakes have a thin membrane-like scale that covers their eyes. This is called the brille (which also happens to be the German word for eyeglasses), or ocular scale. Sometimes it is also called an eye cap.
It is a layer of skin that is transparent and cannot be moved. It is a permanent part of the snake's eye.
This membrane protects the snake's eyes from water, dirt, scratches, or any other injury, much in the way our eyelids protect ours.
We have an involuntary response to close our eyes when the debris is coming at us, while a snake does not need this response since the brille is always protecting its eyes.
The brille is only visible when the snake is getting ready to molt. When this happens the brille becomes cloudy and can make it hard for the snake to see.
This is another reason that molting is so dangerous for snakes. They are extremely vulnerable since they can barely see. The brille is replaced with a new one along with the rest of the snake's skin during molting.
Do Snakes Have Different Color Eyes?
Yes, different snakes have different colored eyes. The color of a snake's eyes depends on the color of its skin, and the time of day the snake is usually active.
Certain python's eyes have the same color and pattern as their scales, with stripes or spots running through them, or whatever is present on the snake's scales next to the eyes.
Most snakes have either yellow, brown, or dark-colored eyes. There are only a few snake species that have naturally occurring blue eyes.
This is not common in nature. It requires a lack of pigmentation for eyes to become blue, which is not something that typically happens in snake evolution.
Rattlesnake eyes look copper or gold, while gopher snake eyes look gray or green, and ball pythons have black eyes which do not reflect any light. The color of a snake's eyes depends on the evolution of the snake in its environment.
Do Snakes Have Pupils?
Yes, snakes do have pupils. Not all snakes have the same size or shape of pupils, though. There are 2two main shapes of pupils for most snakes,: slit and round.
Round pupils are usually found on snakes that are most active in the day (diurnal), while slit pupils are typically found on more nocturnal snakes.
The pupils in snakes work much in the same way that they do in humans, letting light in and opening or closing based on what information the eye is sending to the brain.
There are some nonsense rumors that venomous snakes have slit pupils and non-venomous snakes have round pupils. Do not use this logic to identify a venomous snake!
The shape of a snake's pupil has nothing to do with whether it is venomous. The shape of the pupil is an effect of what the snake has learned through evolution that it needs to survive in its habitat. If slit pupils will make it easier to hunt or hide from predators, the snake will evolve slit pupils.
Do They See Different Colors?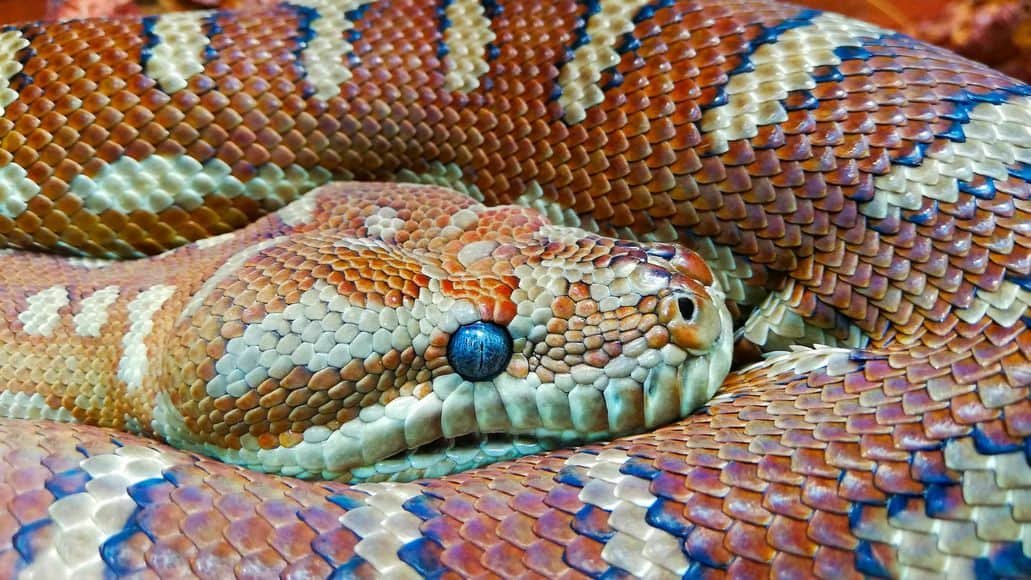 Can snakes see colors? They can see colors, in a way. But snakes do not see color in the way humans do. They are most likely dichromatic.
This means they can see two primary colors or two different shades. Humans can see 3 primary colors in the daylight.
Snake eyes have three different pigments used for vision and two of these pigments are in the cones. So it is hard to say if they see in color.
They probably do see some color, but not in the way that we understand it. The natural history museum did a study examining this in greater detail. You can check it out here. It is an interesting read.
Certain snakes have good vision in the nighttime or low light. This does not mean they see crystal clear, sharp images. Instead, they see fuzzy images, but they can see them in very low light when many other animals cannot see anything.
Some snakes have lenses in the eye that block UV light. This allows them to see better in the daytime since the UV light can be so intense when it is light out.
Snakes Sleeping With Eyes Open: Final Thoughts
Now you know that snakes always sleep with their eyes open, simply because they do not have eyelids and can not close their eyes at all.
This does not affect their sleep, since their brains have learned to shut out the visual stimulus while sleeping.
Snakes have an eye covering called a brille that protects the eyes in a similar fashion as our eyelid. The difference is that the brille is transparent and is always in front of the eye.