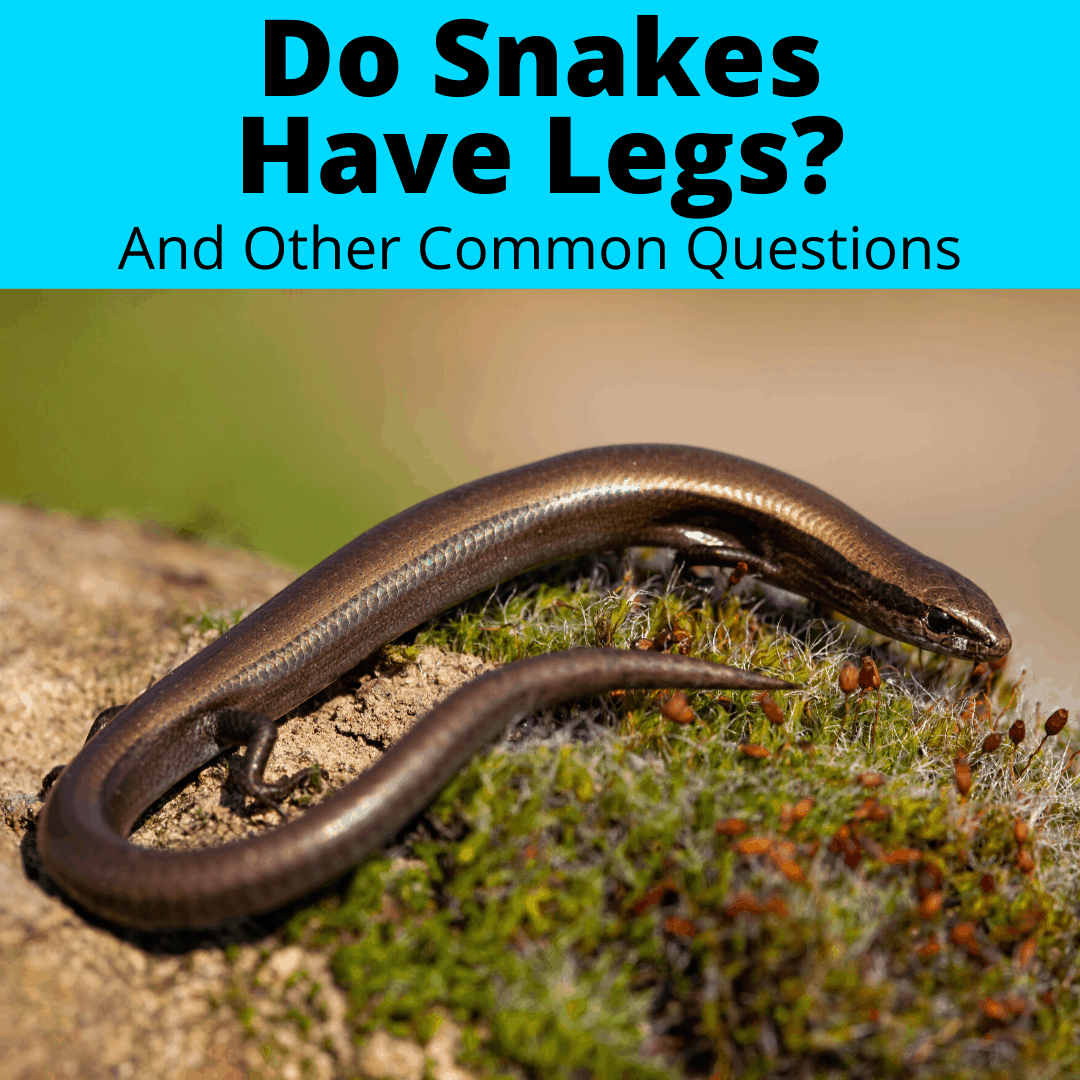 Snakes are some of the most misunderstood creatures on the planet.
For example, most people fear them. They think they are dangerous killers.
Much of this is down to the stories we tell about snakes, but they are purely fiction.
Snakes mean us no harm and prefer to avoid us altogether. They only strike if threatened.
And there are many other unknowns when it comes to snakes. One of the more common questions we get is :"Do snakes have legs?"
Let's find out. Then we'll cover a bunch of other snake facts you'll want to know.
Do Snakes Have Legs?
Modern snakes do not have legs, but this was not always the case. Researchers have found that some ancient snakes had legs, but they lost them over the ages for reasons that are yet to be determined.
Do snakes have hips? Modern snakes do not, but it stands to reason that ancient snakes might have. The legs would have had to connect to something.
Scientists are busy investigating fossils from over 95 million years ago that show an ancient snake with legs that looked somewhat like a lizard. This creature is called Eupodophis descouensi and lived in what is now Lebanon. Over many millennia these ancient "snakes" evolved into today's legless reptiles.
Originally believed to have evolved from aquatic reptiles, modern snakes come in all sizes and colors. There are more than 3,000 species of snakes, of which only 375 are venomous. They live on every continent except Antarctica and in every environment except the arctic.
Some measure a few centimeters, while others are more than 25 feet long. They live in trees, on land, underground, and underwater. All snakes have a flexible body with no limbs. But this does not prevent them from moving, climbing or swimming.
How Do Snakes Move?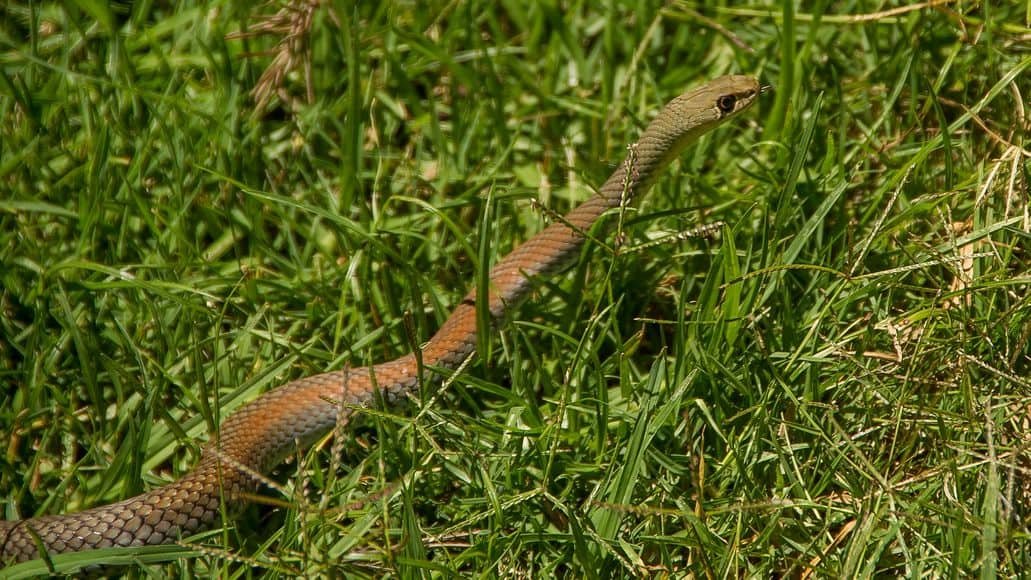 At some point in our lives, all of us have asked ourselves how snakes move, given that they have no arms and no legs. Perhaps you found the answer or perhaps you never did. Either way, let's answer it here.
Snakes have specialized rectangular scales that run along the bottom of their bodies. The lower edges of these ventral scales work like the tread on a car tire. They give them the grip they need to move along. Let's see how they do it.
Methods Of Movement
Snakes have four basic methods of movement. The first is the most common and the one you're likely used to seeing. But snakes resort to all methods, depending on the situation.
1. Serpentine Movement
This is the most common form of movement employed by snakes and probably the one you picture when you think of a snake moving. It involves an S-shaped movement, that is also known as lateral undulation, which makes sense when you see it.
Basically, the snake contracts its muscles starting at the neck and pushes its body from side to side. This results in a series of curves. Each contraction pushes the ventral scales against some point of resistance to move the snake forward.
In the water, this resistance is provided by the water itself. On land it can be anything that is under the snake, from soil, to rocks, to branches. If the ground were completely smooth, like on glass, this form of movement would be highly ineffective, as there would be nothing to provide resistance for pushing off.
2. Rectilinear Movement
This method of movement is also called caterpillar method, because it is similar to the way that animal moves. The body still contracts in curves, but those curves are vertical and much smaller.
A part of the snake curves up off the ground and the ventral scales touching the ground at the bottom of the curve push against the ground to propel the snake forward.
3. Sidewinding Movement
Snakes use the sidewinding method to move on surfaces that are loose or slippery, like mud. The make contact with the ground at only two points and contract their muscles to launch their head forward, so that the rest of their body follows.
Not only is this great on sand, it is great on hot sand, because only two points of their body is making contact with the ground at any time. If you view them from ground level, you can see that most of their body is in the air when sidewinding.
4. Concertina Movement
The concertina method of movement is also called the accordion method, because it resembles the movement of that instrument. This is the method snakes use to climb vertical surfaces or to move through tight spaces.
The snake bunches the middle of its body into several tight curves and uses the central scales to get a strong grip on the surface. Then it pushes the front part of the body forward, which undoes the front-most curve. It then adds a new curve front he end by pulling the rear of its body forward.
In this way it continuously moves first its upper body forward a bit, then drags up the lower body. It is a slow way to move, but the tight curves allow it to move even in a narrow, confined space and the strength of the grip let it move up a vertical surface.
Do Snakes Have Skin?
As reptiles, snakes are covered in scales. The scales protect them from injuries and hold in moisture. The size, color, shape and density of the scales can differ considerably among species.
The rattlesnake, for example, has rough scales, while other snakes, like the python, are much softer. Python scales are also generally more colorful than those of the rattlesnake.
But snakes also have skin of sorts. The thin outer layer of the scales, the epidermis, is essentially a skin and it is what the snake sheds off regularly. It covers the thicker dermis, which is made of keratin and contains the chromatophores that are responsible for pigmentation.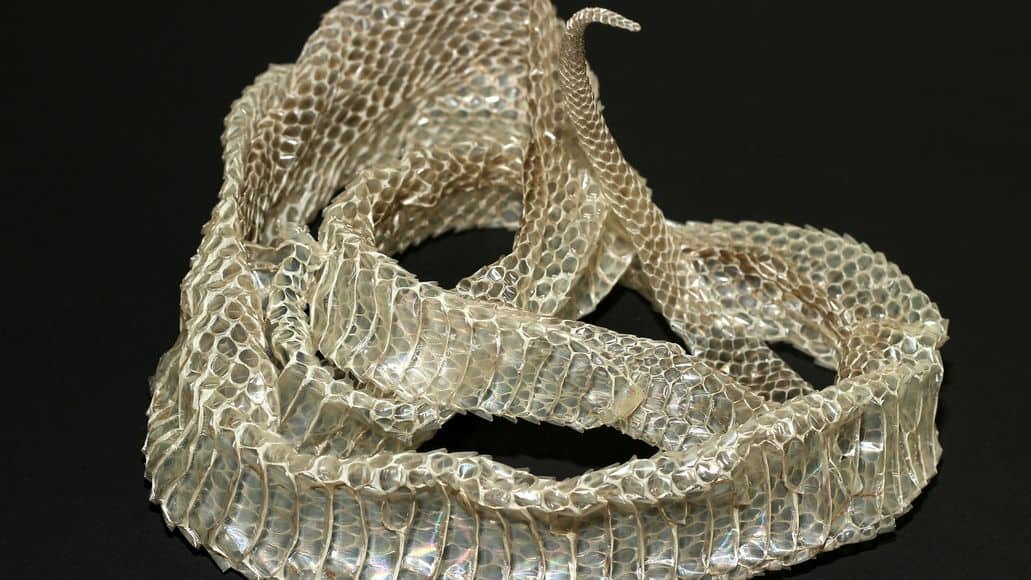 The reason the outer layer is shed off regularly is that it does not grow with the snake. Instead, a new layer grows underneath the old one, replacing it when the old one peels off.
Do Snakes Chew?
Some snakes do a little chewing, most most do none. The mouth exists solely to catch food. Once caught, the prey is swallowed whole.
Snakes can open their mouths incredibly wide, thanks to mobile jaws and an elastic ligament joining the upper and lower jaw. This allows them to swallow large prey. They advance it down their throats using their teeth.
They use their saliva as a lubricant to help the food slide down their throat. The saliva does not help with digestion at all. The esophagus is also able to expand to accommodate large food, thanks to lengthwise folds.
Do Snakes Have Teeth?
There is a large difference among species when it comes to teeth. How many teeth do snakes have? It varies greatly.
Some have hundreds, while others have practically no teeth at all. Some snakes have teeth that are especially designed to inject poison.
When distinguishing between different types of teeth, these venom-injecting fangs play a large role. Their existence, size and positioning determine how a snake's teeth are classified.
Types Of Snake Teeth
Snake teeth are classified into 4 major types. They are:
Aglyphous
These are solid, prehensile teeth, that are curved backward to hold the prey. They do not inoculate poison. All snakes have these teeth, but some also have other types listed below.
Snakes that have only aglyphous teeth are many colubrids, boas and pythons. These snakes are generally harmless to us, apart from the largest pythons and anacondas.
Opisthoglyphous
These are grooved teeth that are connected to poison glands. They are located in the back of the mouth, making them much less effective.
In order to inject venom, snakes with these teeth have to bite with the rear of the mouth, which is difficult. Usually, they chew the venom into their victim. The more time they have to chew, the more venom they inject.
In general, snakes with opisthoglyphous teeth do not pose much danger to humans. Butt here are exceptions. The boomslang, for example, can cause severe damage with its bite, and can even kill a person.
Proteroglyphous
These are small, fixed teeth that are located at the front of the mouth. By fixed, we mean they are not hinged, i.e. they can not be drawn up into the mouth. As a result, snakes with these teeth tent to hold onto their prey, rather than let it go after striking.
Cobras and mambas are examples of snakes with proteroglyphous teeth. You are probably aware that mambas are some of the most dangerous snakes on earth.
There are some species, like the spitting cobra, that have developed a modified tooth and muscle system that ejects the venom with much more force, allowing them to spit.
Solenoglyphous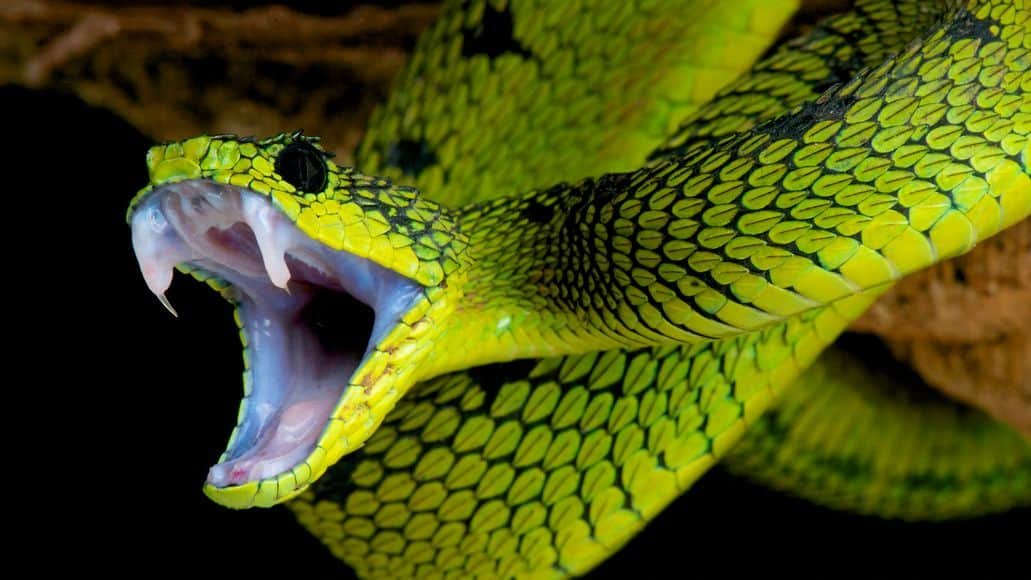 These teeth are generally configured as two long fangs located near the front of the jaw. The fangs are hollow, to transmit poison into the prey from the venom glands.
When the snake closes its mouth, the fangs fold over the upper palate. They straighten out when the mouth opens. This allows the fangs to be much larger, since folding them up moves them out of the way so the mouth can close.
Longer and larger fangs mean more venom can be injected deeper and more rapidly. Vipers tend to have solenoglyphous teeth.
Do Snakes Have A Stomach?
Snakes do have a stomach. It handles digestion and is long and tube-like, shaped like the letter "J". The stomach cells secrete gastric juices with digestive enzymes that break down the snake's food.
After being digested, the food goes through a small valve called the pylorus and enters the duodenum. Most snakes have a straight small intestine, but some species have a small intestine with transverse folds.
After the small intestine, the digested prey passes through the blind into the large intestine. It finally ends its journey be being excreted out of the cloaca.
Do Snakes Have A Heart?
Yes, snakes have a heart. It is similar to other reptiles, apart from the crocodile, but modified to be longer, in order to fit inside the snake's tubular body. It is more basic than the mammalian heart we have.
The snake heart has only 3 chambers, instead of 4. Two atria that receive blood and one over-sized ventricle that pumps blood into the arteries. The large ventricle contains divisions and valves that result in it actually functioning very similar to our four-chambered heart.
Snakes Do Not Have Legs: Final Thoughts.
We are always surprised at how many people ask if snakes have legs, given that you can see just from looking at them that they don't. It is the fact that this is asked so often that spurred us to write this article, and to go ahead and answer some other common questions while we are at it.
We hope you learned something and if there is any other question you have about snakes, please ask it in the comments below. We will be happy to answer it there and might also add the answer to this article.